Benny Binion – The Father of The Poker Hall of Fame
Long before the creation of the Internet and the best online poker sites, Benny Binion was considered as one of the wealthiest casino owners in Las Vegas. With a controversial history of dealing with illegal activities such as moonshining and unlicensed gambling, Benny created a new gambling reputation by organizing high-stakes poker games as well as founding the Binion's Horseshoe Casino. After years of organizing high-stakes matches, Benny also created the World Series of Poker in 1970, which spread the game of poker and made it truly famous. However, it wasn't until 1979 when the Poker Hall of Fame was created not only as a way to preserve the legacy of great poker players but also as a move to market the Binion's Horseshoe.
The Essence of The Poker Hall of Fame
So how can a person be inducted in the Poker Hall of Fame? It seems that certain criteria apply in order to reach the highest pinnacle of poker. Here's a list of them:
A player must have played against other top tier players
The player has to be at least 40 years old at the time of the nomination
Must have played in high stakes
Should have gained the respect of peers through consistent good play
The nominee should stand the test of time
For those, who aren't professional players: in order to be inducted, they should have contributed to the overall growth and development of poker.
Most of the rules are pretty self-explanatory. However, the age restriction might seem a little bit odd for some of you, but it has a logical explanation to it. In 2009, the process of choosing an inductee was changed by having the public's voice matter through a vote. Although this generates more interest in the Poker Hall of Fame, it also leads to a flaw in choosing the right nominees. The public chose people who were too young and not that well established in the world of professional poker, and that's why a minimum age was chosen. Furthermore, this way the criteria to "stand the test of time" gains even more relevance and divides overnight poker sensations from the consistent professionals.
Our Top 10 Poker Hall of Famers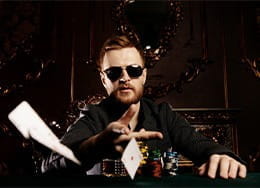 What would a story about a hall of fame list be without .. an actual list? By looking at the players who were inducted it was really hard to choose only ten, as all of them are worthy, but rest assured – our picks aren't assembled in any particular order.From the 58 people who have been inducted by meeting that criteria, 32 are still living. The numbers continue to grow, as each year one or two people are inducted in the Poker Hall of Fame. However, there are some of them who truly stand out in our opinion due to various contributions to the game, excellent skillset and great poker intelligence. Without further ado, let's check who have we picked!
Daniel Negreanu
A relatively young player in the list, but with humongous earnings and poker success, Daniel makes this list as the person who has won the most prize money from WSOP tournaments – more than 17 million dollars. He has been named as the Player of the Decade 2004-2013 and is a great poker ambassador around the world, which further solidifies his legacy and place in the Poker Hall of Fame. Furthermore, 'Kid Poker' has recently launched his very own Daniel Negreanu masterclass which helps people become better poker players.
Doyle Brunson
A player, who really doesn't need an introduction. 'Texas Dolly' is also known as 'The Godfather of Poker' and has been in the game since the '50s. As the author of Super/System and Super/System 2, Doyle has been an influence for many of the poker pro's, who consider his book as one of the most influential poker reads. Apart from his poker contributions, Doyle is a holder of 10 WSOP bracelets and an accomplished cash player, so his induction way back in 1988 is more than self-explanatory.
Phil Hellmuth
What would a list be without The Poker Brat himself? Although Phil has proclaimed himself as "the best in the world", he has his reasons for it. At the fragile age of 24, he defeated a legend in the face of Johnny Chan for the 1989 WSOP bracelet and later won 14 WSOP bracelets – the most a poker player has ever won so far. His live tournament earnings exceed well over 20 million dollars.
Johnny Chan
Hellmuth's nemesis from the 1989 WSOP final table also makes the list! And why not, "The Orient Express" has earned the respect of the poker pros and is widely considered as one of the most skilful poker players of all time. Although his family wanted him to help with the family business of running restaurants, Johnny decided to drop out of college and pursue his passion – playing poker. This was one of his best decisions to date as he has won close to 5 million dollars in WSOP earnings. Johnny Chan also ties Doyle Brunson and Phil Ivey with his 10 WSOP bracelets.
Eric Seidel
Although this name might not be as recognised as the others, 'Sly' has really earned his spot in the Poker Hall of Fame. With more than 34 million dollars of live earnings and 8 WSOP bracelets, Eric is surely one of the best to ever do it in poker. If you want to know more about Eric's modest table presence, make sure to check further details about him here.
Phil Ivey
'The Tiger Woods of Poker' is definitely a force to be reconned with! Widely considered as one of today's best players, Phil is one of the most feared and aggressive players to ever sit at the table. The 10 WSOP bracelets and millions of dollars have earned him an impeccable reputation, so his induction in the hall of fame is truly worthy! Furthermore, Phil is known to be a great baccarat player as well, so if you want to know how he won $20 million dollars in baccarat earnings make sure to check that here.
Chris Moneymaker
A player who really made it from rags to riches! Although Chris is known mostly for his 2003 WSOP Main Event win, he proves that everybody can do it, even an accountant like himself! Many people associate his win with the boom of online poker since he qualified for the Main Event through a $86 poker satellite tournament. Later on, Chris quit his job and even divorced his wife to pursue his poker dreams and travel the world.
Linda Johnston
What would a list be without 'The First Lady of Poker'? Linda has been mostly associated with her contributions to poker as a publisher at CardPlayer Magazine. She was also one of the founders of the World Poker Tour, as well as the 1997 winner of the $1,500 Seven-Card Razz event.
Johnny Moss
As a three-time WSOP main event champion and the first-ever to win it, Johnny Moss was not only an accomplished poker professional but a charter Poker Hall Of Fame 1979 inductee. By having a strategy of "surviving" in the first rounds and later putting his opponents to the test with aggressive play, 'The Grand Old Man of Poker' was able to win 9 WSOP bracelets and earned himself a spot in the hall of fame.
Stu Ungar
Last but not least is the controversial figure of Stu Ungar. Alongside Johnny Moss, he is the only other player to win the WSOP main event three times. Starting as a great gin rummy player, Stu later pursued playing poker and quickly became one of the best with his skill and talent. During his roller-coaster career, Stu won a total of more than 30 million dollars, but due to his drug addiction and reckless lifestyle, he died with no money of his own. Needless to say, Stu's persona has been even immortalised through a documentary, so if you want to know more about that, make sure to click here.
Honorable Mentions
It wouldn't be enough to have a list only with the poker professionals who have amassed a fortune or have created a name for themselves. Alongside the founder of the Poker Hall of Fame, Benny Binion, there are also other contributors to the game who are also listed. T."Blondie"Forbes, for instance, is a road gambler, but he was widely regarded as the founder of Texas Hold'Em. Bill Boyd, who was the Director of Operations at the Golden Nugget Casino, is also credited to establish Omaha Hold'Em as a casino game.Many others also make the list, such as Amarillo Slim, Chip Reese, Berry Johnston and more. These people have more or less dedicated their lives to gambling and spreading the word about poker, so they actually have set the foundations for what the game is known today.
The Mount Olympus in Poker
With so many big names on the list, we can clearly see that only the best of the best make it to these ranks. Many players consider being inducted in the Poker Hall of Fame as the biggest honour a player could ever receive. For some of the current young players, it's a matter of time until they get inducted. However, no matter who comes next, most of the founding players are already in this high-roller club, and we hope that someday we'll see someone top their own achievements and contributions!