What is Daniel Negreanu Masterclass About?
We don't even entertain the thought of attaining Negreanu's extraordinary prescience overnight. And that's not what the class is about. It starts with Daniel showing us the ropes and very gradually, in a methodic fashion, building up towards the deeper end of advanced poker theory. We don't let ourselves be fooled by the puerile personality of the cheeky instructor, instead, we like to look at the facts.
Negreanu talks over pretty much every move you can pull off at the poker table. He delivers that outpouring of knowledge in bite-size portions so that you can easily gauge your progress or take a step back and revise. Those portions come in the form of HD video lesson. Their subject matter is varied but always connected to the previous lesson in some way. What's more, the lessons feature case studies, where Negreanu lets the viewer in on his thought process throughout the reviewed hand. There's also a supplementary class workbook where you can practice, review and learn advanced play terminology. Here's the sum up.
38 video lessons you can view in the lesson plan.
A downloadable class workbook with lesson recaps, assignments and terminology guide.
Interact with Daniel and the class and get feedback
Game fundamentals (positions, ranges, board textures, math)
Various situations – when to check/raise, how to size a bet sizing and bluff
Metagame – learn about live tells, MTT, cash game adjustments and more
Final touches – understand more about tilt control, bankroll management and game selection 
Is Negreanu's Masterclass Worth it and for Who?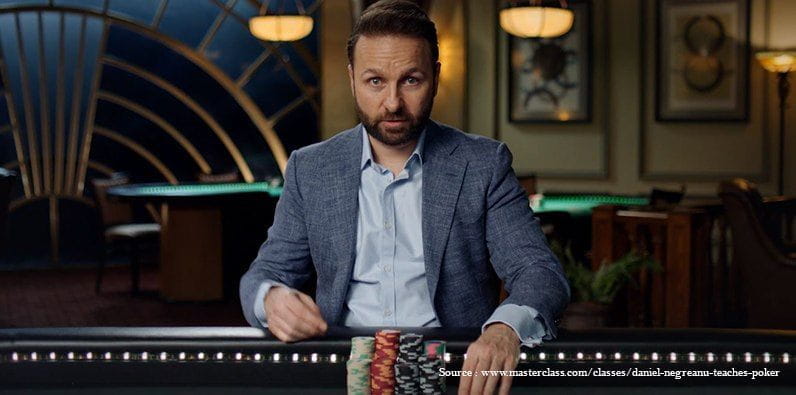 "You need to understand that everything you do at the poker table conveys information." Daniel Negreanu
Kid Poker could not have said it better – poker is all about information. There's no Daniel Negreanu Masterclass free download version, so obviously, the intel everyone is looking to get is whether the course will help them improve or not. Here are a few things we'd like to point out in this regard.
You don't have to be an amid Negreanu fan to know about his poker hand reading abilities. He's the kind of player that reads his opponents like an open book. That virtue of his is what makes Negreanu's Masterclass worthwhile for recreational players as well as those with experience. It takes a lifetime to learn how to spot tells in the demeanour of people, let alone a poker professional.
"If you want a shortcut to all the necessary poker tips and tricks you need to do that, this poker masterclass is for you."
Not only will you learn how to catch somebody in the act of bluffing, but you'll also develop a deep knowledge of body language and human psychology.
"If you've enrolled in similar courses before, the chances are this one will have a familiar ring to it. In this case, you can take advantage of the so-called Office Hours."
This is one of the three main features of Daniel Negreanu's masterclass, which allows you to upload videos showcasing specific skills or techniques you want to ask about. In this way, even you're familiar with some of the topics, you can still expand on your knowledge and stay in touch with a friendly community of like-minded people. The bottom line is that there's something for everyone in the course.
Daniel Negreanu's Masterclass Review – What You'll Find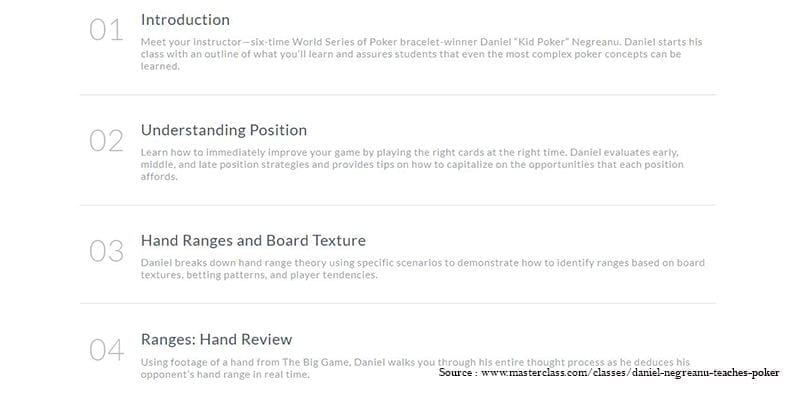 Daniel Negreanu's early years indicate a natural disposition towards mathematics. Because of his love for numbers, 'Kid Poker' outlines the important ones early in the course, presenting the mathematical side of poker in an easy to digest way. We know mathematics is a scarecrow for most amateur poker players, that's why we think the way Daniel approaches it can be especially helpful. In his typical cheeky down-to-earth style, Negreanu breaks down complex concepts into easy to understand poker tips. The best thing is – your instructor will use everything you learn in the first five lessons, later on, to explain the essential poker moves everyone should know. Here's a glimpse of the techniques featured in the course.
06. C-Betting (continuation bet)
07. Check-Raising
08. Three-Betting
09. Three-Betting: Hand Review
10. Detecting and Executing the Bluff
As you can see, those are not skills you can easily pick down the road by simply playing online or with friends. The biggest takeaway from the first 10 lessons is learning how to bet and raise (keep in mind that one of the first things Daniel Negreanu talks about in his masterclass is position and its importance). Your host Daniel will teach you how to spice up your bet range with continuation bets and three-bets and conceal the strength of your hand by check-raising. Each strategy you'll see in action, illustrated with real-life examples where Negreanu analyses each hand play-by-play.
The chapter 'Detecting and executing the Bluff' deals with both sides of the art of bluffing. This part of Daniel Negreanu's Masterclass aims at teaching you how to see through the guise and understand who means business and who's just posturing. It lays particular emphasis on how to tell when someone is bluffing maybe because this is what Kid Poker is known for.
Good Reasons to Send the Masterclass as a Gift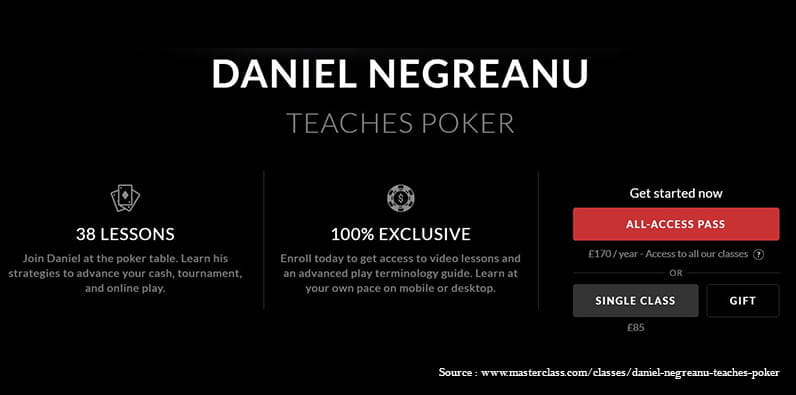 First of all professional guidance is always recommendable if you want to see results quickly as it helps you make progress faster. Then, information is particularly important in an intellectual endeavour such as poker. By this, we don't mean fishing for information, but the reality check of how the game has evolved and what you need to do to catch up. This is how you get an edge over the 'lazy' poker players.
To receive coaching by a world-famous poker star is a good safety measure and a humbling experience. Negreanu has hit plateaus just like every poker player. If you don't believe a guy like him can go broke, check our dedicated post to learn about Daniel Negreanu's net worth and ups and downs. The point we're trying to make is it's better for an aspiring poker player to hear the bitter truth from an influential person like Daniel Negreanu rather than trying to figure everything out on their own.
Whether the recipient of the gift is debating starting to play at a real money poker site or simply wants to improve their game, the course will give them tangible practical experience. An experience that would otherwise cost them a lot of time and money to acquire.
Final Thoughts
From the moment of its release, Negreanu's masterclass sends to the history any myths and theories that poker relays on luck. He proves the contrary in every possible way. This also explained why at the tables with highest stakes and on final rounds of main events we always see the same faces. The simplest explanation is because they have mastered poker and they have the skills! The course is definitely a good place to start for those who want to get into tournament poker. The course provides a solid foundation for any aspiring poker player and as a bonus, they get to hear the untold stories of Kid Poker. We think that's a fair deal, and also a good opportunity to see your future self a few years from now and decide if that's what you want to be doing. Aside, you can always send Daniel Negreanu's Masterclass as a gift – any shrewd poker player will be grateful for that. And if you want to know in what other activities he enrols, you can take a look at our article dedicated to Negreanu's vlog about WSOPE 2019.