The Best Online Casinos in Singapore for 2021 – A Guide to its Casino Sites
The Republic of Singapore is a city-state based in Southeast Asia that is famous for a few things: its incredible skyline, a strong economy, and very strict laws and regulations for some seemingly normal things. In line with that, gambling in Singapore, whether land-based or online, is a highly regulated practice with harsh penalties. The situation is far stricter in the online industry, though, as currently online gambling in Singapore is only legal at one operator you won't find foreign casino sites.
Greetings to the United States!
Read All About Online Casinos in Singapore
All Sites Licensed by the
UKGC
Overview of Singapore Online Casinos and Gambling
On this page, you will discover the complete background to online gambling in Singapore and why there are currently no Singapore Online Casinos. To do this, we have provided an overview of the current legal situation, the history of gambling in the country, whilst mentioning any famous resorts or gamblers that hail from the city-state.
Current Legal Situation
If you're looking for the best casino sites Singapore has to offer, you're out of luck. Due to the introduction of the Remote Gambling Act 2014, Singapore Online Casinos are completely illegal, except for in one government-operated website. The Singapore Pool and the Singapore Turf Club, which were separate entities until January 7, 2018, collectively offer the only online betting that is legally allowed for citizens or others within the country. Here, you can bet on sports and horse racing, or partake in the lottery. There are zero legal online operators offering the likes of blackjack, poker or roulette – to play any of those on the country's soil you'll need to visit one of a few authorised resorts that are allowed to run gaming premises. These strict laws also forbid people in Singapore from gambling on so-called 'offshore sites' and severely punishes both gamblers and operators who do so with both monetary fines and jail time.
The most popular types of gambling in the city-state are the Toto and 4D lotteries. According to Singaporean newspaper, Straits Times, 42% of citizens gamble on 4D and 36% gamble on Toto. This constituted S$7.2 billion in wagers in 2017, up 15% from S$6.2 billion in 2013.

Gambling Responsibly in Singapore
People under the age of 21 are not allowed to create accounts at the Turf Club or Singapore Pool and are not allowed to step inside the land-based casinos, either. These approved Singapore casino sites must, by law, verify the age and identity of a person before their account can be opened. The websites also must display messages promoting responsible gambling. The region's regulatory body for the gaming industry is the National Council on Problem Gambling (NCPG), which offers self-exclusion services, counselling and other support services to both permanent residents and foreigners. It is responsible for liaising with the Ministry of Social and Family Development (MSF) on the social impact of problem gambling.
History of Gambling in Singapore
Restrictive gambling in the country dates back to the 19th century when Sir Stamford Raffles outlawed cock-fighting and Chinese gambling dens. This didn't quite work out as planned, though, as his successor saw the potential income the rulers could make from gambling and began giving out licences to the major operators in 1820. Fast forward almost 200 years and the situation is essentially the same, though the cock-fighting rings and alley-way mah-jong games have been swapped for the incredibly ostentatious Marina Bay Sands and Resorts World Sentosa.
The still-running Singapore Turf Club has been offering a place to bet on horse races since it was founded in 1842, initially called the Singapore Sporting Club. Created by Scottish businessman, Henry Macleod Read, the club was opened to the public in 1960 and was immediately immensely popular.
In terms of Singapore online casino options, strict regulation came into effect with the Remote Gambling Act in October 2014. Before then, an article titled Online Gambling Regulation in Singapore in the Casino Lawyer journal explained that although there were no laws in effect to forbid international online casinos, the "general consensus is that operating online gambling services which are specifically targeted at the country's citizens would be likely to breach the existing laws".
When the Remote Gambling Act was passed, it effectively banned and blocked every type of online gambling for its citizens, or people residing in Singapore except for two operators. The remaining casino sites were the Singapore Pools, which was an online lottery and sports betting provider, and the historic Turf Club, which is only for horse racing. Therefore, there are no places in which casino games such as blackjack, poker, roulette or baccarat can be legally played online in, or partially in, the country. In January 2018, Singapore Pools officially took over management and operations of the Singapore Turf Club, creating a monopoly on the gambling industry in the country.
Famous Resorts in Singapore
There are two resorts on the island that are legally allowed to offer casino games to citizens and tourists: The Marina Bay Sands, and Resorts World Sentosa. According to the Nikkei Asian Review, citizens must pay S$100 per day to access the casino or S$2,000 per year. Though it is free for tourists to enter, they must bring their passport to the resort in order to enter the premises.
One casino in Singapore, the Marina Bay Sands, offers varieties of baccarat, poker, craps, Pontoon, roulette, sic bo, and Pai Gow, as well as four types of slot games. Interestingly, Pontoon is the only variant on blackjack available at this location. The size of a casino in the city-state is capped to a maximum of 5% of the resort's total footprint, which in Resorts World Sentosa is 15,000m2. Both of the casinos opened in 2010.
According to research from 2015, published in Gambling in Singapore: an overview of the history, research, treatment and policy, the country's resorts are in third place in terms of gross revenue after Las Vegas and Macau.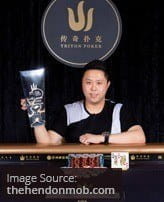 Kenneth Kee Wee Kiang
Short-deck poker player
The Most Famous Singaporean Gambler
One of the most famous gamblers from the nation is professional poker player Kenneth Kee Wee Kiang. He was born and raised in Singapore and became popular because of an event that happened barely a few of years ago. Kenneth Kee Wee Kiand, or Kiang, as we will call him for easiness, won S$3.9 million as a first-place prize from the Triton Poker Series in South Korea in 2018. In this tournament, he became the number one of the No Limit Hold'em – Short Deck Ante-Only game, which required a S$170,000 buy-in fee. Kiang had also placed second just a week earlier in the first game of this type at the tournament and both these successes made him known in the poker and gambling communities all over the world.
Kiang's professional career dates back to 2011 when he won the No Limit Hold'em Bounty Event during MV Leisure World in Singapore, which earned him a sum of S$2,500. These spends most of his time travelling to places like Macau to earn his living. Even after his huge wins, his official statement to those considering poker as a career choice was quoted in Singaporean newspaper, Straits Times as, "I wouldn't recommend it".
Conclusion: The Best Online Casino Site for Singapore Does Not Yet Exist
Thanks to strict regulation enforced by the Remote Gambling Act, there is not one single online casino Singapore occupants whether citizens or tourists can legally access. The law also extends to online casinos Singapore residents can access that are hosted in other countries, and the penalties include facing large fines and jail time. For those looking to play traditional casino games, the best option is to physically visit one of the two resorts. Otherwise, gambling enthusiasts over 21 can make accounts at the Pools or the Turf Club.
Frequently Asked Questions About Gambling in Singapore
If you want to play casino games online, this guide to Singapore casino sites contains everything you need to know. If you still have any queries, then you should check out the following section. We searched the web to find out what questions players have. Here, you can find the answers to the most common questions.
Is Online Gambling in Singapore Legal?
The introduction of the Remote Gambling Act 2014 made online gambling illegal, with the exception of just two state-owned operators, Singapore Pool and Singapore Turf Club, which have since merged. These sites legally offer sports betting, horse racing betting, and lotto. There are no online casinos legally operating in Singapore. For more details, please read our full paragraph about legal gambling in Singapore.
How Many Casinos are there in Singapore?
Singapore has two casinos; Resorts World Sentosa and Marina Bay Sands. At both of Singapore's casino resorts, you can play games including slots, blackjack, roulette, and baccarat, among others. Both of the casinos have been in operation since 2010.
How to Play Online Casino in Singapore?
Under the Remote Gambling Act, online casinos in Singapore are not permitted. The legislation also prohibits anyone in Singapore from playing casino games at an offshore casino site. Given that penalties for illegal gambling can include hefty fines or jail time, you should not play at online casinos. If you want to play casino games in Singapore, you can do so legally at the country's licensed casino resorts.