Gambling in South Africa – The Current Legal Situation
If you have come to this page looking for the best casino sites South Africa has to offer, rest assured, you have come to the right place! There are many secure online casinos that accept South African players but it is absolutely illegal to play online in this country. Land-based gambling, however, is legal. We have done the hard work for you and we will provide you with a short guide to some of the best safe and legit casinos for South Africans.
Greetings to the United States!
Read All About Online Casinos in South Africa
All Sites Licensed by the
UKGC
Betting in South Africa
Gambling has been a controversial subject within South Africa over the years. There have been various laws in place which have placed severe restrictions on gambling within the country. There have likewise been amendments to the legislation which have enabled the development of regulated gambling industry. Yet whilst residents are permitted to gamble at licensed land-based casinos and online South African bookmakers, it remains illegal to play at online casinos. You will find out all you need to know about the legal situation and other aspects of gambling in South Africa in the following sections.
The Legal Situation at the Moment
In 2004, a new National Gambling Act was put in place. The legislation states that online gambling at casino sites is illegal within South Africa. Given this situation, there is no regulatory board that oversees the operation of online casinos within South Africa, and as such, you will not find any operators that are licensed and regulated by the state.
Gambling Responsibly in South Africa
When it comes to responsible gambling, the South African Responsible Gambling Foundation (SARGF) delivers the National Responsible Gambling Program (NRGP). The non-profit organisation is an initiative between the gambling industry in South Africa and government gambling regulators. Its partners include the Casino Association of South Africa (CASA), the National Gambling Board (NGB), the Department for Trade and Industry (the dti) as well as the various Provincial Gambling Boards of the country. It offers free, confidential treatment programs and counselling to individuals affected by problem gambling, as well as their family members. Established in 2000, the SARGF has treated over 18, 500 people who have experienced problems with gambling addiction. Furthermore, the SARGF raises awareness of the harmful effects of problem gambling and promotes responsible gambling.
Overview of the SARGF
Licensing Bodies
Information
Logos
Company:
South African Responsible Gambling Foundation

| | |
| --- | --- |
| The Official SARGF Logo | NGB – Official Partner of SARGF |

Address:
Sunnyside Office Park, Building B, 1st Floor, 32 Sunnyside dr & Carde O'Gowrie, Parktown, Johannesburg
Year Founded:
2000
Official Website:
https://responsiblegambling.org.za/
HQ Phone:
+27 11 026 7323
Helpline:
0800 006 008
Email:
helpline@responsiblegamblin.org.za
Executive Director:
Sibongile Simelane-Quntana
History of Gambling in South Africa
South Africa has a long history when it comes to gambling, with many restrictions attached to the pastime. Having been heavily restricted since 1673, the Gambling Act of 1965 outrightly banned all forms of gambling, with the exception of betting on horse racing. Despite outlawing most types of gambling, casinos started to pop up in the Bantustans, or independent homelands of Ciskei, Venda, Transkei and Bophuthatswana in the 1970s. Most citizens were unable to access these however as only native South Africans lived there. It was estimated that there were over 2000 of these illegal casinos in operation by 1995.
When the new democratic government came to power in 1994, significant changes came into effect regarding the gambling industry, legalising all forms of gambling. In 1996, the National Gambling Act brought with it a system of regulating land-based casinos, as well as establishing a national lottery. The National Gambling Board (NGB) was established at this time to regulate the industry and ensure that standards were maintained across the 9 Provincial Gambling Boards. They also determined how to distribute the 40 gambling licenses across the provinces.
In 2004, a new National Gambling Act repealed the act of 1996. This addressed online gambling, which was not specifically touched upon in the original legislature. The 2004 act outlawed the provision of and participation in online gambling. However, sports betting was excluded from this judgement, with online sportsbooks legally able to provide services to South African citizens, provided they had obtained a license from the relevant provincial board. The new law was aimed at online casino games, bingo and poker.
The National Gambling Amendment Act of 2008 was intended to open up the possibility of legalising online gambling and enabling regulation across the industry. However, it met staunch opposition from land-based casinos, owing to the potential loss of profits that would result in the legalisation of online casinos. As such, despite the act being passed, it has not yet come into power. A high court judgement in 2010 ruled that offering online casino games to South African players via offshore servers was also not legal.
Whilst gambling on online casino games remains illegal, there is constant discussion taking place about the future of the online gambling market in South Africa. In a 2010 review of the South African gambling industry and regulation, which was submitted to the Minister of Trade and Industry, the Gambling Review Commission gave recommendations on the subject. They recommended a move towards regulation and licensing of the industry, suggesting a single regulator be responsible for regulating online gambling in the country.
Famous Casino Resorts
With around 40 licensed and legal land-based casinos throughout South Africa, you are spoilt for choice when it comes to places to play casino games. There are casino resorts spread across all 9 provinces. Montecasino is one of the most popular resorts. Based in Sandton, Johannesburg, the leisure and casino complex covers 26 hectares of land and offers luxurious hotels, great restaurants and live shows and concerts. The Tuscan style venue is owned by Tsogo Sun and attracts over 9.3 million visitors each year.
Sun City is described as a world within a city. This popular resort boasts luxurious 5-star accommodation, a first-rate golf course, and the glamourous Sun City Casino. Located in Rustenburg, North West Province, the casino has a glamorous and sophisticated style. The centre of the casino has an opulent, jungle like theme, with lush foliage and cascading water.
Emperor's Palace is a sprawling casino and hotel resort that oozes luxury entertainment. Based in Kempton Park, Johannesburg the so-called Palace of Dreams incorporates unique hotels, the finest dining options, live shows and a beautiful casino with an expansive selection of slots and table games. The quality resort attracts visitors worldwide.
Top 3 Land-Based Casinos in South Africa
Montecasino

This Italian village-themed casino opened in 2000. With more than 1,860 slot machines and 70 table games with both low and high limits, all players are catered for.

Sun City

Opened in 1979, Sun City Casino is a well-established gambling venue which has become one of the most popular gambling destinations in the country.

Emperor's Palace

This superior casino offers 24/7 access to over 800 slot machines. The casino features Exclusive Privé areas where you can play table games with the highest stakes.
Famous South African Players
Every country has at least one name with which the local gambling community is proud. When it comes to prominent South Africans in the world of gambling, it is poker players that shine through. Just because we know how curious you can be, we gathered some of the most famous gamblers that hail from the country. Have a look and maybe get inspired.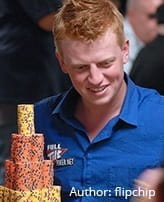 Mark Vos
Poker Player
Mark Vos
Mark Vos, also known as pokerbok is a prime example. Born in Cape Town in 1983, he excelled at mathematics whilst at school, attending numerous mathematics olympiads and even successfully representing his province. Pokerbok later put his skills to good use playing online limit hold'em in 2004 after he quit university to take on his new hobby. He soon started playing no-limit games and quickly earned a solid reputation as one of the best poker players in the world.
A highlight in his career, Vos won Event 6 at the 2006 World Series of Poker (WSOP), outlasting 1,919 players and pocketing $803,274 as well as the gold bracelet. In 2011, Mark decided to take a break from poker, saying: "A year or two later I gave poker another run for about 6 months on Stars in midstakes PLO, overall it was profitable but without question my opponents were adjusting more swiftly and better than I was. I didn't enjoy winning and losing frustrated me. Yet I had no motivation, and no desire to improve. That was pretty much the end of it, I knew wasn't going to put in the work anymore, and thus I was never going to be ahead of the curve again. So, I packed up, and moved on". Vos currently spends his time between South Africa and Australia.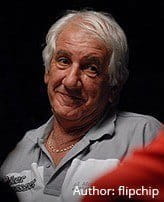 Raymond Rahme
Poker Star
Raymond Rahme
Have you ever heard the name Raymond Rahme? If yes, then there is no need for further writings. If not, let us brief you on why he became a poker star, powered by PokerStar itself. Born in 1945, this professional poker player was the first African to reach the final table at a WSOP main event. He finished third in the 2007 tournament and scooped $3,048,025. Rahme earned his seat at the Main Event after finishing fourth in the largest poker tournament ever played on the African continent, the All Africa Poker Championship. This by itself, was a huge success for any player and Rahme proved to be among the best.
Rahme was a member of Team PokerStars, where he played online poker under the name Ray Rahme. We must say that he gave a rather puzzling interview where he criticised online poker as being impersonal and explained that he played more out of contractual obligation than for enjoyment. Still we cannot argue that WSOP is slightly more exciting than online play… Anyway, he is likely the most successful South African gambler, with live winnings exceeding $3.5 million.
Avoid Playing at Online Gambling Sites in South Africa!
You are now in a fully informed position why residents and visitors of South Africa are not allowed to play real money games at national or foreign online casinos. Whilst top games, mobile compatibility and generous bonuses are important factors in finding the best place to play, remember that safety should always be your top priority! So, get back to the beginning of this review and take a pick of your most favourite land-based gambling site in South Africa!
Frequently Asked Questions About Gambling in South Africa
Given the heavy restrictions applied to online gambling in South Africa, players naturally have many questions. We have searched the internet to find the questions that are most frequently asked about casino sites and gambling in general in SA. In the following section, you will find the answers.
Is Online Gambling Legal in South Africa 2023?
Online gambling is illegal in South Africa, with exceptions made only for sports betting and horse racing betting. To operate legally, an online bookmaker must gain a license from one of the country's nine provincial gambling and racing boards.
Are Online Casinos Legal in South Africa?
No, online casinos are not legal in South Africa. The National Gambling Act of 2004 made it illegal to gamble at online casino sites in the country. Furthermore, in 2010, a high court judgement ruled that it was illegal for offshore casino operators to accept players from SA.
How Safe is Online Casino?
Generally speaking, it is safe to play at casino sites that are licensed and regulated by leading gambling jurisdictions, such as the UKGC and the MGA. However, given that it is illegal to play casino games at online casino sites in South Africa, it is not safe or advisable for South Africans to play casino games online.
What is the Biggest Casino in South Africa?
South Africa has around 40 licensed land-based casinos. The largest is the GrandWest Casino and Entertainment World in Cape Town. The casino features over 2500 slots, and over 80 gaming tables, offering roulette, blackjack, and other real money games.
Which is the Best Online Casino?
The best online casinos are licensed by leading regulatory authorities, ensuring that they are safe, secure, and offer fair games. Although, given that online casinos are illegal in SA, there are no recommended casino sites for South Africans to play at.