Ghana Online Casino Guide – The Best Casino Sites for Ghanaian Players
The number of land-based casinos in Ghana has grown from four in 2006 to more than 20 today, mostly found in Accra. For those who do not live near the capital, you'll be pleased to know that this page is focused on the top online casinos in Ghana, that can be accessed from anywhere with an internet connection. We've narrowed it down to the three best casino sites in Ghana, so we can steer you down a path that is not only safe but fun.
We only recommend fully licensed, secure casinos so you can rest assured that any casino reviewed on bestcasinosites.net will responsibly look after your money, keep you safe and provide verified games that are regularly audited for fairness. We've taken care of the small print, so you can focus on enjoying yourself at the Ghana online casinos of your choice.
The Best Casino Sites in Ghana and What Makes Them Great
When we are considering a casino site for a recommendation, we check it very carefully against our strict criteria. The most important factors for us include an excellent games selection covering a wide variety of styles and themes and from a range of software developers. We make sure to read the fine print of any bonuses on offer, check that the site works just as well on a mobile device, the site must have great customer service and be able to prove its security through licensing, SSL encryption and regular third-party auditing. Below you will find the sites that achieved the highest scores across our criteria.
All Sites Licensed and Regulated
We would recommend you chose one of these foreign online casino sites for playing online in Ghana as they have superior games selections, bonus options and security when compared to other operators. The pages are well designed and fully mobile optimised for playing on the go from anywhere with an internet connection. These trustworthy operators hold full licences and value the user experience above all else. If you want to start playing right away, we would recommend starting with Betway which offers users a downloadable app, a great games selection and no tricky bonuses.
How to Choose the Best Online Casinos in Ghana?
See how our team of specialists tested the features of the best Ghana online casino sites.
Time Needed: 00:30
Tools Needed: Laptop or mobile
Software Needed: Email
How to Choose the Best Ghanaian Online Casinos Step 1
Casino Safety Test 
Take advantage of the research that our team has done about Ghana's online casinos and their security features.
How to Choose the Best Ghanaian Online Casinos Step 2
Gaming Selection Test
See which are the best and most popular games in the Ghanian online casino selections examined by us.
How to Choose the Best Ghanaian Online Casinos Step 3
Payout & RTP's Test
Find out more about the GH online casino payouts and RTP rates on different games listed on the platforms.
How to Choose the Best Ghanaian Online Casinos Step 4
Welcome Bonus Test
Examine which are the best welcome bonus offers that you can find in the best online casinos in Ghana.
How to Choose the Best Ghanaian Online Casinos Step 5
Payment Methods Test
Find out detailed info about the available payment methods and other additional details like transaction time, fees, and other important information.
Games Available Online in Ghana
Our top ten best casino sites in Ghana offer a great range of games for players to choose from. Each operator offers players games from the top software developers in the industry and for the most part, the focus is on slot games with each casino aiming to offer players a wide variety of game themes and features. Table games and live dealer games are also important for casino sites to set themselves above the competition. As far as our personal preferences go, we loved the poker sites in Ghana and their deals. Below you can see the entire game variety you will find at the best Ghana online casino.
Slots
Roulette
Keno
Craps
Blackjack
Poker
Baccarat
Scratch Cards
Live Dealer Games
Sports Betting
Interact with Real Dealers
Live dealer casino suites offer players a little something extra when it comes to gaming online. Slots and tables games can be fun, but they are missing a personal touch. For many players, the experience is much more enjoyable when you can interact with your dealer and other players. Our top-rated casino sites offer fully stocked live dealer suites from the industry's finest live developer, Evolution Gaming. The live dealers are friendly and professional, being well trained and experienced in their games. You will find the old classics such as roulette and blackjack with a few variants and differing real money table limits, alongside newer titles such as Dream Catcher where players can bet where the rainbow wheel will stop. Jump back to the top 10 – Check out our top 10 again!
Playing Casino Games on the Go
Mobile apps for casino sites have, until recently, been a sign of a great operator. Allowing your users to play on the go by downloading an app featuring many of your games was an extraordinary feat that not all companies could afford to do. Today, site accessibility has become increasingly important with the majority of online gamers preferring to play from their smartphone or tablet which prompted casinos and game developers alike to start designing for mobile-first. While downloadable apps for iOS and Android are still around, fully mobile-optimised sites have become the norm. This means players can access any of the games found online through their handheld device, without having to give up the storage space. Our recommended sites have all been vetted and approved for mobile accessibility. Imagine what it would've happened if your favourite Ghanaian lottery site didn't allow you to play on the go and your numbers come out exactly when you didn't play… Anyway, considering our criteria and the mobile-friendliness, our top recommendation is:
While the idea of a fully mobile-optimised site is to have as few differences as possible between that and the real thing, there are nonetheless a few things you should be aware of. In many cases, mobile sites will have slightly fewer game titles available – mainly older slot or table games that were designed using older software. There are sometimes fewer payment options available for mobile play as well. In very rare situations, you might even find a particular casino bonus available only to mobile players.
Bonuses and Promotions for Ghanaian Players
The table below illustrates the minor details of the welcome bonuses available at the best online casinos in Ghana. The important question to answer when it comes to bonuses though, is are they going to be a reward or a regret? While flashing numbers in the thousands next to the words 'welcome bonus' may draw in crowds, there are many casino sites that place conditions on their bonus offers that make them far more trouble to earn than they're worth. It is important to remember that you do not have to accept an offer, you are very welcome to join a casino site without availing of any bonuses or promotions that don't appeal to you.
The Best Online Casino Bonuses in Ghana
It is very rare for a casino bonus to have zero wagering requirements or conditions attached. Often it is worth accepting a smaller amount with lower wagering requirements than a larger bonus with steeper conditions. If a large bonus needs to be wagered 50x, for example, before you receive the money it could cost you $50,000 in bets to receive just a tiny percentage of that. Once again, you can join a casino site without accepting a bonus you don't think is fair or you can find another site with a bonus that suits your interests. Take into account that bonuses are offered also by the sports betting sites in Ghana, as well as the daily fantasy sports operators.
The Best Payment Methods for Ghanaian Players
It's no good joining a new casino to find that they don't accept your preferred payment method. Fortunately, the best online casinos in Ghana accept a wide variety of payment options, so those who prefer paying with a credit card, or through their cell phone, or with an eWallet, can all enjoy playing with the top operators.
Check your chosen casino accepts your payment method (without charging extra fees) before joining. Perhaps the easiest payment method to use is PayPal as all you need to do is set up an account before being able to play online. PayPal is also the most secure payment method as none of your personal details will be shared with the casino site. 888casino accepts this payment method in Ghana. Oh, you can also try one of the Ghanaian Bitcoin casinos where you can play with cryptocurrencies.
Gambling in Ghana
The Gaming Commission of Ghana (GCG) was created by the Ministry of the Interior in 2006 to regulate all gambling activities under one umbrella, replacing several earlier Acts.
The most popular form of gambling in Ghana is sports betting, mainly in relation to football, though the number of land-based casinos in the country is slowly increasing as well.
Current Legal Situation
Gambling in Ghana is now regulated by the Gaming Commission of Ghana, which was established in 2006, under the Gaming Act of the same year. The Act states that all forms of games of chance are legal in Ghana, with the exception of the lottery. Before 2006 gambling was regulated by the Lotteries and Betting Act 1960, the Football Pools Authority Act 1961, the Gambling Machines Decree 1973 and the Casino Licensing Decree 1975, the updated law has therefore made gambling much simpler to regulate. All gambling operators based in Ghana must apply for a licence through the commission. The minimum gambling age in Ghana is 18.

Gambling Responsibly in Ghana
Gambling practices under the restriction of the Gaming Commission of Ghana include casinos, sports betting, slot machines, importation and installation of gaming equipment, games of chance, betting on horse racing, scratch cards and bingo. Under the Gaming Act, a casino in Ghana is to operate as a club meaning that only members may partake in games of chance or other gambling activities within the casino. The Act also disallows members of the judiciary, the armed forces or the public service including police officers from becoming casino members. Casinos may not even use the word 'casino' in their name without the consent of the GCG. In fact, each gambling machine in Ghana requires a separate licence application and fee, to be renewed each year.
History of Gambling in Ghana
The history of gambling in Ghana is thought to be related to the introduction of soccer or football to the country in 1882 when betting on outcomes of matches also became popular. The first official soccer team in Ghana was formed in 1920 and called Cape Coast Excelsior. Sports betting is still very popular in Ghana both online and offline, both forms of which are regulated by the GCG.
Famous Resorts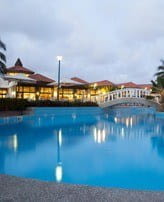 La Palm Casino, Accra.
Though it cannot be said that any gambling resorts in Ghana are particularly famous for that particular purpose, the most well-known is La Palm Casino, part of the La Palm Royal Beach Hotel in Accra. This resort was opened in 2003 and has won numerous tourism awards, including the World Travel Awards prize for Ghana's Leading Hotel five times.
Conclusion: The Best Online Casino Site for Ghana
The best online casino site in Ghana is Betway, as it is the only site recommended that has a licence from the Gaming Commission of Ghana displayed on its homepage. Displaying this licence means the casino operator has met with all of the requirements set out by the GCG and has been determined as safe and secure to play at in Ghana. Betway also has a great multi-faceted downloadable app on which users can play casino slot and table games or place sports bets prior to or during sporting events.
Frequently Asked Questions About Gambling in Ghana
Regardless of how detailed we are in a review, there are always questions left unanswered. In the following lines, we've made sure to answer some of the trendiest queries in regards to gambling in Ghana. Make sure to check them out for yourself!
Which Payment Method Is Most Suitable For Online Casinos in Ghana?
Although Ganaian operators offer excellent payment methods, there are some of them who can be considered as the trendiest today. Such methods as PayPal and other e-wallets like Neteller are getting more popular due to their fast transaction times and easy use.
What Is The Best Online Casino in Ghana?
As previously mentioned, our top choice is Betway, but if it isn't quite your choice, we recommend you register with the other operators we've listed. Each one of them has its own advantages and you can make use of them without hesitation as this can benefit your overall gambling experience.
How Many Betting Companies Are There in Ghana?
Since gambling is indeed legal in Ghana, there are more than 20 local online gambling companies available. The international presence in the country is even stronger due to the great gambling potential the country has. Whatever the case may be, you'll have plenty of betting companies to choose from.