Judge Dredd by NextGen Gaming– Simple Yet Rewarding Slot Game
Few comic book heroes, outside the DC and Marvel universes, have achieved legendary status. Yet, Judge Dredd is among them. Maybe it's the unique universe created by its authors, maybe it's the fact that the comics' timeline moves at the same pace as ours, or maybe it's a combination of all of its unique features, who knows. Either way, Judge Dredd is among the greats, and like many of them, he also got his own online slot game. The title is definitely in Dredd's style, at least visually. However, it is very simplistic as a slot, which makes it perfect for all audiences.
Down below, we will do our best to analyse the Judge Dredd slot in its entirety. Furthermore, we've embedded a demo version of the game that you can play for free if you want to experience the slot yourself. And if and when you decide to make some real-money bets on the game, we are more than happy to help. Below, you will find our recommendation for the best casino to play Judge Dredd at, with the chance to win some very real prizes.
Try the Demo Version
Before we move on with the review, you might want to try the game for yourself. We try to provide the most detailed and full reviews, but when it comes to learning about a slot, nothing beats playing it. Therefore, we have embedded a demo version just below this paragraph, that you can try for free. So, go ahead and give it a few spins, in order to decide if it's for you or not.
If you liked the Judge Dredd free demo above, you might want to bet some real cash on it. After all, the possibility of a huge win could only be more exciting when it comes with real monetary value. If you are ready to bet some real coin on this title, we recommend you do it at Royal Panda Casino. It is, hands down, the best place to play the game, and if you register and make your first deposit now, you will get a 100% welcome bonus, up to £100.
Rules and Gameplay Overview
Judge Dredd is a very simple slot, which makes it ideal for both newbies and seasoned gamblers. It comes with the standard 5 reels and 3 rows, with 25 fixed paylines running across them. It also features the now-must-have option of Auto Play. Unfortunately, it doesn't come with any sort of quick spin option, but the reels do not take too long to settle either, so this can be forgiven.
What's unique about the game is the Super Bet feature. This allows you to adjust the bet per spin and has three options – 25, 35, or 50 coins. Depending on which one you choose, regular symbols may turn to wilds at random on a different number of reels – 1, 3, and 5, respectively. What we are not to keen on is the graphics of the game. They look a bit dated and could have been less busy.
Judge Dredd Paytable and Available Symbols
Judge Dredd comes with a total of twelve symbols – ten regular ones, one Scatter Badge, and the Dredd Wild. Scatters are the highest paying symbolя, with five of them awarding you 2,500 times your bet, closely followed by the Wilds, which award 2,000 times the original wager. The Scatter symbol can also trigger free spins, but we will talk about those in a bit. Other than that, the paytable is pretty standard, with the nine through Ace paying between 100 and 200 times your bet for a full line of five and special Dredd-themed symbols paying out between 250 and 1,000 times your bet for a full set.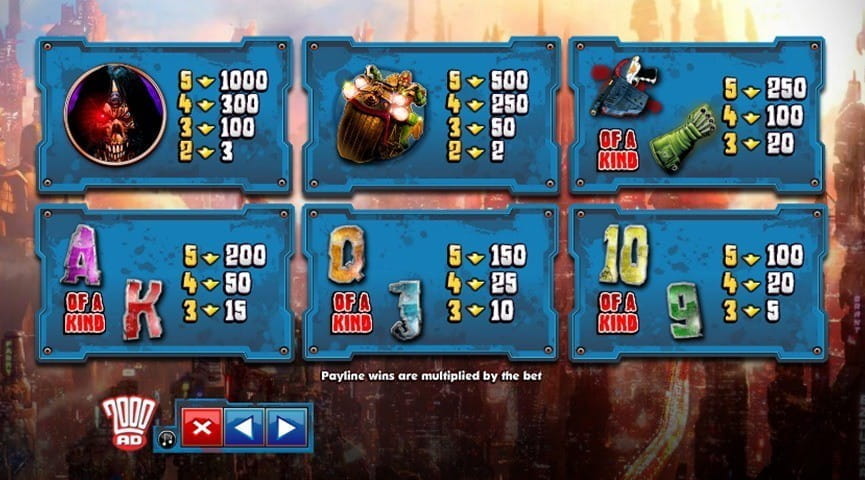 Advantages:
Gamble Feature
Random Bonus
Unique Theme
Adjustable Super Bet
Wide Betting Range
Scatter Badges
Disadvantages:
Outdated Graphics
Fixed Paylines
Judge Dredd comes with a very wide betting range. Coin value starts and £0.01 and can go up to £25. However, the paylines are fixed, so the minimum possible bet is £0.25, while the maximum sits at £1,250 with the Super Bet at maximum setting. As for the maximum win, this stands at 25,000 coins. So, at the biggest coin value, the game could net you £625,000 if you are lucky. With a maximum win of over half a million, we're willing to ignore the lack of a progressive jackpot.
Bonuses in Judge Dredd
Judge Dredd doesn't feature any bonus mini-games. However, it could award you some free spins. Get three or more Scatter Badge symbols and you will get 10 free games, as well as the cash prize for the badges. During the free stage, all prizes will be doubled, and wild symbols will be more frequent. What's more, the badges will remain, so you can retrigger the 10 free games as many times as you want, provided you are lucky enough. However, before the free games start, you will be in the best position to win big if you have selected the maximum Super Bet option. This will further increase the wild symbols, so you can make even more combinations.
If we have to be perfectly honest, the free spins don't come around that often. However, when they do, you are almost guaranteed to make some good profit on your bet. Not only are the prizes doubled, but you will also make use of additional wild symbols, so a big portion of the free spins will net you some money. If you hit some of the better-paying combinations during the free stage, you could make some pretty decent cash.
Judge Dredd on Mobile
The good news is that Judge Dredd is available on mobile, so you can play it from your phone. And while the rules of the game remain the same, the graphics have undergone some slight change. We're not entirely sure why, but the animations appear to have less frames, so they look a bit rough, to say the least. This was probably done to save some processing power, but it was hardly necessary in 2022. Yet, if you can ignore the somewhat janky animations, the game is exactly the same as its desktop counterpart.
Final Thoughts and Our Recommendations
Judge Dredd is a simple and enjoyable title. However, we all need a little change every now and again. So, if you liked the game, you might want to take a look at some similar slots. If the dystopian future theme is what drew you in, try giving Terminator a few spins. And if you like the graphics' style, then perhaps Transformers would suit your fancy. And while we're on the subject of licensed slots and awesome action, we can't help mentioning Tomb Raider – one of our favourites. So, go ahead and try them out.
Rating:

4.6/5

Powered by:

Microgaming

Play at:

32Red
Rating:

4.8/5

Powered by:

IGT

Play at:

LeoVegas
Rating:

4.2/5

Powered by:

Microgaming

Play at:

Ladbrokes
All things considered, Judge Dredd is a solid slot. It comes with enough features to keep it engaging, yet it still manages to keep it simple and stick to the industry's roots. We would have liked some better visuals and a quick spin option, but we guess we can't have everything. Also, the lack of a progressive jackpot could be considered a disadvantage for some players. And yet, we think that the possibility of over half a million quid in winnings makes up for it big time. You cannot go wrong with Judge Dredd. It might not be the single best slot out there, but it is a great title for both entry-level and veteran gamblers alike.