Man of Steel Slot Review – Playing Rules and How to Win
Just about everyone alive has watched Superman more than a few times. Now, you can relive your favourite moments of the comic and the movie as you spin to hopefully win some money. This is a slot filled with excitement, as it contains numerous scenes that look like they came right out of the movie. In fact, you will have the choice of two different game modes, which is rather unique when it comes to a slot. You can choose to do battle on Earth or on the planet Krytpon. Each one comes with a unique theme and 50 different bet lines on which you can win.
We have already given you a preview of the unique nature of Man of Steel. The two different game modes alone demonstrate not only why you should be playing this game, but also why you need to read through this review. There are quite a few different symbols, features, and winning combinations that we need to let you know about. Throughout the entire game, you will also enjoy some pretty cool graphics and sound effects that will get you ready for the arrival of Superman himself. Before you jump right in and start using your own money to make your spins, it would be helpful to read and get a better feel for what the slot entails.
Superheroes Come to Save You – Play This Slot for Free
If you are looking for a great way to begin playing this slot, consider the demo version first. This is completely free to play, and it will look and act just like the version that you will be playing for real money soon enough. When you play this free version, you can try out both Earth and Krypton modes. This will give you an idea of what you are going to be looking at when you begin betting your own money. This is will give you a glimpse of what you need to accomplish in order to win some money when everything is done and dusted.
While the demo version is free and a ton of fun in its own right, you will surely want to begin trying your luck for real money at some point. We would like to tell you about a deal waiting for you at Casumo Casino. This online casino offers Man of Steel and they are also offering a bonus deposit to players who make their first deposit. You will receive an equal match on any deposit up to a maximum of £25, plus additional 20 bonus spins on Book of Dead slot. While you cannot immediately take the bonus money out and put it in your pocket, you can most definitely use it on the Man of Steel slot. This is really a great deal, so consider opening an account today.
Let's Look at the Game – Winning Rules
The Superman concept associated with this slot will be evident as soon as you open it up. The graphics are from the movie, as is the Superman logo. Superman himself will appear to the left side of the reels, and there is some music that plays in the background to pump up the good versus evil concept that this comic aims to conjure up. You will find that there are various symbols and other artefacts that are directly related to the movie in some way. After you bet, hit spin and watch the events unfold. Hopefully, you will return to Earth a winner!
Reading the Paytable
The unique nature of this slot is also reflected in the fact that there are 25 paylines in the main game, but 50 during the free spins round. This means that you have plenty of opportunities to get a good return on your wager, but you might be left wondering what all of those symbol combinations mean. You just need to look at the paytable to find out that information. You can access this anytime, and it will detail where each of the bet lines are in each round, and how many coins are attached to each winning symbol.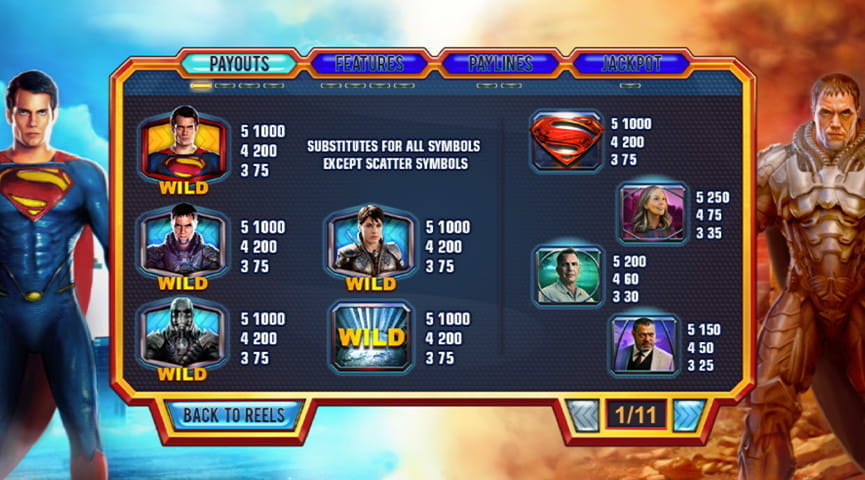 Advantages:
50 ways to win
Quick spin feature
Cool Graphics
Free spins
Expanding Wilds
Fun to play
The range of bets that are possible with this slot is where it gets really interesting. Almost any level of player will be satisfied with the limits that are built into this slot. You can bet as little as £0.50 if you want. This still means that you can win a decent chunk of change, as you can get 1,000 coins in the Earth game alone when you get 5 wild symbols on any given pay line. Now, if you want to have a chance at some serious money – we are talking jackpot level here – you can also wager up to a maximum of £2,500. You can autoplay up to 25 bets at a time.
Special Features and Free Spins
This game revolves around Superman and Lois Lane doing battle with General Zod. Throughout the game, there are a variety of wild symbols, scatters, free spins, and bonus rounds that you can see activated. The symbols that you will see include Jor El, a camera, some glasses, planets, and even a daily planet newspaper. If you get a certain number of wilds, you can activate the bonus round. In short, every spin of Man of Steel has the potential of bringing something new.
As we touched on earlier, the free spins round built into this slot is rather unique. That round is activated when you get three or more scatters. You will also notice that the number of bet lines double. You will be able to keep spinning for free until all of your free spins are used up. Keep in mind that you will be spinning at your original wager and that you cannot alter your bet until the round is complete. At the same time, you can earn even more free spins during the free spins round itself. This is a fun way to keep the excitement going without having to touch your money. You might really end up with quite a bonus throughout this round alone.
Mobile Version of Man of Steel
A game this fun should not be limited to the desktop computer environment. Playtech did not think so either, and that is why they have developed a great version of Man of Steel that can be played on most smartphones and tablets. You will access this via your favourite casino that you have downloaded. You will notice that the same great Superman features are embedded into the mobile version, right down to the bonus round and the free spin opportunities. This is a great way to play the slot whenever you are in the mood, no matter where you might be in the world.
Before You Start – Consider These Other Great Slots as Well
Some players might be disappointed to read that the RTP for this slot is a bit lower than normal at 95%. We aren't thrilled about that either, but we also appreciate the number of different ways that are built into this slot that can make you a winner. The two-game modes alone are so unique that it warrants a try. You will find yourself playing this slot multiple times just to see what the storyline is. It is a great way to relive memories from one of the greatest comic books and movies in recent history, while still having the chance to win some money at the same time.
Rating:

4.7/5

Powered by:

Microgaming

Play at:

All British Casino
Creature From the Black Lagoon
Rating:

4.4/5

Powered by:

NetEnt

Play at:

Royal Panda Casino
Rating:

4.5/5

Powered by:

Microgaming

Play at:

777 Casino
We think Man of Steel is a winner. You will enjoy the graphics and sound effects. Both are state of the art and really enhance the overall quality of the slot. You will feel as if you are an actor in the movie, The theme is unique and challenging, with many twists and turns to take into consideration. Give it a try for yourself and see if you agree with us. At the same time, we have reviewed some other slots for you that think you will enjoy as well. Take a look at the top slots casino sites for more information.