Flowers Slot Review – Playing Rules and How to Win
Gardens look great with flowers, so do offices and porches as well. Ok – just about anywhere can use a flower or two to brighten up the day, and this slot certainly aims to do that for you. At the same time, there are delightful flowers and some evil ones. This innovative slot from NetEnt makes use of both of them. You will also see some special features become activated from time to time, such as the double symbols feature. Your goal with this slot is to get a winning combination on one or more of the 30 different win lines. We will help you do just that.
There is a lot that went into the development of this slot, so we want to explain each of the special features and ways to win for you. This is a slot that you will make you feel bright and cheery. It might even have you going outside into your own garden at the end of a playing session! We want to encourage you to read through the details that we are going to give you. There are 30 different bet lines in this 5 reel and 3 rows slot. We will go through how to win and let you know the best place to begin your Flowers slot experience. Get ready for the gardening adventure of a lifetime. Oh, and if you are a fan of the more classic type of games, you can give a check to our page about other amazing 3 reel slots.
Make Your Yard Look Special – Play This Slot for Free
Many people just jump right into playing a slot without really knowing what the game is all about. While that may or may not result in some wins along the way, it is not the most enjoyable way to go about playing Flowers. You want to know what each of the flowers means within the context of the slot, and it would be helpful to have a feel for how each of the special features function as well. That is why you will want to start out by playing the free version of this slot. You will still get to experience every aspect and component of the game, but you will not have to risk any money while doing so.
Playing the free version will help you to better understand what we are talking about in this review. Once you feel that you have a good handle about what is going on with each spin that you make, it is time to consider playing for some free spins. To begin, consider opening up an account at NetBet Casino. This is a wonderful place to begin playing Flowers because they will give you a bonus on your first deposit. In fact, they will give you up to 500 free spins on your first deposit, valid on the Casino and Vegas tabs. And while NetBet is our top choice when it comes to playing Flowers, we understand that not every player would like the casino. Therefore we want to show you also the other options that you have in our page about best slot sites in 2021.
Let's Look at the Game – Winning Rules
The theme of this slot obviously revolves around flowers and the variety of things that go with them. You will notice a variety of symbols and characters will appear on each reel, each one having something to do with that same theme. Even the background evokes sunshine and good feelings. Hopefully, that will continue through to provide you with more a few winning spins. To play this slot, you first need to decide on your bet. There are some limits to be aware of there, and we will cover those in a moment. Once you place your bet, hit spin, and watch the flowers begin to work their magic and grow right in front of you. To diverse a bit from the topic, we want to point your attention to our page about the symbols in slots. Never forget that the more you are aware of the dynamics of the games of chance, the better your chances actually are!
Reading the Paytable
As we told you earlier, there are 30 different win lines that you can earn some money on. You might think that this is too many, but you need not be concerned about that. There is a handy paytable that you can access at any time. You will notice a green 'paytable' button on the left side of the screen, just under the first reel. Click on that and you will be able to see all of the combinations that go in to make each win line, and the coin value attached to each one. This will be useful information to you as you begin playing.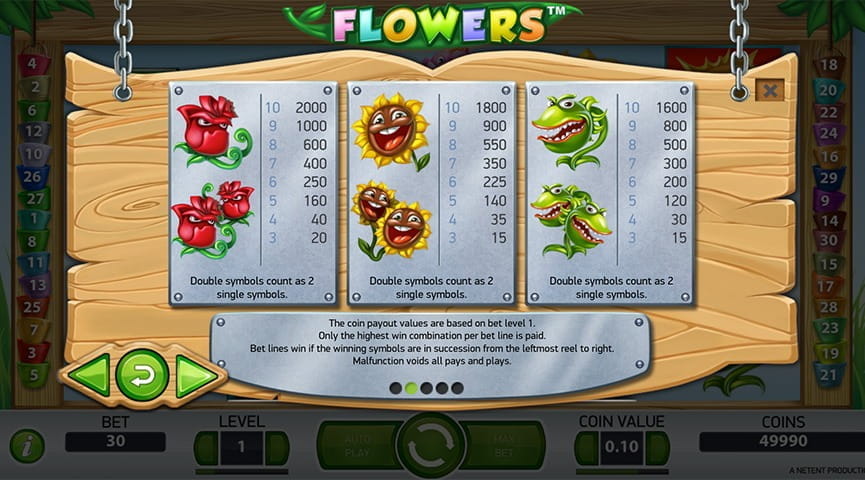 Advantages:
30 Ways to Win
Quick Spin Feature
Low Minimum Bet
Free Spins
Nudge Wilds
Fun to Play
Disadvantages:
No Progressive Jackpot
No Bonus Game
The first thing you will need to do before making any spin with Flowers is to decide what you want to bet. This slot actually has a relatively narrow range when compared to others, but most players will find a bet that they feel comfortable with. At the low end, the minimum bet is £0.30. Keep in mind that the lowest coin value is £0.01 and there are 30 win lines. Since the highest coin value you can choose is £0.50, the maximum bet is £75 when betting at level 5 (which is the highest level with this slot).
Special Features and Free Spins
There might not be a ton of special features associated with this slot, but the ones that are there really add value to the game. Consider the stacked wild and wild symbols as two examples. You will find that having either of these appear during one of your spins is a good thing. They can help you to complete a winning combination, as they will essentially replace almost any other symbol. The exception to that being free spins and double symbols, which we will talk about next. Just when you thought that you had a losing spin, a stacked wild can grow into the picture just like a flower and save the day!
There are also plenty of opportunities to earn some free spins with Flowers. These can appear as either a single or double symbol, but they represent the same concept. You can wind up with as many as 4 Free Spin symbols on any given spin. This will activate the free spins feature, and then you are then in for a treat. If you end up with 8 free spin symbols (remember the double symbol as well), then you will get 30 free spins to use. The same bet you made when you started will carry over to the free spins round, and you can earn free spins while you continue there as well. You will keep going until all free spins have been used up, at which time you will be back in the main game where you need to make another wager.
Mobile Version of Flowers
This is a fun slot to play anywhere. You might wonder how you can do that, but NetEnt solved that when they developed a mobile version of Flowers not long ago. You will find that all five reels and three rows show up nicely on virtually any mobile device, as long as the screen is in landscape mode. You will also be able to access all of the special features, including free spins, all during the time that you are playing this slot. Just download your favourite casino, access Flowers, and then begin playing.
Before You Start – Consider These Other Great Slots as Well
This is a slot that simply makes you feel good. There is nothing special about the theme, other than that it makes use of symbols that we encounter in our everyday lives. You will find yourself identifying with each flower as they seem to come alive in front of your eyes. It is simply a nice, relaxing slot to play. We really think that you will enjoy it. The RTP is quite high as well, so there are going to be some good opportunities to win some money here. The RTP of slots is vital and you should be aware of it before starting to play, no matter which is the game that grabbed your attention.
Rating:

4.4/5

Powered by:

Microgaming

Play at:

32 Red Casino
Rating:

4.8/5

Powered by:

NetEnt

Play at:

LeoVegas Casino
Rating:

4.6/5

Powered by:

NetEnt Gaming

Play at:

Casumo Casino
Flowers is a winner. Play it for yourself and see what we saw. While you might not enjoy the fact that there is not a bonus game, and some players will not like the low maximum bet, there is still plenty else that this slot has going for it. Begin by playing the free version just to check it out. After you do that for a few spins, you will likely be heading over to NetBet Casino to give it a whirl for some real money. Once you have done that, take a look at the other slots that we talk about here. Those are enjoyable as well.