Flowers Christmas Edition Slot Review – Playing Rules and How to Win
This slot builds upon the success of an earlier Flowers slot released by NetEnt, while adding in a holiday theme. It is quite contagious to watch these lovely flowers take bloom during the most festive time of the year. You have happy looking flowers, and some that look a bit mysterious. Overall, the entire backdrop is one steeped in snow and festive cheer. We love the animations that are incorporated into this game, and the sound effects really add to it as well. With 30 different pay lines to win on, there is quite a bit to look forward this holiday season, or any time of the year really.
This slot has some great features that have been added since the original Flowers slot was introduced to the online casino world. We feel that you will like what this one has to offer, but there are some details that you will want to know about before playing. This is why we have taken the time to review this game and write down our thoughts for you. Beyond the graphics and holiday theme, there is a lot that slot has to offer in the way of making some money. You will like how the symbols interact with one another to form some winning combinations. We haven't even mentioned the free spins round that you can activate.
Watch the Flowers Bloom – Play This Slot for Free
There is a free version of Flowers Christmas Edition. This is where you want to begin, as it is a great way to learn all about the slot and various features that have been incorporated into it. While we understand that real money is where you want the action to take place, that will come soon enough. You want to first know what is happening each time you take a spin with this slot, and the demo version is a great way to do that. This is how you can watch each of the pay lines and what it takes to form a winning combination. You will also find out how many coins you can win, which is especially important when the special features come into the picture.
NetBet Casino is a great place to go online when you are ready to begin using some real money to play this slot. They offer Flowers Christmas Edition, and they are also offering a great deposit bonus that you can take advantage of. This is a great way to get into the holiday spirit, as they will provide you with a massive bonus pack of up to 500 free spins. If you feel like exploring more options, you can refer to our list of the top UK slot sites for 2022.
Let's Look at the Game – Winning Rules
On its surface, this is a simple looking slot that is not too busy. This will allow you to focus on the festive scene and the symbol combinations that appear after each spin. However, do not let the simple appearance of this slot cause you to think that there are minimal opportunities to make some money. On the contrary, there are quite a few ways that you can win, both with the bet lines and the special features the are randomly activated. Begin by deciding on your wager, press spin, and then watch what happens.
Reading the Paytable
If you are concerned about being able to determine where each of the 30 pay lines in this game are, and how to know if you have won, you needn't be. The paytable is where you can go to find out all of this information. Not only will you see each of the 30 lines detailed for you right down to how many symbols you need to win, you will also be able to read about the special features and symbols that can contribute to a winning spin as well. This is a great way to enhance your playing experience and help you better maximize how well you do with the slot in the end.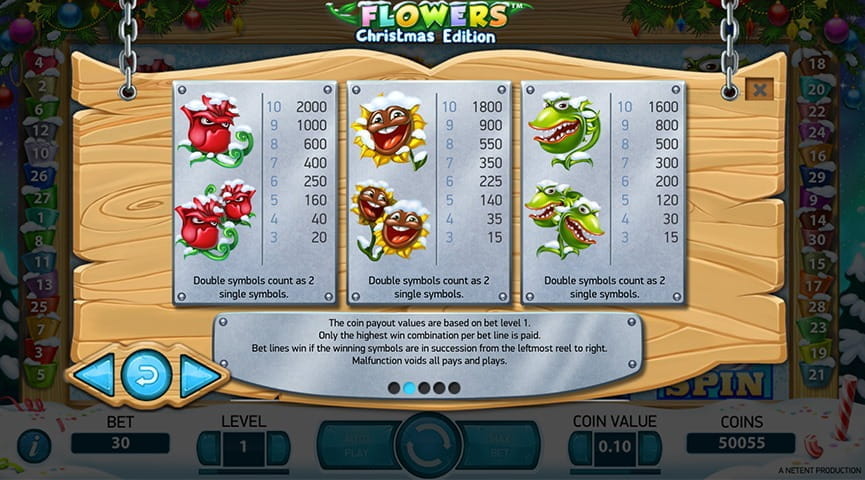 Advantages:
30 Ways to Win
Quick Spin Feature
Double Symbols
Free Spins
Substituting Wilds
Fun to Play
Disadvantages:
No Progressive Jackpot
No Bonus Game
When you are ready to start playing for some real money, you will first need to decide how much you wish to bet on your next spin. With five bet levels to choose from, and coin values ranging from £0.01 to £0.50, you can bet as little as £0.30 if you want to. With 75,000 coins up for grabs on any given spin, you can still win quite a bit with the minimum bet. If you would like to have an even more opportunities to win big, you can bet a maximum of £75 per spin. Remember that you can change your bet with each new spin in the main game.
Special Features and Free Spins
One feature that is rather special with Flowers Christmas Edition is the double symbol. Similar to other slots, a double symbol takes up several spaces on any given reel. In this slot, you will notice that a double symbol can take on the form of nearly any flower. The more space it takes up, the more you can win. You can receive between 3 and 10 symbols on any single pay line. When that happens, you will end up with an extra special win. We think that this is always a good thing.
There are also free spins to be won with this slot. There is a special symbol that says free spins. When you end up with four of them across the five reels, the round will be activated. This means that you will receive a certain number of spins depending on how many of the symbols you actually received. You will then be able to continue spinning at your original bet, without having to place a new wager. There are also stacked wilds that can appear during the free spins round. If you get those, you might just get the combination that you need to keep the fun going with more free spins. Have you ever felt the need to learn more about the beautiful icons that developers use in our favourite games of chance? If yes, then we can satisfy that curiosity of yours with our page about symbols in slots!
Mobile Version of Flowers Christmas Edition
Playing this slot wherever you want has never been easier. NetEnt has developed a version of Flowers Christmas Edition that is specifically geared for the mobile platform. You do not need to worry about missing out on any of the special features either. The theme is still the great holiday and festive background that you will enjoy on the desktop version. There are many ways to win with this slot, and now you can accomplish that while you are out and about taking care of your daily business.
Before You Start – Consider These Other Great Slots as Well
It is not very often that you can play a holiday-themed slot all year long. You will not grow tired of this one, as the story is fun and creative. You will enjoy seeing the different varieties of flowers pop up, particularly when they win you some money. There are so many different ways to win with this game that every spin will be looked upon with eager anticipation. The RTP is quite good at 96.30%, so you know that you have a fair chance to win many of the bets that you place. Who knows – you might just hit the maximum of 75,000 coins on one of your spins!
Rating:

4.5/5

Powered by:

NetEnt

Play at:

Royal Panda Casino
Rating:

4.9/5

Powered by:

NetEnt

Play at:

Casumo Casino
Rating:

4.6/5

Powered by:

Microgaming

Play at:

Betway Casino
After playing this slot a few times, we think that you will agree it is a worthy addition to the online casino environment. This one has a lot going for it, from the stacked wilds that appear in the free spins round to the double symbols that can help you win big. Ok, the maximum bet might be a bit low for some players, but that does not detract from how creative this slot is. Play it a few times and see what you think. When you are ready to move on, consider one of the other slots we have written about here. Also, you can read some generic information regarding slots so you can improve your knowledge and from there also your gameplay. Maybe you will enjoy learning a bit more about the volatility of slot games, per example. And if you are in a real holiday mood, we can recommend you another game – Secrets of Christmas slot can bring you in Lappland, right into Santa's home…