Extra Chilli Slot Review – Mega Bucks Hidden Behind a Mexican Setting
Are you ready to spice up your life and add extra chilli flavour to your daily routine? How about in combination with some potentially amazing winnings along the way? You have landed in the right place as Big Time Gaming's Extra Chilli is just what you have been waiting for. Thanks to the developer's Megaways signature game engine the ways you can win here are estimated at an astounding 117.649, which is practically unheard of. Each spin feels different, unique, and can cascade into astronomical wins thanks to the 6 + 1 reels. The tons of fun features, high volatility, and unlimited multiplier make this one extra chilli slot game. Welcome to rural Mexico, where the food is hot, hot, hot and the prizes can be even hotter.
The follow up to the mega-hit Bonanza has plenty of intriguing perks to offer and is in no way a lesser slot game. In fact, if you are a risky person who enjoys the rush of adrenaline and crazy winning amounts, you will find this Mexican food market quite difficult to leave. Big Time Gaming has managed to deliver yet again on a slot where you can rake in up to 20000 times your stake at any given spin. What will follow, will be a thorough and comprehensive review from our side, where we will point out every little detail and aspect of the game that is deserving of your attention. The game's design, functionality and features won't be missed, neither will the free spins and any setting that is worth mentioning. Pack your bags, apply extra sunscreen and join us as we explore the Mexican market, in search for the oh-so chilli prizes.
Pack Your Pesos and Check Out the Demo Version
If you feel the impatience building up and cannot wait to take the food stall for a test drive, don't waste any more time and try it out on the absolutely free Demo version below. We understand how important the first-hand experience is, therefore, we always strive to include the slot in a trial mode. It's important to make up your own mind, as to whether you are enjoying a specific thing or not. The Demo version boasts every feature, setting and graphic detail as the full version. Moreover, it comes with an already available fictional sum of money you can practice with. There is no need to make any deposits whatsoever. Go ahead. Spin the chillies and see if they will spice up your taste buds or be just the right amount of hot. You can always continue reading to find out more information regarding the slot's functionality afterwards.
We have a slight hunch that you might find the Extra Chilli slot game just the right amount of chilli for your taste. If we have indeed guessed correctly, you are welcome to embrace the Mexican food stand in its full glory and hotness by heading to Mr Green online casino. We can totally recommend it as a great source of fun for newbie and veteran punters alike. It possesses a full license by the Gambling Commission of Great Britain, which is the holy grail of recognition in the online gambling industry. What's more, you will get a welcome bonus that will match 100% your first deposit up to £100 and 50 free spins on the popular Starburst slot. Last but not least, you can always browse through their substantial game catalogue and diversify your preference base a bit. Rest assured, you won't be bored… not one bit.
Gameplay, Settings and All Things Functional
Extra Chilli's theme is inspired by the Mexican culture. The main slot is positioned inside a stall with stacks of garlic, chilli peppers, and other veggies hanging from both sides. The backdrop is featuring more or less the same and is void of human activity. You can hear people mumbling in Spanish, however, they are nowhere to be seen. Big Time Gaming has invested a great deal of effort in the graphics and sound department as the setting feels incredibly authentic and true to what it represents.
The slot itself is comprised of 6 vertical reels and a 7th special, horizontal one that is situated below the others. This results in an astonishing 117.649 possible ways to win. You can simply never guess where the next win for your wallet will come from. Due to the particular nature of the game, quick play is an unavailable option because each spin can be a cause for an avalanche of streaks, should luck be on your side. On the bright side, autoplay is at your disposal and you can manually set it at 5, 10, 25, 50, or 100 consecutive spin cycles with the option to set a limit on loss, as well as single win.
Sound can either be turned on or off. Regarding the sound, the background noise is very eerie and beautiful but once you hit the spin button it changes to a very dynamic and rather monotonous mariachi tune resembling the "La Cucaracha" song, so if you are an obsessive clicker, it might become rather irritating for your ear, so you might consider switching it off. Other than that, there are bonus rounds and if you hit the 3 gold letter symbols, which will activate the free spins feature of the slot, but we will cover this in greater detail below.
A Breakdown of the Game's Symbols
The symbols of the slot are, as you can expect, heavily based on Mexican traditions and chilli peppers, of course. You have 9, 10, J, Q, K, and A serving as lesser-paying symbols, in addition to the higher value crystal chilli pepper icons that come in 4 colours and with 2 different sizes each. The purple one is valued the highest at up to 50 times your stake if you hit up to 6 in combination. Aside from them, you will find an animated fireworks symbol that only appears on the bonus horizontal reel and acts as the wild one in the game.
As usual, it can substitute everything else in the reels but the scatters. It can reward you with up to 20000 times the amount of your stake. In case you hit the "H", "O", and "T" signs, you will activate the free spins feature as these are the scatters. We will explain to you how exactly it works further down in the review. All you need to know are these 2 words: unlimited multiplier.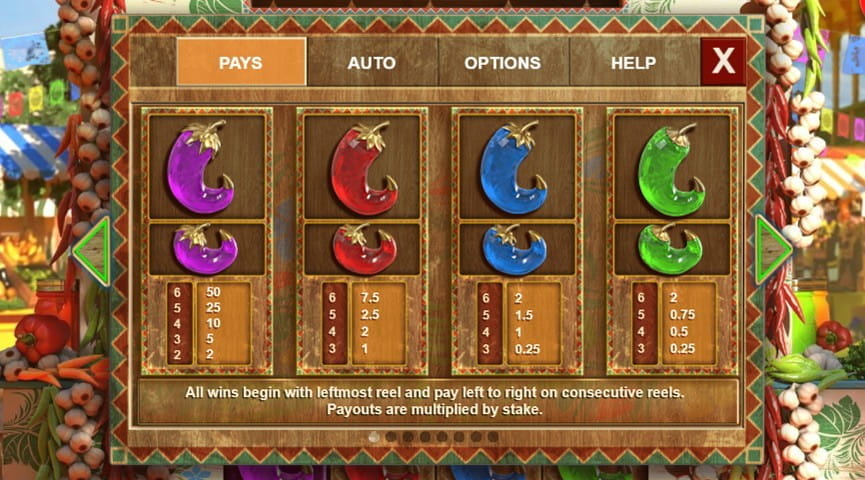 Advantages:
Unlimited Multiplier Effect
Great Graphics
Increasing Free Spins
Mobile Friendliness
Autoplay Availability
Feature Drop Function
Disadvantages:
No Progressive Jackpot
Bothersome Sound Effects
On Extra Chilli slot you can wager any amount that falls between £0.18 and £36. This is a rather reasonable range for most people though adrenaline-seekers that seek to gamble more might find it somewhat underwhelming. You can adjust the amount with the green arrow keys. You will notice that the more you increase your stake, the more the so-called "Feature Drop" feature increases. It is right next to the bet range adjuster and it allows you to instantly obtain the "H", "O", and "T" scatter symbols and enter the free spins bonus round, if you are willing to pay the price, that is.
Although it creates a shortcut to the most lucrative part of the slot, many may interpret it as a way to cheat or bypass the randomness of the slot. You pay to deliberately get to the bonus round. It kind of cuts the excitement of the unknown while you play. On the bright side, it does come with an increased RTP from 96.15% to 96.82%, which is rather enticing on its own.
Otherwise, in terms of progressive jackpots, you won't find them here. Regardless, this does not mean that you cannot take home serious amounts of cash from your winnings. Up to 20000 times your stake when you bet big to be precise. Take the risk and reap the benefits.
Gamble Your Luck and Win Big in the Bonus Round
As we briefly mentioned earlier, once you hit the "HOT" symbols, you activate the free spins bonus rounds that can result in astronomical wins. It works the following way: as soon as you hit them, you will be awarded 8 free spins. Each additional scatter on that winning spin, will grant you 4 additional free ones. Before you actually go to the bonus spins, the gamble wheel will be introduced to you. On it, as its name suggests, you can gamble and win up to 24 extra spins that will make your chances at winning big even more possible. On the flip side, however, beware that you may lose them all, as well.
Anyhow, this is where the unlimited multiplier comes into play. For every consecutive win you make, it will increase by 1 until your reaction of wins remains unbroken. During this, if you get 3 or 4 big bowls of hot chillies on the horizontal reel, this will award you with 4 and 8 freed additional spins, respectively. No matter how you look at it, if you keep the streak going, the multiplier will do its work and the sky would be the limit.
If you are adventurous enough and the adrenaline rush dictates your life, you are welcome to risk more and activate the bonus found purposefully with the "Feature Drop" function, which we told you earlier about. The options are there. All you need to do is click the spin button and see where you will land. Hopefully on the other side of the rainbow and on top of a pot full of gold.
The unlimited multiplier is a phenomenal feature that can bring you the big bucks. However, don't expect it to happen every time. If you are really lucky and are willing to risk, then chances are you might be in for a real treat. The Extra Chilli slot RTP of 96.15% does mean that generally, you are to get your investments back in the long run. This does not mean that you can enter the free spins mode every time. We managed to enter a couple of times and win some decent amounts. Then again, we weren't really trying and investing a great deal of effort beyond trying out how the game feels and how the features work. Luck and perseverance are all you need. Have some at your disposal and you will notice how quickly the tides will turn.
Mobile Friendliness and Features
Mobile compatibility is essential nowadays as the majority of the punters own a portable device, not to mention a very powerful one, so the expectations for everything to be running smoothly are the norm everyone should aim for. We tested Big Time Gaming's Extra Chilli slot across multiple platforms and can say that the animation moves beautifully, and you can really see the effort that has been invested with the aim to make it as optimized as possible.
The slot takes a very decent part of the screen and you won't need to squint to see what is happening. Of course, when it comes to screens, the bigger, the better. Therefore, we would encourage you to play on a bigger display as it is your money we are talking about. You would hate it if you misclick on something for the sake of the screen size. Otherwise, the customization of your experience including but not limited to the autoplay is present across all devices. Enter the game on the go and experience the Mexican food market like you haven't before.
Too Much Chilli Can Be Good for You After All
Well, now that you have reached this penultimate part of the review, the outcomes can only be two. You either dig the game and are interested in it, or you don't feel the vibe and tingling sensation in you. We will pretend it is the former and assume that you will give Extra Chilli a chance to prove you how it can make your time worthwhile. And, since you like it so much, we will go ahead and recommend you several similar slots, that you can have a blast with, including the prequel game to Extra Chilli and namely, Bonanza. You will certainly have a good time wherever you decide to go, as each game can offer you loads of fun, pull your nostalgia strings and offer you rarely high RTP. The same things that are considered a Thunderkick slots trademark.
Rating:

4.73/5

Powered by:

Big Time Gaming

Play at:

Royal Panda Casino
Rating:

4.6/5

Powered by:

SG Interactive

Play at:

LeoVegas Casino
Rating:

4.9/5

Powered by:

NetEnt

Play at:

Casumo Casino
Big Time Gaming has successfully managed to make a beautifully designed game that can bring substantial winnings to anyone who is willing to go down to Mexico. The setting is extremely thematic and it's quite obvious that the developers have shown a great deal of respect and appreciation of the Mexican culture. It feels very authentic. Moreover, the collapsing reels and the free spin feature could bring you closer to the dream life you have always dreamed of living, as your wins can cascade and multiply considerably with each consecutive combo you make.
The sound design when spinning might be considered irritating by some in the long run, however, it's far from a reason to abandon ship in the midst of the sailing process. Give it a go and see what we are talking about because there certainly is much to enjoy and savour about the Extra Chilli slot game. Pack your sombreros, stock your playlist with rhythmic Mexican songs and venture to the food market that can have you leave with full hands.