Blood Suckers Slot Review – Learning to Play and Become a Winner
Blood Suckers was developed by NetEnt and has been around for quite some time. Over that time, it has become one of the most popular slots thanks to its groundbreaking graphics for the time, 25 impressive ways to win, and a 5 reel layout that contains a brilliant storyline. With the scary addition of more than a few joker symbols and the possibility of a bonus game that has you hunting for vampires, this is one slot that has a video game feel to it. All of these features mean that you will want to know just how to hit it big on each pay line, and that is what we aim to help you better understand.
This review is meant to give you some valuable information about Blood Suckers. This is a vampire-themed slot that has proven to be quite popular. As such, you see a host of characters designed to frighten and amaze you. The storyline is also quite exciting and should keep you spinning the reel time and time again. It is our desire now to explain the symbols used in this slot, along with how the pay lines work so you can get ready to win. We always feel it best to give the demo version a try first, so let's talk about that now.
Get Your Fright On – Play for Free
Before going over the specific details of this game, it is first helpful to know about the free demo version. This is where you should start, as it contains all of the great features and animations as the real money version, all without any risk. This is like test driving a car before you decide to buy it. Look at all of the options, play around with it a bit, and then get excited and motivated to eventually play with some cash to test your luck. We think you will enjoy the features added to this slot, but the demo version will either prove us right or wrong.
There will come a time when you want to play this slot for some real money. As soon as you have learned the features and tested it out a bit, that would be a good time to place an initial deposit with Casumo Casino online. If you deposit up to £300 the first time, they will match that amount. This is a great way to get some money to play with and test out the new slot that you have grown to love. With this casino, you will also receive 20 free spins to use in batches however you please. It's time to get started!
Learn the Game First – Winning Rules
To begin, it is helpful to note that this slot comes with 25 different pay lines, each going from left to right. There are quite a few symbols that you will want to learn about, but the most important are the Scatter Symbols, Wild Jokers, and the Bonus Symbols. If you receive three or more Scatter symbols (remember to go from left to right), you will get some free spins. The Wild Joker symbols look like a vampire in a clown costume. These symbols effectively replace any other symbol encountered during your spin, with the exception of Scatter and Bonus symbols.
Take a Look at the Pay Table
Whenever you take a spin with this slot, it is easy to find out how much and how you won. You can simply click on the pay table, as it is here that will find all of the winning combinations that you need to be aware of. While only the highest win on each pay line will be paid to you, it is possible to win on multiple lines. When that happens, you can count on the slot combining all of your winnings and you can then watch your coin total go up accordingly. If you win with a Scatter symbol, your winnings will be multiplied according to the paytable and given to you separately.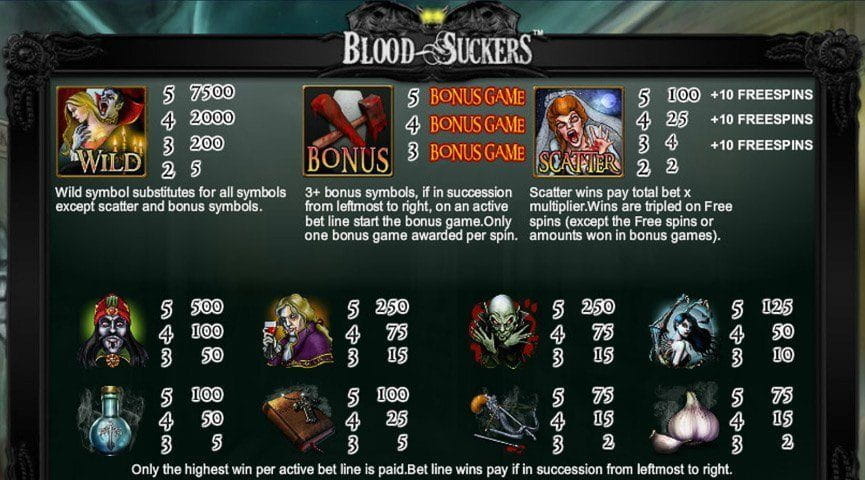 Advantages:
4 different bet levels
Multiple ways to win
Different Wild Jokers
Fun bonus game
Autoplay feature
Simple to play
Disadvantages:
No progressive jackpot
Low wagering limits
There are some wagering limits that you will want to be aware of with this slot from the outset. The first thing we noticed in this regard, and you likely will to, is that the maximum bet is a bit lower than one is used to. With Blood Suckers, there are only 4 bet levels and a maximum coin value of £0.50. Given the 25 win lines built into this slot, that means that the maximum wager per spin is £50. Those players who enjoy low limits will appreciate that fact that the minimum bet with this slot is £0.25.
Joker Wilds and a Bonus Game
As you can tell, there are quite a few special symbols and features that make this slot special. Let's begin with the Scatter Symbols that can lead to free spins. When you find three or more these on a pay line reading from left to right, you will get a free spin round. For three symbols, you get 10 free spins. That goes up to 20 free spins for four Scatter Symbols, and 30 for six Scatter Symbols. Whatever you win during these free spins will be tripled, so that is yet another added bonus. You can also win more free spins during the free spin round to keep it going even longer.
Let's not forget the bonus round. This game has a special theme centred around a hunt for a vampire. You can activate the Vampire Hunt Bonus Round by spinning a minimum of three consecutive bonus symbols, again reading from left to right. When this game begins, you will find yourself in a burial tomb from the ancient days. There will be coffins everywhere that you will want to open. Simply click on them to find vampires and get rid of them. Every time you defeat a vampire, you will win some coins. If you encounter a bat when opening a coffin, the bonus game will be over.
Mobile Version of Blood Suckers
There is a mobile version for this slot as well, and we find that it is every bit as fun and entertaining as the desktop variety. This means that you can play the game whenever the urge hits you, no matter if it is for money or just for fun. You will simply want to turn your phone or tablet into landscape mode so that you can see all of the rows. You will still have access to the same great features that have made this slot so popular, including free spins and the bonus game.
Check This Out First and Additional Slots for You
Not only does this game include groundbreaking graphics for its time, but it also has a most entertaining theme to it as well. Add to that the industry-leading high RTP of Blood Suckers slot – 98% RTP, and there really is no reason to not give this slot a try. You will appreciate the many different scatter symbols that can appear from time to time, and the unique bonus games will leave you grasping for even more coins. The slot also has more than a few chances to win some free spins, and we feel that is always a good thing.
Rating:

4.5/5

Powered by:

NetEnt

Play at:

LeoVegas
Rating:

4.3/5

Powered by:

Microgaming

Play at:

Betway
Rating:

4.0/5

Powered by:

Microgaming

Play at:

Royal Panda
If you can't tell, we are big fans of this slot. While you may not win big with a maximum £50 bet, the fun factor alone will keep you coming back for more. Of course, you need to be the judge of this. Try playing this slot today and see what the fuss is all about. If you are looking for something a bit different, perhaps outside of the horror or vampire genre, consider taking a look at one of the other three slots we have detailed for you here.