Devil's Delight Slot Review – Learning to Play and Become a Winner
NetEnt introduced Devil's Delight in 2013 and it has been extremely popular ever since then. It has an extremely high RTP percentage that you will want to hear about, and the graphics that have been introduced here are well ahead of its time. You will enjoy learning about the 20 different win lines, spread out over five reels and four rows. The theme has a scary, yet ghoulish vibe to it. You will find yourself enjoying the devilish symbols and rooting for them to appear the right combinations. Because there are so many different features with this slot, we encourage you to go through this review carefully.
We hope that you will find this review to be most helpful as you begin to play Devil's Delight. The theme is based around the concept of collecting as many souls as you can. If you do well, you will be rewarded with some free spins. There are several special features incorporated into this slot that make it so special. In addition to the storyline, you will want to know about each of the symbols and how they interact to open up different parts of the game. This will really add to your coin value over time. To learn everything, we recommend playing the demo version first before you set out to play for real money.
Save Your Soul – Play Devil's Delight for Free
Before setting out to save all of those souls, we think you will first want to know more about the free version of this slot. This is where you should start your playing adventure, as you will be able to really take your time and explore every nook and cranny that this game has to offer. The animations are cool, as is the background music. That will set the stage for you to look for the combinations that you need to have on each pay line to win. We will detail those for you coming up later in this review.
With all of the fun you will have playing the free version of this slot, you might forget that you can win some real money with it as well. When you want to take the experience to the next level, consider going to Casumo Casino online to play Devil's Delight. Not only do they offer this slot, they will also give you a bonus on your initial deposit. This is a great way to gain some additional funds to use for spins on this slot. You do not have to deposit a lot of money to take advantage of this excellent matching offer, so consider opening an account with them today!
Learn the Game First – Winning Rules
This is a slot that has 20 possible win lines. This is a great way to increase your odds of winning, depending on how much money you feel comfortable risking. There is a beautiful background that you will enjoy watching as each spin is made. In addition to the free spins that you might earn, there is also the Soul Reaper Bonus Game that you may be invited to play. More on that in a moment. You can also get some sin spins, which is a great way to gain 10 additional spins with which to add even more coins to your total.
Take a Look at the Paytable
You can view the pay table for this slot at any time by clicking on the button on the left side of the screen. It is here that you will see all of the various winning combinations that you will need to hit to win on any given bet line. There are quite a few options, and that is what makes this slot so appealing to play. You will notice that a win total is arrived at by multiplying the number of coins that you win by the bet that you placed. You can win on multiple win lines, and those totals will be added together. However, remember that you can only win once any give pay line.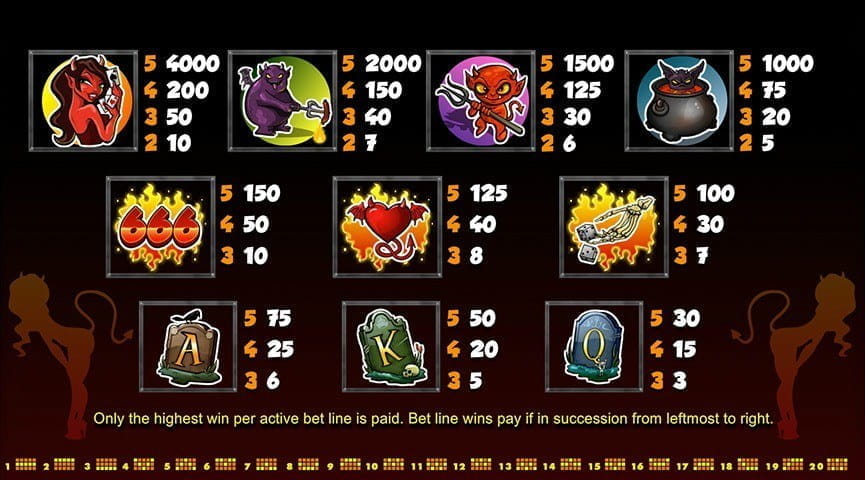 Advantages:
10 Different Bet Levels
Multiple Ways to Win
Various Scatter Symbols
Fun Bonus Game
Autoplay Feature
Simple to Play
Disadvantages:
No Progressive Jackpot
Low Wagering Limits
There are many different ways to bet on this slot. If you like to keep the amount of money that you risk on the low side, you can certainly do that here. With a minimum bet of £0.20 per spin, you can stay in the game for quite a long time. Naturally, you can also play for more if you would like as the maximum bet per spin is set at £100. You will select your wager by choosing your bet level (there are 10 of them) and the value of your coin. Coin values range from £0.01 to £0.50.
Special Features and a Bonus Game
We want to begin by telling you about the free spins that you can earn by playing this slot. You will find a free spin round is activated when you hit three of more scatter symbols. To sweeten the pot, you get even more spins if you hit two or more scatters during such a spin. Your coin totals will also be multiplied by a power of up to five during this round. That is a great special feature that, when combined with the sin spins, really adds to the excitement of Devil's Delight.
As if there were not enough special features to tell you about already, there is also the addition of a bonus game in this slot. The Soul Reaper bonus game is activated when you get the bonus symbols on reels 3-5. You may also gain access to the bonus game during your free spins as well. During the bonus round, you will want to combine the sins with a given character. If you get the correct combination, then you will get some coins and that soul will be included in your SOUL-O-METER. There is more involved as well, so play the demo version to catch up on all the great features included in the bonus round.
Mobile Version of Devil's Delight
If you would love to play this game on your mobile device, you are in luck. NetEnt has developed a mobile version of Devil's Delight that is every bit as entertaining and feature rich as the desktop version. You will be amazed at the level of graphics that show up on your tablet or smartphone while playing this slot. The same great features are included as well, including the bonus game and the sin spins. You will be able to access this game at many online casinos that you can download, so consider doing that today and begin playing the slot wherever you happen to be.
Final Thoughts and Additional Slots for You
We cannot find much, if anything, that is missing from this slot. That is why it has received a rating of 4.9. Even the RTP percentage of over 97 demonstrates just how worthy this slot is of your playing time. You will enjoy the graphics and the theme. Beyond that, the special features and bonus round alone will keep you on your toes as you try to collect the requisite number of souls. You will also love the addition of the free and sin spins to round out your playing pleasure.
Rating:

4.6/5

Powered by:

NetEnt

Play at:

LeoVegas
Rating:

4.5/5

Powered by:

Microgaming

Play at:

Betway
Rating:

4.7/5

Powered by:

Microgaming

Play at:

Betway
It should be obvious that we recommend this slot for many reasons. It has a bit of everything that casino players have grown to love through the years. At the very least, you will want to play the demo game just to see what the fuss is all about. If you just can't get into the theme, or you are looking for something a bit different, take a look at any of the other three slots that we have listed here. You will enjoy playing them as well, so give them your consideration.