Alaxe in Zombieland – Beware of the Chesire Cat!
3 bonus features and a RTP well over 96% make this slot a good pick for any gambler out there. The theme here is rather distinctive – if you have ever wanted to see a crossover between Alice in Wonderland and The Walking Dead, then you've come to the right place. You get to join Alice – pardon, Alaxe – as she falls in the wrong hole and goes on a chilling adventure in Zombieland. Characters from the classic tale come on the reels terribly distorted, and thematic bonuses keep the profits going.
On this page we've covered all there is to know about this obscure Microgaming slot. The game certainly stands out with its strange style, even in the rather colourful catalogue of industry veterans Microgaming. You can try the game for free with our demo and read our simplified guide to the rules. We've listed the minimum and maximum bet, the RTP, the payline combinations and all the bonus features you would hope to trigger. At the end of the review, you will find some recommendations for similar slots that might prove a better fit for you if Alaxe in Zombieland doesn't catch your fancy.
Alaxe in Zombieland Free Online Play
Are you ready for some BRAAAAAAINS? If so, then you could try helping out Alaxe with the free online demo included below – just be careful, because the psychotic blonde seems to be perfectly ready to handle the distorted horrors of Zombieland on her own! Our demo will allow you to experience all the features of that the full game has on offer. The only difference will be in the betting levels, of course, since you get a virtual balance here. This means that you can spin the slot however much you want – you can also leave the soundtrack on, but be warned, because it can be somewhat chilling at times.
Of course, even though the game is weird enough to warrant a few playthroughs in demo mode, there is little point in spinning a slot empty unless you are preparing to win money on the real thing! If you want to try racking up some winnings with Alaxe in Zombieland, you should pick one of the approved safe operators listed on our site. This slot is relatively obscure, but it can still be found at Royal Panda, one of the funniest brands on the net. Head over to the jolly casino, and you will find the gloomy Zombieland lurking beyond the colourful gates.
Zombieland Rules Overview
Alaxe in Zombieland is a fairly straightforward slot, following the traditional format with a base main game and more exciting bonus rounds. There are 25 selectable paylines, which gives you a lot of freedom in managing your bet. The peculiar theme is what makes it stand apart from other similar offerings. Zombieland parodies the well-familiar Wonderland and gives it a rather gritty twist. The visuals are very dark, and the soundtrack gets tense with expectation each time you spin. However, the slot goes a little too far in trying to be dark and brooding – it can be hard to make out the details on the screen, especially in a badly lit room. The interface is of the usual Microgaming quality, with quick spin and auto play options that allow you to make more spins.
Zombies and Payouts
If you are familiar with the classic Alice tale, then you might recognize some of the characters that populate the reels of Zombieland. The petite Alaxe kind of looks like Alice from the Disney movie – but you wouldn't want to meet her in a dark alley, especially if she has a flamingo in hand! The rest of the characters are all zombified – except the Cheshire Cat, who is just plain creepy, and looks more like a set of jaws wearing a mask. Alaxe offers the best payouts and you need five of her symbols to win the slot's jackpot; the Cheshire Cat, the plotting Rabbit and the brain-eating Hatter also have decent payouts, while the base symbols are represented by little gravestones. There is also a Wild symbol – a purple brain that looks like a mushroom. It also acts as a multiplier and doubles each win in which it takes place. You have three separate scatters that trigger the bonus features – we will talk about those in a little while.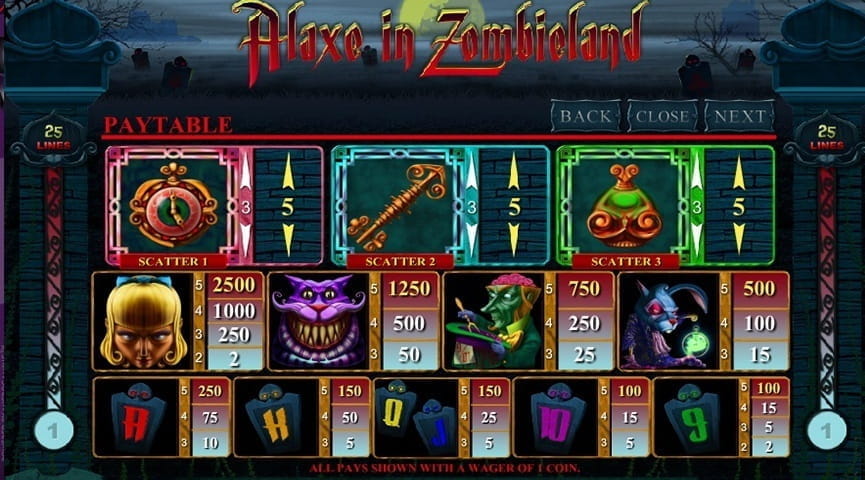 Advantages:
Horror Theme
3 Bonus Rounds
Selectable Paylines
Microgaming Graphics
Dark Sound Effects
BRAAAAAAINS!
With 25 selectable paylines, you can bet as little as 1 pence on this slot if you deselect most of them. The maximum bet per payline is set at £2, which brings your total wager to £50. This is more on the low end so no good for high-rollers. There is no progressive jackpot here, but this means that the base game offers better returns with a RTP of 96.55% – this is very good for a Microgaming slot, and better than most of the games you will find. Of course, netting decent returns is tied to triggering the bonus rounds more often.
Three Sinister Bonus Rounds
It is rare that you would see three sperate Scatters, but that's what you have here. It certainly enhances the experience, both thematically and – well, financially. The first scatter is a pocket watch, made from an eyeball of course. It can only appear on reels 1, 2 and 3. If you land three or more, you unlock a Tea Party bonus, presumably with the Mad Rabbit and the Zombie Hatter. The Tea Party is a basic free spin but, but first you get a random number of picks from 14 teapots, each of them hiding a number of free spins or an increased win multiplier. The second Scatter on reels 2, 3 and 4 is the Key. It triggers the much-lauded Red Queen Adventure. Here you are forced to pain roses red, collecting prizes on your way. The last Scatter is a vile of suspicious liquid. If you land three of those on reels 3, 4 and 5, you get the Gravestones bonus, where Alaxe chops gravestones – with a flamingo! – and unveils coin prizes.
Well, that was a long write-up on the bonuses. They actually appear on the reels pretty often and boost your profitability significantly. Without them, the main game comes out a little bland. When you manage to land the Wild, the wins get very lucrative, but there can also be dry spells which seep your bankroll. All to all, the bonus rounds offer a good homage to the original Wonderland tale and help in building up the chilly atmosphere of the game.
Final Verdict – Bonus Rounds Leave You Happy Rather than Scared
As a slot, Alaxe in Zombieland is definitely carried by its excellent bonus features that raise the RTP over 96%. That's definitely good considering that the horror theme is the main feature here. If you like the general idea, a very similar title we can recommend to you would be NetEnt's excellent Zombies slot which boasts an even higher RTP and more polished art. Mythic Maiden and Immortal Romance are other horror-themed lots that we've reviewed during our extensive playthroughs.
Rating:

4.6/5

Powered by:

NetEnt

Play at:

NetBet
Rating:

4.7/5

Powered by:

NetEnt

Play at:

Casumo
Rating:

4.5/5

Powered by:

Microgaming

Play at:

Betway
Compared to those slots, Alaxe in Zombieland still stands strong, even though it is competing with NetEnt excellence. The overall theme and style of the game are original enough to make it stand apart, but it is the bonus rounds that should hold the most interest for any slot fan, of course. As already mentioned, the base game does not shine in terms of payouts, but the bonuses improve the picture quite a lot – though don't expect things to be sunny in the bleak landscape of Alaxe's Zombieland!