Simsalabim Slot Review – Playing Rules and How to Win
With a name like Simsalabim, you know that you are in for a special experience. It is a game with various forms of magic, different characters, and symbols. Each one you encounter will reflect that theme. With a possible 225,000 coins to be won, there is a lot of excitement that goes along with each and every spin. You will find that each symbol can be transformed into something truly special and become a winning combination. Such is the nature of the theme that is associated with this slot and the main reason why it has become so popular since its launch in 2011.
This review will help you get the most enjoyment possible out of playing Simsalabim by providing detailed information about it. With a magic-based theme, you will find that there are prizes lurking around the corner of every spin. Pull a rabbit out of the hat, for example, and you could find that your coin value goes up higher than you ever dreamed possible. Even though this slot was created some years ago, the stunning graphics were well ahead of its time. You will enjoy the animations that went into the creation of this game. Before you play the real money version of this slot, we recommend trying out the demo that the developer NetEnt offers.
Let Magic do the Trick for You – Play This Slot for Free
With all of the fun lurking just around the corner, we can understand that you want to start playing for some serious cash right away. Before that, we would like to give you more details about the game first, so you can really enjoy watching the storyline unfold right before your eyes. This is a slot that has many different directions each spin can take. The best way to discover all of them is to just play it without any risk. You will have a great time and learn all that there is to know about Simsalabim, all without using any of your own money.
Once you have figured out how all of the magic tricks in this slot work, it is time to open an account at Videoslots. We consider it to be the best place where you can begin playing Simsalabim for real money. The operator will give you a bonus match equal to the amount you put in up to £200, along with 11 wager-free spins. This is really a great deal and is a way to increase your playing balance right from the start.
Let's Look at the Game – Winning Rules
Simsalabim has 25 different win lines, offering you numerous chances to earn a reward. Always be on the lookout for a winning combination after each spin. You will love how the animations work particularly within the special features. To begin, determine how much, or how little, you want to bet. There are some minimums and maximums that we will tell you about in the next section. Once you have decided how much you want to risk, hit the spin button and then sit back to watch. If you are not sure why you didn't win on any given spin, look at the paytable. In fact, let's talk about that now.
Reading the Paytable
Since there are so many different ways to win, the paytable is where you want to go to learn about all of the various combinations. This is also how you can find out how many coins you can gain with any particular winning combination. Some symbols will get you a bigger win than others, so feel free to examine the paytable to learn what those are. There are also some special features in Simsalabim that have different payout rules. You will find out about all of those on the paytable as well. Just click on the 'I' icon on the left corner of the screen to learn more.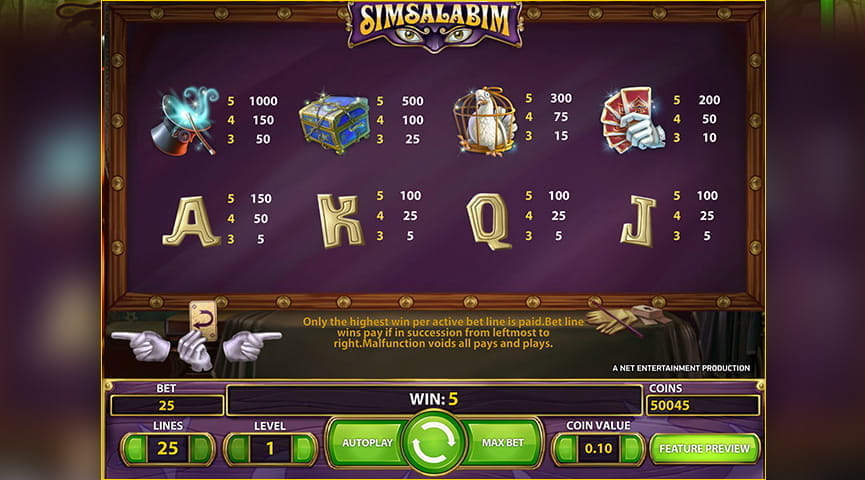 Advantages:
25 ways to win
Quick spin feature
Free spins
Small minimum bet
Fun to play
Top-Tier Developer
Disadvantages:
Lack of features
No Progressive Jackpot
When it comes to betting limits, this slot really appeals to all types of players. If you are the type of person that really likes to keep your bets small just to enjoy the nature and story of the game, you are in luck. This game has set a minimum bet of £0.25. However, there are some players who like to risk far more with each spin. If you are that type, this slot will appeal to you as well with its maximum bet of £250. Keep in mind that there are 10 bets levels, and coin values range from £0.01 to £1. You can change your bet with every new spin if you wish.
Special Features and Free Spins
This slot has both a bonus game and the possibility of free spins. Let's start with the bonus game. This is where you will see a lot of hats, just like you would expect to see from a magician. Your job is to pull some rabbits out of those hats. If you get one, you will win a bonus. As soon as you hit an empty hat, the bonus game will end. At that point, you will be taken back to the main game where you will be able to spin again and try for another bonus round. Your winnings in the bonus round will increase the higher your initial bet is.
You will also notice scatter symbols are built into this slot as well. Long time slot players will know what this means – free spins are on the horizon! If you get three or more scatters on any given spin, you will earn some free spins. For three scatters, you get 10 extra spins. Four scatters will see you end up with 15 more spins, while 5 scatters will give you 30. This is a great deal because your initial bet will be multiplied during the free spin round. You can also earn more free spins during the round. You keep going until you run out of free spins, at which point you will be back in the main game again ready to make another bet.
Mobile Version of Simsalabim
A game this fun should not be limited to the desktop computer. The developers at NetEnt agreed and have created a mobile version. You are now able to access this slot via your online casino of choice right from your smartphone or tablet. You can play it wherever you are, in both the free and real money mode. There are only three rows with this slot, which makes it easy to see everything when you put your mobile device in landscape mode.
Before You Start – Consider These Other Great Slots as Well
We were attracted to this slot right from the beginning. The name is contagious. You don't even have to be able to pronounce it correctly to appreciate the creative nature of the storyline. Almost everyone enjoys a bit of magic from time to time. You will find that the magic in this game is non-threatening and can give you a nice return on your investment. In fact, the RTP percentage is over 97, which is another reason to cheer for this slot. If you would like to find more amazing slots, you can go ahead and check out our top 10 UK casino slots list.
Rating:

4.0/5

Powered by:

Microgaming

Play at:

NetBet
Rating:

3.8/5

Powered by:

IGT

Play at:

32Red
Rating:

4.5/5

Powered by:

NetEnt

Play at:

Videoslots
In conclusion, we urge you to give Simsalabim a try. At least begin with the demo version and see what you think. It has a bit of everything. The minimum bet is low and that maximum bet is high. No matter what your comfort level is with your wagers, you will find that this slot will accommodate you. It is a fun game with great graphics and catchy sound effects. We have also taken the time to review three other slots here that you might enjoy. Take a look and give them a try when you have a chance.