Silent Run Slot Review – Playing Rules and How to Win
World War II shaped our history, and this slot helps bring a small part of that back to life. Launched back in 2013, you will find various special features, exciting graphics, and even an invigorating bonus game are all here in this slot. The fact that the slot has 25 bet lines is rather impressive as well. This will give you a lot of different ways to win with each spin. This theme is unique and creative, bringing with it something new with every spin that you take. It is a slot that you will want to play many times in order to get the hang of it and all of its many features.
Battleships rule this slot. It is important, then, to learn how they interact with other symbols to form the winning combinations that you need to win some serious coin. As mentioned, this slot is based on a war theme, with much of the battle taking place in the water. This adds an element of excitement to each spin, the likes of which are really enhanced with the background music and sound effects that have been added in. You will want to turn the volume up and sit back as you make each spin. It could be the big win that you've been waiting for. Before you begin, let's talk about the free version of the slot that you will want to play first.
Shoot Your Way to Victory – Play This Slot for Free
Just as commanders do not just rush their troops into battle without first having a plan, neither should you start playing this slot for real money until you have had a chance to explore it a bit. There are many features that make this game unique, and the best way to preview them is by playing the demo version. You will enjoy the same great theme that has made this slot so popular since its online casino introduction in 2013. This will give you the time you need to just make your spins and explore the various ways to win. We will talk about those in this review as well.
When you have seen the battleships, submarines, and other symbols interact with one another in Silent Run, it is time to consider playing it for some real money. To do that, you will want to think about making your initial deposit with Videoslots. When you do so, you can unlock up to £200 and 11 wager-free spins. This is a great offer that will give even more incentive to play Silent Run. You will end up with more money in your balance than you deposited, and you won't even have made your first spin yet. As if that weren't enough, the casino is also going to give you free spins that have no playthrough requirements as well.
Let's Look at the Game – Winning Rules
There are 25 different bet lines available on this slot, so there is quite a bit of battlespace to cover. The theme itself evolves into a storyline inspired by World War II. Once you know how the various characters in the game work together to form the combinations that you need, it is time to decide on your wager. You can change your bet with each new spin, so keep that in mind. Once you have placed your bet, hit the spin button and sit back to watch the action unfold before your eyes. You can compare that with the bet lines to see if you have won and how much.
Reading the Paytable
It is easy to determine if you have a winning combination after any given spin wit this slot. Not only does the game let you know automatically, you can access the paytable at any time. Perhaps you thought you won, but you were just one symbol away. The paytable will let you know what you need next time in order to be declared a winner. This is an excellent way to learn each of the 25 bet lines that are built into this slot. You can look at the paytable by clicking on the 'I' button located in the lower-left side of your screen.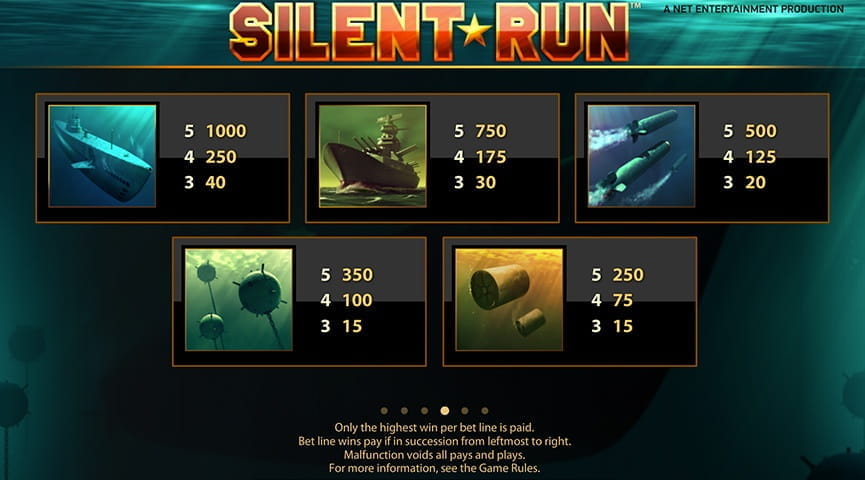 Advantages:
25 Ways to Win
Quick Spin
Nice Graphics
Free Spins
Interesting Theme
Amusing Slot
Disadvantages:
No Jackpot
Limited Features
As you think about the bet you want to make on your next spin, you will want to remember that there are minimum and maximum wagers built into this slot. There are 10 different bet levels to choose from, and the possible coin values range from £0.01 to £0.50. This means that you can risk as little as £0.25 on any given spin and still receive quite a few coins in return for a winning combination. You might even get some free spins, and those can really add to your account balance quite quickly. If you want to risk more money to win more, you can bet up to a maximum of £125.
Special Features and Bonus Game
Silent Run has a number of special features, including a multiplier that can add up to 10 times your win value to your coin total. These are all enticing in their own way. Take the Echo Wild Symbol as an example. This is a character that will only appear on the 3rd reel. If you see it, expect three different sonar signs to be send out to locate other wild symbols that have been placed on the reels. You can get between 1 and 14 such wilds, all the result of sonar. This will give you the winning combination of symbols that you need to get some coins.
What Silent Run lacks in free spins it makes up for with its bonus game. This is titled the Bonus Game and is activated by the Echo wild that appears on the 3rd reel. If the sonar finds some torpedoes on reels 2 through 5, this game will be opened up to you. There is a multiplier attached to each play in the bonus game. You will want to fire each torpedo that you end with in your arsenal. If you sink a ship, you win the value of coins attached to it.
Mobile Version of Silent Run
Silent Run is a slot that was almost built for the mobile environment. NetEnt has developed a version that looks great on a smartphone or tablet. You will be able to experience the theme and graphics that have made the desktop version so popular, right down to the sound effects. The best part is that you can play this slot for real money while you are traveling or just lounging by the pool outside. It is a great way to pass the time and enjoy the storyline that is built into the game.
Before You Start – Consider These Other Great Slots as Well
The unique nature of this slot makes it worth playing. It has a theme that is reflected throughout the special features, right down to the torpedo fires in the bonus round. This is a great way to enjoy playing a video game-style slot while still having the opportunity to win some money. There are 25 different bet lines and a high RTP percentage. These all equate to a slot that provides its players with more than a decent chance of getting a return on the money that they play with. We would also like to recommend you some of the best UK slot sites where you can enjoy this and many other great slot games!
Rating:

4.6/5

Powered by:

IGT

Play at:

Videoslots
Rating:

4.2/5

Powered by:

Microgaming

Play at:

BetVictor Casino
Rating:

4.7/5

Powered by:

PlayTech

Play at:

Ladbrokes Casino
Silent Run is worth playing. It is as simple as that. You will feel as though you have gone back in time to the days of the Second World War. The graphics are outstanding, and they really make this slot something extra special. You will find yourself playing it again and again trying to get to the bonus round. There are plenty of other ways to win money with this one as well. We have also reviewed three other slots here that you might want to give a try when you are ready for something different.