Secret of the Stones Slot Review – Playing Rules and How to Win
Secret of the Stones is a slot that takes us back in time to the ancient days of the Celtics. This is a world where magical druids were given the responsibility of guarding the Sacred Stones. Now, those same stones can bring you some incredible winnings. This is a creative slot that has a lot of special features packed into it. Launched in 2013, this slot has 25 different pay lines. While it does not have a bonus round, it does have a number of other ways to multiply your winnings, including the free spins that you can receive from time to time.
There are some unique features to this slot that make it worth playing. You will also want to know what each feature brings to the table, and that is why we have written this review for you. In addition to the free spins, you will notice the symbol substituting wilds and the free spin bonus collector that come into play at random intervals. You will also want to learn how the various ancient symbols and characters interact with one another to produce a winning combination. We will cover all of that and much more in the coming paragraphs. Furthermore, you can check which are the top UK slot sites where you can enjoy a number of games too!
Find a Winner in the Stones – Play This Slot for Free
This slot is fun to play, so we understand the urge you might be feeling to get right down to it and try to win some real cash. However, we urge you to take some time to play the free demo game first. This is a great way to have some fun without having to spend any money in the process. The demo game contains all of the ancient Celtic symbols and features present in the desktop version. You will be able to explore the various winning combinations, and you will see how the special features get activated during a spin. All of this is free, so we think that is a great place to start with Secret of the Stones.
Once you have learned how the slot is played by taking part in the demo version a few times, it may well be time to play for some real money. When that time comes, go to Videoslots. You might be asking why. Great question! How does some free money sound? That's right – they are offering a 100 percent match up to £200 and 11 wager-free spins. You do not have to deposit that much to take advantage of the bonus deposit, so don't worry. Just put in the amount of money that you are comfortable with, and then watch your account balance grow before you even take that first spin with Secret of the Stones.
Let's Look at the Game – Winning Rules
Since there are 25 bet lines in this slot, there are quite a few different winning combinations that you need to be aware of. However, this does not mean that game is complicated. In fact, the exact opposite is true. The slot is designed to be fun and easy to play. Start by deciding how much you want to wager on your next spin. If you need help determining what the minimum and maximum bets are, keep reading. We will get to that in a minute. Once you have placed your bet, spin the reel and see where the symbols fall. We talk about what happens when you win in a moment as well.
Reading the Paytable
If you are playing for real money, you obviously are interested in learning what it takes to win. For that, you just need to look at the paytable at any time. This is where you can see all of the possible winning combinations that are available in Secret of the Stones. It will also detail how many coins you will receive for each type of win, so this is valuable information. You can access the paytable at any time by clicking on the button on the left corner of your screen. Take a look and discover all of the 25 different ways to win, plus what happens when the special features are activated.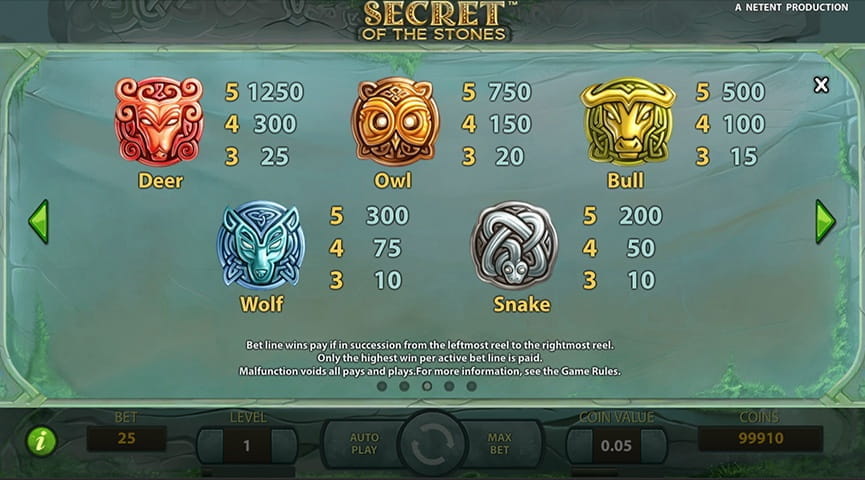 Advantages:
Many Win Lines
Wild Reels
Exciting Features
Free Spins
Penny Slot
Nice Graphics
When you are determining what you want to wager on each spin with this slot, keep in mind that there are minimum and maximum bets to consider. If you like to risk a small amount of money, you will be happy to find out that this is a true penny slot. That means that you can bet as little as £0.01 on each spin if you want to. This is a great way to try out the slot without risking much money. You can still win quite a bit even with the minimum bet. If you want to risk a bit more, you can increase your bet all the way up to the maximum of £125.
Special Features and Free Spins
This slot has a Wild Reels feature that is worth talking about. It can appear on the 2nd and 4th reels. When it does, you will find that those reels become completely covered with a substituting wild symbol. This will stick to the reels all throughout the free spins that you will receive. You can also receive additional bonus wilds. You will know when you have earned them because they come in the form of an owl and a deer.
Free spins are also a possibility when playing this slot. As you can imagine, this is a great way to add to your coin total without even wagering more. You will find that the free spin feature is activated when you have more than three scatter symbols appear on any reel. You will be awarded 10 free spins for three scatter symbols, but that increases in number with any additional scatter symbols that appear. You can also get the free spins bonus collector that involves a druid appearing with twenty stones. We found this to be a most creative and fun addition to the slot.
Mobile Version of Secret of the Stones
For those readers who like to play their slots away from their personal computer, there is a mobile version of Secret of Stones that is highly engaging and addicting. We all thank NetEnt for it, and the provider proves to be one of the best in the industry! It contains the same great features and ways to win as the original version, but it can be played anywhere. Since this slot has three rows, it is ideal to be played on the smaller screens associated with mobile devices. Just remember that you will want to play in landscape mode, as this is how you will be able to see the entire game in action with each spin.
Before You Start – Consider These Other Great Slots as Well
When we first started to review this slot, we were concerned with the lack of bells and whistles that seem to be associated with many slots today. We needn't be worried, however, because this slot has a great deal of innovation and creativity that we quickly grew to appreciate. The storyline is fantastic. The graphics are excellent, and the background music really adds to the ambience while playing. The RTP percentage is quite good at 96.70%, so you will know you at least have a decent chance of winning back some money.
Rating:

5.0/5

Powered by:

NextGen Gaming

Play at:

NetBet Casino
Rating:

4.7/5

Powered by:

NetEnt

Play at:

Videoslots
Rating:

4.8/5

Powered by:

NetEnt

Play at:

Ladbrokes
Secret of the Stones is a slot that you will want to play more than a few times. There are some great symbols and characters that really make this game exciting to play. It is important to find those winning combinations and to look forward to the free spins. This is a way to multiply your winnings, so that is an added bonus as well. Once you have played for a while, you might want to try something a bit different. Take a look at the other three slots that we have reviewed here for you. They are each creative and bring something new to the slots genre.