Jack Hammer II Slot Review – Stick Wins, Free Spins, and How to Play
Jack Hammer II by NetEnt is a unique game in that it has 15 reels instead of the typical 5. This is different from its original, which has 3 reels and fewer paylines. This time, Jack has brought with him 99 paylines and the game's famous Sticky Wins. You can also get free spins with a multiplier and plenty of coins to win during regular play. There's a good chance you haven't seen many slots like this, which makes for a nice gaming experience while chasing down coins that are waiting for you to scoop them up.
In this review, you are going to get a good look at Jack Hammer II. You will see everything that Jack has brought with him to this version and you just might like it. You will learn about the demo, features, rules, reels, paylines, paytable, and how you can get the most out of this game. No stone will be left unturned so that you can make an informed decision about whether or not to put down real money on this slot or to move on to one of our recommendations. It's good to know what you're getting into before you dive in.
Go On a Free Adventure – Check Out the Free Demo
But before getting into those pertinent details you are anxiously waiting for, we have to talk about one super important detail and that's the demo game. The demo is how you are going to know exactly what you are getting into because it is the perfect representation of the real money game. All of the settings and features are fully operational so you can see how the game behaves and if that behavior is right for you. You might find that you absolutely love Jack because of his desire to rescue Pearl and be the big hero at the end of the day.
If you like the idea of being the hero behind the scenes and you want to play for real cash, NetBet Casino has your back. You can get a nice welcome offer if you're a new player. We are talking about a 100% match up to £200. What this means is that NetBet doubles the amount that you can play with. Of course, you don't have to deposit the entire amount, but you will need to deposit the minimum deposit amount to take advantage of the offer. Any bonus money is good money.
A Look at All of the Features and the Rules
With that said, it's time to take a look at the slot's moving parts. The rules are very simple. You can go to the wrench icon at the bottom left of the screen to set up your quickspin. You can then go to Autoplay to set up how many autoplay spins you wish to do. What is nice is you can tell it to spin until it wins free spins. This means that you can sit back and enjoy it. Something that you will notice as you sit back is that the game is considered a 15-reel game because every square spins independently. Winning depends on where symbols stop in the rows. The Sticky Wins allow symbols to stick so you can accumulate them and build onto your winnings. If you get free spins, there's a chance that you will win even more.
Reading the Paytable and the Symbols
You'll notice that there are 11 symbols on the reels. Jack Hammer is your highest paying symbol. The rest are Pearl, Don Crabby, Goons, Dock, Boat, Violin Case, Barrels, and Microphone. The Free Spin symbol is your Scatter and you have Wilds that will substitute all symbols but Scatters. Scatters and Wilds don't pay but all other symbols do in groups of three or more. As the Sticky Wins come into play, fewer reels spin because some of them are stuck. This is good because the other reels can land on the same symbol and make more money.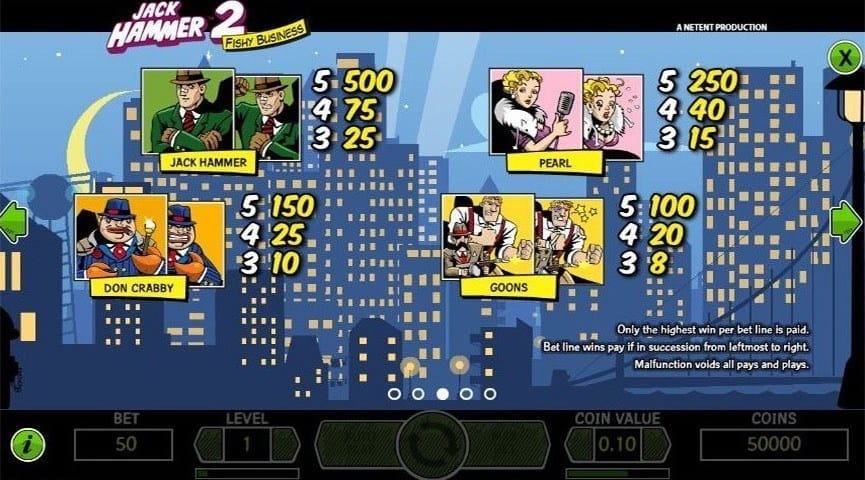 Advantages:
Free spin multiplier
Wilds substitute
Random free spin Wilds
Two special features
10-12 free spins
Many ways to win
Disadvantages:
No bonus round
No progressive jackpot
The betting range is very wide. It starts as low as £0.50 and goes as high as £250. This isn't too bad considering the max win is 99,000 coins. There's no progressive jackpot, no Gamble option, and there isn't even a bonus round. However, some free spins and Sticky Wins will help push you toward securing some wins that will pad your bankroll. With the wide bet range, you can bet high when you want to try and win more or you can bet low if that's your style.
Free spins and Sticky Wins
Regardless of how much or how little you bet, there are free spins and Sticky Wins. The Sticky Wins are a lot of fun because individual reels stick. They stick when you get a win or when you land 3 free spin symbols. To get the free spins, you have to land 5 scatters randomly. This is made easier thanks to the Sticky Win feature. If you get 3 Scatters, they will stick so that you can get the other Scatters that you need to make it to the free spin round. It's rather simple, as you don't have to do anything other than tell the free spins to start.
How often you get the free spins depends on a wide range of factors. During our time with the demo game, it took a while to land the 5 Scatters needed to trigger the free spins. However, the Sticky Wins are a fantastic feature because they can lead to a Big Win. A Big Win occurs when you win a lot of coins at once. The good news is that you have more winning opportunities outside of the free spins so that you aren't constantly having to cross your fingers and hope for those in order to make any progress in your bankroll. Instead, you can just have fun with the free spins when they pop up.
Jack Hammer II is Mobile
When you want to play on the go, there's nothing like being able to take your slot games with you. Fortunately, Jack Hammer II is mobile-friendly, which means you can play the game while on vacation, during a meal break, or from anywhere other than your desktop computer. All you need is a good internet connection and you can start spinning the reels. The game is very similar to the desktop version with a few alterations to make it fit your mobile device. It's best played in landscape mode, so turn your phone sideways and start spinning.
One More Thing and Other Slots You'll Like
There aren't many slots out there that are like Jack Hammer II with its 15 reels. There is, however, the first version of the game with its comic book feel and Sticky Wins. It's similar to Jack Hammer II, but Jack Hammer has 3 reels to work with. Just like its sequel, it has a 97% RTP, so you know you are going to get a decent return with both of these games. If you want to see where it all started, check out Jack Hammer and its impressive comic book atmosphere.
Rating:

4.0/5

Powered by:

Novomatic

Play at:

Leovegas
Rating:

4.2/5

Powered by:

Microgaming

Play at:

Betway
Rating:

4.4/5

Powered by:

Microgaming

Play at:

32Red
Overall, Jack Hammer II by NetEnt is a nice game. While it isn't one of the most lucrative slots that are out there, it has some uniqueness to it with its comic look and Sticky Wins. The fact that there are 15 independently spinning reels is also unique, adding to the fun and story. Basically, this is a low limit slot that is worth giving a chance because you might find that it's exactly what you're looking for. If it isn't, check out one of our recommended slots or even the first Jack Hammer so you can find something that fits your playing style.