Frankie Dettori's Magic Seven Jackpot Slot Review – Playing Rules and How to Win
While not everyone can race horses for a living, it is nonetheless fun to live out the dream. You can now do that with this slot. Frankie Dettori is one of the most famous jockeys who ever lived, and now you can have him help lead you to victory. Not only does this slot have an impressive 25 bet lines that you can win on with each spin, but it also has a pretty impressive progressive jackpot that is always waiting to be won by somebody. That somebody might as well be you. Keep reading to learn more and prepare to have a few spins.
This slot is not just about race horses. There are some unique concepts built into this game that you will want to learn about before you begin playing. That is the aim of the Frankie Dettori's Magic Seven Jackpot Slot review we have written here for you. Before you start playing, it is helpful to know the details so that you can have a great deal of fun with each spin. You will also want to know about the symbols you'll encounter. There are a number of bet lines that can help you win and there is also the progressive jackpot that you can have a chance at winning as well.
Race Your Way to Victory – Play This Slot Today
If you would like to read about this slot a few times before wagering any of your own money on it, you are in luck. Here is our review that we recommend you to read before you consider giving the real money version a try. Here is where you will see what happens each time you make a spin, complete with horses and symbols that will direct you to victory. You will also learn and enjoy the special effects and features that have made this slot so special. We gave it a few spins so we can show you the complete picture!
Since most people associate horse racing with money, it will be time for you to play this slot for real money before you know it. When that time arrives, after you understand the rules of the game, you should consider going to NetBet Casino. This is an online casino that is offering a great bonus opportunity to new players. Make an initial deposit of more than £10, and they will get up to 500 free spins. You can begin using these free spins on both the Casino and Vegas gaming tabs, so it is a bonus worth going for.
Let's Look at the Game – Winning Rules
There are many aspects of this NetEnt-produced slot that you might already be familiar with. For example, it is structured on the traditional format of five reels and three slots. From there, the game will differ from others you have played. You will want to know how the symbols interact with one another to create not only the story line, but also a win. To begin, you will want to consider carefully what you wish to bet on each spin. Having done that, it is time to hit that spin button and go off to the races!
Reading the Paytable
There are some great ways to win with Frankie Dettori's Magic Seven Jackpot. While many players will arrive here just for a shot at the growing progressive jackpot, do not forget that there are many other plausible ways to win with this one as well. To begin, there are 25 different bet lines that you can have work to your advantage. To see them all, just access the pay table at any time. This is where you can see what is needed to grab a win. You will also see how many coins are attached to each particular symbol. Remember that it is possible to win on more than one pay line during any given spin. Furthermore, we've also added the visuals of the paytable so you can check it out for yourself!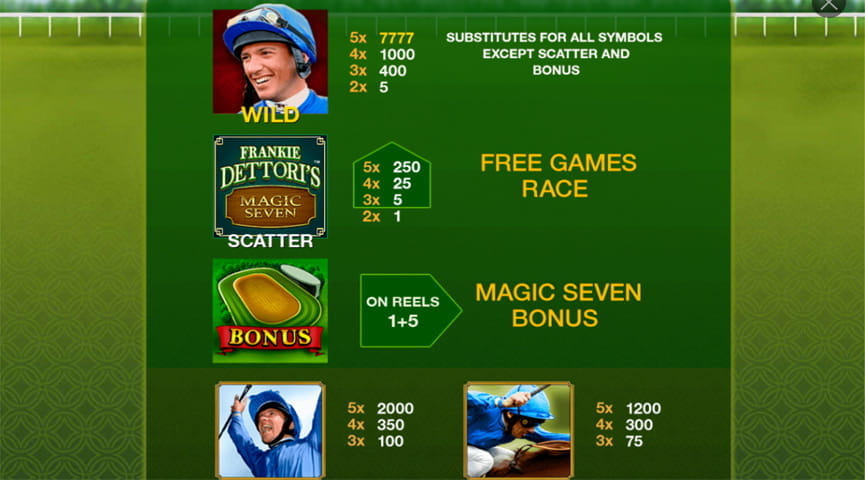 Advantages:
25 ways to win
Quick spin feature
Good bet range
Free spins
Expanding Wilds
Fun to play
Disadvantages:
Minimum betting range
No bonus game
Deciding what you want to bet on each spin with Frankie Dettori's Magic Seven Jackpot may be the most difficult decision you make. There is quite the range here to take into consideration. The minimum bet is only £0.25. This is more than enough for many players, particularly those just starting out in the world of online casino slots. This amount can still get you quite the win, and you are still eligible for the progressive jackpot as well. If you want to risk much more, you can bet as much as £250 on this slot.
Special Features and Free Spins
One of the best components of this slot is the added features. There is a bit of everything here, from bonus games and symbols to free spins. It seems that each new spin can bring on something new that you have not seen before. The bonus symbol, for example, is the bird's eye. If you see this appear on both the first and the first reel you will activate the bonus game. This game provides you with 20 spots on the racecourse, of which you can pick six. Each one may be associated with either a cash prize or a multiplier trophy.
We must, of course, talk about the presence of the progressive jackpot with Frankie Dettori's Magic Seven Jackpot. There are actually two of them at play, called the Golden 7 and the Silver 5. You will gain entry into each of them at random. This will happen after a spin, so be ready. The higher the amount of your initial bet on that spin, the better your chances are of gaining access to this part of the slot. If you get into the progressive jackpot, you are guaranteed a win. It might not be the big one you were hoping for, but you just never know.
Mobile Version of Frankie Dettori's Magic Seven Jackpot
Not all mobile versions of a slot are fun to play, but this one is certainly the exception. Because of the progressive jackpot, there is no telling when the mood to give this one a few spins might hit you. Now, you can play on your smartphone or tablet from anywhere that has an Internet connection. This includes a lazy summer day by the pool or a weekend camping outing. You just pull up your favourite online casino, access Frankie Dettori's Magic Seven Jackpot, and away you go. This is a great way to enjoy this slot, so consider trying it today.
Before You Start – Consider These Other Great Slots as Well
To be fair, there are a few draw backs to this slot. The animations are lacking, and the graphics appear a bit stale. That being said, there is a great theme associated with this slot that is not present in any other game that we know of. The added special features are also quite appealing. There are a lot of them, and they just seem to keep on going. Some players might not like the relatively low RTP at just over 94%, but don't forget that there are two progressive jackpots that are always lurking behind the scenes waiting to be won.
Rating:

4.5/5

Powered by:

NetEnt

Play at:

LeoVegas Casino
Rating:

4.3/5

Powered by:

Microgaming

Play at:

Betway Casino
Rating:

4.0/5

Powered by:

Microgaming

Play at:

RoyalPanda Casino
We feel that this slot is worth playing at least a few times. You will want to have a shot at that jackpot at the very least. You can also get some free spins, and the wild symbols are always there to potentially help you out if you are in a jam. Give it a try for yourself and see what you think. At the same time, we have gone ahead and reviewed three other slots for you that are worth a try. Take a look and consider giving those the old college try as well. You can also check the slots from our best UK slot casinos as well!