Fisticuffs Slot Review – How to Play and Become a Winner
Fisticuffs by NetEnt takes the classic look of boxing from the early 1900s and turns it into a unique version of the typical 5 reel slot. With a respectable 10 fixed paylines, players will appreciate the variety of ways that they can win. This video slot has 10 different bet levels, each with 10 different symbols that are based on a boxing theme. An added feature is the Straight and Diagonal Wilds that can appear on reels 2-4. Hit these wilds and you can win big! Finally, the creators of this slot have also added Stacked Wilds into the mix on reel 1 to enhance the level of excitement.
This review gives you some great information about Fisticuffs. When it comes to the way boxing used to be, this slot brings everything back to life. The demo version of Fisticuffs is the focus of this review, and we really think that you will love the game. We want to tell you about the features of the slot, along with the number of reels, paylines, the paytable, and how you can win. We will not leave anything out, so you will be ready to play after reading this review. Before you play with real money, it is best to read what we have to say so that you are ready.
Put on Your Boxing Gloves – Enjoy the Slot for Free
Before we get down to the nitty-gritty details of Fisticuffs, we think that it is important you first understand how to play the free version of the slot which we embedded for you. This demo will help you understand exactly how the game is played. In fact, it is a perfect replica of the real money version of Fisticuffs. You will find that all of the features available in the actual slot are used in the demo as well. This will enable you to try out the various levels and features that make Fisticuffs unique from other slots out there. You will want to go for the big knockout, so begin that journey by first playing the free version.
If you like the idea of throwing as many punches as you can, it might be time for you to play with free spins. If so, NetBet Casino is one place that you can go. If you are new to them, they will offer you a huge first deposit bonus of up to 500 free spins. Keep in mind that you do need to deposit at least £10 in order to take advantage of this special deal. If the casino that we recommend doesn't fit your taste or simply doesn't give you the right vibe, you can see our page about the best slot sites.
Check Out the Game – How to Win
You will appreciate the fact that Fisticuffs is actually quite simple when it comes to the rules for playing. There are five distinct columns with this slot, along with 3 rows and 10 fixed betting lines. The unique component to Fisticuffs is that there are 10 adjustable betting levels, each with a different corresponding coin value attached to it. You will also find that this slot comes with 5 different features that are quite special. These are: Win both ways, straight wilds, diagonal wilds, and stacked wilds. Each of these will be apparent to you as you engage in the re-spin feature found while boxing. There is an auto play feature with Fisticuffs that adds to the excitement. Just keep hitting this button and you will be able to spin away.
How to Read the Paytable?
Fisticuffs makes it easy to see how many coins you have won on any given spin. You just click on the paytable and you will be able to see that information. Keep in mind that a win with Fisticuffs always goes from the left side of the screen to the right. The highest winning on any given bet line will be paid, so this is useful information when playing for real money. If you win on more than one bet line, the game will automatically add them up and payout the winnings to you. A Diagonal Wild will appear on reels 2 and 4, while straight wilds will appear on the third reel.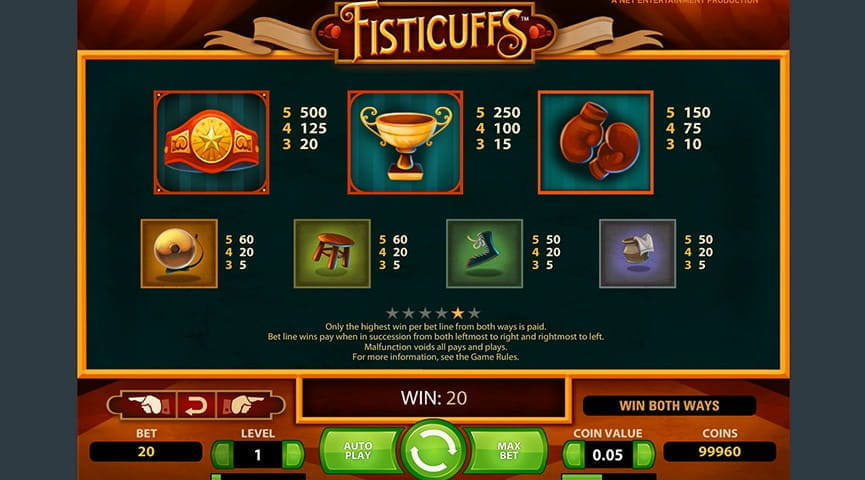 Advantages:
10 Different Bet Levels
Multiple Ways to Win
3 Different Wilds
Win Both Ways
Autoplay Feature
Simple to Play
Disadvantages:
No Progressive Jackpot
No Built-In Bonus
To understand the betting limits for Fisticuffs, we must first remind you that there 10 different bet levels. Contained within these levels are 7 different coin values that range from 00.01 to 1.00. The bet level corresponds to how many coins you can play on each payline, while the coin value tells you how much one coin is worth. Knowing this, you can multiply the bet level by the number of bet levels and coin value to find out how much you can bet per spin. The minimum bet is .20, while the maximum bet level is £200.
Special Features and Free Spins
There are several special features embedded in Fisticuffs that are worth mentioning. The first is Win Both Ways. This enables you to win from right to left, and from left to right. You can also substitute symbols with any of the three different wild symbols, appearing on respective reels. If you have a combination of Wilds, you will receive a free spin via the boxing feature. This can be quite the money maker when playing for real cash. You can also turn and off the quick play feature with a simple touch of the mouse, while animations can be toggled on and off as well.
Fisticuffs offers free re-spins when a certain combination of Wilds appear after a spin. These add to the excitement level because your winnings can really add up. A free spin will automatically be activated when you receive these random Wilds. There is no limit to the number of free spins that you can receive. The more you play, the more likely you receive a free re-spin that enables you to box without wagering anything. This is what we call a great addition to the slot. With a free spin, you no longer have to worry about the wager that you place. You can hit the button and hope that your luck pays off!
Mobile Version of Fisticuffs
The developers of Fisticuffs have created a mobile version. You will find that this makes your favourite boxing slot accessible to you wherever you are located. You can easily pull up the slot on your smartphone or tablet, and the best part is that all of the desktop features will be available to you on the mobile version as well. There are a few changes to the mobile version, but these had to be made in order to fit the slot on such a small screen. For better viewing pleasure, make sure that you turn your device into landscape mode before you start playing.
Before You Play and Other Slots You May Enjoy
While this is a more traditional 5 reel slot, it is worth playing because it is so unique. Not many games out there recreate a sporting environment the way it used to be played. This slot will appeal to old and new generations alike. The RTP is a respectable 96.7%, so that provides players with a great return on their playing money as well. The animations that are included with Fisticuffs are creative and unique, adding to the enjoyment one has while spinning the reel. Given the various bet levels and coin values attached to each, we recommended getting your feet wet on the demo version first.
Rating:

4.2/5

Powered by:

Microgaming

Play at:

Betway Casino
Rating:

4.0/5

Powered by:

Novomatic

Play at:

LeoVegas Casino
Rating:

4.4/5

Powered by:

Microgaming

Play at:

32Red Casino
All in all, Fisticuffs is enjoyable. The unique features keep players on their toes, while the boxing atmosphere amps up the excitement level another notch. To be fair, there are higher paying slots out there, but Fisticuffs provides great value for your playing money. It should be considered a low limit slot that is high on entertainment value and gets an excellent grade for its added features. If you are looking for something a bit different, perhaps outside of the sport genre, look at our list of other slots we recommend to see if something suits your fancy. If you want to learn some more about slots and you have some free time, you can see our explanation about what slots volatility is and how it can affect your gameplay.