Crazy Crocodile Slot Review – Odds of Winning, How to Play, and More
Crazy Crocodile by Microgaming is a classic three-reel slot game that is simple and easy-to-follow. In other words, there are no complicated instructions or confusing paytables that keep you in the dark when all you want to do is play a fun slot game.
Fortunately, Crazy Crocodile only has three reels, one payline, and simple controls. The return to player (RTP) is 94.5%, which is a good percentage in the world of online slots. Click "Bet One" to place the minimum bet or click it twice to increase your payout to the amounts listed in column two of the paytable. If you want to go all out and try to win as much as you can, click "Bet Max" and a win will get you what's listed in column three.
It's that easy, making winning your only worry. You can see this first-hand by trying out the free demo, which gives you a lot of free credits and freedom from an obligatory sign-up so you can give the game a try before you throw in real cash from your bankroll. With that said, let's look at the demo, the basics of the game, and for us to put our knowledge to work for you and tell you what we think.
When we say that this is your basic and very traditional three-reel slot, we're not joking. Everything about this slot is "old school", which means that it is just like some of the slots you'll find in a land-based casino and some of the most primitive online gaming sites. This doesn't mean it isn't a quality game, as there are many players that prefer uncomplicated rules and gameplay over slots with bonus rules and free spins that make no sense.
Check Out the Demo – It Costs Nothing
As we mentioned, before we get into the details, we must talk about the free demo. Not every slot out there offers a free demo, but Microgaming is confident enough in its product to do this. Every time you visit the demo, you receive enough free credits to play as long as you would like. You can experiment with betting one, pressing "Bet One" twice to increase your winnings, or betting max. The "Options" button doesn't work in demo mode, but you can click the "Help" button to read all about Crazy Crocodile to ensure you have a good grasp on the rules and the overall operation of the game.
If you like to play for real money, Bestcasinosites.net has you covered so you can play Crazy Crocodile with real cash. Of course, it is good to try out the free demo before you put real money in your bankroll to spend on the game. That way, you can put your luck to the test and get something back. Here, you have good odds of getting a return that you can put back into the game or cash out once you meet the casino's wagering requirements. There are some serious coins that can be won so they can be converted into a real cash payout.
What to Know about the Game – The How and What
What makes the game even more exciting is its theme. Animal themes are always fun, especially the crocodile because, in this case, the croc is a bit cuter than the real thing. Nonetheless, the crocodile is a powerful animal, which is a good reflection of this game's winning potential.
Nonetheless, the simplicity of the game is heavily relayed through the fact that there is no autoplay, free spins, or bonus rounds. There are three reels, one payline, and two buttons you can click to place your bets. The Spin button is also your quick spin so you don't have to place a bet every single time you want to spin. If you want to play the same bet again and again, the Spin button remembers your last wager. Just be sure to click "Bet One" twice if you want to go for the winnings in the second column of the paytable.
What the Paytable Symbols Mean
Speaking of the paytable, it's rather simple to follow. If you "Bet One" and win, your winnings are defined in the first column. If you click "Bet One" twice, your winnings are defined in the second column. If you "Bet Max" or click "Bet One" three times, your winnings are specified in the third column. You'll notice that the number above the column turns white so you know which bet you placed and what you will win if you get one of the combinations in the left column.
Obviously, the symbols are in line with a traditional three-reel slot machine. The difference is the presence of the crocodile head. If you get three crocs in a line, you win the max for the wager you placed. Three in any combination is the second-highest winning combo. Other than three crocs in any position, there are no scatters, multipliers, or wilds.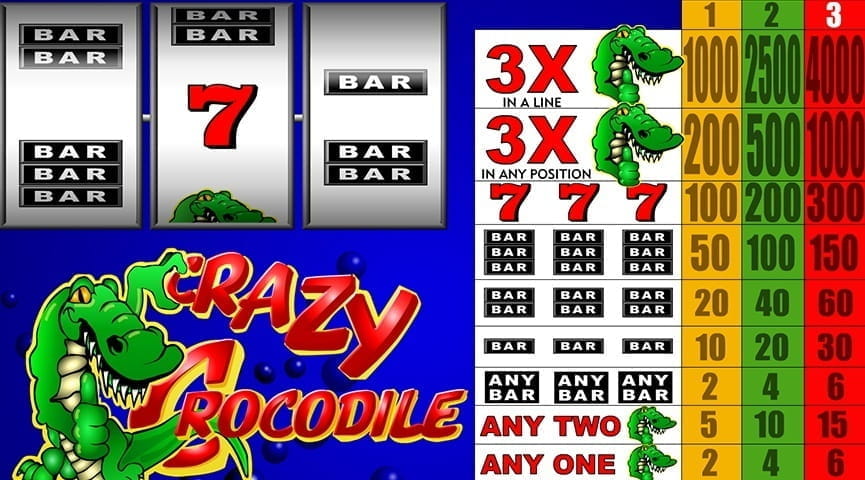 Advantages:
Bet column indicator
Easy-to-understand
Winnings are clear
Convenient location
Nine combinations
Colorful layout
Disadvantages:
Column not highlighted
No betting instructions
This isn't a penny slot because it has a bet range of £0.25 up to £15.00. The range is confined within the three coin values, which are the three columns of the paytable. Since the game pays out in coins, the minimum win is two coins when you "Bet One". If you Bet Max and get three Crazy Crocodiles in a single line, you can win 4,000 coins. A nice aspect is that you set the value of your coins. This is something you don't see when you play the demo game, but it is an option available when you are playing with real cash. Just note that Crazy Crocodile does not dabble in progressive jackpots. Much of the excitement and the amount of your winnings rests on the value you place on your coins.
It's important to understand that the lack of a bonus isn't a reason to take this game off of your radar. Just look at the simplicity of the controls and the easy-to-follow help section with very simple rules. It's one of those slots you don't have to put a lot of thought into, outside of determining coin values. The value of your coins will determine the true extent of your winnings. This is one of the reasons why Crazy Crocodile distributes winnings in the form of coins, as one coin could have a different value for you than it does someone else.
Can You Play on Mobile?
Unfortunately, Crazy Crocodile isn't available on mobile. If you try to access it with your mobile device, you will get a notice that says it isn't available. For on-the-go gamers, this is sad news. If you are someone who plays slots on a PC, then you are in luck because the demo version and the real cash version are available for you to begin playing ASAP.
While it's disappointing that this slot game can't be taken with you, that doesn't mean that future portability isn't a possibility. Microgaming currently has many mobile-friendly slots. However, Crazy Crocodile was released in 2012, making it one of the older slots that debuted at a time when mobile gaming wasn't as high in demand.
What We Think and What to Try
If you like slot games like Break Da Bank, then you will like Crazy Crocodile. Both games have similar layouts with the reels on the left and paytable on the right. The paytable for Break Da Bank is also easy-to-follow. One of the main differences is that you can win multipliers. Another difference is that there are 5 playlines rather than one.
If you aren't fond of the fact that Wild Crocodile doesn't have wild substitutions or multipliers, Couch Potato is another Microgaming masterpiece. It has three reels and one playline like Crazy Crocodile, but you can win a multiplier up to 25x. You can also win a maximum of 25,000 coins as opposed to Crazy Crocodile's 4,000.
Rating:

4.8/5

Powered by:

NetEnt

Play at:

William Hill Casino
Rating:

4.5/5

Powered by:

NextGen Gaming

Play at:

888 Casino
Rating:

4.9/5

Powered by:

NetEnt

Play at:

Ladbrokes
All in all, this is a fun and simple slot that works well for the seasoned player or beginner. The rules aren't overly complicated, the demo mode is at least 90% functional compared to the real money version, and the game isn't too busy. The most difficult task is deciding what you want your coin value to be because that value determines how much each bet and your winnings are worth. From there, all you have to do is decide how much you are going to bet, spin, and hope luck is on your side so you can bring home the money while having fun.