In this article, we are going to go into detail discussing the severity of the gambling industry laws in South Carolina. We will review the legal and illegal gambling activities, exceptions, history, available casino sites in the state, online gambling options, and more. Read below to find out everything you need to know about the gambling laws in the state of South Carolina.
History of Gambling Laws in South Carolina
You would be interested to know that at a certain point in time, the South Carolina gambling laws were way less restrictive. Let us start from the beginning. Some of the state's gambling laws date back to the Holy Roman Empire in the 18th century. Back then, gambling was not favored at all. Even nowadays, the state of South Carolina considers gambling to be detrimental to locals' morale and one of the reasons for increased crime activity rates.
In the 90s, there was an attempt to soften the gambling restrictions in South Carolina. At the time, there were many video poker machines available for the state's residents and visitors. This change, however, was cut short, when in 1999 the state Supreme Court deemed them unconstitutional, and by 2000, they were all shut down.
It is believed that this decision was partly due to one unfortunate incident when a mother left her baby in a car while playing video poker. Tragically, the baby suffocated and passed away. It is understandable that people at the time were shocked and did what they considered best to avoid such situations from happening again.
Gambling Activities in South Carolina – Current Legal Status
Unfortunately for many players, most gambling activities are illegal in the state of South Carolina. It is also prohibited for residents and visitors to organize and participate in any of the illegal gambling activities at home. Below, we have prepared a table with the most popular gambling activities worldwide and their corresponding legal status in South Carolina:
| Gambling Activity | Legal Status |
| --- | --- |
| 🎰 Casino | ❌ Illegal (one exception) |
| 🏈 Sports Betting | ❌ Illegal |
| 🐴 Horse Race Betting | ❌ Illegal |
| 🥇 Lottery | ⚖️ South Carolina Education Lottery Only |
| 💯 Bingo | ⚖️ Charitable Bingo Only |
| 💻Online Gambling | ❌ Illegal (one exception) |
In South Carolina, all games, including cards, dice, or betting of any kind are illegal. These include but are not limited to slots, poker, blackjack, baccarat, roulette, sports betting, and horse race betting. The only legal gambling activities are the state lottery and charitable bingo games. There is one exception when it comes to online gambling as well – the so-called sweepstakes casinos that we are going to review later.
Bingo Games with Charitable Status
In 1976, the "Bingo Act" legislation was passed in the state of South Carolina. This legalized charity gambling and specifically bingo games. The main purpose was to help not-for-profit organizations to raise money to fund their activities. According to the "Bingo Act" legislation, every bingo operator in South Carolina must obtain an individual license issued by the South Carolina Department of Revenue (SCDOR).
As per SCDOR regulations, only non-profit organizations organized and operated for charitable, religious, or fraternal purposes, and exempted from federal income taxes may conduct bingo in the state. There are a few classes of bingo licenses with different regulations, including cost, days of play a week, max number of jackpots per session, jackpot amounts, minimum payout per session, entrance fee, promoter requirements, etc. Violations of any of the applicable regulations may lead to fines and loss of license.
The South Carolina State Lottery
The only legal lottery in South Carolina is the South Carolina Education Lottery (SCEL). It was legalized in 2001 and began its operations one year later, in 2002. The lottery raises money to fund education programs in help of South Carolinians. According to data from SCEL website, in 2020 almost $400 million was appropriated for higher education through scholarships, need-based grants, tuition assistance, and the National Guard Loan Repayment Program. In addition, $50 million was provided for Workforce Scholarships and Grants, Workforce Industry Needs Scholarships, Ready South Carolina Direct Training, and high demand job skill training equipment.
The South Carolina Education Lottery includes the following draws and games:
Pick 3 (local)
Pick 4 (local)
Palmetto Cash 5 (local)
Powerball (multi-jurisdictional)
Mega Millions (multi-jurisdictional)
Pick 3, Pick 4, Palmetto Cash 5 are in-house draw games. Since the lottery is a member of the Multi-State Lottery Association (MUSL) it includes the popular Powerball and Mega Millions, which are multi-jurisdictional. There are also several scratch-offs. Lottery participants must be over 18 years old. Tickets could be purchased from local retailers available only within the state of South Carolina. Lottery retailers include convenience stores, newsstands, grocery stores, and package stores. Residents of other states could also participate in the lottery given that they purchase their tickets in South Carolina.
Casinos in the State of South Carolina
There are no land-based or tribal casinos available on the territory of South Carolina. Your only option would be the Big M Casino in Little River, near Myrtle Beach. This is not a land-based casino, however, but a gambling cruise.
To play at the Big M Casino, you should board one of two luxurious yachts and travel three miles into international water where gambling activities are permitted. At the Big M Casino, you can enjoy playing real money casino games such as slots, blackjack, roulette, and poker. Alternatively, you can take a trip to North Carolina or some other neighboring state where the gambling legislation is more liberal.
South Carolina Online Gambling Laws
Internet gambling laws in South Carolina are no better. It is illegal to play in online casinos. Therefore, South Carolina residents cannot legally play at any of the USA online casinos. You must be extremely careful since the laws are clear. In case of failure to comply, violators could be fined up to $2000 or in the worst-case scenario, imprisoned for a period of up to twelve months.
The one exception of the law is the sweepstakes casinos operating under the US sweepstakes laws. They are legal in almost all 51 US states and offer slots and table games. The sweepstakes casinos you can play online in South Carolina are Chumba Casino, LuckyLand Slots, Funzpoints Casino, and Global Poker.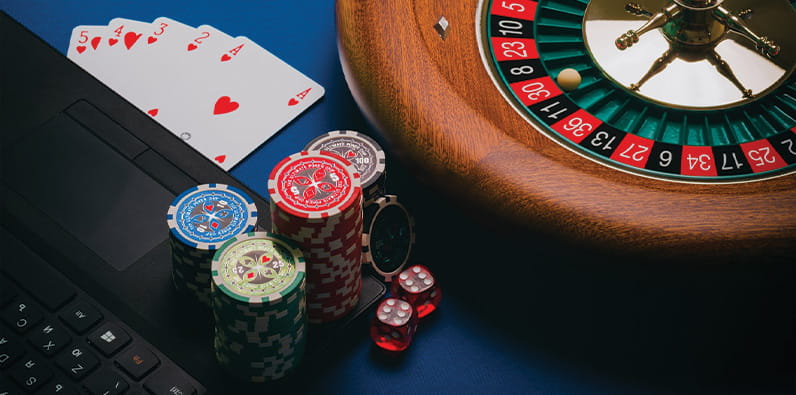 There are a few differences between traditional casinos and sweepstakes casinos. In the case of sweepstakes casinos, you should create an account and win sweepstakes currency called Sweeps Coins. Then, you use that currency to play casino games, thus winning more of the same currency. At the end, you can redeem your Sweeps Coins for cash or gift cards.
South Carolina Gambling Laws – Final Words
To say that South Carolina gambling laws are restrictive is a huge understatement. This is one of the most intolerant US states when it comes to gambling activities. Charitable bingo games and the state lottery are available and legal. Sports betting, horse race betting, poker, slots, and online gambling are all forbidden by the law. There are merely a couple of exceptions for South Carolina residents and visitors – the Big M Casino and the sweepstakes casinos.
It is highly unlikely that anything will change soon when it comes to gambling in South Carolina. For your reference, you can read our New York gambling laws article to find out about the legal situation of NY gambling. This will help you understand the great contrast between gambling laws in different states. New York is among the most liberal states concerning gambling activities.
Frequently Asked Questions
Our review of the gambling laws in South Carolina has reached its end. We hope that we have been useful and managed to shed some light on the current gambling situation in the state. As a small farewell gift, we have also prepared a brief list for you with the most frequently asked questions regarding the gambling laws in the state of South Carolina. Make sure to check out the FAQ section below. In addition, you can also review our list with the best online gambling sites for USA players in 2021.