When it comes down to high roller clients, these casinos offer even more privileges. Examples include comps and VIP perks like free dining credits, a personal chef, a private pool, and many more. Once you get to that level, your personal casino host will make sure that you get pretty much everything that you want. The opportunities to win big become quite exciting as well. Everyone becomes greedy and, in a casino full of the richest gamblers in the world, everyone wants more. If you are one of those players, you definitely need to read this post to the end! So, without further delay, here is our list of the top 10 high roller casinos in Las Vegas.
| High Roller Las Vegas Casino | Gaming Space (sq. ft.) | Slot Machines | Table Games | Highest Bet Limits | Other High Roller Perks |
| --- | --- | --- | --- | --- | --- |
| 1. Wynn | 189,000 | 2850 | 300 | $500 – $10,000 | Red Card Members, Suite Dealers, Invitation to VIP Events, Poolside Gaming |
| 2. MGM Grand | 171,500 | 2500 | 140 | $100 – $5000 | Exclusive Casino at The Mansion, Rolls Royce Pickups, Black M Life Rewards Card with Limousine Service, Skyloft and Signature Rooms |
| 3. Bellagio | 116,000 | 2300 | 176 | $100 – $20,000 | Bobby's Room, Black M Life Rewards Card with Limousine Service, Club Prive |
| 4. Luxor | 120,000 | 2000 | 62 | $100 – $5000 | High Limit Area, Black M Life Rewards Card with Truck Giveaway or Cash |
| 5. Cosmopolitan | 110,000 | 1300 | 83 | $100 – N/A | High Limit Lounge, Identity Events & Rewards, FastPay Technology, CliQue Lounge |
| 6. Aria | 150,000 | 2000 | 174 | $0.01 – $5000 | Table 1, Black M Life Rewards Card with Limousine Service, Aria Sky Suites, High Limit Lounge |
| 7. Palms | 95,000 | 1500 | 100 | Up to $100 | Sky Villa, Palm's Player Club, High Limit Room |
| 8. Westgate | 95,000 | 715 | 37 | $100 – $2000 | WOW Rewards Program, SuperBook VIP Race & Sports Book |
| 9. Mandalay Bay | 135,000 | 2200 | 142 | $30 – $2000 | Black M Life Rewards Card |
| 10. Caesars Palace | 124,181 | 1324 | 185 | $0.01 – $50,000 | Caesars Rewards Card, Venus European Pool Lounge |
Similar to the best high stakes casino sites for UK players, the top land-based casinos in LV offer a lot of unique and special benefits for their players. Our selection includes some of the world's most famous gambling places to raise the stakes, as well as the most luxurious and the biggest ones in the city. Right next, you can find more details about each of these high roller Las Vegas casinos.
1. Wynn Resort and Casino
It is not surprising that Wynn is one of the top high roller Las Vegas casinos as it is one the city's top overall resorts. Its interior decors kind of reminiscent the gaming floor of Bellagio but in their own way. Let's put off aside the Wynn's upscale accommodations and the countless luxury amenities for now, and focus on the nearly 200,000 sq. ft. gaming area. Wynn has one of the largest casinos in Las Vegas. The most famous Vegas high roller players come here to enjoy an unsurpassed gambling experience. To find a $15 table is among the lowest possible table that you could look for while some of the highest limits can go up to $10K on Double Deck blackjack tables.
To put it in perspective, if you are a serious high roller player, be prepared to gamble between $10K and $50K per night, and no less than $250 per hand. If you book a suite, you can take advantage of playing on a high roller table in the suite. The dealers are experienced and they can put the private gambling experience up to another level. The other high roller privileges range from late room makeups to breath-taking panoramic views over the Strip, among many others.
Wynn is one of the top high roller casinos in Las Vegas also because of its luxurious high-limit salons where the ambience is second to none. You can easily transport yourself from one scenery to another – from the exotic floral motifs to the lavish decors with curtains. One would not expect anything else from a Michelin 5-star and Forbes 5-star resort, of course. Another major highlight of your top high stakes gambling at the resort should be a visit to Wynn Sky Casino on the Encore Tower's 63rd floor. To play there, you will need to book a private room and to have a bankroll of no less than $300K.
2. MGM Grand Las Vegas Hotel and Casino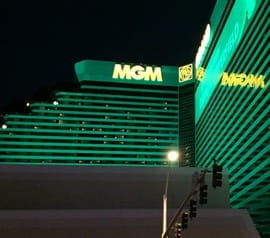 If you love to raise the stakes up to the table limits, then we have another fabulous casino to include in your trip list. It comes to MGM Grand Las Vegas and, more exactly, the Mansion at MGM Grand which is adjacent to the main buildings of the resort. The Mansion features a completely different Tuscan-themed architecture, as well as an atmosphere, amenities and comforts designed for the top-end guests, VIPs and celebrities. The casino-invited guests can take advantage of absolute privacy and a laid-back experience during their stay, thanks to the remote location of the Mansion from the hustle in the resort. There are specially appointed Rolls Royce pickups, a private park and an outdoor pool. The Mansion at MGM Grand is where one of the best high roller casinos in Las Vegas is located!
MGM Grand Las Vegas also has a regular casino area which, without a doubt, is one of the largest one in the city as well. It comes to a 171,500 sq. ft. gaming floor with nearly 2,500 slot machines with limits of up to $1K and 140 table games with even higher limits! It has a special attraction for all the Vegas high stakes players – a High Limit Slots area where the payouts are capped at half a million dollars. The poker rooms include tableside massage services and unlimited Texas Hold'em tables. Moreover, players can take advantage of a 5-tiered M Life Rewards program of which the Noir level is the latest and it is by invitation only. Imagine yourself with the Black card – it would make you feel much more than a VIP player!
3. Bellagio Resort, Hotel and Casino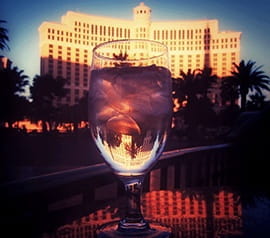 There are many things Bellagio Casino is famous for, but nothing can be compared to Bobby's Room. This is the special poker room reserved only for the most pretentious Las Vegas high roller players who are ready to stake $20,000 in buy-ins. That's the minimum buy-in! The pots often get to $1M and beyond. The Bobby's Room has a reputation as the highest limit poker action in the world and, without a doubt, it is Bellagio's greatest highlight when it comes down to high stakes gambling. Bellagio resort is also famous for its high limit lounge – Club Prive, where you can find several blackjack tables with $300 minimum bets. Roulette, craps, baccarat and Pai Gow are among the other games where you can significantly raise the stakes.
A 116,000 sq. ft. casino may not be the largest one among the high roller casinos in Las Vegas, yet, it has a special High Limit Slots room with machines that offer bets of $5 – $2000 per spin. Bellagio recently turned 20 years, so it has this new charm that everyone loves. It has a lot of surprises to offer its guests but, shortly put, make sure to visit Bellagio if you want to try the best limits of the high stakes gambling in Las Vegas. If you want to play online for real money, and deposit with alternative e-wallet methods, then the best PayPal casino in the USA is another great option to be considered.
4. Luxor Las Vegas Hotel and Casino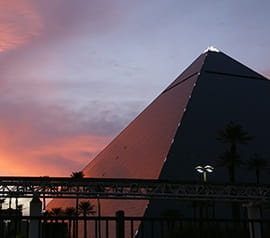 In the special Luxor Casino's High Limit Area, guests receive special attention from the serving of exuberant cocktails to the presentation of the game bets. There are only a limited number of games and tables, as well as just two that offer the highest limits: Blackjack and maxBaccarat. Respectively, the lowest bet is $100 and the highest is $5000.
There are seasonal slot tournaments that take place a couple of times per year in Luxor Casino. The prize is $100,000 while the participants can take a pick of many other seasonal tournaments in other MGM Resorts International casinos. The total slot jackpots are estimated at over $16M per year.
5. Cosmopolitan of Las Vegas Resort Casino and Hotel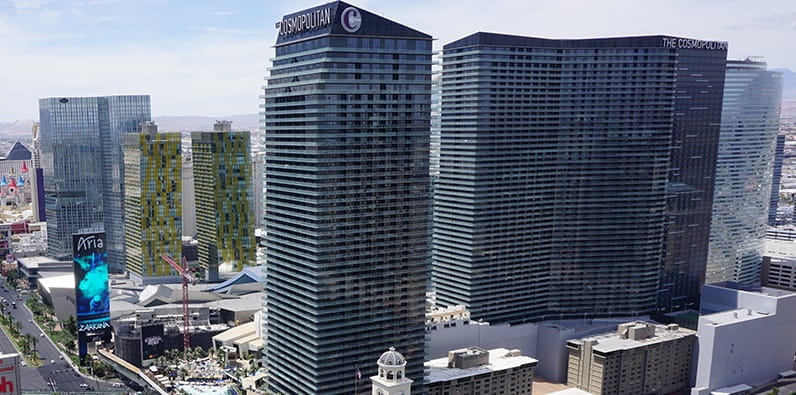 Right next to Bellagio, you can come across another iconic casino resort on the skyline of Downtown Las Vegas, as well as a top-notch place to enjoy high stakes gambling. This is the majestic Cosmopolitan of Las Vegas resort which features a little over 100,000 sq. ft. of gaming space. It's not the largest casino but, on the other hand, it offers some pretty appealing Vegas high stakes opportunities.
You can find slot machines among all the 1300 options, where you can bet up to $500. As in most of the previous casinos in our list, the Cosmopolitan of Las Vegas has a special High Limit Slots area with amazing features and benefits. The most impressive example includes the FastPay Technology that enables direct payments of the jackpots while the top jackpot in Tarzan slot resets at $20,000. Another special High Limit Tables Games Lounge features blackjack, baccarat and single-zero roulette where the bets start from $100. Well, it's not like playing high stakes online roulette, but it is just about the same when you do it in a huge land-based casino as well.
What really puts off the Cosmopolitan apart from the other high roller Las Vegas casinos, are the boulevard penthouse suites which cannot be booked besides by having an invitation. To get one, you will need to play in the small 3-room gambling scene located on the 71st floor where are located some of the highest limit tables in town. Additionally, according to an article in Bloomberg, the Cosmopolitan's biggest bet was on baccarat – some $300,000 per hand, per shoe, and for a 60 minutes game session. That speaks enough for itself!
6. Aria Resort and Casino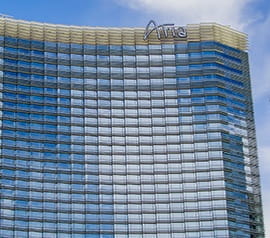 You should play at the huge Aria Casino as well! It spans over 150,000 sq. ft. and hence, it offers some of the largest variety of gaming attractions all over the city. Similar to the other MGM casinos in this list, Aria Casino has a special High Limit Lounge open 24 hours for the most serious Las Vegas high roller players.
Among the hundreds of slot machines, you can find some that allow a bet of $5000 per spin. The jackpots vary from a couple of hundreds of dollars to impressive 4- and 5-digit numbers. The resort is also well-known for 'The Ivey Room', which is dedicated to the most serious and risky poker players who love to raise the stakes.
Some of the most famous gamblers in US history came here to enjoy an unsurpassed high stakes gambling experience. This special poker room debuted in 2010 and nowadays, it is simply known as 'Table 1'. Seek and you shall find out why it is called like that. There are several other tables named after famous Las Vegas high roller players like Phil Hellmuth. The giant poker room with 24 tables at Aria offers a wide variety of games and tournaments but it is also the place where some of the world's highest limit games take place.
7. Palms Casino Resort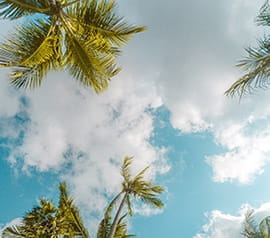 For $25,000 per night, you can stay in one of the top hotel suites. The Hardwood Suite at the Palms casino resort has a lot to offer to its VIP guests including superior high stakes gambling. Besides playing in the suite, you can take advantage of room service and panoramic views. The two-story rooftop villa is also known as the Sky Villa and its price is around $40K per night.
The standard casino floor offers an extensive variety of slot machines and table games that accept very low bets, but the resort also has a High Limit Room. There, the bet per spin can get up to $100. Meanwhile, you can get a seat at the High Limit Room only via an application.
Poker players will find some of the best opportunities in town to raise the stakes. Palms is also famous for the 'High Stakes Poker' TV-show and reality. The casino was the scene for the season that took place in 2006. Nowadays, Palms is still one of the best high roller Las Vegas casinos for playing poker and table games. Meanwhile, there are some great online options to play with high stakes and enjoy a real Vegas-style gaming experience. For example, the best live casino in Pennsylvania is a good choice for high rollers.
8. Westgate Resort and Casino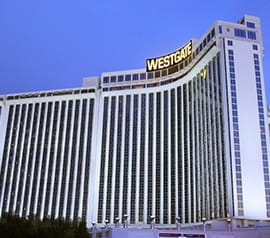 This is another iconic casino and a huge resort situated right next to one of the best golf course in Las Vegas. The resort was also known as Las Vegas Hilton and, as you can guess, it deserves a place in the list of the top 10 high roller casinos in Las Vegas. Nowadays, Westgate Casino boasts a wide variety of tables including blackjack, baccarat, poker, roulette and craps, and yet, it does not have the widest variety of games in Las Vegas. Nevertheless, there is a High Limit Room which is regularly open only Fridays and Saturdays at noon. It is a place, where you can find tables with denominations starting from $100. Otherwise, you can contact the casino manager to schedule a game on other days which is a great advantage, if we may add.
We will only tell you that the regular casino area at Westgate offers table limits of up to $2K which is not a small amount either. You can guess what the top in the High Limit Room would be! Keep in mind the rumours that the famous business magnate Kerry Packer won an estimate of $9M at Hilton Las Vegas in 1992. Larry Flynt is another famous gambler associated with the casino and it is said that he usually risked up to $50K per hand while playing at blackjack tables.
High stakes gambling at Westgate is not what it was back then when the resort was known as Las Vegas Hilton. And yet, you can currently enjoy a decent number of high roller gambling opportunities on a regular basis. There are also a couple of upcoming special events that will be among the top Las Vegas high roller tournaments. Those are the $50,000 Westgate Fest Blackjack Tournament running through October 18-20, as well as the $40,000 Fall Fun Fest Slot Tournament in November.
9. Mandalay Bay Resort and Casino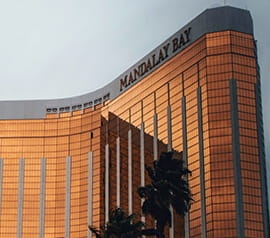 You should put Mandalay Bay casino high on your agenda! It has one of the largest gaming floors in town and it includes high stakes gambling too. Mandalay Bay is among the best high roller casinos in Las Vegas. Over 1200 slots with bets up to $100 per spin and numerous VIP table games with $5000 limits offer a top gambling experience in the high stakes casinos in Las Vegas.
The poker room is appealing if a bet range of $50 to $500 sounds good to you. There are also poker tournaments with entries as low as $65 and solid prizes. Some poker tables accept high entries, such as the Hold'em games with buy-ins between $30 and $2K.
10. Caesars Palace Las Vegas Hotel & Casino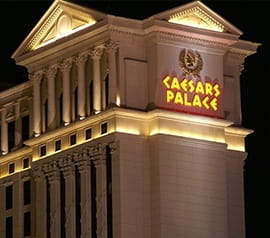 Last but least, Caesars Palace definitely deserves a place in our list of the best high roller casinos in Las Vegas. More precisely, this giant resort offers a huge gambling floor with thousands of machines and hundreds of tables of just about every different type and specification. There are even options to bet on fantasy sports which we find to be a great advantage. However, what the serious high roller in Las Vegas would prefer, is to book the Forum Tower Duplex Suite which is filmed in a series of blockbuster films. If you want to have the gambling vacation of your (and everybody's) dreams, that's the right thing to do! A 4-bedrooms suite that can easily accommodate 10 guests is nothing short of a high roller gambler's lifestyle in Vegas.
The Caesars Palace Casino itself has 16 poker tables with buy-ins ranging from $100 to $150 on tournament sessions and blinds up to 20,000. The slot machines are so diverse that every Las Vegas high roller can easily find his/her own pastime for the night. If this is you, then you should try the jackpot slots at Caesars Palace Casino! Anyway, if you have not yet reached the bankroll and the abilities of a high-roller, you can start from some of the safest and most rewarding £5 deposit casino sites around! If, on the other hand, you are already on the top of the ladder then our guide about the best UK online casinos with high risk bonuses is just for you!