Bill Benter – the Richest of Them All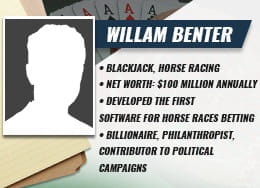 Mathematics genius Bill Benter was born in 1957 in Pittsburgh, Pennsylvania. After finishing a degree in physics, he decided to use his skill to count cards at blackjack tables in Las Vegas, improving his methods with the help of Edward Thorp's Beat the Dealer. After seven years of bringing the house down, Benter was banned from most Vegas casinos and after he met Alan Woods, he moved to Hong Kong where the two worked on creating a formula that would help predict the outcome of horse races, thus creating the world's first software assisted gambling operation which is also considered to be the most successful one to this day.
Benter developed the mathematics powering the software and using a vast array of variables to get the edge on the average gambler, he re-created and expanded it, so that it looked at prices to determine where the truest advantage was. After the pair had a "spectacular falling out," Woods started working with Zeljko Ranogajec in Manila and Benter continued to work on his own in Hong Kong, reportedly moving beyond its small number of tracks. It is estimated that Bill Benter makes $100 million annually, often raking in $5-$10 million in a single race day. He's also a philanthropist and a big contributor to charity and political groups.
Edward E. Thorp – the Father of Card Counting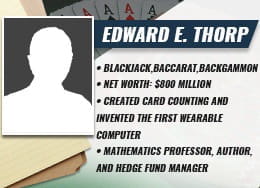 The inventor of card counting Edward E. Thorp was born in Chicago in 1932. He finished a PhD in mathematics from UCLA and worked as a math professor from 1959 till 1977. Thorp was the first to use computer simulation to develop a blackjack strategy with the help of an IBM 704 and devised card-counting schemes to improve players' odds. He put his calculations to the test in casinos in Reno, Lake Tahoe, and Las Vegas and verified his theory. Having piqued other players' interest, he wrote Beat the Dealer which is considered the first and ultimate guide to card counting used by both amateurs and professional players.
In 1961, Ed Thorp developed the first wearable computer together with Claude Shannon and used it at the roulette and blackjack tables until it was banned in 1985. He's a member of the Blackjack Hall of Fame and has developed the "Thorp count" method for backgammon and formed a baccarat syndicate as well. In the 1960s, Thorp started using his knowledge on probability and statistics in the stock market, and he also developed and applied effective hedge fund techniques in the financial markets, making a fortune that is estimated at $800 million.
"Life is like reading a novel or running a marathon. It's not so much about reaching a goal but rather about the journey itself and the experiences along the way" Edward E. Thorp
Zeljko Ranogajec – Lifestyle of the Rich and not Famous
Born in Australia to Croatian immigrants, Ranogajec dropped out of university to pursue a career in advantage gambling. He started playing blackjack and using sophisticated math and his photographic memory, he was able to turn hundred-dollar bets into 7-figure wins. Ultimately, his methods lead to him being banned from most Australian casinos, so he switched to horse betting and continued to use his math skills to predict the races. Reportedly, this has made him a billionaire. He's extremely private and has never given interviews or discussed his ventures and his net worth is unknown. He is said to account for 6-8% of the turnover of Tabcorp, with his outlays reportedly as much as $1 billion annually.
A source close to the family has described him as a multi-billionaire and while these are all speculations, he is known for a record win in Keno of $7.5 million in the 1990s. In 2008, Ranogajec took his bookmaker to court and revealed that his syndicate had won more than $44 million betting on US racing over a three-and-a-half-year period. Other reports suggest he is fighting a $900 million tax battle with the Australian Taxation Office.
Billy Walters – the Biggest and Most Feared Sports Bettor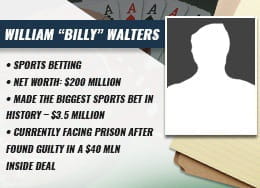 A true legend in sports betting, Billy Walters started from humble beginnings in Munfordville, Kentucky where he and his siblings were raised by his grandmother. With a father professional poker player and an uncle professional gambler, it was no surprise that Billy made his first bet at the age of nine. Almost 30 years later, he was running his own bookmaking service which was then illegal in Kentucky and for which he was fined $1,000. So, he packed his bags and moved to Las Vegas. Not much is known about his operation but in his own words, he's as successful as he is because he's working with many analysts that help him make decisions.
According to reports, he makes about $15 million a year, and has made as much as $2 million in a day. His net worth is estimated at $200 million. And that's not hard to believe, considering he makes really, really high bets – as high as $3,5 million. Well, technically not exactly he because for years he's been using other people to place bets for him since not only is he not welcome in Vegas anymore, but most bookmakers will also refuse to take his bets.And while you may think he'd try to make these "beards" as inconspicuous as possible, he actually has Hollywood celebrities like Bruce Willis and Ashton Kutcher running his errands. The biggest and most feared sports gambler, however, lost his biggest gamble when he was found guilty of a $40 million insider trading case and could go to prison for years.
Alan Woods – Horse Races Betting Pioneer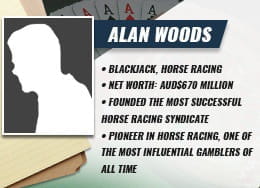 The godfather of horse racing software Alan Woods was born in Murwillumbah, New South Wales, Australia, in 1945. In his early gambling career, he used math to count cards at blackjack tables until moving to Hong Kong in the 1980s. There, he teamed up with Bill Benter forming a syndicate that became the most successful in the history of the horse racing industry. The pair developed a software that took into account factors like the formulaic consideration of track, form, weather and more. After the partners separated in 1987, Woods moved on to Manila to a continuing success, teaming up with Zeljko Ranogajec.
Fun Fact
In his twenty years of betting in Hong Kong, Alan Woods did not once personally attend the racetrack.
The annual turnover by Woods and his syndicate was estimated at about 2% of the Jockey Club's annual betting turnover. Woods didn't found charitable organizations like Benter, but he was known for his generosity towards the Filipino community, also donating portions of his wealth to mental health research and Australian bridge. As a true mathematician, Woods is said to have viewed horse racing as "nothing more than a mathematical equation to be solved". At the time of his death in 2008, Woods was regarded as one of the biggest and best gamblers in the world and was estimated to have amassed a fortune of AU$670 million.