Casino Cheats Are Never a Good Idea
Trying to gain an advantage by using any sort of unallowed techniques such as card counting, unusual betting systems is not the most popular but still a very common reason for a casino ban. You have to imagine the casino as someone who has a million not-blinking eyes scattered all over the place. Not seeing the almighty eyes doesn't mean they are not there, constantly working all day, every day. Strict monitoring systems follow each punter, their bet frequency, strategy and or any sort of unusual behaviour. Of course, this doesn't mean that you must play as if someone is constantly watching but keep in mind that any attempt to break the randomness of casino games will be noticed.
To illustrate the 'cheating' term, let's say you are betting just £1 on all your losing bets and £500 on all your winning moves. This is a good example of an unusual betting pattern. The suspicion that you might be using an unallowed winning strategy will arise, and for a good reason. All eyes will be on you and if the pattern keeps on repeating there is a good chance the casino will send you away with a ban.
Another great example for not-allowed casino manners is card counting in blackjack. Card counting itself is not illegal or considered as cheating, but casinos do have the power to kindly ask you to leave if they get suspicious that you are using the math patterns in your head. Our advice would be to play it smartly whether you do or don't practice any betting strategy. Just don't make it too obvious that you have a master plan and it will all be well-concealed.
Not Following the Casino Etiquette
This next category features behaviour which is not accepted by any casino and which has thrown out even many A-list celebrities from popular casino halls around the world.
The fastest way to get kicked out of the casino is, getting drunk. This doesn't mean you can't have a glass or two of your favourite drink, it just means it's good to know your alcohol limits. We know drinks are free at casinos and it can be hard to stop ordering when you're not the one paying the bill. But your clear mind is your biggest asset when considering your next move in any gambling game. So, you might do yourself a favour and order a glass of water the next time you look for the waitress.
Second most popular mistake when in a casino is losing your manners. You can't be rude to the dealers, the staff or any of the other players. No screaming or outrageous behaviour will be tolerated. If you have a tough week, you're on a losing streak, or you just had a little bit too much to drink, don't even think about letting your bad mood come out and affect anyone besides you. Otherwise, you might get asked to leave the table for the next few rounds or even the casino depending on the scale of your offensive deeds.
Another perfect approach to catch the attention of the casino guards is loitering. It not only looks suspicious, but it also is very disturbing to the real players and the dealers. No one likes a stranger standing right behind their back, so try not staying for too long at one place or observing random tables for no good reason. The same goes for taking pictures. Before you pull out your selfie stick and put on your cheesy face make sure pictures are allowed. If not, stay away from your camera or your innocent social media posts might get you into trouble.
Can Online Casinos Ban You as Well?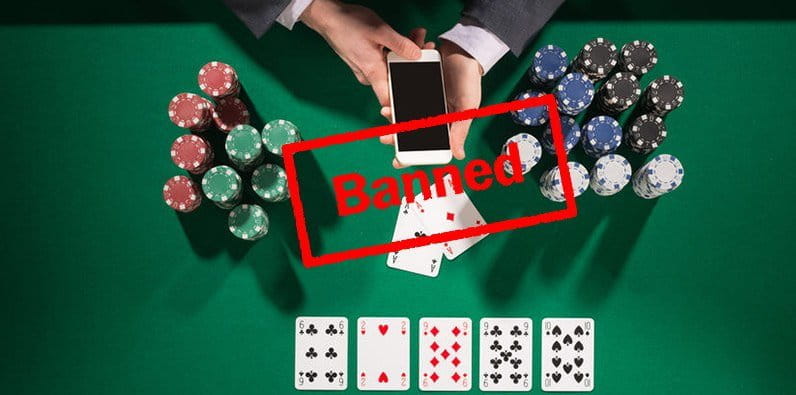 Of course, they can! Online gambling has its own set of rules and players must not break them in order to keep their accounts. But don't worry, falling into the 'banned' category is not so easy but truly would be an unpleasant situation for everyone involved. The worst part is, most online operators reserve the right to ban a player without any explanations. Not a nice feeling, for sure! Here are the 3 most popular ways to get your online casino account banned!
Abusing the Welcome Bonus
Welcome bonuses are dedicated to new players only and a player can only be new at a certain online casino just once. Yet many punters are tempted to benefit from the welcome treats more than once and try to do that by creating multiple new accounts using different e-mails, household addresses or telephone numbers. This is the fastest way to get your already existing account banned. Online casinos use a lot of smart tools and can track your ID easily no matter how hard you try to conceal it. If you're a fan of bonuses and you'd like to keep using them again and again just look for a reload deal or become a loyal member of the casino. This way the awards will never stop, and you won't risk your good reputation.
Applying Cheating Systems and Strategies
This category is huge, and you never know when a casino might decide you fall into it. All sorts of winning systems like card counting in blackjack or any other suspiciously appearing betting behaviour could cause you some trouble. The worst part is, the operators don't have to prove they were right at all! If they spot an opportunity, they can kick you out for good even with no existing proof for your winning tactics. Online casinos are also frequently used for money laundering. So, they keep track of all sort of unusual activities from punters such as constant huge wins, large deposits with no real bets ever played and even more detailed observations which we might not even consider right now. Playing tricks is noticed easily and the problems will follow.
Underage Gambling
This has been a growing issue on the UK gambling scene. According to law, young people under 18 should not have access to online casino platforms but they do find a way to break that ban. According to the United Kingdom Gambling Commission, the number of child gamblers has drastically increased in the last two years. So, as you can probably imagine, casinos will not tolerate even the smallest concern that an account has been used by an underage gambler. With that in mind, it's wise to don't even think about gambling before you reach the golden 18. The chances to be banned are high.