The Beginning of the Las Vegas Underground Society
In the 90s with the uprising modern era and the constantly increasing flow of tourists and the large investments brought the concern of protecting them from the normal weather events which are not that normal when we speak about the Mojave Desert. The truth is that in the region it's raining an average of 20-25 days a year! But the amount of water poured in that small-time frame is enormous, plus the soil is dry and usually does not soak the water properly.
These issues brought the idea for an underground labyrinth of flood tunnels, which were built in the 90s by Hydro Conduit Corporation. A web of over 600 miles is covering most of the Las Vegas and most of the tourist don't even suspect that there is another city under their feet. The labyrinth became more famous after T.J Waber killed his girlfriend in 2002 and used it to hide from the police forces. It is known that homeless people live there even before that, but the issue was widely explored after the print of the book of Matthew O`Brien called "Beneath the Neon" in 2007, entirely dedicated to the people living in the tunnels and their history. We will get you familiar with some of the faces down there, but later on!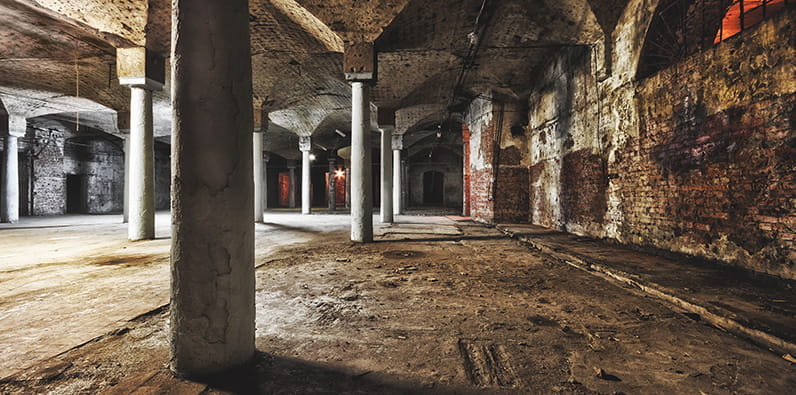 In that period the Las Vegas underground was reaching its limits while the city appeared to be the smallest one with one of the largest homeless population in the country. This ratio is reduced up to this date, but this is a result of many actions taken through the last 10+ years and the help of the O`Brien`s foundation called "Shine a Light" which helps the homeless in Las Vegas to get on their feet.
How Many are the Homeless in Las Vegas?
Based on our online research, we will be able to compare pretty much the last decade. In 2010 the average number of people experiencing homelessness in Nevada was close to 11,000, that's 3 years after the problem was widely exposed. Since then the number is continuously decreasing, for example, in 2015 there were around 9,000 homeless people. While in 2018 the stats show an average number of 7,500, but the incoming values from this year are amazing, in 2019 they were a bit more than 5,000.
To summaries quickly, the number will speak for themselves, in 2009 the homeless people were over 13,000, while in 2019 they are around 5,000. We believe that the progress is obvious, but still, there's a lot more to be done. It was not easy for the government and the different charity foundations to find a proper way and solution to decrease the number of people living on the streets. Similar to the Texas "Haven for Hope" initiative was launched in Las Vegas too. It aims to help homeless people and provide them with security, restrooms and temporarily place to crush over.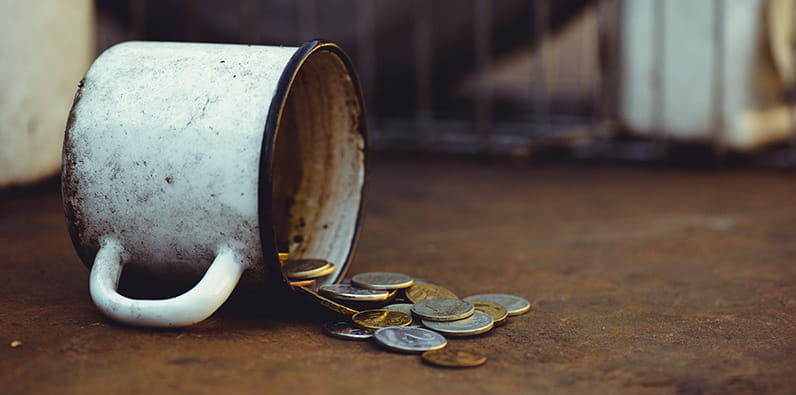 Believe it or not, there are people living in the Las Vegas underground for over 15 years, and they like it! For some, it was a result of addiction, for others the incapability to pay their bills, for the third it was just a piece of bad luck. There are countless strange, scary and sad stories down there and we intend to show you the rough reality from a firsthand.
Who Are They and How They Live?
It is unfortunate to have such fate and end up on the streets. Despite the common thinking, not all of the homeless in Las Vegas are drug addicts. Yes, a significant part of them are, or they became one after a few years in the Las Vegas underground city. Many of them were just a result of the sophisticated system of banks and credits or more unfortunate, family illnesses and other similar troubles.
You might get surprised but not all of the mole people are jobless, some of them work full-time, others part-time. There are many reasons to choose the Las Vegas underground instead of the commonly known shelters. Some people prefer to live there because they don't want to spend all of their money to pay their rent and nothing more. It is not a lie that many of the residents down there are people looking for an easy way out or otherwise said – to hit the Jackpot and ger rich.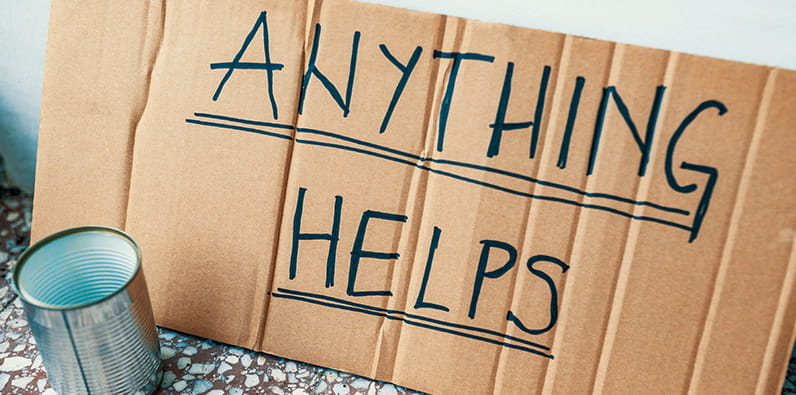 But why they choose the tunnels? Simply because a large percentage of them are drug addicts or alcoholics, while in shelters, they forbid the accommodation of such people. Another reason is that you need to be there around mid-day to reserve one of the few beds available and stay there to hold it. Which is not quite convenient for those who are strolling around or working during the daytime. Another reason is the diseases which are spreading quite quick in the shelters because they are usually large open spaces, and of course, the thefts are also a factor. Don't forget that pets are not allowed in such places… and we all know that homeless people usually carry on dogs to accompaniment them in their endeavours.
Some of the residents feel better in the tunnels than the homeless shelters not only because of everything aforementioned but also because they have their privacy and they can "design" their lair as they want. There is one big fat plus and that the low temperature during the extream day heat, also they are out of cops and tourists sight. The only great danger is a storm because the tunnels are filling with water for no time. Sometimes the water flow reaches 24-30mph which inevitably will wash away all personal belongings, but it could also take life too. Like in 2016 when 3 residents of the tunnels were found dead in the result of a large amount of rain.
Meet some of them!
There are over 1,000 Las Vegas underground residents, some of which were quite open and willing to speak with Matthew O`Brian, you can even find videos online with some of them. We also decided to sort out the information and tell you the storyline of a few lost souls only. You will see from a firsthand how the mole people see the world. First will be a person who is leading now the "Freedom House Sober Living" campaign and part of the Neva Public Radio – Paul Vautrinot
Paul Vautrinot
Paul`s life has never been easy, his mother was a drug and alcohol addict, and she was not capable of taking care of him. Others of his family members were willing to take him but unfortunately, he becomes a heroin addict too during his last years in the Las Vegas Academy of the Arts. In 2005 he graduated while 6 years later, in 2011 he was already homeless living in the tunnels. He says that at this point in his life, he was desperate and willing to die in the Las Vegas underground city. In 2014 he got arrested for drugs, but that was the reason why he decided to come clean.
He found a job at a car wash and married another recovering addict Kaylyn in 2016. We recognised his mother again, who`s been sober since 2011. He felt like he wants to help and to do something extra for the people down there. This is why he got in contact with Mr O`Brien and become part of the "Shine a Light" and "Freedom House", they merged the 2 campaigns in order to help as many as possible. We find inspiration and strong will in Paul`s story and we think that he deserves admirations.
Stephanie Sadorra aka Jenni Lee
She was born in 1982 in Clarksville, Tennessee, but in her youth, she got involved with pornography and become famous with her stage name Jenni Lee. In her early life, she worked for modelling agencies, but at the age of 19th, she entered the adultery business. She was a stripper for a while when in 2003 she did her first hardcore movie. She got married at the age of 22 in 2004 but divorced in 2006, the name of her husband is still unknown. In 2009 she retired from the porn industry and this is where the downfall starts. She was a drug abuser at that point of her life and that buried her down. She ended living in the Las Vegas underground tunnels for the last several years. She states that life down there is not that bad and she even likes it because the people are more loyal, honest, kind and they hold to each other.
Sharon & Jazz
Sharon & Jazz are a couple living in the tunnels in a well-protected and wired area with elevated by shopping carts beds. They rely entirely on "credit hustle" or as Jazz says "one hustle or another". Jazz is still living there, but unfortunately, Sharon was one of the three casualties that the rainstorm in 2016 took. He described the event as a living nightmare in which he lost the only person he had.
Is there a Solution for The Homeless In Las Vegas?
It is not a secret that the homelessness continues to be a rising issue across the US. The number of homeless people is constantly increasing while places like the Las Vegas underground and the LA Skid Row became symbols of poverty and home of many hopeless and homeless people. Some of the latest statistics show that roughly there are 168 homeless per 100,000 people.
Since the reporter Matthew O`Brien discovered the tunnels and their residents and show the public the awful truth about the American homeless people, many things changed. The mission of his foundation "Shine A Light" is constantly helping people in need. They organise different programmes to assist them in the fight with the addiction, also they supply them with fresh water, food, socks, underwear and things that need most. Maybe the addictions are most spread because around 90% of the residents are either into drugs, alcohol or gambling .
But after all the biggest fear of all Las Vegas underground city is the rain and the floods that are coming with it. Every single time it washes away all of their personal belonging and they need to start from scratch again… Thank people like Matthew O`Brien and Paul Vautrinot there's still hope for the homeless in Las Vegas.