Gambling Terms in Roulette
Roulette is probably the first thing that comes to your mind when you think of casino going. And though the rules seem rather simple – you place your stake on a number and keep your fingers crossed for the ball to land on that very same number – there's much more to it. For a complete guide of this type of games and the best roulette sites to practice it, have a look at our detailed reviews. We included tutorials on how to play the best roulette games online, as well as which are the top bonuses at the roulette sites, and so much more! But now, true to the topic of this blog post, we'll let you in on some gambling phrases typical at the roulette table.
Pinching & Past Posting – Pinching is when you remove your chips from the table after a loss, whereas past posting refers to placing a wager after the winning number has been announced. Naturally, both are examples of cheating.
Wheel Checks / Wheel Chips / Roulette Chips – These are special roulette chips that unlike the chips for other games are not coloured according to their value. These chips are of the minimum value for that table. The dealers give every player a different colour so that they'd know which bet belongs to whom.
Can I Have 2 Stacks of Colour, Please? – Colour, once again, refers to the special roulette chips, whereas a stack is a pile of colour chips. If you hear the phrase "full stack", it means 20 chips.
Can I Have 2 Ponies, Please? – Though mostly used in sports betting, "pony" means £25. There are a few theories of how that association came about but no matter which one is true this is a fairly popular term.
Blackjack Gambling Terminology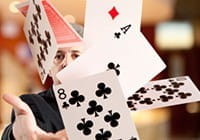 Blackjack has become increasingly popular thanks to the many movies and books dedicated to it and even more so because its key characteristic of being a game in which you could significantly improve your chances of winning by employing a good blackjack strategy or the advanced card counting techniques. Even people who haven't played the game or set foot in a casino know some of the most popular gambling phrases like "hit or stand" but let's have a look at some other blackjack gambling terminology:
Hole Card & Up Card – Both of these refer to the cards of the dealer. The former is the unexposed card and the latter is the exposed one.
Shoe / Dealing Shoe – It is the container in which the deck(s) of cards are placed. It is called that because, in the beginning, it resembled a high-heel shoe not only in its shape but also because it was usually in black or red.
Bust Card – This is the card which when taken causes your hand to bust, i.e. that's any card that makes your hand total go over the coveted 21.
Breaking Hand – That's any hand that doesn't contain an ace, which totals between 12 and 16. The name comes from the fact that a single card could break it and make you bust.
Too Many! – You'll hear the dealer say that when you take a card and go over the 21 count. That means you've lost your wager.
Perfect Pair! – When the dealer makes that announcement, you or another player at the table has got two cards of the same value, e.g. two kings. That's actually a pair, whereas the perfect pair is when the two cards are identical in value, suit, and colour. This is the most popular side bet with excellent payouts.
Poker Gambling Terminology
Poker is one of the best gambling games around the world and there are many people who have played it at parties, at casinos or online. Yet, poker speak is still widely unknown outside the group of people practising the game. That may be so but if you decide to play the game, it's a must that you become fluent in poker lingo first. You just won't manage a hand unless you know what the following basic gambling terms and phrases in poker mean:
Raise – It means to bet a sum higher than the previous bet forcing the other players to match it.
Call – You match the bet of the previous player. This action allows you to stay in the game without raising the bet.
Check – If no one has bet yet, you can check, i.e. you don't bet for the time being but stay in the game.
Fold – To fold means to pass or, in other words, surrender your hand.
Bluff – To bluff means to take action, e.g. call or raise on a bad hand, with the intention of deceiving your opponents.
But that's not all poker has in store for you when we're discussing terminology. We're going to put our cards on the table and let you know we'll raise the bet with another one dedicated to English idioms inspired by poker. Check them out if you're just getting started with poker and the gambling vocabulary it comes with as it can be quite useful for you once you sit on the table!
Slots Gambling Vocabulary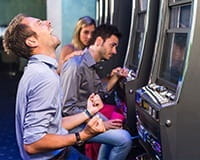 Well, slots are the number one casino game in the UK but we've put it last for a good reason. When you think about it, it's a solitary game in which the player doesn't need to communicate with a dealer – and yes, that's one of the main reasons why you can't find a slot machine at a live casino – so, as long as you're familiar with basic slot terminology, as we've also explained and listed in our special slots page – you shouldn't have any problems. The modern video slots are perhaps the only online games with so much more strange casino phrases than any other game. Examples include bonus rounds, multipliers, cascading and scatter symbols. Yet, there's always something new to learn, as did Phoebe in the cult episode of the Friends series from season 5 entitled "The One in Vegas: Part 2".
She complained to Ross about an obnoxious old lady stealing the wins at "her slot machine" and he explained that she is a lurker and then gives a definition: "when you're playing a machine and it hasn't paid out, a lurker waits for you to give up and then… they swoop in and steal your jackpot". Who would have thought that "Friends" can be educational about casino phrases!
Useful Gambling Phrases
We'll round things off with a general casino phrasebook. This is just a brief overview of some of the most likely casino phrases you'll hear or need to say at the casino. Quite often you'll need to react quickly upon hearing them, so pay heed now or be sorry later. You wouldn't want to miss out on a great hand because you didn't understand the time for placing a wager ran out, would you?
Place Your Bets! – No matter if it's blackjack, roulette or baccarat you're playing, this phrase means that the round is open and you'll have a limited time to place a stake you like.
Final Bets! – The dealer lets the players know that the time to take part in the current round is running out. Make sure you manage to place your wager as soon as possible or you'll have to wait for the next round.
No More Bets! – Whether you've made a successful bet or not, you can't do anything any longer except wait and see if your bet is a winning one. If you missed out on this round, you can always take part in the next one.
Is This Table Open? – This is a phrase you might hear from another player or ask yourself. Does it prompt an answer as to and play there? If the table is closed, you could ask when it would be open.
What's the Minimum/Maximum Bet? – If you're new at a table and you don't find essential info, such as betting limits, displayed, you could ask this question and be prepared as to how much is the least/most you can bet.
Colour Up – This term means that a player exchanges their lower value chips for higher denominated chips since chips have different colours. You should do that before leaving the table.
Can I Cash These Chips In? / Cash Me In, Please? – You've had your fair share of fun for the night and you're ready to take your winnings back home. Make sure you don't walk away with your chips even though they might have been your best friend that night. Use this phrase to exchange the chips for cash.
FAQ's Around Gambling Terms
If you've reached this part of our gambling terms review, you'll surely have questions that need further answering. Below we've gathered the most popular queries on the subject alongside their much-needed answers. If you're new to casino phrases and gambling vocabulary as a whole, don't miss them out as they can be quite useful!