Available Donald Trump Slots on Android
Let's look at what slot games are available on Android mobile devices that have the Donald Trump theme. We think that it was only a matter of time before such games are developed and released. We are all aware that President Trump's personality is quite provocative and opinions about his position in the Oval Office, vary to say the least.
We could find two Donald Trump slot machines that are fully released and one of them has gathered a lot of popularity in particular. These games are Trump Slot Machine and Trump It. To be honest, there is not much that we can say about Trump Slot Machine, as it seems to be cheaply and quickly developed with the intention of just having a nice laugh or instant enjoyment for a short period of time. The game that we want to pay special attention to is the one called Trump It as it has a quite large player and fan base.
Trump It Slot – Try the Game for Free
Developed by a company called Fugaso, the Trump It slot game is an incarnation of the more humoristic and ridiculous aspects of Donald Trump's presidency. It is a unique and at times even a little bizarre slot and we think in those qualities lies the whole charm of the game. Being a very famous figure and on top of that running for office and getting the job as President of the United States, makes Trump It the most famous casino game that is themed around people in politics. It is also the most popular example of Donald Trump slots on android.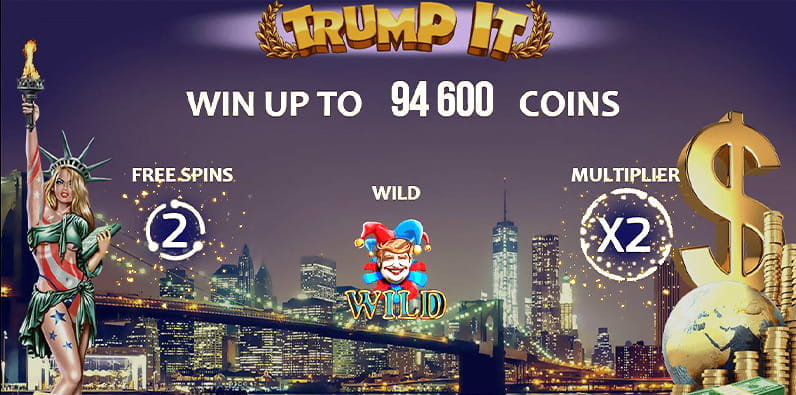 The game consists of 5 reels and 3 rows featuring a background with a cartooned New York City alternative. The sound design is also very fitting of the overall theme with an uplifting and quick beat. You will also notice that the US national flag, dollar bills and gold are a common sight during gameplay. The symbols and wilds that the game has are even more entertaining and eye catching so let's talk about them as well.
You will notice that there are caricatures of a sad Barack Obama, frustrated Hillary Clinton, Vladimir Putin wearing a very serious face, a Mexican, and other symbols that spell "TRUMP" if lined up correctly. Of course, the game will not be called Trump It if the man that is the inspiration for the slot does not appear himself rather frequently. Actually, the face of Donald Trump is the game's wild symbol and it gives a x2 multiplier when you get it. You will be happy to know that you also get regular rounds of free spins that include multipliers and great chances of large wins to be had.
At the time of writing this article, there is no jackpot attached to the slot game. There is a maximum of 10 betting levels and the coin values can vary between 0.01 up to 1. Due to the popularity of online casinos, you can find the Trump It slot game on any mobile device. It is optimized and available for both iOS and Android devices in their respective app store or in your favorite online casino that features the slot. It is also surprising that it retains a very high RTP of 96.9%.
Trump vs. Hillary Slot Games
Another very popular slot title is "Trump vs Hillary Slot Games", which is only available for mobile devices. It is free, and it is also a compilation of varied politically oriented games for people to enjoy. Just like in the Trump It slot, you can expect high doses of humor, which may get old very fast depending on what your preferences are. All of the selected games are generic at their core with 3 rows and 5 reels and just vary in their thematic.
Trump Slots Online – Find the Right Donald Trump Game
Unfortunately, these slots are not available at online casinos as far as we can tell from our research. They can be played only on your mobile device and have two modes – offline and online. While you are in the offline mode, you can freely play the slots without the need for real money. It's a great way to just have some fun or see what the gameplay is all about. When you are ready to play with real money, then you can start playing online with your device and try your luck at winning awesome rewards.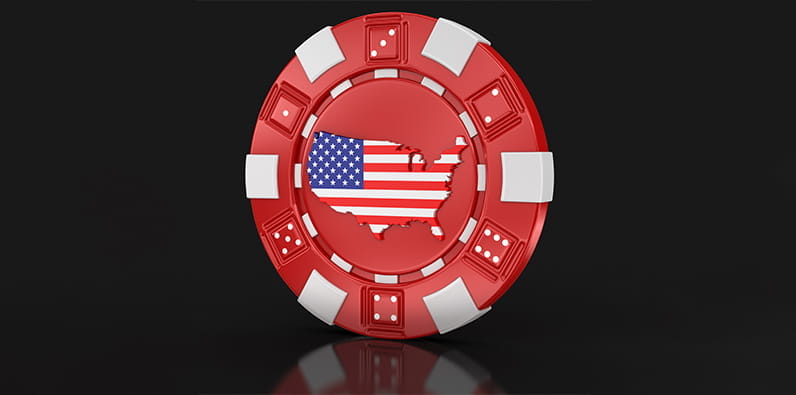 Can You Play Casino Donald Trump Games in the US?
As you may be already aware, gambling in the United States of America is a very hot topic currently as little by little regulations are being changed. We are convinced that not only brick and mortar casinos, but also online casinos will be legalized in all states so that gambling enthusiasts can enjoy themselves there as well. Currently online gambling is being legalized in many states, such as Delaware, New Jersey, Pennsylvania and more. If you are interested in staying up to date and also check the current situation on the legal side of the spectrum, we recommend you checking out our US online gambling page.