In our Lottery 49's review, we will discuss all important characteristics that might pique the curiosity of many gamblers out there. We will provide you with a complete step-by-step process on entering 49's Lottery and what features you can choose from. You will also find helpful info regarding the lotto's odds, prizes, participation restrictions, and the organisation behind the game. To finish off the review, we have included an FAQ section with answers to common questions.
How to Play the 49's Lottery?
Betting on 49's Lottery results is quite different from playing on most popular lottery sites, as it is not attached to a particular nation. This means that you don't have to be a resident of a specified country in order to participate. Another interesting characteristic of the game is that it takes place twice daily. So, your chances of winning are double. With its lunchtime and teatime draws, this game was created for all lottery lovers. Follow the steps we have outlined below in order to learn how to participate:
Choose An Online Bookmaker – Do your research regarding different licensed gambling sites in the UK and choose one that has 49's Lottery in it.
Open an Account – Enter your credentials and register an account with your bookmaker of choice.
Choose Your Betting Preferences – You can either choose "Lucky Dip", where numbers will be randomly chosen for you, or "Bet with New Numbers" if you wish to select them yourself.
Select How Many Numbers to Bet – You can choose to pick between 1-5 numbers. The more numbers you bet on, the larger your prize can be.
With or Without the Bonus Ball Feature? – You will elevate your chances of winning by including the bonus ball.
Pick the Number of Lines – If you want to have more than a single bet on the same draw, select "Add Another Line".
Choose Your Draws – Choose between lunchtime and teatime draws.
Enter Your Stake – You need to enter a stake for each line and bet type you've chosen.
Check the 49's Lottery Results – Check the results from the draws, so you can see if you have won something.
You can bet on the outcome of the 49's Lottery results from your desktop, tablet or mobile. 49's Lottery draw happens daily at 12:49 pm and 5:49 pm UK time. If you are into trying out different betting styles, you can use the Lottery 49's multiple bets option. It is comprised of a combination of varying bet types from the same selection of numbers. The total number of bets is then multiplied by your unit stake to make up the total stake.
The Organisation Behind 49's Lottery and Its History
The company behind 49's Lottery is 49's Limited, which is based in London, UK. The funding of this organisation comes from the subscription fees paid to Satellite Information Services – the operator of the primary television services in most bookmaker shops located in the UK. Lottery 49's history is quite long, as it was established in 1996, quickly after the UK's National Lottery launch. Ever since it was first made public, it has been operating twice a day. In the table down below, you can find more information regarding the company behind 49's Lottery, including its license number:
| | |
| --- | --- |
| 📛 Company Name: | 49's Limited |
| 🚩 Company Founded: | 29.11.1996 |
| 🏢 Headquarters: | 2 Whitehall Avenue, Kingston, Milton Keynes, England, MK10 0AX |
| 🤵 CEO: | Richard Jonathan |
| 🛡️ UKGC Licence: | 56709 |
| 📧 Email: | Email Form |
| 💻 Website: | https://www.49s.co.uk |
If you are a betting shop customer or have an account with an online broker, bear in mind that you can place fixed bets on 49's lottery numbers with varying odds. It all depends on the number of balls you choose and your bet type. You might anticipate that different bookmakers would have various odds on the number of balls, so you should select your operator depending on the odds it provides. However, it would help if you considered the most important thing to look for when you search through the gambling operators – that they are licensed by an appropriate authority.
What are the Daily Prizes at 49's Lottery?
The prizes that can be won from 49's Lottery depend on the payout limits of various bookmakers. The winning amounts always include your stake, and the bet types and payouts may be different at different gambling operators, so bear that in mind. In the table below, you can find the prizes that can be won at the 6 number draw of 49's Lottery provided your stake is the lowest possible – £1.
| 6 Number Draw | Returns |
| --- | --- |
| 1️⃣ Number | £7 |
| 2️⃣ Numbers | £54 |
| 3️⃣ Numbers | £601 |
| 4️⃣ Numbers | £7.200 |
| 5️⃣ Numbers | £125.000 |
The highest stake you can make is £50, and the maximum amount you can win from 5 correct numbers, in that case, would be £6,250,000 and £350 from one correct number. If you select to use the bonus ball feature of 49's Lottery and bet on three balls, you will need to match three correctly from seven overall instead of six. This improves your odds but also decreases your returns. You can take a look at the potential rewards from a bonus ball round with a minimum stake of £1 in the table below:
| 7 Number Draw | Returns |
| --- | --- |
| 1️⃣ Number | £6 |
| 2️⃣ Numbers | £39 |
| 3️⃣ Numbers | £330 |
| 4️⃣ Numbers | £3,800 |
| 5️⃣ Numbers | £40,000 |
If you were to increase your stake in the bonus ball round, you could win a maximum of £2,000,000 from 5 correct numbers and £300 from 1 correct number. Of course, you should first check with your bookmaker about possible changes to the odds and payouts of 49's lottery draw for the different operators.
Who Can Enter the 49's Lottery?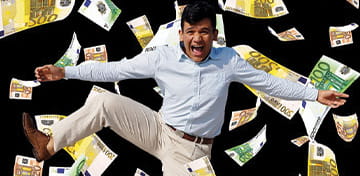 As a rule, you would need to be at least 18 years of age to be able to participate in a lottery. If you are below the age restriction and still manage to buy a ticket, that would not make much sense as no prizes can be legally paid to you. In terms of the location restrictions, there are none. You do not need to be a resident of the UK or Europe, for example, to participate in the 49's lottery draw. It is legal to bet on the lotto's results from any country where lottery gambling is permitted.
There are numerous online gambling operators, which would allow you to buy a lottery 49's ticket. One such example is Ladbrokes online casino, which also offers over 1700 slots, 25+ table games and 30+ live tables. Another choice you have is to access the lotto game from William Hill Casino UK, where a splendid welcome bonus of up to £300 awaits you. So, if you meet the criteria for betting on 49's Lottery results, then go ahead and open up an account with a reputable gambling operator.
What Are the 49's Lottery Odds?
The difference between 49's Lottery and the National Lottery is that in the first one, you are not forced to choose six numbers that would all need to appear during the draw. With 49's Lottery, you decide how many numbers to select – the maximum is up to five. The more numbers you have chosen, the larger the size of a potential windfall coming your way. You can check out your theoretical odds of winning from this lottery in the table below:
| Matched Numbers | Odds |
| --- | --- |
| 5️⃣ Numbers | 1 in 150,000 |
| 4️⃣ Numbers | 1 in 10,000 |
| 3️⃣ Numbers | 1 in 700 |
| 2️⃣ Numbers | 1 in 66 |
| 1️⃣ Number | 1 in 6 |
Of course, the odds we display above are only indicative as they vary from one bookmaker to another. So, the truth is that your chances of success solely depend on which operator you choose to gamble from. The larger or smaller odds of various companies happen due to differences in the profit/margin that those companies want to make. If a bookmaker is giving you 100,000/1 on five balls and another is offering 160,000/1, that would mean that the second one is potentially giving more of the staked cash back to its customers.
Which Are the Most Popular 49's Lottery Numbers?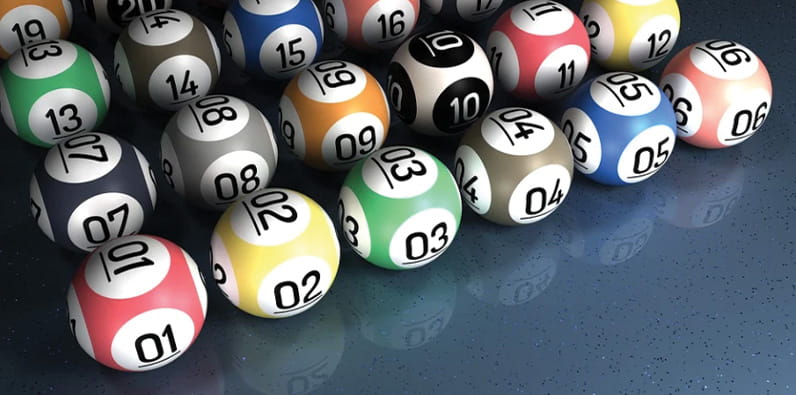 49's Lottery is all about numbers, and therefore, they have selected seven presenters, each for a single number. They all have lucky numbers as follows: Emma (14), Gina (17), Harriet (5), Helen (7), Kirstie (22), Sophie (9) and Tony (11). Apart from that, 49's Lottery numbers are classified based on how often they have been drawn in history. We will show you the most popular numbers or as they call them "Hot Balls" of 49's Lottery. Take a look at the following table:
| Ball | Total Number of Draws |
| --- | --- |
| 🎱 47 | 554 |
| 🎱 19 | 550 |
| 🎱 20 | 539 |
| 🎱 3 | 534 |
| 🎱 27 | 534 |
| 🎱 48 | 528 |
Of course, this is just historic data from past 49's Lottery results. It has no influence whatsoever on future outcomes, and you must have that in mind. When you design your strategy for betting, you can use your own lucky numbers and still end up going home with the jackpot. Simply because some numbers have been drawn significantly more times than others, that does not affect your theoretical future odds of success.
Conclusion
49's Lottery is a regulated and fair gambling game, which is available for UK residents and many other nations. The only restriction is that you reside in a country where lotto betting is legal, and you are above 18 years of age. This game is a fun alternative to other lotteries as it offers two daily draws, fantastic prizes, and the freedom to choose how many numbers to bet on. As long as you choose a licensed bookmaker, you should have no trouble buying your ticket and waiting for the winning 49's Lottery numbers to appear on your screen.
FAQ
In the last part of our Lottery 49's review, we will answer some questions that often appear when talking about this game. So, if you have missed some vital part of our overview, this is your chance to catch up. We hope you will find the following section helpful.