The Legend of Shangri-La Cluster Pays Slot Review – Playing Rules and How to Win
If you have always wanted to travel back to the Far East and experience life in the ancient days, now is your chance. This is the most unique and creative slot that is designed on a model created by NetEnt. The Cluster Pays series does not use traditional pay lines. If you are wondering how that works, then you are in the right place. We will talk about the unique nature of this slot and let you know how you can end up winning some serious money. At the same time, be prepared to be entertained as this is one fun slot to play.
The purpose of this review is to give you a complete indoctrination into the world of Cluster Pays. Shangri-La is based on a legend of the far east. The graphics are outstanding, and there is some animation throughout the game that adds a special appeal to it as well. Go through this review in order to learn about the various features of the slot, its unique nature, and how to win. This should all be done before you start playing for real money, so we urge you to consider playing the free demo version first. We will talk about that next.
Experience Life in the Far East – Play This Slot for Free
The details of this slot are important. Not only is that how you will end up winning some money, but it will also help you to enjoy each spin that you make even more. Nobody likes to spin a slot reel only to discover that they really have no idea what is taking place in front of them. While everything about this slot is highly polished and well organized, you will still want to play it for yourself a few times before you start using your own money. Access the demo version, play for fun and kick around the tires for a bit, so to speak.
After you understand how the special features such as the nudge reel and random substitutions work, it's time to play for some real money. This is where the fun begins for many players. To help you with that, consider opening an account at Duelz to play this slot. As an incentive, you can get up to £100 cash + 100 free spins with your first deposit. This is a great deal because it will essentially double your account balance before you even place your first wager. You can use that bonus immediately in the casino, so now is the time to get started.
Let's Look at the Game – Winning Rules
The Legend of Shangri La is pretty unique in every sense of the word. Each spin will have you going on an adventure with a wise old monk who is searching for some treats across the Far East. He must stay away from the evil dragon spirit, so you will want to as well. All the while, you will be enjoying the tremendous graphics that await you at every turn. To add to the mood, there are some traditional Chinese musical instruments playing for you in the background. Understanding the rules for this slot requires you to comprehend the new grid size that has been developed to accommodate the Cluster Pays concept.
Reading the Paytable
While it's true that this slot does not have the traditional pay lines structure, the principle associated with it remains. You will just click on the information button on the bottom left of the playing screen to find the many ways you can win with this slot. Let us just give you a hint – there are a lot of them! You will find such items as three stacked guru systems. This will almost certainly lead to a Cluster Pays win, and the paytable will describe how many coins you can win with on any given combination that shows up after your spins.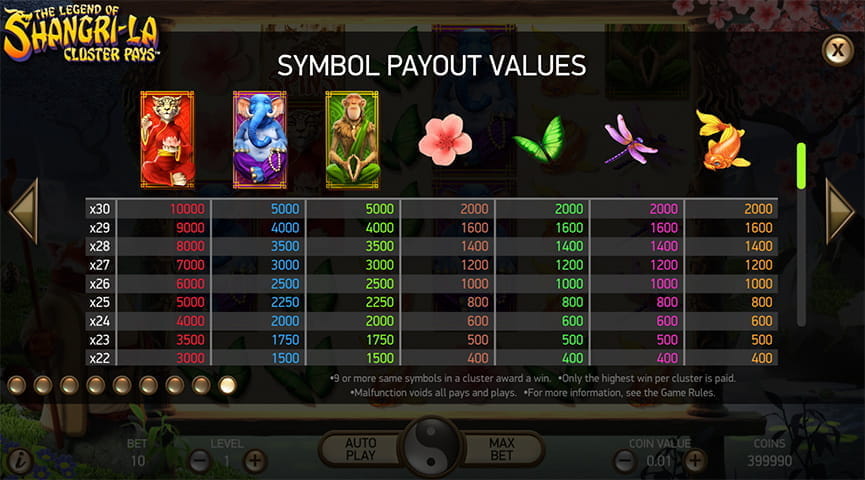 Advantages:
Innovation Payout System
Quick spin feature
Nudge Reel
Free spins
Random Substitutions
Fun to play
Disadvantages:
No progressive jackpot
No bonus game
The unique nature of this slot continues with the betting limits. While most slots today have a coin value that is capped at £1, this one goes as high as £2. There are 10 different bet levels, and the smallest coin value is £0.01. We say all of this to help you know that the minimum bet with this slot is only £0.10. That will appeal to many players out there who do not want to risk much money with each spin. If you do want to risk a bit more, you can wager as much as £200 with each spin on The Legend of Shangri La Cluster Pays.
Special Features and Free Spins
The logical place to start here is with a description of the Cluster Pays feature. This is a replacement for the traditional type of bet lines that most slots have always had. Essentially, you are rewarded for each spin that you make that results in you having nine or more identical symbols in a group or cluster. It is important to note here that the identical symbols must occur either horizontally or vertically. Nine in a row diagonally will not result in a win. You might be asking what happens if you have more than nine identical symbols? You will be happy to discover in such an event that you will win even more.
One feature that is a holdover from other types of slots out there today is the concept of free spins. You will earn a free spin round with this slot when you have three or more scatter symbols show up anywhere on the six reels. This will result in a number of free spins depending on how many scatters you actually had. You can also get sticky re-spins, which is kind of like a mulligan in golf. This will give you a chance to get the cluster of nine identical symbols that you failed to get on the first time around.
Mobile Version of The Legend of Shangri-La Cluster Pays
You might think that a slot of this nature, what with its six reels and more than three rows, would be difficult to play on a mobile device. The slot developed by NetEnt took on the challenge and has developed a version just for the mobile platform that is rather spectacular. You will want to play this one just to see for yourself. The graphics are outstanding, and it really makes the theme come alive on your tablet or smartphone. Just download your favourite online casino and then start playing the next time you have a few moments to spare.
Before You Start – Consider These Other Great Slots as Well
As you can probably tell by now, we are big fans of this slot. There are so many different ways to win that one cannot help but get excited with each spin that is made. Add to that the unique nature of this slot and NetEnt has a real winner here. You will also appreciate that the RTP is over 96 per cent. This gives you a great shot at winning some of your money back. You will love the theme, so give it a try today and see for yourself.
Rating:

4.3/5

Powered by:

Micrograming

Play at:

Griffon Casino
Rating:

4.4/5

Powered by:

Microgaming

Play at:

Ladbrokes Casino
Rating:

4.6/5

Powered by:

Microgaming

Play at:

32Red Casino
As soon as you open up this slot and start playing it, we are confident that you will fall in love with it. The ancient Chinese music is a great touch and will set the mood for the story that is about to take place in front of you. The animated graphics will leave you feeling as if you have just travelled to the Far East. Give it a try and see for yourself what we are talking about. You may win some money in the process! After you do, don't hesitate and consider trying one of the other slots we've reviewed for you, as well as checking our dedicated page to the best slot sites for the UK. We're sure it will be worth your time.