Ugga Bugga Slot Review – Tribal Multispin Madness
Ugga Bugga is not your regular everyday slot. It involves a lot of decision-making, a huge and complicated paytable, and a payout percentage that other games can only dream about. It doesn't offer any bonus games or free spins but considering that you are essentially playing ten games at once, it doesn't need them either. With its 23 possible winning combinations, the chance of a non-paying round is not very high. Of course, it is still a slot game, so the house will have an edge, but that is extremely slim.
On this page, you will find the full review of Ugga Bugga slot, complete with its pros and cons. And if you would rather play the game for yourself, you can always find a free demo to try. Furthermore, if you like the game and want to wager some real cash on it, we have a recommendation for the best casino to do it at. And if you are looking to play similar titles, look near the end of this review for our suggestions on other slots to try.
Ugga Bugga Slot Free Play – Demo Game
Before we start explaining the game's specifics, we would like to point out the advantages of a demo game? Ugga Bugga slot's base game is not as simple as those of most other slots, so you would understand it best only after you have tried it. What's more, the demo versions allows you to see if you like the game before you bet any real money on it. So, in case you can, give it a few spins and check out what it is all about.
If you want to wager some real cash on Ugga Bugga, we're glad to tell you that we know the best casino to do so. Head on over to Mansion Casino to make use of a huge welcome bonus, low playthrough conditions, and lots of other goodies. And if you get bored of Ugga Bugga slot by any chance, Mansion Casino has plenty of other games for you to try, so you're bound to find something that you like in their catalogue.
General Game Overview
Ugga Bugga is not your average slot, and not only because of the African tribal theme. It actually a three reels slot and has only one payline. However, unlike most slots, you actually play ten semi-separate games at the same time. Ultimately, this means that you have ten chances to hit a winning combination.
Each round is divided into two phases. Once you place your bet, you spin only one of the ten sectors to see your three initial symbols. Then, you can choose whether you want to hold any of them. Holding a symbol locks it on the same reel across all ten of the sectors. So, if you hit a winning combination on your first spin, you are basically guaranteed ten wins across the board.
In case you are worried you might miss a winning first spin, don't fret. The game will automatically hold a winning combination for you. You can choose to let go of it if you wish, but if you consult the paytable, you will see that there is no point in doing that, unless you are hunting a very specific win. The Ugga Bugga slot RTP is surprisingly high, going over 99%, which is rarely seen nowadays. So your chances of wins are not rare at all!
That's One Generous Paytable
Ugga Bugga slot doesn't offer a lot of symbols, but it does offer a lot of variance in the way you can combine them. The symbols are divided in four basic groups – huts, masks, food bowls, and drums. Each group comes with three kinds of symbols, offering different payouts for a set of three. Hitting any three symbols of the same group will net you some kind of a win. Furthermore, a winning combination is also made with three symbols of the mask and drum groups. For example, you could have two drums and one mask, and you will still get your line bet five times as a prize. There are also the Wild and Warrior symbols, with these offering at least your line bet if you hit even one of them on any line.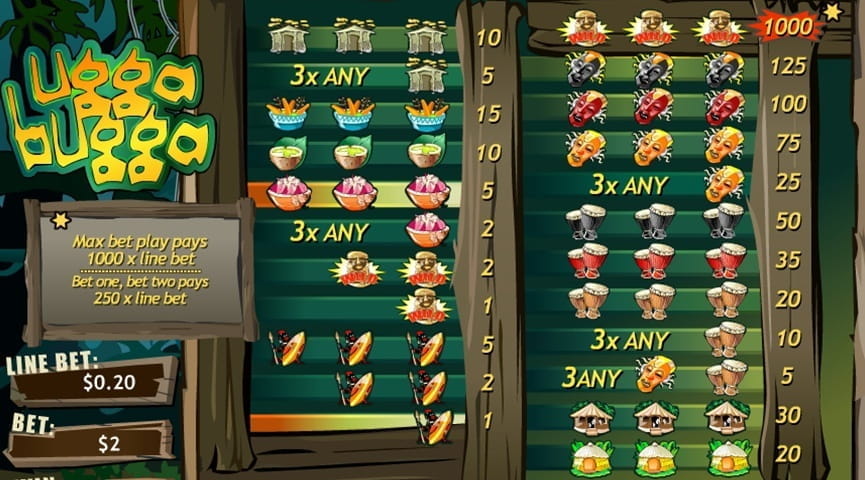 Advantages:
Great Payout Percentage
Lots of Winning Combos
Unique Theme
Control Over the Game
Engaging Gameplay
Fun Theme
Disadvantages:
Low Chance of Big Wins
No Progressive Jackpot
When it comes to betting range, you have plenty of freedom. While you will always be playing all ten lines, you can adjust your bet per line between one and five coins. Furthermore, you can change coin value; it starts from £0.01 and caps off at £100. So, the actual betting range is between £0.10 and £5,000 per spin. The maximum win you can hit is 1,000 times your line bet. And if you are crazy lucky, play at the maximum betting range, and you hit it across all ten lines, that amounts to £5,000,000. I think we can excuse the lack of progressive jackpot in this case.
Ugga Bugga Slot is on Desktop Only
Unfortunately, Ugga Bugga slot is not available on mobile devices. However, it makes sense for it to be desktop-exclusive. After all, when we play on our phones, we don't focus on the game as much, and Ugga Bugga is a game you want to pay close attention to. If you play it safe and smart with the holding function, you will rarely see any drastic changes in your balance. Yet, if you are not careful, it could turn around to bite you.
Final Thoughts and Other Games to Try
We reached the very end of our Ugga Bugga slot review. We hope that you find it useful and that we gave you an insight of all aspects that you might be interested in. If you enjoy the high payout percentage but are not too keen on the gameplay or theme, you might want to try Mega Joker. This NetEnt slot comes with an RTP of 99.00% and it features the classic fruity theme that will never go out of style. Or, if you want some more Africa but with added jackpots, then Mega Moolah is for you. It has already proven to be a millionaire-maker. Or if you feel adventurous, try Tome of Madness, a truly amazing slot with great graphics and features!
Rating:

4.4/5

Powered by:

NetEnt

Play at:

LeoVegas
Rating:

4.3/5

Powered by:

Microgaming

Play at:

Betway
Rating:

4.9/5

Powered by:

NetEnt

Play at:

888 Casino
Ugga Bugga is as non-volatile as they come. You can play for hours on end without seeing a drastic change in your balance. Unfortunately, this also means that you are unlikely to score any big wins either. Most wins you hit will not be over five-time your bet. And yet, the possibility to become a millionaire is present. If you play a lot, who knows, Lady Luck might grace you with her presence at some point. And yet, when it's all said and done, Ugga Bugga is about the small wins, not the huge one that would allow you to retire and that's perfectly fine with us. If you are wondering which are the best places to play slots in the UK, see our list of top slot sites for 2021.