Jackpot 6000 Slot Review – a Classic Slot With Great Features!
Once in a while, it is nice to encounter a slot that is simple to play. Jackpot 6000 is one of those slots. It gives you the retro feel with wonderful colours and even greater graphics. There are few features, but that doesn't take away from the fact that it can win you enough money to make a difference in your wallet. Most of all, it is fun and relaxing, so don't let its simplicity fool you into thinking that it is a loser. This slot has a high RTP and more paylines than your typical 3-reel retro slot, so have a go to see what it has to offer.
In this review of the Jackpot 6000 slot, you will see exactly how simple this slot is. The gameplay is basic, but there are some nice features that will help you get maximum enjoyment out of the game. This review talks about those features and even gives you some recommendations for similar retro slots that you might like. While there are other slots out there with more action and more advanced features, Jackpot 6000 is like a breath of fresh air. It gets in touch with the vintage slot with play that doesn't confuse or make it easy to lose control of the bankroll.
Experience the Demo – Play the Game for Free
Before continuing into the details of the game, the demo is something that is important to talk about. The demo is a very valuable tool because it gives you the opportunity to try the game before you bet real money. It helps you form your own opinion about the game so you can decide how to proceed. The nice thing about the demo game is that it is just like the real money version. The difference is that you are playing with demo cash, which is why you'll find that the Collect and Transfer buttons are disabled. Other than these disabled buttons, everything else is functional.
If you really like the demo and want to play for real money, Mr Green Casino has a welcome offer that you can use. This casino tends to have some nice welcome offers that enable you to pad your bankroll as you are growing accustomed to playing Jackpot 6000 with real money on their platform. The offer requires you to deposit at least £20 so you can unlock the 100% match bonus. You can obtain a match of up to £100, so depositing £100 will give you £200 to play with. If you decide to just deposit the minimum of £20, then you will have £40 to play with. Also, you get 50 Free Spins on Starburst.
Everything About the Game
As mentioned before, Jackpot 6000 is a very basic slot. You choose your bet amount and click spin. Because there's no autospin, you simply click the spin button as many times as you'd like until you're finished with the game and ready to collect. If you want the reels to spin faster on your journey to profits, you can click the wrench at the bottom of the screen and choose the fast play option. One perk to the game is the Gamble option. When you win, you can choose the Heads or Tails button to determine where the meter is going to stop. If the meter stops on your choice, you win more money. If it lands on the opposite of your choice, you lose. You don't have to use the Gamble feature. Instead, you can skip it by choosing to spin and take what the Super Meter has to offer you.
A Review of the Paytable Symbols
The paytable is very simple. It's located above the reels so you can easily keep track of the symbols and what they mean. There are only 6 symbols and they are the Joker, Star, Bell, Grapes, Cherries, and Lemon. The Joker is the highest paying symbol at 6,000x your stake if you get 3 of them on the reel. The star follows at 100x your stake and the rest are 80x, 60x, 20x, and 20x respectively. There are no multipliers, free spins, or any of the extras that many slots have because this is a retro slot that is staying true to the time it represents.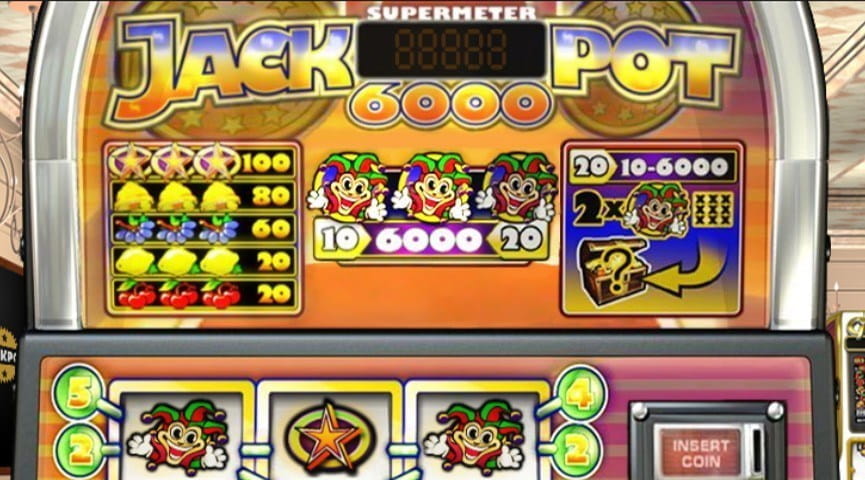 Advantages:
Low Limit Slot
Simple Gameplay
Easy-to-read Paytable
Simple Rules
Super Meter Feature
Good Winning Potential
Disadvantages:
No Multipliers
No Free Spins
When placing your bet, you'll notice that the betting range is very small. The minimum is £1 and the max is £2. There's not a lot of flexibility in the bet range, which means this slot is mostly for those that like low limit slots without the temptation of betting too much more. Players of all types like retro slots regardless of betting range, but this one helps you control your bankroll more since the temptation simply isn't there. That makes this a no-pressure slot that puts a major focus on the player rather than profits.
Get Down and Retro On Your Mobile
Amazingly, Jackpot 6000 is one of the few retro slots that has a mobile version. However, the appearance of the mobile version of the game is much different than the desktop version. When you decide to play on mobile everything from the slot to the menus are different so they can fit appropriately on your screen. The desktop version barely fits on a standard desktop screen, so this makes a lot of sense so you can see the reels well. Just make sure you turn your phone to the landscape position (sideways) so you can play the game.
A Few Last Thoughts and Other Retro Recommendations
If you like Jackpot 6000, then you will like Hot Roll Super Times Pay. This retro slot comes with 20 paylines on 3 reels. The difference between it and Jackpot 6000 is that it has more features. For example, it actually has a bonus, which isn't too common with retro slots. It also has Wild multipliers to increase your winnings. The max line win is 5,000 coins and the RTP is between 91.97% and 96.07%, so there is potential for a good return to player. This slot has everything you love about Jackpot 6000 but with a little more action. Other retro slots you might enjoy include:
Rating:

4.4/5

Powered by:

Playtech

Play at:

Mansion
Rating:

4.5/5

Powered by:

Microgaming

Play at:

Betway
Rating:

4.8/5

Powered by:

NetEnt

Play at:

Royal Panda
Considering everything that has been covered in this review, Jackpot 6000 is a nice retro slot. It doesn't have the frills and thrills of many other slots, but slots simply didn't have those things before more advanced technology took over. This slot takes you back in time with its colourful graphics and basic gameplay. It's one of those games that you don't have to put a lot of thought into, which can be nice when you want to play a simple slot with good money-making potential. No, this slot isn't a huge moneymaker, but it is one that could help you pay for that vacation you've always wanted to take.