Dead or Alive 2 Slot Review – Return to the Wild West with a Bang
There are that many sequels that people can barely wait for and Dead or Alive 2 is definitely on that shortlist. The original game from 2009 is considered a classic and often it's very difficult for a follow up to live up to the original's reputation. Luckily, NetEnt's team has successfully managed to steer clear from such curse and have brought us a slot that not only lives up to its predecessor but exceeds it on multiple fronts. Completely modernized graphics, the industry-standard RTP of 96.82% and the free spins bonus feature games where you can win up to 111,111.11 your stake are what makes this journey to the Wild West a must. Saddle up and join outlaws Apache the Kid, Della Rose, Jesse James, Belle Star, and Billy the Kid on their desert adventure.
NetEnt has managed to respect and pay a proper tribute to the legacy of the original just in time for its 10th anniversary. Sequels can be bigger and better, as long as you pour your heart into the project, listen to the fans and understand what they want, need, and are passionate about. Well…the brains behind Dead or Alive 2 have done in all. In the following Dead or Alive 2 slot review we will take an in-depth look into the features of the slot, its graphics, and bonus features. Naturally, our main goal is to have you be as informed as possible. Every important aspect of the slot will be examined in great detail. Join us and the outlaws on this quest to prove to you just how much fun you can have, even if you are on the opposite side of the law.
Board Your Horse for a Stroll in the Demo Version
Reading somebody else's purely objective perspective on things is very informative and can certainly help steer one's opinion into a certain direction. That is why we are here for. However, nothing can trump first-hand experience. It is certainly the fastest way to assess the slot and you are welcome to do so with the free demo version of the game you can find below. It's included entirely for this reason. Board your horse, join the gang and take a spin. The demo version comes with fictional money you can use for practising purposes,, therefore, it won't cost you a dime to venture to the far ends of the Wild West. Try out the bonus features, free spins, and submerge yourself in the setting through the visual feast.
We are rather certain that you will enjoy the slot as much as we think you will. Therefore, we will take the liberty to go ahead and provide you with a casino recommendation, where you can try the real deal and potentially earn amounts you have only dreamed of. Head to SlotsMillion online casino and take a shot at your luck. It is fully regulated by the Gambling Commission of Great Britain and the Malta Gambling Authority: the highest possible honour a casino can obtain. It means that fairness and transparency are the standards at SlotsMillion. To make it even more appealing to you, if you sign up for the casino you will get 100% for up to £100 + 100 extra spins as a welcome bonus. Not convinced yet? Well, …we will throw another reason at you. The casino boasts one of the most incredibly diverse and substantial slot catalogues you can find with more than 1700 currently available. We are 100% sure that, in case you decide to take a break from the west there will be hundreds of opportunities for you to venture where you haven't before.
Overview of the Slot's Gameplay
Like its predecessor, veteran punters are quite aware, the game takes place in the Wild West sometime during the 20th century. You can expect the theme to be extremely western-like. The backdrop represents a setting from an old and dusty desert town. The symbols are heavily inspired, as well. NetEnt has managed to blend the seamless graphics and sound effects exceptionally well. With the proper headset and just enough focus from your side, you will be completely engulfed by the slot's environment.
The slot comprises of 5 reels with 3 rows each and features 9 possible paylines. The autoplay feature is available and is quite flexible. You can adjust it at 10, 25, 50, 100, 250, 500, 750, or 1000 consecutive spins without the need to push a single button. In addition, you can stop it at any time you want and set it to automatically stop once a specific amount has been reached and/or exceeded, as well. The sound volume can be manipulated, albeit we wouldn't recommend this at all. Trust us when we tell you that sound can play such an important role in the overall experience and here, as it is the case with many NetEnt products, it contributes significantly to the atmosphere. Last but not least, the quick spin option is there to save you some time in case you are impatient enough to find out if you have struck gold or not. On a side note, we want to mention that there are very exciting bonus features such as wilds, scatters and consequent free spin rounds, but more on this later on in the review.
Features, Wilds, Scatters and Free Spins
As it is the case with most of the slot games out there, here, the symbols are very thematical, as well. The developers have made sure to pay proper tribute to the original and the design has been vastly updated, though left similar. You will find your usual suspects Apache the Kid, Della Rose, Jesse James, Belle Star, and Billy the Kid that act as wilds. They are used as a replacement to any other symbol to create a win over any of the 9 available paylines. They are the high-value ones, as well.
Besides, there are the 10, J, Q, K, and A royals, which are lower in value, as well as a variety of mid-range value, illustrated symbols. Among them, from the highest to the lowest, you can find a sheriff's badge, a revolver, a cowboy hat, cowboy boots and a bottle of whiskey. There is a scatter symbol, as well. It's depicted as a bull skull with 2 crossed revolvers underneath. Should you hit 3 of them anywhere on the reels, you activate the free spins feature, which is definitely the most exciting and lucrative feature of the slot. Otherwise, the slot is pretty standardized in terms of appearance and features.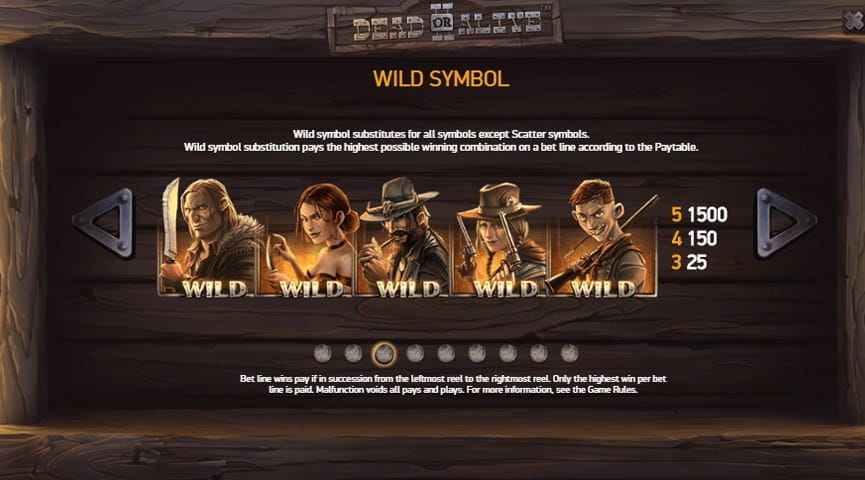 Advantages:
High-Definition Graphics
Fantastic Bonus Rounds
High Volatility
True to the Original
Mobile Compatibility
Quickspin and Autoplay
Disadvantages:
No Progressive Jackpot
9 Paylines
The amount of the bet you can place per spin can fall in the range between £0.08 and £18. You can adjust it by playing with the "Plus" and "Minus" buttons on both sides of the "Level" and "Coin Value" sections of the slot. The 9 possible paylines, in combination with the high volatility of the game can result in a maximum possible win that is 111.111,11 times the amount of your stake. This converted to cash equals to nearly £2 million. If this cannot impress you, we don't know what might. Progressive jackpots are nowhere to be found when playing Dead or Alive 2, as some punters might find this to be quite disappointing. However, the possible mega jackpot can be extremely enticing in its own right. As long as you are persevering and have a dose of luck, of course, you might be the next person to take the amount home.
Bonus Rounds That Can Bring You Millions
The bonus feature will undoubtedly be the primary reason why every gambler should spend time and money on Dead or Alive 2. It can literally bring you millions. Here is how the whole thing works: the goal is to hit at least 3 scatter symbols anywhere on the reels to access the free spins bonus mode. If you are lucky and hit one on every reel, you will be instantly rewarded 2500 times your stake and then proceed to the next step. You will be notified that you have 12 free spins and that you are to select a scenario.
You get to choose between the Train Heist, the Old Saloon and the High Noon Saloon feature. They all work on the basis of increasing multipliers, sticky wilds, or both. Should you hit certain marks, you are awarded more free spins. The way the feature is set up is that you get to win often and in smaller amounts if you choose the first scenario (left), as opposed to more rarely but substantial amounts if you choose the third scenario (right). The Old Saloon feature falls in the middle. Where you want to bet your money on is the High Noon Saloon. NetEnt's MAX concept is used for this one. Here, every sticky wild carries an x2 and x3 multiplier attached to it. You get 5 extra free spins for every additional wild and its value is multiplied by the value of the other wilds. With a bit of extra luck, your winnings can cap at nearly £2 million and you can leave the round with your life completely changed.
Gambling has never been exclusively about skills. Surely, the table games require you to have a certain skill set, however, the most important trump you can have in your hand is first and foremost luck. Big jackpots go to the lucky ones. This is even more applicable to the slot machines. During our tests, we managed to hit the bonus feature several times and we have seen slots where we have managed to crack the bonus rounds more often. Predicting something like this would be like predicting the lottery. It is difficult to estimate a percentage that will be applicable for every punter out there. What we can tell you is that in the case of Dead or Alive 2, with an £18 maximum bet, you won't waste many resources before you get your chance to see how fortunate you are exactly. Do not forget that it could be all well worth your effort and investment with nearly £2 million on the line.
Mobile Compatibility at Its Finest
NetEnt knows their stuff, so it shouldn't come to anybody's surprise that the slot game has been beautifully optimized for any mobile phones and tablets alike. We ran tests across multiple devices and are extremely impressed with the smoothness and HD graphics of it. The settings you can find on the desktop version are all here. A cool additional feature we found quite useful is that you can adjust the spin button to be either left-hand or right-hand friendly. It's all in the tiny details that make the difference and we are glad the brains behind the slot are trying to walk the extra mile and accommodate as many gamblers' preferences as possible. The experience you will get out of it on your mobile is as amazing as it is on your desktop. The outlaws will make sure of it, regardless of the screen size.
Embrace the Wild West Because It Is Worth It
It's rare to stumble upon a sequel that is brought to life without butchering the legacy of the original. Dead or Alive 2 definitely lives up to the hype as it not only recreates the feel of the original but adds additional layers and value to the experience, as well. It looks and sounds great and can reward the lucky ones in ways they can barely fathom. In case you find this western slot as absorbing as us and feel like you do not want to leave the Wild West any time soon but would like to change the setting, we invite you to take a look and spin your luck at one of the following slots that we have picked for you and believe are among the best in the same genre. The outlaws might be sad that you will leave their side, but we are sure you will be more than happy with the other dusty and bullet-filled adventures we have chosen for you.
Rating:

4.7/5

Powered by:

IGT

Play at:

LeoVegas Casino
Rating:

4.3/5

Powered by:

NetEnt

Play at:

Royal Panda Casino
Rating:

4.6/5

Powered by:

NetEnt

Play at:

BetVictor Casino
Dead or Alive 2 manages to successfully raise the bar that was set so high by its predecessor. Our favourite band of misfit outlaws are still here, the graphics have been given a fresh, high definition polish, and the sounds are as impeccable, as we can expect. The biggest and most exciting addition is the inclusion of extra free spin bonus rounds that can turn you into the next millionaire with the right amount of luck. NeEnt continues to pave the way for the rest of the developing companies out there and proves with every subsequent release just what kind of a juggernaut the company is. Dead or Alive 2 is merely the most recent example of this. Great job!