Age of the Gods God of Storms Slot Review – Playing Rules and How to Win
This is not the first Age of the Gods slot to have been launched – in fact, it's the eighth. This means that they must be getting better and better. This one has already earned quite a following of players since its launch back in 2017. As you can probably determine from its name, the theme is based on ancient mythology. Don't worry, there is no need to go dust off your college textbooks to understand the story in this game. In fact, the graphics and the sound effects will tell you everything you need to know to have a great time playing this slot with its 25 different pay lines.
This slot is definitely interesting. The symbols and characters interact with one another to tell a great story that revolves around various gods and goddesses that have been appointed by Zeus to watch over society. It is quite fascinating to watch what unfolds with each new spin. The sound effects tell the story of the god of the storms in a unique and exciting way. You will enjoy the various ways that you can win, but first, you must know what they are. This is why we have written the review you are about to read. We hope that it will help you enjoy this slot even more.
Aeolus Comes to the Rescue – Play This Slot for Free
Did you know that Aeolus is the king of the winds in Greek mythology? It's ok if you didn't know, as we had to look it up ourselves! That being said, you will learn all about Aeolus and the other gods and kings appointed by Zeus as you begin playing the free version of this slot. We think that you will find this the best way to learn about the battles that take place during each spin and how you can come out victorious when the reels stop moving. The game here is completely free, and it allows you to take a closer look at the finer details of the slot before you begin wagering your own money on each spin.
Once you have witnessed a few battles take place in this slot, you will want to begin wagering your own money. That is, after all, why most players come to the casino. You do not have to risk much on each spin, so don't worry (we will go over bet limits in a moment). To begin playing for some real money, consider opening an account at NetBet Casino. We recommend this because they are offering a bonus of 500 free spins on select slots when making your first deposit. You can claim it by inputting the code 'NBWELCOME500' in your account registration form. This is a great way to begin playing this slot, as you can use the spins to test it out before spending real money.
Let's Look at the Game – Winning Rules
While this slot incorporates the traditional 5 reels and 3 rows into its structure, it is a bit unique in that its 25 paylines are adjustable. You can decrease the number of paylines that you have active before you end up placing your wager. This gives you much more control over each and every spin. You might even try to invoke a bit of skill as you navigate the slot and attempt to determine when the next big payout will come. Keep in mind that there is a progressive jackpot to be on the lookout for as well.
Reading the Paytable of Age of Gods: God of Storms
To begin playing this slot, just like any other, you will place your bet and then hit the spin button. Once the reels have stopped spinning, you might like to know how it is possible to see where you have won, or why you have lost. That is what makes the paytable so useful. You can look at it whenever you want. It will detail exactly how you win with this slot by going over not only the special features but the bet lines as well. You will see how much each symbol is worth and where the big combinations lie on the playing screen.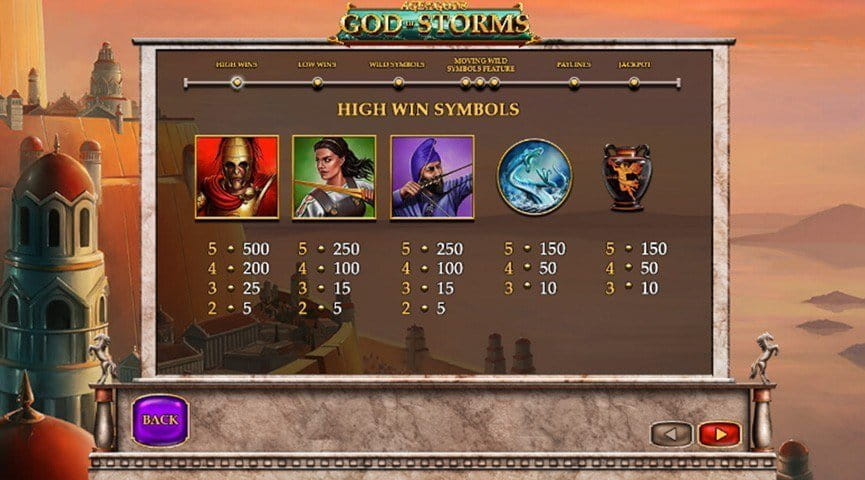 Advantages:
25 Ways to Win
Quick Spin Feature
Wild Symbols
Bonus Round
Jackpots
Fun to Play
Great Theme
When it comes to placing your bet on Age of the God God of Storms, there is quite the range to consider. This is a good thing for most players, as it encompasses most levels of risk. At the low end of the betting spectrum, you can wager a minimum of £0.25. This is excellent news for many players who want to risk a small amount of money in order to learn the game and see if they want to bet more in the future. If you feel comfortable with risking a bit more, you are also able to bet as much as £250 on each spin. Remember that you can change your bet with each new spin if you wish.
Special Features and Bonus Round
Actually, there are quite a few different special features to learn about in this slot. For one, there are a total of four progressive jackpots that you can benefit from. That's right – God of Storms slot is connected to a network that can win you some big money. To get there, you need to activate the jackpot game, and that will then be played on a unique 5×4 grid. Beyond that, there are also some wilds that are represented by a ship. When you see this, you will notice that any other symbol can replace any symbol on a bet line. This just might give you the win that you've been waiting for.
There are many ways to win with this slot, including the special bonus round that you may be able to activate on certain spins. Keep in mind that you can actually win up to 12,500 coins on any one spin. Depending on what your initial bet is, this could be quite the haul. The Spartan symbol alone will bring you 500 coins, and then there is always the Wild Wind Respins feature. If you can get this going, then you may just win multiple times with your original bet. This is a great way to add to your account balance without actually needing to bet any more.
Mobile Version of Age of the Gods God of Storms
If you are the type of player that likes to spin on the slots away from home, then you will be happy to discover that Playtech has created a God of Storms version that is optimised for the mobile platform. When playing this slot on your smartphone, you will quickly find that all of the same features are present, including the progressive jackpot. You will even get the benefit of the unique and innovative graphics and sound effects. This will play like a video game on your phone, so consider giving it a try the next time you have a chance.
Experts Final Verdict & Recommendations
The theme of this slot is what makes it so great to play. It is a lesson in ancient war, and it brings to light many of the mythological creatures that have long been forgotten. There are also so many different unique features that make each spin so special that you can't help but look forward to playing this one. We like the theme and the graphics. Playing a slot should be fun, regardless of the money at stake. We feel that this one does that and still maintains a fairly high RTP percentage for a progressive jackpot slot – 96.14%. It is worth playing, so give it a try. Nevertheless, if you are looking for something different as a topic, you might want to chech our proposals below:
Rating:

4.6/5

Powered by:

IGT

Play at:

Inter Casino
Rating:

4.4/5

Powered by:

Microgaming

Play at:

Betway
Rating:

4.58/5

Powered by:

IGT

Play at:

Leovegas
Age of the Gods God of Storms, quite simply, is a slot that you must experience in order to appreciate. You will want to see the bonus rounds for one. This is a great way to see the gods and kings of the ancient days do battle with one another. You might just come out a winner. You will also want to play this slot in order to have a chance at winning the progressive jackpot. That will be a nice win indeed. If you are looking to try a different slot, we have reviewed three more here that you might want to consider.