It's pristine clear, at this point, that all casino interior design ideas are aimed straight at the visitors first, and only then the looks of the place. Our page is organized likewise. If you find something of interest on our nifty navigation menu, don't be afraid to use it. At the very end of the page, there is a section with questions and answers regarding the casino-style interior design you may find interesting. Help yourself. Which aspect of casino interior do you want to know more about?
What Goes into a Casino Interior – Know Your Way in a Casino
First things first, you need to know your way around the casino. When you walk through the front door, everything there will be fighting for your attention. If you don't want to end up slightly confused and disoriented, you must know what to look for in one of these wonderful establishments. The following is an infographic illustrating and describes the key components in a casino's interior.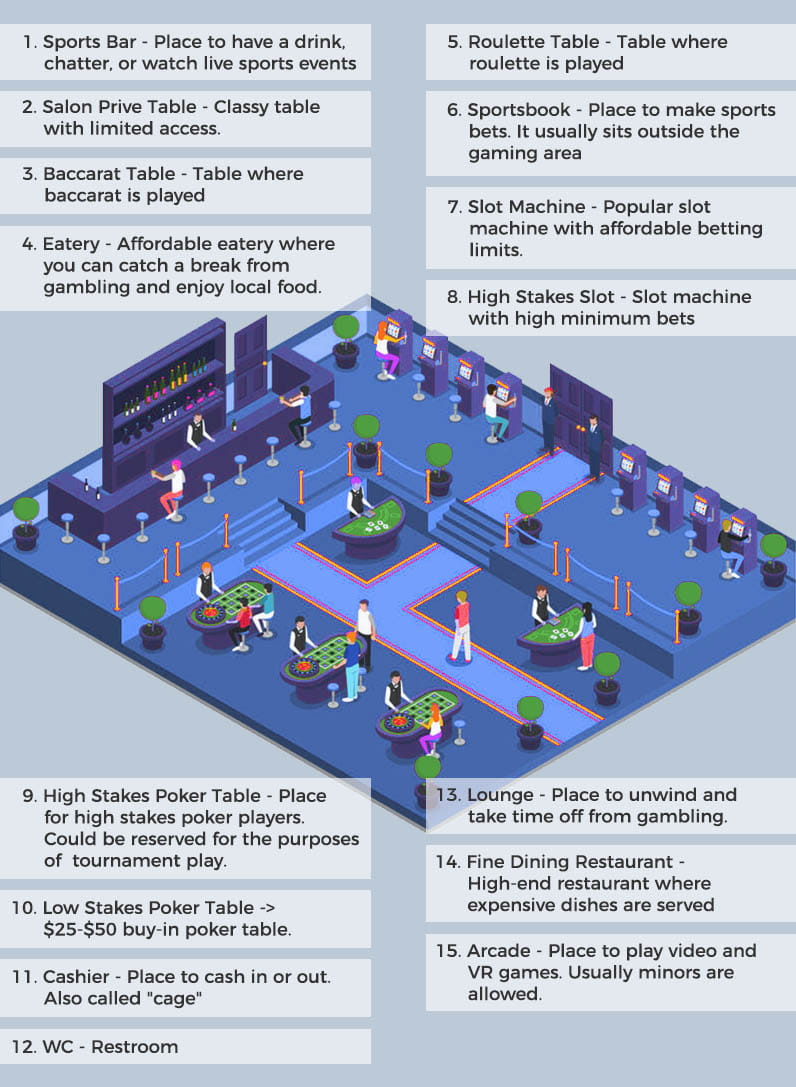 Copy the code below if you want to embed our casino interior design infographic on your site:
Bill Freidman – a father figure in casino-style interior design – believed that the gaming machines and table games should be the only decorative element in a casino. Don't be surprised if you come across a casino that looks just like that – wall-to-wall with slot machines and table games, and not much else in between. Gaming terminals are designed not only to speak for themselves but also to incentivize, in various ways, the potential users to try them.
Slot machines, for instance, play music, make sounds, remind of Christmas lights. In other words – they create a festive mood. Not to mention how conspicuous the games with a jackpot can be at times. When it comes to casino-style interior design, you really don't need anything else than just games. Games can be found at the entrance, by the exit, and everywhere in between. They are presentable enough, and also serve as the perfect decoration. Now you know where to find the different types of casino games and how to tell them apart.
Modern Casino Interior Design in Theory
If you are familiar with product placement, then you know at least a little bit about how a casino interior is supposed to work. But what if we told you that's just scratching the surface. Apparently, there are experts in the field who have spent decades researching and comparing casino designs.
Bill Friedman is the pioneer who was, so devoted to his job that he even wrote a several-hundred-page book about it. His approach to casino interior design is such an optimal one that no space is wasted. From the positioning of equipment to decoration – everything has to be suggestive. Here's more about the man Bill Friedman:
Bill Friedman in a Nutshell

| | |
| --- | --- |
| ✔️ Occupation: | President of Friedman Management Group. |
| ⚙️ Working Experience: | 37 years as consultant of casinos throughout the USA. |
| ⭐ Biggest Success: | Transforming Silver Slipper Casino. |
| 👨‍🏫 Teaching Experience: | 10 years at the University of Nevada Las Vegas's College of Hotel Administration |
| 📚 Books: | Casino Management, Casino Games, DESIGNING CASINSO to DOMINATE the COMPETITION |
Visitors are funnelled through compact passages, spiralling through the entire casino and its flashy gambling games. Even if you just want to use the bathroom, you may have to make your way through a congested with gaming machines area. This is the reality of casino interior. You better know the purpose behind it, lest you fall victim to it.
Reminding of Labyrinth
It doesn't sound all that graceful, but a labyrinth is an apt structure to liken the interior of a casino to. Freidman's rudimentary way of thinking sees casinos as a money-making machine. For it to work, it has to convert visitors to players. He figured out logistics is the best way to achieve that. If the way the interior is laid out makes you traverse the entire building, it's likely that a game or two will catch your eye.
A first-time visitor is bound to go back and forth or circle around a few times before finding their way. It may be a little frustrating, but one thing is for sure – you will quickly get acquainted with the place and its major features. Doesn't that remind you of the way a supermarket is laid out?
Feels Like Home
One of the key things online casino has going for it is that its users play from home. They are as comfortable as they will ever be. How does casino-style interior design contend with that? The first thing designers try to emulate is the sense of familiarity and closeness. They don't want to feel pressured or ill at ease. That's why a premium casino will be filled with VIP tables, enclosed areas, and the likes.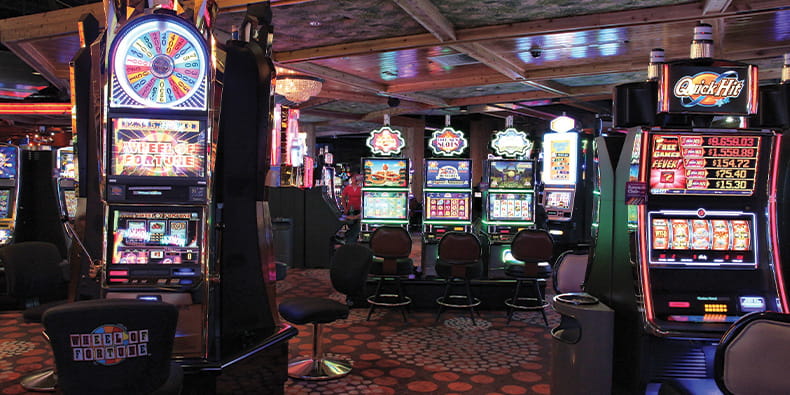 Anything to make you feel comfortable is allowed. Sweet aroma in the air? It's probably not just your imagination. But back to casino interior design ideas. The poker tables usually are the most isolated, because poker requires a lot of strategizing and deep thinking. That's doubly true in tournament poker. It's only natural that the poker tables will not be somewhere central, and oftentimes, spectators won't be allowed.
What about the low ceilings? Well, ordinary people don't usually get the feeling they live in a multi-million-dollar mansion when they are home. This is why large casinos have to tune down their immense size in certain areas to create a more relaxed and home-like gambling environment. That's what the chandeliers are for. Not only do they provide the right lighting, but they also scale down the casino by eliminating some of the dead space above.
Feel Special
One of the things casino operators are experts in is making you feel special. Their bag of tricks is full of promises for 'one-time' offers, thrilling entertainment, unseen excitement and everything in between. The modern casino interior design has to somehow communicate all that. The part with entertainment, jackpots, and big winnings is left to the gaming terminals. The best slot machines in the UK, for example, have a background so full of colour that they always get the double-take.
In the face of Freidman's theory, the 10 best Las Vegas casinos go the extra mile in making their visitors feel special. Aria's sophisticated decoration and opulent interior are probably the best way to illustrate this by an example. Immerse yourself in the unrivalled interior design of this magnificent casino resort.
It's obvious the designers of this casino's interior spared no time, imagination, and resources. This, no doubt, was done with the intention to make the people who visit feel special. The personalised user experience is inevitably embedded in all casino interior design ideas. The focus is on stimulating as many of your senses as possible. Sometimes it's the intimate lighting, suggesting that you are with friends, sometimes it's the visuals of a game that makes you feel on top of the world. More importantly, all VIP zones – where big money is wagered – are usually enclosed.
We Have Everything You Need, There's no Need to Leave
Gone are the days when casino establishments were all about gambling. In present days, gambling is just an extra on the list of things you can do at a top-tier casino. They won't even put a clock in there. Why hurry when you have everything you need available to you? We'll take one of the best high roller casinos in Las Vegas as an example and list the amenities and services you can find there. You can be the judge of how far the gambling industry has come.
ATM terminal
Restroom
Lounges
Cafeterias
Bars
Clubs
Sportsbook
Sports Bar
Restaurants
Restaurants
All these will be placed at hand, giving you the impression there's no need to ever leave. In all fairness, 'casino food' is super delicious, but this is a topic for another discussion. The fact of the matter is that gambling is becoming a culture thing. Hence we have nothing against having a decent meal at our favourite casino.
Buying gifts for an outrageous sum of money? – Why not? You will find this extremely easy at a choice casino. It all goes back to the practice of product placement. For example, in Aria, there are super expensive leather bags near the entrance. Because only a fraction of the visitors can afford to buy one, they had to place them somewhere in plain sight – a simple but effective strategy.
Casino Interior Design in Practice
You already know what goes into a casino interior design, so let's now back up the theory with facts. First of all, we have to acknowledge the fact Bill Freidman was a man with a clear vision, which gave a lot to the industry, but neither he nor his vision is timeless. Roger Thomas has also contributed volumes to the way modern Las Vegas looks now. He holds the belief that people (men especially) are more likely to gamble if they are surrounded by a fun and playground-like environment.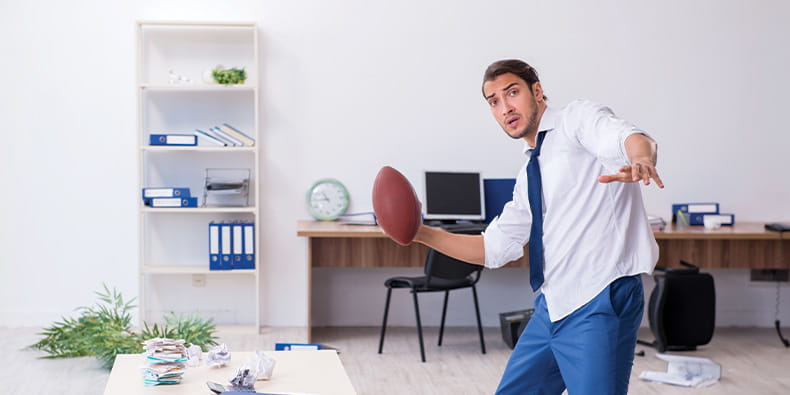 His theory stood the test of time in that most casinos revamped by him saw an increase in revenue. The statistic shows that people chose to play more often in casinos designed by Roger Thomas. The Bellagio is just one of the compelling examples. Not only is his the more recent influence, but his casino interior design ideas' effectiveness was measured against Friedman's by Karen Finlay – a professor at the University of Guelph, in Ontario. She describes Thomas' designs as 'adult playgrounds'. Here's what she had to say about Roger Thomas' modern casino interior design:
These casinos have lots of light and excellent way-finding. They make you feel comfortable, of course, but they also constantly remind you to have fun. JKaren Finlay, University of Guelph professor
Finlay put the theory to the test by conducting a scientific experiment with the help of a Panoscope. The Panoscope would project 360-degree images of the inside of different Las Vegas casinos around the subject. The subject's reaction, feelings, thoughts, and inclinations are then recorded and compared. Roger Thomas' casino interior design showed the best results. 'Best' meaning it was the most effective in enticing the subjects to gamble. Karen Finlay attributes this to the refuge-like feeling emanated from the 'playground' design. In a way, it made people feel happy and ready to take risks.
FAQ
Casino interior design ideas is a vast topic, so we are far from exhausting everything that could be said on it. To summarize the most important points made thus far, below is an FAQ section. If there was anything you didn't grasp, try finding the answer you are looking for below.