Vegas Downtown Blackjack by Microgaming – Review and Free Play
If you are looking for a great blackjack game that combines classic rules and rewarding features, you've come to the right place. Vegas Downtown Blackjack is one of Microgaming's best creations which will keep you entertained and not far away from the roots of the original game. Combine this with its low house edge and the pleasant casino atmosphere and you've got yourself a winner.
We will dedicate the start of this review to outlining the basic rules of Vegas Downtown Blackjack. Skip this part if you're already familiar with them and go straight to our strategy card accompanied by some helpful tips on how to win more. At the end, there is a free demo for you to test the game in action and an online casino suggestion for those of you ready to place some real money wagers. We are aware that some players prefer to dive in a larger pool of option, so you can have a look at the guide that we crafted about UK blackjack sites and games.
The Rules at a Glance
Vegas Downtown Blackjack Rules
RTP:
99.62%
Blackjack Pays:
3:2
Number of Decks:
2
Dealer Rule:
hits soft 17
Dealer Peek:

yes

Insurance:

yes

Surrender:

no

Split:

yes

Re-split:

yes

Double:

yes

Double After Split:

yes

Hit Split Aces:

yes

Side Bets:

no

Multihand:

yes
Vegas Downtown Blackjack is played using two 52-card decks shuffled after each game. The player can bet on up to 5 hands simultaneously competing separately with the hand of the dealer. He, on the other hand, is dealt two cards, one of which is facing down. In case his face-up card is an ace, the player is offered an insurance. It will cost you half of your initial bet but is something worth considering as there is no surrender option available. The specific part here is that the dealer must hit on soft 17 while in many other games they are forced to stand.
The rest of the rules do not deviate much from the classic blackjack standards – splitting can be done up to 2 times and when splitting aces only one more drawn card is allowed. If it happens to be a 10-valued one, the result is considered a 21, not a blackjack. Doubling down can be done on any two cards and will give you only one more card and then you must stand.
Bets happen on a sleek green table that gives the feel of a real classy casino and start from £1 and end at £200. A blackjack win pays 3:2 and an insurance – the usual 2:1. On the background, you get to hear gentle lounge music which you can mute and just hear the voice of the dealer. As in most Microgaming games, the options menu lets you personalise the gameplay as you wish. For example, activate the Auto-Rebet or speed up the pace with the Quick Deal setting.
Win Big with a Strategy Card
The strategy card is something you can use to help you obtain the game's optimal RTP. Each and every blackjack variation has its own developed strategy card that will give you the best moves in any given situation. Your opening hand and the face-up card of the dealer are the two standpoints and thanks to precise mathematical calculations this little cheat sheet will give you the best move for the current situation you are in. Just connect the corresponding row and column and see what you are advised to do.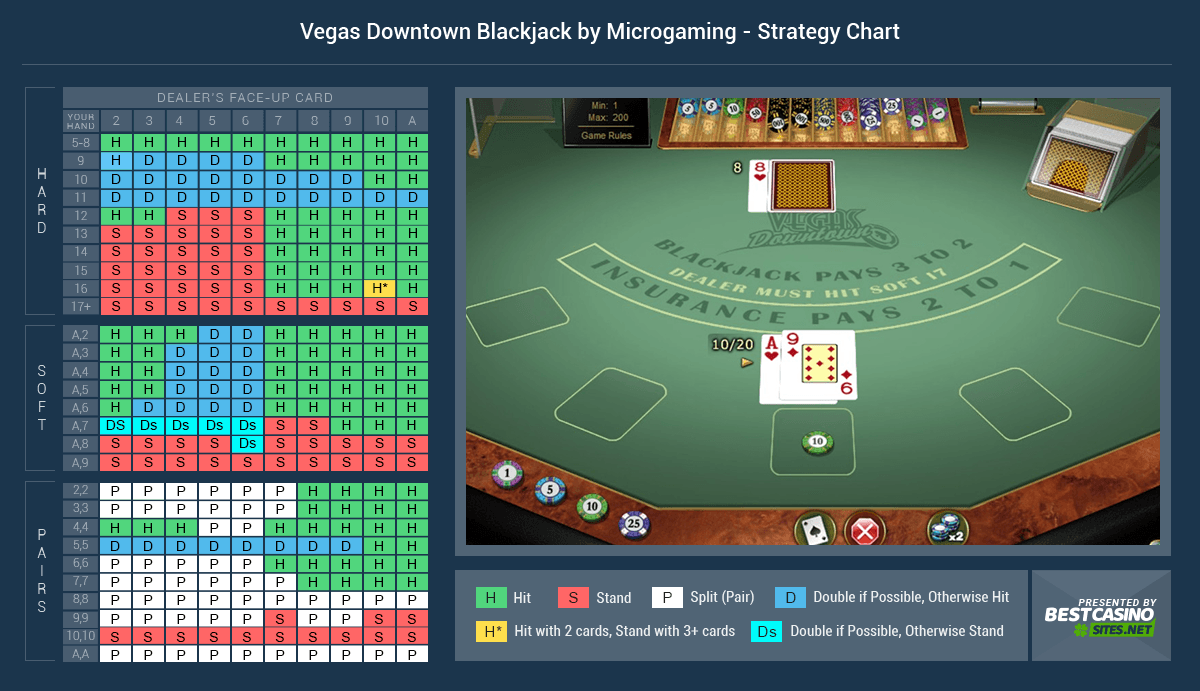 Of course, this is just a suggestion and in the end, you are the one playing and your decision may always differ from the strategy-recommended one. After all, the purpose of a strategy chart is to lower the house edge to its absolute minimum but it will never totally disappear and will always be affecting the game. Coming from that, a further trick to guarantee yourself even better-winning chances would be to start your gameplay with a good welcome bonus. For example, a £160 Welcome Bonus is what you will get for choosing to play Vegas Downtown Blackjack at 32 Red online casino. To learn more, visit the full review here.
Practice Your Skills with a Free Demo
The best way to utilise our short rules guide and the strategy chart above is to see how they work in action by testing the free demo of Vegas Downtown Blackjack down below. Knowing the rules and having a good advice on hand is the perfect combination for everyone who is just starting out or just wants to get better at blackjack. The demo money will let you experience the game's true vibe without the risk of any real money loses. So, hit the play button and enjoy!
When speaking of blackjack, playing the demo game before going to the best blackjack sites for real money is actually really beneficial. Beside the getting-to-know-the-game part, playing for free can gain you loads of blackjack practice that will serve as an advantage when fast and optimal decisions are needed. Once there is no risk of losing your own money, you could play until your own strategy starts to form and you know when is best to hit and when to stand. In short, you can improve without having to deal with any real money losses.
Best Real Money Casino and More Blackjack Variations
Vegas Downtown Blackjack steps on the classic blackjack rules including many beneficial features and details which earn it one of the highest RTP. The luxurious gold feel is a result of the beautiful design by Microgaming which gives the finishing touches to an already close-to-perfect product. As you know, blackjack has multiple variations, all of them with specific rules or extra-added features and if you're looking for something a bit different from the pure classic, here are some of our further recommendation.
Rating:

4.9/5

Powered by:

Playtech

Play at:

Ladbrokes Casino
Rating:

4.9/5

Powered by:

Playtech

Play at:

Ladbrokes Casino
Rating:

5/5

Powered by:

Playtech

Play at:

Ladbrokes Casino
But if you go for Vegas Downtown Blackjack and want to take it up a level by finding a good and safe online casino where to play for real money, we suggest choosing a reputable place like 32 Red. A casino that needs no introduction and where you'll be greeted with a generous welcome bonus. This will keep you motivated and appreciated for long, so don't forget to claim it. Good Luck!