Blackjack Rules Guide – How to Play, Card Values, Hand Strength & Dealer Signs
Blackjack is one of the most popular and beloved classic casino games and it isn't going anywhere. It is also a game, where luck is not everything and skills play a huge role. Thus, knowing the blackjack rules is vital. Stick around to find out more!
Greetings to the United States!
Check Out Our Blackjack Rules Guide
All Sites Licensed by the
UK Gambling Commission
How to Play Blackjack – The Basics
Most blackjack guides out there define the main goal as getting as close to 21 as possible without going over. However, that is a severely simplified concept that does not do justice to this magnificent classic casino game. So, here are the main rules of blackjack with short explanations:
A maximum of eight decks can be used on the blackjack table, each of which consists of 52 cards.
The cards from 2 through 10 hold their numerical value. Aces can count as either 1 or 11 and face cards count as 10.
It is an accumulation of the individual values of all the cards in the hand. Keep in mind that 21 (blackjack) is the highest you can get. A blackjack consists of a face card and an ace and it outranks all others.
Once all bets are on the table, the dealer will give two cards to all of the players. He will also take two for the house, one which is placed so it is visible to everyone on the table.
If the up card is an ace, players are offered to place an insurance bet. If the dealer turns out to have a blackjack, all wagers, with the exception of the insurance, will lose.
If the up card is not an ace, players, starting from the one near left side of the dealer, will have the chance to hit, stand, double, split or surrender.
The round continues until all players have had their turn. Then, the dealer turns his face down card. If the sum of his points is 16 or less, he will draw another card.
The value of the dealer's hand is compared to that of the player, and any payouts made according to the payout table.
The overall aim of the game is, of course, to beat the house. And to do this, first and foremost, players must stay in the game and not bust (go over 21). Thus, your main concern should be counting your cards well and knowing when to hit and when to stand. Of course, there are many other things that you need to learn, such as the different blackjack variants, the side bets and the rest of the advanced playing options. Having the knowledge and experience will make you a far better player and will certainly enhance your gaming experience, however, you must first start from the basics. Thus, we have dedicated this next section to just that and have included a handy card value chart.
Card Values
| Blackjack Card | Value |
| --- | --- |
| Ace | 1 or 11 points |
| King | 10 |
| Queen | 10 |
| Jack | 10 |
| 10-2 | According to the numerical value on the card |
As we are talking about one of the most famous classic casino card games, there is nothing more important to the blackjack rules than knowing the deck inside out. And for those of you who have a hard time remembering data, worry not. Fortunately, blackjack isn't like most other casino games out there and there is a simple logic behind the values that the cards hold.
So, as you can see, all face cards have the exact same value of 10 points. Then, all the numbered cards, i.e. from 2 through 10 carry their numerical values – 5 is five points, 6 is six, etc. The only cards that can be a bit trickier are the aces. They can count as either 1 or 11 points so that they can best complement the other cards.
Hard and Soft Hands – All About Them
The terms hard and soft hands have widespread use in all variants of blackjack and having a good knowledge of their meaning is vital if you want to start winning. Here is a simple explanation to bring you up to speed. Now, both terms are used in regards to the role that an ace plays in hands. So, naturally, if the ace has a value of 11, then the hand is going to be 'soft'.
The Blackjack Table – All in a Nutshell
Having discussed the cards, it is now time to turn our attention to the other crucial element of the game – the table. If you want to learn how to play blackjack, then you must feel totally comfortable and at home when at the blackjack table. If you've never approached one before, here is what you need to know. It is in the shape of a half-circle, with the players sitting on the arch side, whilst the dealer is opposite to them. To get a better understanding you can take a look at the following image.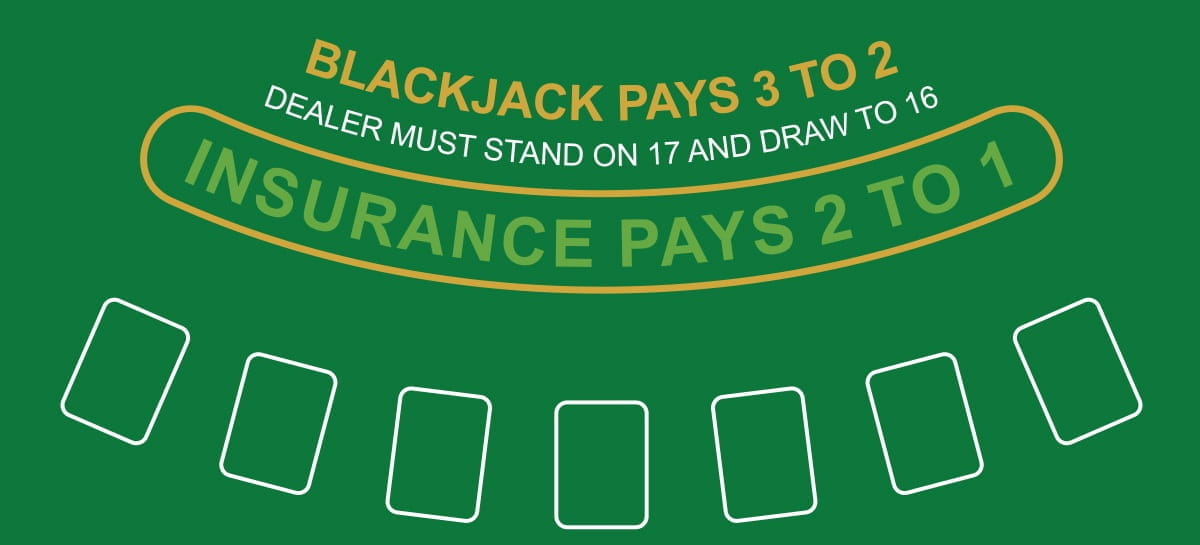 On the table itself, there are empty boxes in front of each of the players. Thus, their number may vary according to the table size, however you can expect to find 7 in most land-based and online casinos. These boxes are the single most important element of the table as you are going to place your main bet inside them. Moreover, once the dealing starts, this is where your cards are going to be laid. In the vast majority of gambling venues, you will be playing at tables that are covered with a nice, soft green fabric. However, don't be disturbed if you happen to come across a different surface. Every so often you may get to play on tables that are either blue or red. This has nothing to do with the rules of blackjack. Instead it is simply a visual characteristic that casinos may decide to alter.
The Blackjack Player's Glossary – What You Need to Know
There are certain elements of the table that players must check when taking a seat and keep in mind while playing in order to perform well. They are often vital for the way the game develops, the size of the bets and wins as well as a lot more. So, without any further ado, here are the six most important components of the blackjack table:
Table Limits – the table limits show the maximum and minimum bets that can be placed at any given time. Keep in mind that the values refer to the main bet only, and side bets will have additional restrictions.
Dealer's Hand – this refers to the cards that have been dealt with the house. There are two, and one of them is face up. According to the value of the 'up' card, players may have the option to place an additional bet called insurance.
Player's Hand – as you would have probably guessed, this refers to the two cards that are given to players at the beginning of each round. Depending on their values and their total sum you will have the option to hit, stand, split, double or surrender.
Player's Wager – this is the main bet that you place at the beginning of each round. It is restricted by the table limits and is declared by placing your betting chips in the rectangular box in front of you.
Shoe – blackjack is what is known as a multiple deck game. This means that more than 1 deck is used during a single session. There are no written rules about their number, however, 6 decks are used in most casinos out there. The decks of cards are held in the shoe
Payout Information – gives information about the amounts players are going to get paid they win any given bet. This is quite important as it would help you come up with your own strategy and predict your future moves.
This may seem like a lot of information for the less experienced players amongst you, however, taking the time to learn and remember it will hugely influence the development of your blackjack skills. And speaking of that, it is the perfect time to give you a rundown of what you can actually do in a round of blackjack.
What Can You Do During a Hand of Blackjack
Contrary to popular belief, the casino blackjack rules allow players to have considerable freedom and control over the way the game develops. Not only are there many bets other than the main wager, but players can also choose between different actions in order to adjust to the hand that has been dealt to them, thus increasing their chance to win. Down below you will find a list of all the steps that you are allowed to take during a hand of blackjack.
Insurance – if the dealer's up card is an ace, you will be allowed to place an insurance bet. It pays 2 to 1 and is limited to half of your initial wager. In case the house wins you will get paid, thus limiting your losses.
Surrender – this option can only be found in the blackjack rules of the Surrender variant of the game. If you decide to wave the white flag, the house will give you half of your main bet back. It's not ideal, but losing half is better than losing everything.
Split – splitting is not compulsory and is only possible when you have a matching pair in your hand. For example, two kings, two aces, two 5s, etc. As you can tell by the name, your hand is going to be split to create two new ones. Moreover, an additional bet, equal to your main wager needs to be placed.
Double Down – if the first two cards in your hand have a total value of 11 or less, you will be given the option to double down. If you choose to do so, your bet will be doubled, and you will be allowed to draw one more card only.
Bet Behind – this is a type of bet that is available to both players on the table and people waiting to take a seat or simply watching the show. This adds yet another dimension to the game and as you can probably tell, can lead to some pretty big wins.
Now keep in mind that some of these options may not be part of the blackjack rules of every variant of the game. However, you can expect to find them in the vast majority of online casinos on the UK market. Once you learn them and start using them freely, you will have a much better chance to win in the long term. They are awesome tools for increasing your success rate and once they become part of your toolset, your bank account will love you!
Blackjack Side Bets
The side bets are very important if you want to learn how to play blackjack like a pro and this is why we are going to take some time and show you the ropes. First of all, don't panic if you take a seat at a table and you don't see some of them, as not all of are going to be available in every blackjack variant. Moreover, it's a good idea to use them with great caution and respect, as they can sometimes prove to be quite risky. Here are some of the most well-known blackjack side bets:
21+3 – this bet resolves around the first two cards that you are dealt and the dealer's face card. If they turn out to be suited trips, straight flush, three of a kind, flush or straight, you will win the bet with a payout that varies between 5:1 and 100:1
Perfect Pairs – this is one of the simplest side bets that you can place. You are going to win if your first two cards are pairs. If they are mixed pairs you will be paid 5:1, if they are coloured pairs, that will be 12:1 and if they are perfect pairs you will get 25x your side bet.
Lucky Ladies – this is yet another side bet that is based on the first two cards that players receive. In this case, you are going to be betting that their total value is going to be exactly 20. It is a rather risky play, though with risk comes high reward. Payouts go as high as 1000:1!
Suit'em Up – pretty plain and simple! As long as your two cards are suited you are going to win. However, the payouts differ according to the type of cards. So, for example, if you are lucky enough to get suited aces you will be paid 60x your bet, but if that's not the case, payouts can reach as little as 2:1.
Lucky Lucky – this was the first side bet to use the player's first two cards and the dealer's up card to form a card combination. All in all, there are 8 possible winning outcomes that can pay between 200:1 and 2:1.
Out of those you will most likely encounter 21+3 and Perfect Pairs as they are part of almost every blackjack game out there. They are also some of the easiest ones to learn and start using. However, keep in mind that even though it is much fun, placing side bets can quickly empty your bank account if you don't know what you are doing. Thus, we recommend taking baby steps in the beginning, until you feel fully comfortable in your skills.
The Bets and Their Payouts
| Blackjack Bet | Payout |
| --- | --- |
| 21+3 | Between 5:1 and 100:1 |
| Perfect Pairs | 5:1, 12:1 or 25:1 |
| Lucky Ladies | 10 |
| Suit'em Up | Between 2:1 and 60:1 |
| Lucky Lucky | Between 2:1 and 200:1 |
Another important point that all players should always take into account is the Return to Player (RTP) rate of the specific blackjack variant that they want to play. The theoretical RTP for classic blackjack is approximately 99.41%, which is pretty high. However, you should keep in mind that the RTP is decided upon by the casino provider and may vary from one casino to the other. Thus, performing a quick check just before you take a seat at the table is considered a good practice.
After taking a quick look at the table you can clearly see that payouts for some of the side bets are especially high. You can literally make a small fortune with a single £10 or £50 bet. However, there is a very good reason for that, and it is not goodwill and generosity on part of the casinos. The chances of you, actually getting the required combinations is pretty slim. To get a better understanding we thoroughly recommend that you familiarise yourselves with our guide to blackjack odds.
How to Play Blackjack – The Variations
As we already mentioned on a couple of occasions, there are multiple variants of the game out there and they all come with a rather unique set of blackjack rules. However, because we don't want to bore you with long explanations we have come up with the following table. If you take a look below, you will find the most popular blackjack variants as well as a short description of the things that set them apart.
| Blackjack Variation | Rules of Blackjack |
| --- | --- |
| Single Deck | Just one deck of cards is used. The dealer hits on soft 17. Splitting is allowed up to 3 times. Aces can be split, but only one additional card can be drawn. Blackjack pays 3:2, insurance pays 2:1 and other hands pay 1:1. |
| Double Exposure | Both cards of the dealer are facing up, instead of just one. Any winning hand pays 1:1, regardless of it being a blackjack or not. No insurance bet is allowed. Except for blackjack, all pushes are won by the house. |
| Switch | Cards are dealt face up. A minimum of two equal bets is required. The second cards to each hand can be switched. Doubles are allowed on any 2 cards as well as after a split. Player blackjack pays 1:1. |
| Spanish 21 | All cards numbered '10' are removed from the Spanish deck. Re-splitting aces is allowed. Any player 21 hand wins, even against a blackjack. Players can double down on as many cards as they want to. |
| Match Play 21 | No number '10' cards. Players can re-split. Surrendering and drawing after split aces are also allowed. However, you are not permitted to re-double. Blackjack pays 3:2 and insurance pays 2:1. |
| Double Attack | A total of 8 'Spanish' decks are used with 48 cards in each. The dealer stands on soft 17. A winning blackjack pays 1:1. Splitting aces is allowed, but only one card will be drawn. Then players can also double down. Insurance pays 5:2. |
| Super Fun 21 | One, two or six decks of cards can be used in this variant of the game. Late surrender is allowed. Hands with six cards or more that are totalling 20 points or less will win automatically. Player's blackjack wins every time. |
| Caribbean 21 | Acess holds a value of 1 in all cases. Three or more cards needed to have a blackjack – two ten-point cards and an ace. Insurance can be taken at any point of the game and can constitute up to half of the initial wager. |
| Free Bet | Played with 6 decks only. If your first hand is a total of 9, 10 or 11 and none of the cards is an ace you can do a free double. Free splits on all pairs except 10s. If the dealer's hand is 22 all standing bets push. |
| Surrender | Rarely available at land-based casinos. Online venues are your best bet. Usually played with 6 decks of cards, though there are 2 deck variants. In most cases you will be allowed to make a late surrender when the dealer checks his hand for blackjack. Half of your wager will be returned to you. |
| Vegas Style | The dealer stands on 17. Splitting any pair, other than aces, is allowed as well as doubling down on all initial hands. Blackjack hands pay 3 to 2 and players can take insurance. |
| Pontoon | You don't play against the house, but against the rest of the players instead. Whoever wins a hand becomes the bank, until another player ends his winning streak. |
| Multiple Action | Three betting spots per player on the table. A minimum of two main wagers must be placed before the cards are dealt. Each player receives one hand only. The dealer will then play his first card consecutive times against all three bets, by discarding the additional cards after each play. |
Now, if you take a look at the best online casinos on our website you will notice that there are some variants of the blackjack rules that are more popular than others. It seems that despite being wildly different, most players tend to prefer the Pontoon, Double Exposure and Multiple Action blackjack variants to all the others. That being said, we recommend you give all of them a try and see what fits your playing style and personal requirements.
Online and Land-Based Blackjack Rules
At last we reach the decades-old argument of conventional land-based vs contemporary online casinos. We can spend hours arguing for and against each of the two options, however, in the end it all comes down to personal preferences. Speaking of blackjack specifically, there are some key differences that you should be aware of, before choosing one or the other. For example, the vast majority of brick and mortar casinos will require that players communicate with the dealer only by using hand gestures. That may seem like a small thing to season players, though it could easily intimidate new and inexperienced gamblers.
Moreover, you will have a really hard time finding a legitimate land-based casino where you can play a game of blackjack with one or two decks of cards. Online venues, on the other hand, have a wide variety of such propositions, by some of the best software developers in the world. And if you were to ask us for our personal opinion, we would without any doubt tell you that the latest technologies have allowed online casinos to expand and improve to such a scale, that they have become a no-brainer for the 21st-century blackjack player.
How to Play Blackjack – Our Top Tips
Playing blackjack can be both really simple and quite complicated, depending on the level that you are trying to play and the goals that you have in mind. It will undoubtedly take quite some time before you can fully understand all aspects of the game, however, here are our top 5 tips that will help you master blackjack quicker.
Always check the blackjack rules, before joining a game.
Use blackjack strategies to improve your overall success rate.
Don't let other players influence you – It's you against the house.
The insurance bet is not always your best friend.
Find the tables that offer the most favourable rules.
Now, these five tips do not even come close to all the things that a player must keep in mind while playing the best online blackjack for money. However, if you follow them, they will keep you away from any major trouble, while you get a better feel of the game and become more confident in your own abilities.
Top Tips from Casino Players
Having given you our top 5 tips for playing blackjack, it is now time to let you in on what professional players think are the dos and don'ts of this classic casino game. We highly recommend that you pay attention as this is knowledge straight from the source and will prove incredibly valuable to you. So, without any further ado, here are the casino players' top 5 tips to playing blackjack.
If possible, take a seat further away from the dealer. You'll have more time to think.
Always check the dealer's up card and think well when choosing your next move.
Don't jump straight to the high bets. Give yourself some time to settle into the game.
Set a limit of how much you want to spend, before taking a seat at the table.
Use the readily available and completely legal strategy cards to help you along.
Now that you know these awesome tips you should feel much more comfortable when tackling the different casino blackjack rules that define each variant of the game. We hope that both new and seasoned players will find them useful and informative and that they will make all of you better on the blackjack table.
Play Blackjack for Real Money
After discussing all aspects of how to play blackjack cards, it is now time to give you some suggestions of where you can enjoy this legendary casino game and all of its variants while betting real money. However, we would like to take a minute and remind you that you should choose your blackjack variations carefully. Moreover, you should consider playing with a strategy in order to increase your long-term chances of winning. Having said that, here is what we believe to be the best blackjack casino site in the UK.
100% Up to £300 + 25 Bonus Spins
Largest Welcome Bonus
Extensive Game Collection
VIP Programme
Full T&Cs apply.
18+. New players only. One bonus offer per player. Minimum deposit £20. Max bonus bet is £5. Bonus spins on selected games only and must be used within 72 hours. Bonus funds must be used within 30 days otherwise any unused bonus shall be removed. Bonus funds are 100% match up to £300 on your 1st deposit. Bonus funds are separate to Cash funds, and are subject to 35x wagering the total bonus & cash. Only bonus funds contribute towards any wagering requirements. Terms apply.
BeGambleAware.org
Even though we believe that The Grand Ivy is the venue of choice when it comes to playing blackjack online, there are still many other worthy alternatives that deserve your time and attention. The best way to find them is to take a look at our guide to the best blackjack sites in the UK, as you will find all the required up-to-date information, such as welcome offers, number and variety of games, special bonuses, banking, safety and much more. And speaking of safety, you can rest assured that all venues on our website are fully legit and have acquired all the necessary accreditation to offer their services across the United Kingdom.
Frequently Asked Questions
The last part of our guide to casino blackjack rules is dedicated to the most frequently asked questions about blackjack rules and playing the game. We hope that you find them informative and that they prove to be helpful on your journey to becoming a blackjack pro!
More Blackjack Guides
We hope that you find our guide on how to play blackjack cards useful. If you are into the game and want to improve your skills or you are just a new player eager to learn, then we can only recommend that you take a look at the rest of our articles on the classic casino game. In the table below, you will find links that will take you straight to guides that tackle topics like the best sites, strategies, and odds in blackjack. And if you're into strategies, then make sure to also check our blackjack strategy chart!