Super Fun 21 Blackjack Review – Unique and Rewarding
This Microgaming blackjack variation is one of the many alternatives when it comes to blackjack game diversity launching a thriving mixture between classic and distinctive rules all at once. The usual closer-to-21-and-not-over goal is well-blended with the favourable late surrender and double down rescue options while the exciting bonus payouts will take care to keep you on the edge of your seat. Stay with us to the end to get a closer look and test it for free!
Here is a quick recap of the upcoming review. The start will focus on introducing you to the game's basic rules, payouts, and features. Check section 2 for the ideal strategy plus a free demo to play absolutely risk-free. Or else, you can go straight to the last paragraph for an online casino recommendation that offers the best welcome bonus terms to experience the game in real money mode. Find all the information that you need by using the table above for quick navigation or just read along. Once you learn all that you need for the Super Fun 21 Blackjack, you can read also our list of the best online sites for blackjack experience.
Basic Rules Overview
Super Fun 21 Blackjack rules
RTP:
99.10%
Blackjack Pays:
1:1
Number of Decks:
1
Dealer Rule:
hits soft 17
Dealer Peek:

Yes

Insurance:

Yes

Surrender:

Yes

Split:

Yes

Re-split:
up to 4 hands
Double:

Yes

Double After Split:

Yes

Hit Split Aces:

Yes

Side Bets:

No

Multihand:

No
Super Fun 21 Blackjack is a one-deck blackjack variation played in single-hand mode only. You can bet up to £200 and the goal is to get your hand's total closer to 21 than the dealer without exceeding. Right after placing the desired wager, the game starts with you and the dealer receiving two cards each – two face-up for the player and one face-down plus one face-up for the dealer. In case the dealer shows an ace or a 10-valued card in his opening hand, the player is offered insurance. The cost for that is half of the initial bet but this will guarantee you not losing any money if the dealer really ends up with a blackjack.
Splitting is allowed up to 3 times without any restrictions just as doubling down which is offered even after a split. If you feel you have a poor hand, the late surrender option is perfect and will get half of your initial bet back even after the dealer has checked his cards. Surrendering after a double down is also available thanks to the double down rescue feature. Keep in mind that blackjack pays only 1:1 which is not the highest payout but all the bonus wins do a good job at compensating for that. They don't require any side bets or additional costs, all you need is luck! To top it all off, if both you and the dealer end up with a blackjack after the first deal, the usual push gets substituted with a win for the player.
The Best Strategy for Super Fun 21 Blackjack
This Microgaming blackjack variation has one of the best RTP you can obtain and playing with a strategy card could be out of great help to keep this rate as high as possible all throughout the game. As you can see, it is full of colourful abbreviations giving out the optimal moves as per your and the dealer's current cards. Doesn't matter if you're a long-term blackjack enthusiast, Super Fun 21 Blackjack has some unique rules and its tailor-made strategy deserves a special attention. Keep it close as it is nothing but beneficial to your gameplay.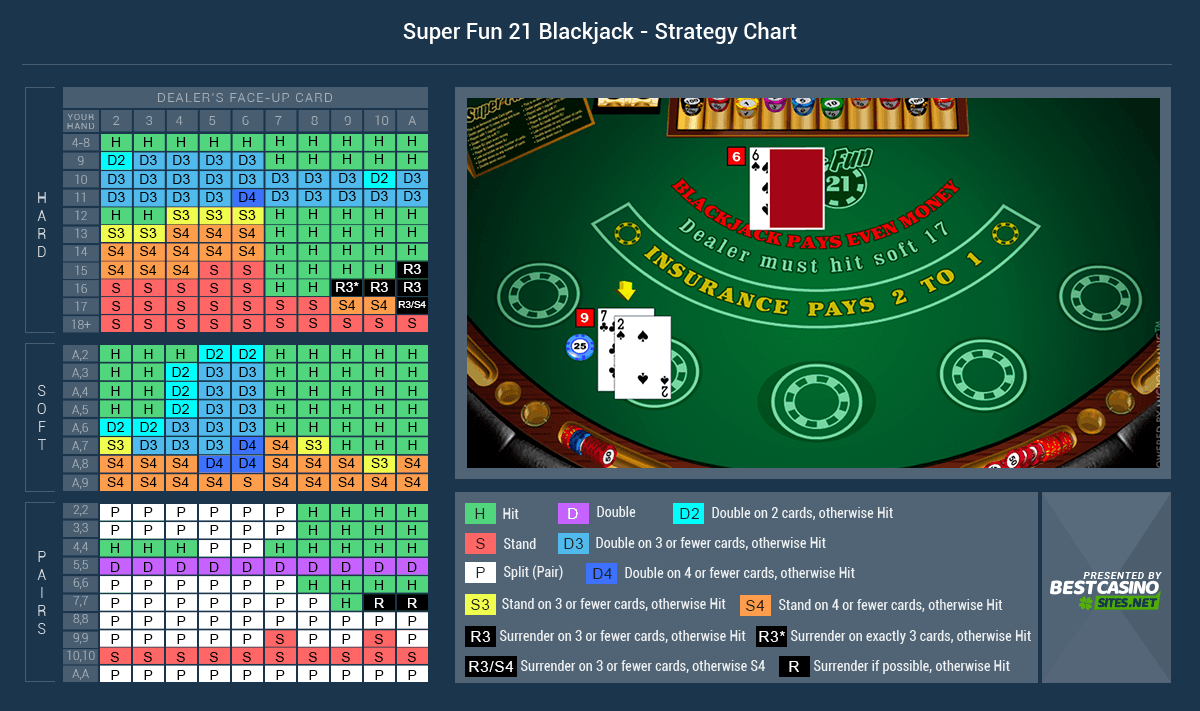 Although having a cheat sheet sounds close to perfect, not a single strategy chart can make the house edge totally disappear. So, it's best to know that any of its suggestions could just as well result in you losing a certain hand. Make sure you are prepared for this scenario and claim a good starting bonus that will keep you motivated for long. Check out our full 32 Red casino review to learn how to get your hands on their ongoing £160 welcome pack.
Play for Free!
If you have followed this review up to this moment, you have all that you'll need to go straight ahead and test the game for free. The rules in combination with the ideal strategy lay the perfect groundwork so that your entertainment while playing for free is 100% guaranteed. Start the demo down below and see how the Super Fun 21 Blackjack feels and looks like in action.
Playing for free is super beneficial and recommendable for all players which don't have much experience with a certain blackjack variation and for those looking for a risk-free method to upgrade their skills. The demo money in your balance won't let you worry about losing real cash while practicing. This takes a lot of the pressure off and increases your entertainment.
The Best Real Money Casino for Super Fun 21 Blackjack
To sum it all up, this Microgaming variation highlights the word "fun" in its title for a reason. There are loads of beneficial features added to the classic blackjack rules which have a huge impact on the game's RTP. Not only that, the bonus payouts don't even require a side bet or any other type of additional costs while being super awarding. So why should you choose a straightforward classic blackjack when you can have an upgraded one instead? Check out the table below if you like to review 3 further blackjack variants which we consider to be just as great as this one.
Rating:

4.9/5

Powered by:

Playtech

Play at:

Ladbrokes Casino
Rating:

4.9/5

Powered by:

Playtech

Play at:

Ladbrokes Casino
Rating:

4.8/5

Powered by:

Playtech

Play at:

Ladbrokes Casino
As you can see, the blackjack game options keep on piling up offering all sorts of different advantages for the player. The choice is wide but if you decide to stick to Super Fun 21 as your real money game option, finding the best blackjack sites for real money is what you'll need to do next. Going for 32 Red Casino is what we recommend. You'll be greeted by a nice welcome bonus while playing at one of the leading UK gambling platforms!