Suit 'Em Up Blackjack – A Game That Will Suit Most
Suit 'Em Up Blackjack is a simple iteration of the centuries-old game. It plays as a standard game of blackjack, with just a single side bet that you win when your initial hand consists of a single suit. On top of that, it comes with some pleasant and elegant graphics, great mobile compatibility, and a pretty simple basic strategy. And yet, in its essence, it's just the good, old game of blackjack, sprinkled with some Felt Gaming charm.
On this page, you can read our full review of Suit 'Em Up Blackjack game, complete with an explanation of its elegant side bet. Furthermore, you can find a basic strategy chart for the main game as well. In addition, we have provided a video preview for the game in action, so you can decide whether you like it or not. Whatever your decision, we will provide you with a few recommendations that might be of interest to you towards the end of our review. So, make sure to stick with us to the end, as it is definitely worth it. Once done, you can check also our page about the best UK sites for online blackjack as well, where you will find more useful information regarding the game.
The Game in More Detail
Suit 'Em Up Blackjack Rules
| | |
| --- | --- |
| RTP: | 99.51%/ 95.35% |
| Blackjack Pays: | 3:2 |
| Number of Decks: | 6 |
| Dealer Rule: | Stand on Soft 17s |
| Dealer Peek: | Yes |
| Insurance: | Yes |
| Surrender: | No |
| Split: | Yes |
| Re-split: | No |
| Double: | Hard 9-11 |
| Double After Split: | Yes |
| Hit Split Aces: | Yes |
| Side Bets: | Yes |
| Multihand: | Yes |
The Felt-Gaming powered Suit 'Em Up Blackjack is just a simple iteration of the well-known casino classic. It is played with six standard decks of cards. This is an S17 blackjack, which means that the dealer must stand on soft totals of 17 and above. Doubling down is allowed only on hard totals between nine and eleven, including after a split. Splitting is allowed for pairs of cards with the same value. What this game allows is the ability to hit split aces, which is rarely seen.
This version of the game got its name from the Suit 'Em Up side bet. It is an optional bet that you can place in addition to your standard one and you win it if your initial hand consists of two cards of the same suit. Depending on the cards' value, different rewards will be paid out, as follows:
Suited Aces: 50 to 1
Suited Blackjack: 10 to 1
Suited Pair: 5 to 1
Suited Eleven: 3 to 1
Suited Other: 2 to 1
As you can see, every possible combination of suited cards is covered and, considering there are only four suits in the six decks, there is a pretty good chance to cash out on your side bet. In fact, the side bet has a Return to Player percentage of 95.35%, which we consider as pretty good. And yet, it's the main game of blackjack that will bring you the majority of your winnings.
The Perfect Basic Strategy
Now that we have gone over the Suit 'Em Up Blackjack rules, some of you probably already know the appropriate basic strategy for this game. And yet, if you don't, there is nothing to worry about, as we have inserted a table with it just below this paragraph. As you can see, thanks to the dealer standing on soft totals, the chart is pretty basic and easy to memorise, so the game is definitely newcomer-friendly. So, if you are new to the art of blackjack, this is a great game to start with. When it comes to betting strategy for the side bet, though, you're on your own.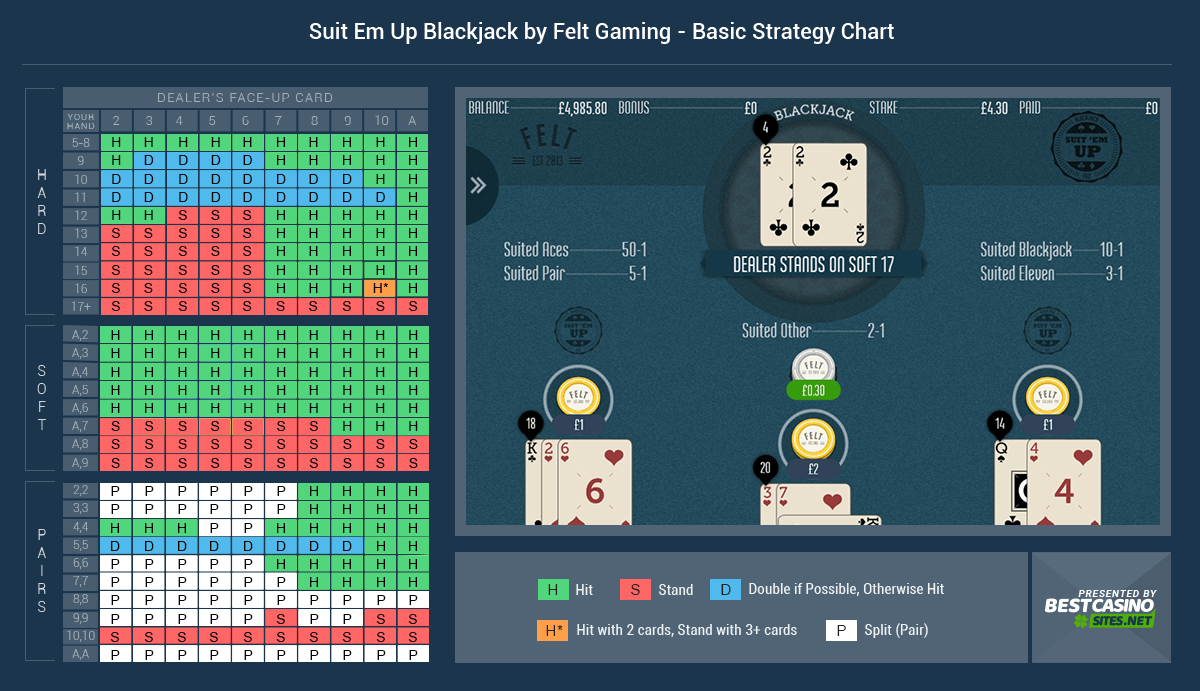 What you must keep in mind is that playing with perfect basic strategy lowers the house edge significantly, but it doesn't eliminate it completely. The best house edge you can get with the base game of Suit 'Em Up Blackjack game is 0.49% and with the side bet – 4.65%. Unfortunately, due to the cards being shuffled after every round, there is no way to overcome the house edge. However, you can give yourself the advantage if you play with a bonus. LeoVegas Casino offers a great welcome offer for players that prefer table games over slots. They will match your first deposits, up to a total of £100. Pretty appealing, isn't it?
Suit 'Em Up Blackjack Video Preview
We've talked about this game more than enough. It is time for you to experience it yourself. Unfortunately, we don't have a free demo for you this time. We have, however, conveniently inserted a video showcasing the game in action. If you'd like to test the game for yourself, you will have to head on over to LeoVegas. The casino has been kind enough to make a demo version of Suit 'Em Up Blackjack available for everyone interested. But for now, make sure to check out the video coming up next.
It is always a good idea to see a game in action before you bet any real money on it. After all, as full as a review may be, it still reflects someone else's opinion and not yours. In the end, a title that is praised by the review, could end up not being your game. Therefore, make sure that it is entertaining for you before you invest time and money into it. With blackjack, though, there is one more factor at play. You could use the demo to practice your strategy before you go ahead and risk your hard-earned cash.
Final Words and Recommendations
If you decide to play Suit 'Em Up Blackjack game, you must know that it is great even without the side bet. It offers rules that are generally more favourable to the player than most other online titles. And yet, if it's not exactly what you are looking for, we have some suggestions for you to try. 21+3 Blackjack, for example, features the exact same base game, but with a different side bet. And if one side bet is not enough for you, try playing with six in 6 in 1 Blackjack. And if you are looking for different, more appealing graphics, try Blackjack Professional Series by NetEnt.
Rating:

4.8/5

Powered by:

Felt Gaming

Play at:

LeoVegas
Rating:

4.8/5

Powered by:

Felt Gaming

Play at:

LeoVegas
Blackjack Professional Series
Rating:

4.88/5

Powered by:

NetEnt

Play at:

LeoVegas
If you like the game enough to bet some real money on it, we have you covered. We suggest you head over to our top pick, claim their juicy welcome package, and commence betting. The operator will match your deposits, up to £100, in addition to generous terms and conditions. You don't see that as often as you would like now, do you? Furthermore, it offers an unparalleled mobile experience, so you cannot go wrong with LeoVegas!