How to Use the Blackjack Strategy Chart for Optimal Results?
If you are an experienced player, then you are most likely aware of what a blackjack strategy chart is. If you are at the beginning of your experience, though, here you will find all the information on the subject that you might need.
Greetings to the United States!
Check Out the Best Blackjack Sites for November
All Sites Licensed by the
UKGC
You will read about the pros that come together with the usage of such a scheme and, of course, we will show you how exactly you should use it. Take into account that there are variations and that we will discuss the advanced and the basic blackjack strategy chart types. At the end, we included a handy section of questions that were asked by many players. So, without further intros, let's dive into the topic, shall we?
What is a Blackjack Strategy Chart
A blackjack strategy chart is, as you might have guessed, a table filled with the recommended moves in the game. They, of course, depend on your hand and on the cards and the choices that the dealer makes. Have you wondered what are the odds of winning blackjack? Well, technically, such a chart represents a blackjack strategy with the optimal way of playing the game and it boosts those odds.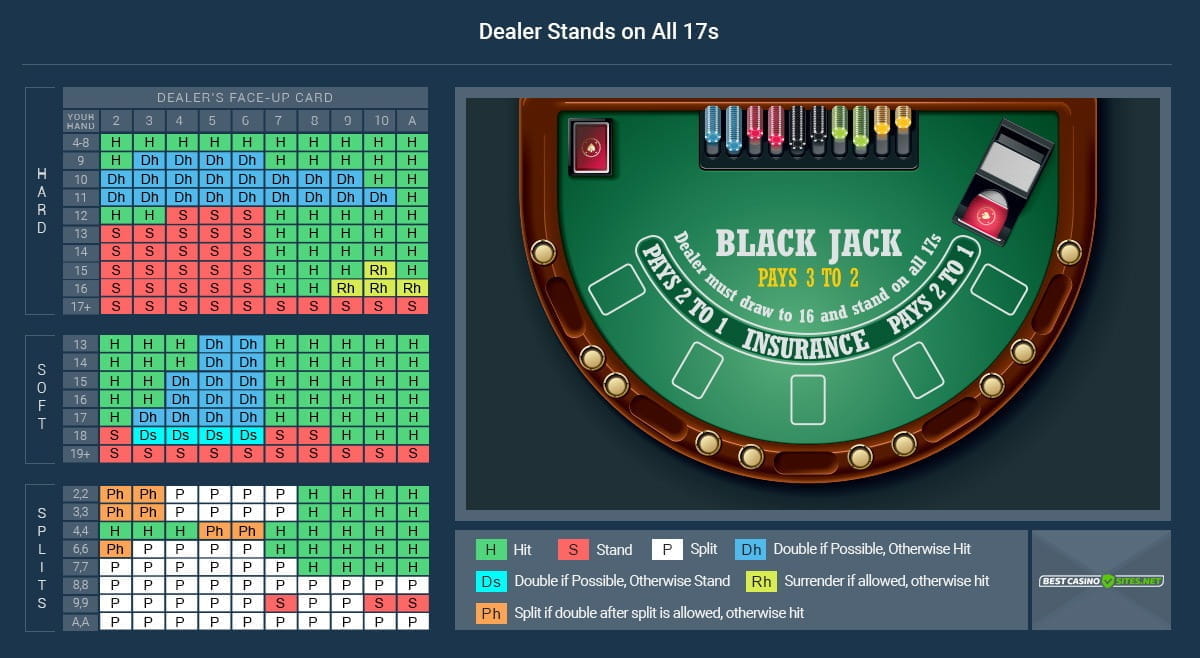 The Benefits of a Blackjack Basic Strategy Chart to Your Gameplay
There are a number of players that, in the very beginning of their gameplay, choose to trust their instinct or believe that they've read enough about blackjack strategies. Thus, they do not use a blackjack strategy chart and underestimate the benefits that it has. As a starter, it helps you to make the very best decision according to the situation. You don't have to learn it word by word and, obviously, a main point is that you can literally have a blackjack strategy chart in your hands if you choose to play online. Let's see which are the main advantages and then we will review them one by one:
Helps you to make the best decision according to the hand you have
Provides you with a reference point in case of a doubt
You learn it during gameplay
Convenient for online gameplay
We are fully aware that in the first moment, the sight of a blackjack strategy chart can be a bit overwhelming, with all the colours, writing, and sections. We can grant you that once you start using one and you familiarise yourself with it, you will have a much easier time and it will not be that scary anymore. The first thing that you should know is that these sections, which we mentioned are for soft and hard hand, as well as for split pairs. You can also give a check to the different blackjack strategies that you can use.
How to Use the Blackjack Basic Strategy Chart
To use a blackjack strategy chart, you first have to understand what every box means and to distinguish the different sections which we talked about already. Usually, on one of the sides, you can see the combinations of your cards (either on the left or right) and on the other side are the dealer's cards. You just have to follow the lines to reach the 'golden' middle – the best possible move, statistically. Anyway, there are several actions that you can take, and we will list them below for easier understanding. In certain hand combinations one action is more preferable than another and the table gives you easy reference.
Hit
Stand
Split Pairs
Double Down
Surrender
Different pairs of cards are suitable for different choices and this is exactly with what the chart is helping you with. If you follow it, you can make the best possible move and increase your chances of winning. The entire graphic is based on statistical probability, which you can hardly calculate on your own, unless you are a math genius, of course.
Variations of the Blackjack Strategy Chart
You will see that there are different variations of blackjack strategy charts. This is because the game itself can have different rules and can be played with a different number of decks. From there on, everything changes. Including the optimal choices that you can make. In general, we advise you to stick to only one blackjack variation, at least up to the moment in which you memorise the corresponding chart. It can take time, yet it is the safest possible approach. Below we will talk about the advanced and basic blackjack strategy charts, so you can sneak a peek at both options.
Basic Blackjack Strategy Tips that Remain Invariable
Your starting point should always be a blackjack basic strategy chart. We mentioned that they can be overwhelming and trust us, you will drop the task quite fast if you decide to go the extra mile and begin with an advanced version. Plus, if you remember such a chart, the harder ones will be an inch easier to understand, since there are core moves that never change, regardless the variables. These are foundations of every strategy and it is vital for you to know them:
Always split aces – The Ace counts as eleven and it is a great kick-off for getting one more card.
Always split eights – Eight is also a very good starting point with which you can make winning combinations.
Always stand on hard 17 or higher – Your chances of busting are higher with such a hand.
Never split tens – Unless the dealer gets a blackjack or 21, you have the winning hand here.
These four are valid for almost all online blackjack real money variations and they are the nuts and bolts of any strategy. You should try to play just games that have standard rules and fly low at the beginning. You will have all the time to upgrade your tactic and eventually to play in a much more sophisticated way.
Advanced Strategy Charts
Once you smarten up your game and you gain enough confidence, you can give the more advanced blackjack strategy charts a try. For that, though, you will have to learn what card counting is and how to practice it. First, note that, while not illegal, it is forbidden in most of the casinos since it has the potential to lower the house edge. You can read more about it in our blog dedicated to card counting strategies.
Otherwise, the basics that we showed you in the previous paragraph remain the same. The changes are about the correct moves when the dealer and the player have hands with small totals. And, of course, when there are different rules, the charts adapt to them. You can use them to fine-tune your entire strategy, which increases your odds.
The Most Commonly Used Charts
Different variations have different popularity. Naturally, the most used blackjack strategy charts are the ones for the most played games. The most common features are the behaviour of the dealer with certain card combinations and the number of decks with which the game is played. And below we will show you which are the all-time favourite blackjacks around. You can always give them few shot and play the free version or watch the videos which you will find in our dedicated reviews.
As you might know, there are two main types – live dealer and RNG games. In our opinion, it is better if you go for the live dealer ones. They are, as a starter, much more consistent in their rules and the entire setting reminds you of a real casino. The atmosphere is perfect, and the dealers are professional and polite. The RNGs have different rules, the decks are reshuffled after every played hand and it is impossible to actually monitor the cards.
Is There a Perfect Blackjack Strategy Chart?
The shortest possible answer, unfortunately, will be a no. There is no such thing as a perfect blackjack chart. It is practically impossible for one table to fit all variations with different rules and moving between several charts during your gameplay is uncomfortable and impractical. The best thing to do is to follow one of the blackjack basic strategy charts and, eventually, also mix it up with a more advanced tactic that fits with your preferred variation.
Things to Keep in Mind when Playing for Real
Once you test the online blackjack strategy charts in demo mode, you can also try them with real money. And we are here to give you advice on how to do it in the smartest possible way. As a starter, don't think that following such a table will grant you wins and be prepared also for some losing sessions. Start with variations that have standard rules and make sure you are familiar with them.
Last, but not least, keep in mind that the chart doesn't predict in any way the cards that are left in the deck and gives you suggestions on the best move according to statistics. In case you are willing to try it, you can do so with the most trusted and renowned operators, which can be found on our page dedicated to the best blackjack sites for 2022.
FAQ
We are at the end of our page and it's time to show you the last section that we crafted. Below you will find the answers to the most common queries about blackjack strategy charts and their advantages. Furthermore, right after them, you can see the other handy blackjack guides that we have. We hope that we were useful and that you found everything that you were looking for.