Sonya Blackjack Review – A Truly Immersive 3D Game
Yggdrasil Gaming has recently released a new table game which we believe deserves to be called a masterpiece. With the use of their in-house motion capture technology, they have created a truly astonishing 3D casino environment that really draws you in, once you start playing. Furthermore, it packs a great RTP of 99.54%, immersive sound effects, 21+3 and perfect pairs side bets, an intuitive interface and much more. If you find all this intriguing and if you'd like to know more details about these and other features, that Sonya Blackjack has to offer, then you are at the right place.
In the following review, you will find our honest opinion on the strengths and weaknesses of Sonya Blackjack. Furthermore, we will bring you up to speed with everything you need to know, to decide whether this blackjack variant will suit your style or not. We have prepared a detailed review of the game rules, video, and audio quality. Then we've thrown in a free-to-play demo version of Sonya Blackjack, just so you can see and experience the game for yourself. And in the end, we have three blackjack alternatives to Sonya Blackjack as well as a well as a selection of casinos, where you can enjoy it. For even more details and places to play, you can refer to our team's pride – the page with the best blackjack sites.
Sonya Blackjack – The Nitty-Gritties
Sonya Blackjack Rules
RTP:
99.54%
Blackjack Pays:
3:2
Number of Decks:
6
Dealer Rule:
Stands on Soft 17
Dealer Peek:

Yes

Insurance:

Yes

Surrender:

No

Split:

Yes

Re-split:

No

Double:

Yes

Double After Split:

Yes

Hit Split Aces:

Yes

Side Bets:

Yes

Multihand:

No
Sonya Blackjack follows the classic blackjack rules and is played with 6 decks of 52 cards each. Blackjack beats all other 21 hands and pays 3:2. After being dealt your second card, you get to choose between hitting, doubling, splitting or standing. In case the dealer's up card is an ace you can also opt for an insurance. It shouldn't exceed half of your initial bet and pays 2:1 if the dealer gets a blackjack. Furthermore, if you are dealt a blackjack and the dealer's visible card is an ace you can opt for even money, which costs ½ of your main bet. In the event that the dealer doesn't get a blackjack, you lose the even money bet, and your blackjack is paid as per usual. However, if the house has 21 in two cards, you get paid 2:1 on your even bet and your main bet gets pushed.
Though not mentioned in the name of the game, side bets are an important part of Sonya Blackjack's gameplay. To begin with, 21+3 is a bet that combines the first two cards dealt to the player with the dealer's up card. Then you have perfect pairs, which only focuses on the first two cards that a player receives. All side bets must be placed at the same time as the main bet and will be addressed by the dealer right after the first two cards have been dealt. Here are the respective combinations that the Sonya blackjack side bets award:
Suited Trips: Three cards of the same suit and kind will pay 100 to 1
Straight Flush: Three cards of the same suit, which make a sequence pay 40 to 1
3 of a kind: Three cards of the same kind, at least one of which is of a different suit pays 25 to 1
Straight: Three cards which make a sequence, at least one of which is of a different suit will pay 10 to 1
Flush: Three cards of any kind, which are of the same suit. This pays 5 to 1
Perfect Pair: Two cards that share the same suit and kind. This pays out 25 to 1
Coloured Pair: Two cards of the same kind and colour, but of a different suit will pay 12 to 1
Mixed Pair: Two cards of the same kind, but of different colour and suit pay 6 to 1
Now we finally arrive at Sonya Blackjack's party piece. It is the first of a series of new table games by Yggdrasil Gaming Studio, which have been developed with the use of their in-house technology called REDUX. If you've ever seen how special effects are being shot for the newer Hollywood blockbuster movies with people covered in sensors, that's what REDUX is. With the help of this motion capture technology, Yggdrasil has created something truly wonderful. When playing Sonya Blackjack, the meaning of the term immersive acquires a whole new dimension. Your point of view in this wonderful 3D casino environment is overlooking the table and a 3D rendition of the dealer. Not only this, but you are also able to take a slight look to the left and right, as well as up and down, thus getting more of the beautiful casino environment. If the movements of the dealer look strangely realistic to you, that's because they've been recorded on real-life dealers with the use of that motion capture technology we told you about. Furthermore, the whole experience is enriched with the addition of the dealer's voice, sound effects, music and ambient sounds, all of which could be separately adjusted through the settings menu.
How to Get the Most out of the Game
As with most online table games, the cards are shuffled after the end of each round – so much for card counting. However, there is something else you can do in order to maximize your efficiency and increase your chances to win and earn good money. Strictly following a basic strategy would ensure that you will reach that RTP stated by the developer. Sonya Blackjack's RTP is the impressive 99.54% – not a bad payout indeed! However, you must keep in mind that your playing style may slightly alter that number. Placing side bets will lower it by a small margin so much so that if you wager on all the side bets all of the time your RTP will drop down to 92.60%.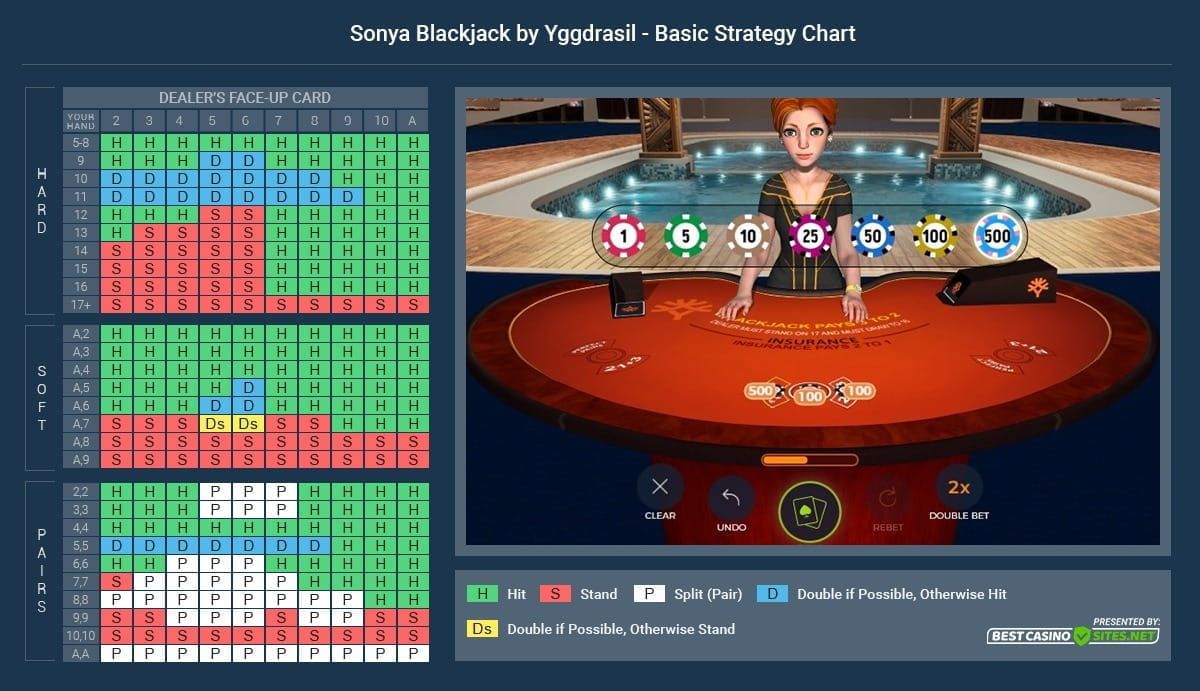 Right now, we believe, is a good time to address the elephant in the room. No matter how well you execute this strategy, it could only get you to a point, where the house advantage is at its lowest. In this particular case that is 0.46%. However, in order to tip the balance back in your favour, you can make use of the generous new casino bonuses that some casinos have on offer. There are multiple types of welcome promotions, first deposit bonuses, and loyalty programmes. One such example is Sloty Casino, which offers up to £300 and 300 free spins on the first deposit. You can find more recommended casinos that feature Sonya Blackjack in the conclusion of our review.
Try the Free-to-play Version of Sonya Blackjack
After giving you a detailed tour of the game, with an explanation of the rules and gameplay as well as a strategy chart, it is time that you try Sonya Blackjack for yourself. Therefore, we have provided a free-to-play version that has all the features of the real game and is loaded up with £10, 000 of virtual money. So, go on, explore the game for yourself and experience everything we told you about. Don't forget to play with the settings and customize the game to your exact likings. Moreover, examine the optimal strategy we gave you and go give that a try!
Regardless of whether you are a blackjack master or a complete novice, going into a game for the first time always comes with its challenges. Therefore, trying it out in a demo version is a perfect way to get used to all the game-specific details. This is especially true for games such as Sonya Blackjack, which packs a variety of side bets and an array of features which can, at least at first, feel a little bit overwhelming. Therefore, when possible, explore the demo version first and only when you feel comfortable, make your first deposit and start playing real money blackjack at the best UK sites.
Sonya Blackjack – Our Final Verdict and Where to Play
As you can see from our review, we have really grown fond of Sonya Blackjack. The innovative approach that the developers have taken as well as the high level of execution have really impressed us. It is a game that can truly make you forget that you are sitting in your living room or on the train to work. Furthermore, the way the game has evolved with the addition of the 21+3 and perfect pairs side bets can tell you a lot about Yggdrasil Studio's dedication towards providing players with the perfect gaming experience. That being said, there are some of you who would simply prefer a cleaner and more straightforward version of blackjack that maybe offers the ability to play multiple hands at the same time. Thus, we have prepared three alternative blackjack games, we believe would better suit those who see Sonya Blackjack as a bit too complicated.
Rating:

4.85/5

Powered by:

NetEnt

Play at:

Royal Panda Casino
Single Deck Blackjack Professional
Rating:

4.9/5

Powered by:

NetEnt

Play at:

LeoVegas Casino
Vegas Single Deck Blackjack
Rating:

4.73/5

Powered by:

Microgaming

Play at:

32 Red Casino
The rest of you, who have fallen in love with this game the same way we did, would surely want to find some online casinos that have made Sonya Blackjack a part of their table game collections. However, with a game so recently released, finding a UK-friendly and licensed casino which also happens to offer the game, would prove a rather daunting task. To spare you the hard work and time, we have come up with a selection of what we think are the best online casinos to play Sonya Blackjack at. Apart from Sloty Casino, which we already mentioned there is also Genesis Casino, which offers up to £100 and 300 free spins upon making your first deposit. But the one that really stands out is Sloty Casino as it offers up to £100 on your first four deposits as well as 300 free spins. Whichever one you chose, we guarantee you will have a great time and will truly enjoy playing Sonya Blackjack.