Pontoon Review –The Rewarding Blackjack Makeover
Pontoon is a blackjack variation with just a few substantial differences from the classic rules that turn it into an entertaining mixture of both luck and strategy. Accompanied by Playtech's standout graphics and their innovative signature look, we are sure you will love the high RTP and the beneficial deviations from the classic blackjack rules. If you are on the hunt for a different type of gameplay or the best winning odds, just keep on reading!
Use the page content structure above to get a glimpse of the 4 key topics that we are going to discuss in this review. Each section can take you straight to the desired information. Learn the ground rules, explore the strategy card or play for free, it's all a click away! Right at the end with our final verdict we'll tell you where to find the best online casino bonuses for playing Pontoon plus a few other blackjack game variations which have a lot to offer as well. For a great selection of casinos, you can see our guide about the UK's best blackjack sites.
Pontoon Rules
RTP:
99.64%.
Blackjack Pays:
3 to 2
Number of Decks:
8
Dealer Rule:
hit on soft and stand on hard 17
Dealer Peek:

yes

Insurance:

no

Surrender:

no

Split:

yes

Re-split:
up to 3 hands
Double:

yes

Double After Split:

yes

Hit Split Aces:

yes

Side Bets:

no

Multihand:

yes
Key Rules and Features
Pontoon is a variation of the classic blackjack game with its main rule focusing on getting a hand as close to 21 without going over. But here come the differences! The dealer's first two cards are placed facing down on the table and he is allowed a peek as opposed to you. The game is played with 8 card decks and you can place up to 5 different bets. The classic 21 blackjack can be beaten by only two card situations here. The first one is getting a Pontoon – an ace and a 10-valued card combination or a 5 Card Charlie, meaning that holding any 5 cards without busting will make you a winner too. The dealer must hit on soft and stand on hard 17 whilst the player cannot stand until they have a hand of at least 15. Splitting and doubling are allowed but there is no insurance available. A Pontoon will pay you 2:1 and will beat every other hand. The 5-Card-Trick comes second, having the same payout and beating every other hand beside a Pontoon.
As all of the Playtech fun gambling card games, this one has amazing graphics and a super intuitive touch allowing even the newest player to get around quickly and trouble-free. Depending on your hand you will be given clear options like Hit, Double, Stand, Split. For the inpatient ones, there is a Fast Play option while the overall atmosphere could be modified with the help of 5 different table colours.
Make the Best Move with the Right Strategy
Pontoon has one of the highest RTP – 99.6% and one of the lowest house edge – 0.38%. To help you obtain these great numbers we have found and attached the best strategy card. For those of you not familiar with the idea, it is simple – just connect the row and the column that match the total of your hand and the number of cards (2, 3 or 4) and follow the recommended action for the given situation. Use it if you are just starting out or if you are in a need of optimal consulting.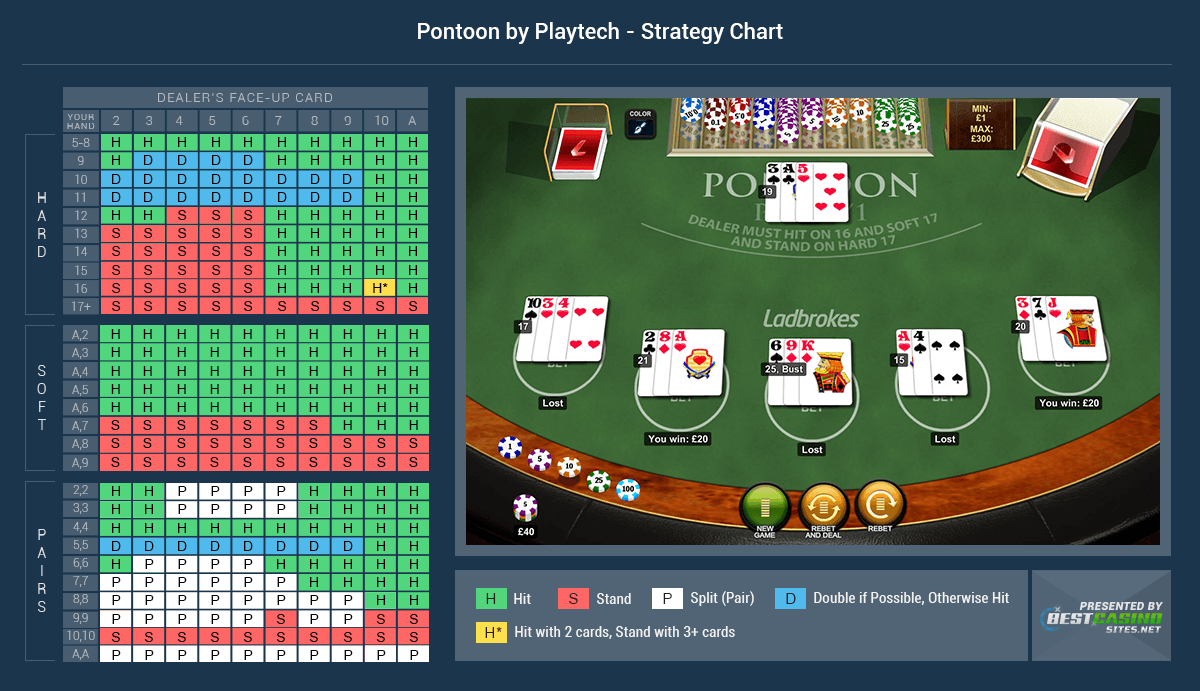 Making strategy chart based decisions is effective in most cases but for the sake of not having unreal expectations is good to keep in mind that the house edge is still there even though it has been brought to its absolute minimum. This means that there is a chance to lose even when following the "cheat sheet" instructions. Therefore, our advice is to also use your intuition and most of all, the advantage of a generous welcome offer like the £600 one from Ladbrokes. For further details on the casino's bonuses and how to claim them read our full review right here.
Play Pontoon for Free!
If you are wondering how to utilise all these rules and the strategy card above, here is a smart idea! Give the demo version of Pontoon a free try. For the sake of your authentic experience, the demo version fully resembles the real Playtech game and is the best no-risk way to see the rules in action without losing a penny. The only thing you will do is gain experience and maybe build a rewarding strategy for when the time comes to switch and play real money blackjack online.
Take your time and research the game without having to stress over making the wrong move or your bankroll decreasing. Use the strategy chart and test its influence on the gameplay as well as the financial results. This will help you become a Pontoon master and if you happen to like its slightly different vibe, you will have the perfect training to rock the real money casino game next time.
Final Thoughts and Where to Play for Real Money
Pontoon is an exciting game that looks quite like classic blackjack but once you start playing, all the differences will slowly show up. Basically, it has a pretty unique structure that brings a bit of diversity and a really good RTP. Both Pontoon and the 5-card-trick pay 2:1 but in case of a push the player loses the placed bet. In resume, the game is totally worth your attention! For those of you who would like to try something different or just go back to the classic roots of the blackjack game, we have prepared 3 further blackjack variations. Check them out in the table below!
Rating:

4.8/5

Powered by:

Playtech

Play at:

Ladbrokes Casino
Rating:

4.9/5

Powered by:

Playtech

Play at:

Ladbrokes Casino
Rating:

4.9/5

Powered by:

Microgaming

Play at:

32Red Casino
To wrap it all up, Pontoon is a fun game which has been around for quite a while now successfully gaining its own share of fans. Its modified structure and the beneficial rules is what attracts most players. If you would like to give it a try, we suggest doing that in a trustworthy casino like Ladbrokes. Its leading market positions are well deserved and you will be awarded a nice cash bonus just for starting. Jump right in and good luck! If, however you are looking for something different to try out, maybe gambling with dice is the right fit for you.