Multiplayer Blackjack Surrender – A Review of the Game's Variant
Multiplayer Blackjack Surrender is exactly what the name says. A game of blackjack where multiple players play and where you have the option to surrender if you feel that your bet isn't going to make it to the illustrious 21. With the surrender option, you are able to surrender and keep half of your bet and the best double on any of the first two cards. This is a multi-playing experience which adds to the sense of fun and excitement. It's a great game for first time players who may be hesitant to lose cash, as with this game, only half of your bet is lost if you opt for the surrender option. To find out more about how to play, just keep reading below.
If you're a fast learner or want to jump straight into the game, we invite you to go ahead and do so. However, if you're a more cautious player and would rather learn more about the game's details, stick with us and find out more. In this review, we'll cover the game's details and what it entails. We'll talk to you about the winning strategy, we'll let you in on a demo game and how to go about playing it, as well as conclude with our final thoughts and recommendations. After you finish with the Multiplier Blackjack Surrender, you can have a look at the best sites for online blackjack as well. Ready or not, hold on because we're starting our journey – here it comes.
Essential Information About the Game
Multiplayer Blackjack Surrender Rules
RTP:
99.62%
Blackjack Pays:
3:2
Number of Decks:
6
Dealer Rule:
Stands on soft 17s
Dealer Peek:

yes

Insurance:

yes

Surrender:

yes

Split:

yes

Re-split:

no

Double:

yes

Double After Split:

yes

Hit Split Aces:

yes

Side Bets:

yes

Multihand:

yes
The object of blackjack is for the total of your cards to be closer to 21 than the dealer's cards, without exceeding 21. In blackjack, Aces count as either 1 or 11, face cards as 10, and number cards are counted as their face value. If you receive an Ace and a 10-value card as your first two cards, you have blackjack and win 1.5 times your bet (for example, if your bet was 10, you will receive 25). If the total value of your cards is closer to 21 than the dealer's, you win your bet amount (if your bet was 10, you receive 20). If the total of your cards is more than 21, you 'bust' and lose your bet. If you and the dealer have the same card total (17 and up), neither of you win and your bet is returned to you in a 'push'.
Multiplayer Blackjack Surrender follows the standard Blackjack Surrender rules, with the following exceptions:
After each round, used cards are returned to the deck and the deck is shuffled.
The player may not split a split hand.
Only one card is drawn to split aces.
The player may double after splitting.
If the dealer's initial hand has an Ace or a 10-value card as the face-up card, the dealer will check for Blackjack. If the face-up card is an Ace, the dealer offers Insurance before checking for Blackjack. The dealer draws an additional card when the total of the dealer's cards is 16 or less and stands when the total is 17 or higher (including soft 17s). The dealer does not draw when the player is "bust".
Regarding splits: If your first two cards have the same value, you may split them into two separate hands by placing a second bet equal to the original bet. You will then draw additional cards to each hand. You may draw as many cards as you like on each split hand, but if you split two aces, you receive only one additional card for each ace. If you receive an ace and a ten-value card in a split hand, it is considered 21 and not blackjack.
Doubling: If, after you are dealt your first two cards, you think that the third card will allow you to beat the dealer's hand, you can double your bet. The bet amount becomes twice the original (with the difference taken out of your balance), and you are dealt one more card.
Insurance: If the dealer shows an Ace in his initial hand, you are given a chance to ensure your bet against him having a blackjack. If you get Insurance, an amount equal to half your original bet is placed separately on the table. If the dealer does have blackjack, you are paid 2 to 1 on your insurance. This way you do not lose your original bet (because you get the 2x half your original bet, plus the insurance amount back). If the dealer does not have Blackjack, you lose the insurance amount.
Surrender: If, after the dealer has checked for blackjack, you think that your first two cards will not allow you to beat the dealer's hand, you can choose to surrender your hand. If you surrender, your hand automatically loses, but you get half of your original bet back. This way you do not lose the whole bet.
7 Card Charlie: It is theoretically possible for the player to draw seven cards without going bust. In this case, the player's hand automatically wins. 7 Card Charlie is also applicable on a split hand.
What's the Ideal Strategy for this Game?
The RTP on this game is a high 99.62%. Below we have inserted a chart with the basic strategy for Multiplayer Blackjack Surrender. If you follow it perfectly, it will decrease the house edge. However, you should keep in mind that it only covers the base game and not the side bets. This is because it would be impossible to determine a strategy for them, considering the cards are shuffled after every round.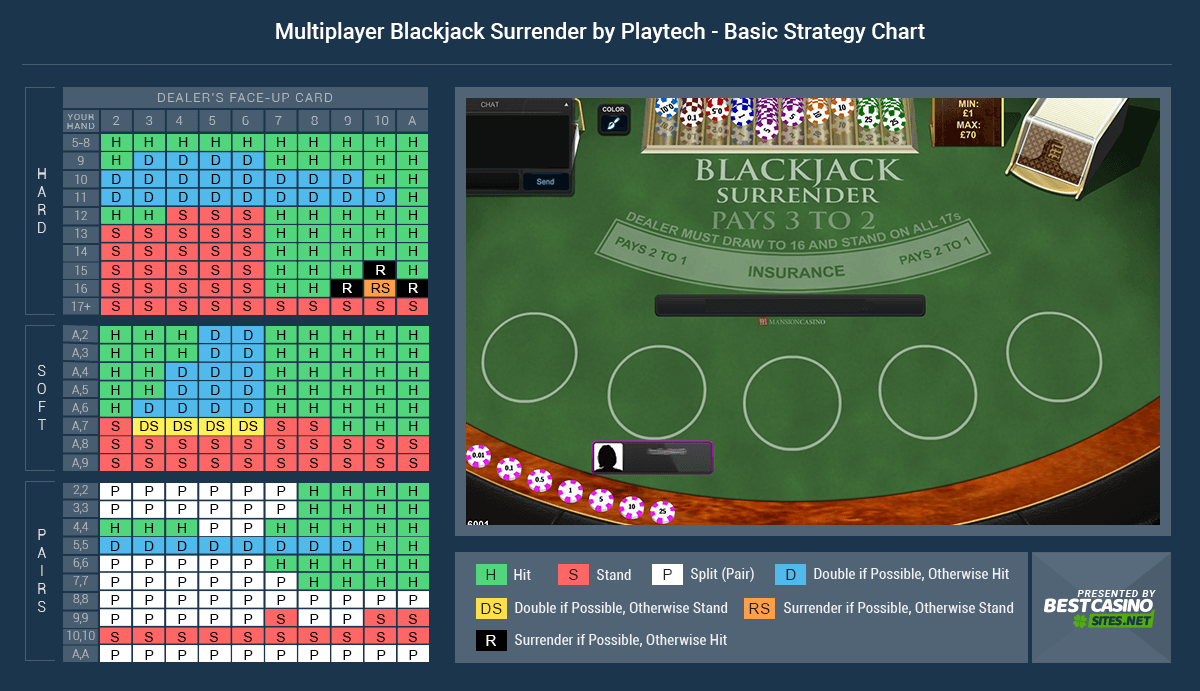 By following the basic strategy above, you will lower the house edge significantly. However, you should keep in mind that, as low as it may be, the casino will continue to have an advantage. Having a basic strategy doesn't guarantee you winning a hand and it also doesn't guarantee you a long-term profit on your bets. However, if you want to gain the upper hand, you may want to consider playing with a bonus. Mansion Casino offers a great welcome bonus for table games, matching your first deposit by 100% and your second deposit by 50% on amounts up to £200 and £300, respectively.
Playing the Game for Free
You have read the rules, found out how to play, figured what to do and what not to do, so now it's time for demo play. Demo play is ideal because it allows you to enjoy the experience without losing any real money. It also allows you to test the strategy and figure out how to beat the house. Unfortunately, this variation doesn't have a demo option due to the multiplayer aspect. But since the rules are as Blackjack Surrender, we offer you test yourself in its free demo here.
There are numerous benefits of playing a casino game in demo mode first. For starters, you'd be wise to see if you like a game before you wager your cash on it. In addition to this, the demo mode also allows you to try out different betting strategies and practice playing with the basic strategy chart. This can only help you to learn the ropes with fake money before you invest any real money into the game.
Playing for Real Money at Mansion Casino
There are many pros to this game, including the fact that you can surrender and keep some cash on the side as your hand goes bust. This is a great insurance strategy that prevents you from losing more than you have to. It's a kinder option on the player and we particularly like this variant of the game. We also like all the types of bets that can be placed on the game, which we believe you'll find enticing, and most of all, fun. However, if you feel that this isn't the game for you then don't worry and look no further than our three recommended alternatives in the menu below.
Rating:

4.88/5

Powered by:

Playtech

Play at:

Ladbrokes Casino
Rating:

4.95/5

Powered by:

Playtech

Play at:

Ladbrokes Casino
Rating:

4.75/5

Powered by:

Microgaming

Play at:

32 Red Casino
Overall, if you want to stick to this game, the best place to play it at is at Mansion Casino, which offers an enticing welcome bonus for first and second depositors. We highly recommend our Mansion Casino review page, which will provide you will a well-informed summary of all you need to know about the casino including the welcome bonus, the games that can be played at it, customer support, payment methods, the security of the casino operator and many other aspects that make an online casino what it is.