Multihand Blackjack – Wager More – Win More
As part of Microgaming's blackjack portfolio, this variation of the famous card game incorporates the classic blackjack rules while accommodating some freestyle features as well. The player gets to manage up to 5 hands at once including side bets and the bigger profit that comes with all of this. With one of the highest RTP out there, the game is a real winner and if you follow us to the end, we will prove our statement with ease.
What you are about to read in the paragraphs down below is our short review of the game's basic rules, key features, bet limits and some further details that will help you get to know it better. To top it all off, we have a blackjack strategy with the optimal moves for any given situation and a free demo version for testing the game without any risk involved. In the end, we have a real money casino recommendation that combines safety and a generous welcome package for all new registrations. This, though, is not the only hidden card we have and for more tips, you can see what we wrote in our page for the blackjack sites in the UK for 2022.
The Key Rules and Features
Multihand Blackjack Rules
RTP:
99.6%
Blackjack Pays:
3:2
Number of Decks:
2
Dealer Rule:
stands on all 17
Dealer Peek:

no

Insurance:

yes

Surrender:

no

Split:

yes

Re-split:

no

Double:
on hard 9, 10, 11
Double After Split:

no

Hit Split Aces:

yes

Side Bets:

yes

Multihand:

yes
There are 2 card decks used in Multihand Blackjack, shuffled after each betting round and all classic blackjack rules apply in full action, meaning, your goal is to land a hand value of 21 without going over or to just beat the dealer's hand. Betting can happen on up to 5 hands simultaneously with limits between £1-£200. The dealer is forced to stand on all 17 and there is no card peeking allowed. The player can double down on hard 9, 10 or 11 only but never after a split or get insurance in case the dealer has a blackjack. There is no surrender option available and a split ace and a 10 count as a 21 result not as blackjack.
When it comes to payouts, this game has no flaws. А regular blackjack, standard winning hand, and insurance pay respectively 3:2, 1:1 and 2:1 – the most beneficial odds you can get in blackjack payout-wise. Not only that, there are additional side bets which as usual pay even higher. Get 7:1 for a mixed pair, 15:1 for a coloured one or the tempting 30:1 for a perfect pair.
Playing Multihand Blackjack can be modified through the many settings in the Options menu according to the player's needs and preferences. For example, choose which sounds (basic game, advanced or background) you would like to switch off or keep. Auto Re-bet automatically places the same number of chips on the table as in the previous game, Quick Deal increases the deal speed whilst the do not remove losing hands function keeps the losing hands on the table until the end of the round.
Strategy Tips and Tricks
To obtain the game's RTP of 99.6% you will need to make fast and precise decisions. All expert players who play real money blackjack online are trained to do that but if you are just starting out or don't have that much experience yet, use a strategy card. Have a peek before each move or just when you feel uncertain or doubtful. Depending on your opening hand and the dealer's face-up card you will be advised to perform one of the following actions: hit, stand, double if possible or split. Just connect the two lines and the square where they meet will indicate the optimal action.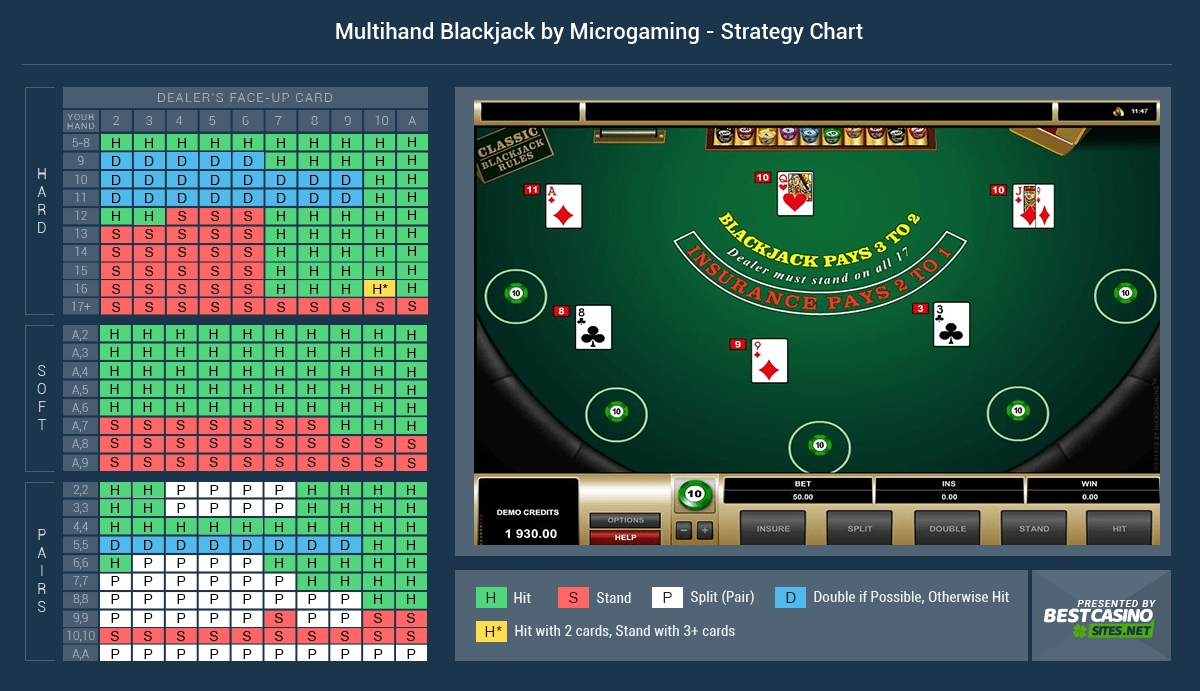 Even though Blackjack is one of the few games where you can employ a strategy with great success, we want to make one very important thing clear. In most cases the strategy brings the casino's house edge to its absolute minimum without making it completely disappear. So, following its instructions doesn't guarantee a win, it simply lowers the risk. To put your winning chances in an even higher state, make sure to start your real money play with a good welcome bonus on the side. Visit our full 32Red Casino review for a chance to get their exclusive £150 treat.
Test Multihand Blackjack for Free
Now, here comes the best part of it all! The free demo version of Multihand Blackjack is right below this text waiting for you to give it a go. Fully loaded with our short rules overview and the strategy card, there is not much left for you beside placing some demo wagers and getting to know the game personally. It's the perfect way to practice your blackjack skills without risking any real money while adding on some useful and risk-free gamble experience.
Playing Multihand Blackjack in demo mode will let you explore even the smallest game details absolutely for free. Place some regular or side bets, try different strategies, see how you like it or just create your own tactics for beating the dealer as often as you can. Follow your intuition just as strictly as the strategy sheet and you'll be in good hands. Considering it is one of the best paying blackjack games at UK online casinos with the quickest payouts, we are sure you will have tonnes of fun. So, go ahead and jump right in.
Real Money Gameplay! Find the Best Bonuses
Playing for free is okay, but the only way to win real cash is to make your first deposit and to play at the best online blackjack real money sites. Multihand Blackjack bursts with great advantages for the player. Betting on up to 5 hands simultaneously can be beneficial as the winning hands often earn enough to compensate for the ones that got beaten by the dealer. Furthermore, the highly rewarding side bets grant nice payouts in return for a tiny bet. On the other hand, having so much betting options can also be the cause for big losses especially if you don't have a bankroll limit or other types of restrictions. Here are some other good blackjack variations which feature the player-friendly surrender option or have skipped out the tempting side bets.
Rating:

4.9/5

Powered by:

Playtech

Play at:

Ladbrokes Casino
Rating:

5/5

Powered by:

Playtech

Play at:

Ladbrokes Casino
Rating:

4.8/5

Powered by:

Playtech

Play at:

Ladbrokes Casino
It's obvious that the pros of Multihand Blackjack prevail noticeably over the cons. So, sticking to this game won't be a mistake of any kind, that is for sure. Finding the best real-money casino which has the game in its portfolio can be tricky, though. However, some UK gambling sites that accept Pay by Phone bill deposits have Multihand Balkacjk in their portfolios. What you should look for is a reputable gambling operator and the best welcome package that will help you have a competitive advantage. We suggest trying 32Red Casino where both prerequisites are fully on hand.