Lucky Lucky Blackjack – Standard Blackjack, Exciting Side Bet
Blackjack side bets have been around for a while now. They aim to provide some more excitement to the centuries-old game, but a lot of them tend to miss the mark. The ones that stick, though, are a pretty entertaining portion of the game and could, at times, provide you with a pretty good payout. That's the case with Lucky Lucky Blackjack – it is a mobile-first iteration of the classic game, with a side bet that is already quite popular among gamblers. Read on to find out more about the game.
On this page, you will find a complete breakdown of Lucky Lucky Blackjack and its various features. Furthermore, we will provide you with the optimal basic strategy for the game, so you can approach it adequately prepared. And if you want to see the game in action before you bet any cash on it, we have embedded a video preview further down the page. Finally, if you decide that this is not the game for you, we have some suggestions on other titles to try. And if you decide to stick to Lucky Lucky Blackjack online, we have recommendations on the best casinos you can play it at. On the other hand, there are players that like to explore all available options, and if you are one of them, you can check our guide for the best blackjack sites for UK players, which can be of huge help for them.
Lucky Lucky Blackjack Details
| | |
| --- | --- |
| RTP: | 99.51%/ 96.10% |
| Blackjack Pays: | 3:2 |
| Number of Decks: | 6 |
| Dealer Rule: | Stand on Soft 17s |
| Dealer Peek: | Yes |
| Insurance: | Yes |
| Surrender: | No |
| Split: | Yes |
| Re-split: | No |
| Double: | Hard 9-11 |
| Double After Split: | Yes |
| Hit Split Aces: | Yes |
| Side Bets: | Yes |
| Multihand: | Yes |
The Game in Detail
Lucky Lucky Blackjack is a standard six-deck game of blackjack developed by Felt Gaming, where the dealer must stand on soft totals of 17 and over. It comes with some pleasing mobile-optimized graphics and a relaxed feel to the entire experience. Splitting any pair of cards with the same value is allowed and, unlike with most titles out there, you can actually hit split aces.
Furthermore, doubling down is permitted for hard totals between nine and eleven, including after a split. This collection of rules makes for a somewhat average return-to-player percentage of 99.51% for the base game. This RTP percentage assumes that you will use the optimal basic strategy, of course, which you can find a bit further down this page.
However, the selling point of the title is the Lucky Lucky side bet. It is an optional wager that you can place after the main bet and it could net you up to 200 times the cash you put on the side bet. Winning or losing depends on your hand and the dealer's up card.
If the three add up to a total value of 19, 20, or 21, you will be awarded a different payout, depending on the total and whether it is suited. Furthermore, a 6-7-8 sequence or three 7s will also award you some cash. The payment depends on whether they are suited, once more. The best you can hope for is three suited 7s, which will pay 200 times your side wager.
Lucky Lucky Basic Strategy
As we already mentioned, with the optimal basic strategy, you can achieve a return-to-player percentage of 99.51%. It is not the best we've seen, but it is still in the "fair game" ballpark, as much as a casino game can be fair. However, thanks to the limit on doubling down, the game is perfect for newcomers to the art of blackjack. Since you can only double on hard nine through eleven, the soft totals section of the strategy chart is very basic and easy to remember. This makes for a great entry to the world of blackjack.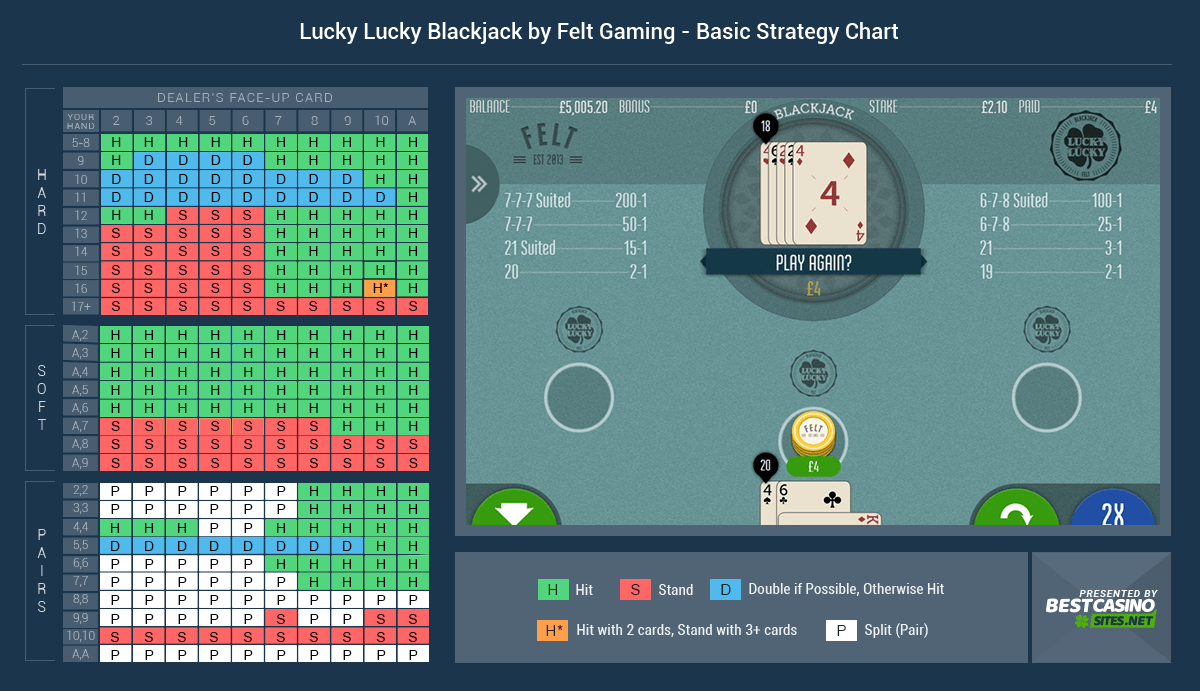 You probably already know that, but we feel obliged to state it once more. While basic strategy lowers the house edge on blackjack games significantly, it doesn't eliminate it completely. In the long run, the casino will still win more hands than you. And since all the cards are being shuffled after every round, there is no way for you to use any sort of card counting to gain the advantage. However, you can use a bonus to get the upper hand. If you decide to do so, we recommend the welcome bonus at LeoVegas Casino. It matches your initial deposits up to £100 and is useable on table games as well.
The Game in Action
With the rules explained and the strategy chart at your disposal, you might want to give the game a try. However, this time we cannot provide you with a free demo to use, but we can do the next best thing. Just below, you will find a video preview of the game, so you can check it out in action. And if you want to give it a go yourself, you can find a free demo version of Lucky Lucky Blackjack online at LeoVegas casino. No registration is required for the free version, but if you decide to bet real cash, you will have to create an account.
There are countless benefits to testing a game in demo mode before you decide to place any real-money wagers on it. After all, gambling is about fun and risking your hard-earned money on a game that does not entertain you cannot be considered fun in any way. Furthermore, playing blackjack in demo mode allows you to perfect that basic strategy, as well as try out some betting tactics and decide how to approach the game when the time comes to bet real cash. So, if you like what you see in the video above, head on over to LeoVegas for that free demo.
Closing Words and Other Recommendations
Just like any other game, Lucky Lucky Blackjack is not perfect. Far from it, in fact. So, if it is not the game you are looking for, we have a few suggestions to check out. If you'd like to play the same game but with a different side bet, we recommend 21+3 Blackjack. It features the same main game, but the side bet is a bit more exciting if you ask us. And if one side bet just isn't enough for you, how about playing with six? 6 in 1 Blackjack provides you with the option to bet on six of the most popular side bets simultaneously. But if you want a more vanilla experience, it doesn't get much better than Blackjack Professional Series by NetEnt. While it also features a side bet, it can largely be ignored and you can focus on a rewarding and pure base game experience.
Rating:

4.8/5

Powered by:

Felt Gaming

Play at:

LeoVegas
Rating:

4.8/5

Powered by:

Felt Gaming

Play at:

LeoVegas
Blackjack Professional Series
Rating:

4.88/5

Powered by:

NetEnt

Play at:

LeoVegas
If you decide that Lucky Lucky Blackjack online is the game for you, we also have you covered. Deciding which online casino to trust can be a daunting task, but we're here to help. The best casinos that offer the game are LeoVegas and Mr Green. And while they are both top-tier venues, we recommend you go for LeoVegas, due to its welcome bonus. It will match any of your 1st-2nd deposits up to a total of £100 and it will also give up to 20 wager-free spins to play on slots. All in all, the casino is perfect for you to try the game at and it has a quite wide range of games in case you seek for diversity.