Lucky Blackjack Review – Playing Cards with Lady Luck!
Lucky Blackjack brings a logical continuation of Yggdrasil's notable effort in developing video table games. The title comes on the heels of the company's original success and is widely pointed out as the next big thing in online casinos gaming. Quite frankly, to determine whether this is true or not is a matter of testing the in-game features. We're talking about small tweaks that can make a difference when playing with your own money. Lucky Blackjack seems to have that secret sauce of extras and looks combined together. The main reason for that is the two trademark side bets Lucky Lucky and Lucky Ladies. Get ready for this lush-green, six-decks blackjack affair, we are about to get started!
With this detailed review, we plan on giving you an insider's view of Lucky Blackjack's features and feel. Firstly, we'll give you the numbers that are important for every self-respecting blackjack player together with some basic information about the game. Then, we deal with the popular blackjack strategies that are also applicable to this variant. Of course, we'll give you a rundown of the approach we've adopted specifically for this title. Equipped with knowledge and a potent strategy, your next stop should be the Lucky Blackjack demo version we've included further down in the review. Whenever you're ready, just click the Play button and the lovely croupier Lucky will deal you in. At the very end of the article, you'll find our final and objective evaluation of the game, based on everything we've said thus far. You can also benefit from the handy page we created, dedicated to UK online sites for blackjack.
Important Details About the Game
Lucky Blackjack Rules
RTP:
99.54%
Blackjack Pays:
3:2
Number of Decks:
6
Dealer Rule:
Stands on Soft 17
Dealer Peek:

Yes

Insurance:

Yes

Surrender:

No

Split:

Yes

Re-split:

No

Double:

Yes

Double After Split:

Yes

Hit Split Aces:

Yes

Side Bets:

Yes

Multihand:

Yes
Card value scales just as in all blackjack variations. Number cards below ten have a value corresponding to their number. Ten and above counts for 10, except for the ace, which can be either 11 or 1 (whichever is applicable). Cards are drawn from a shoe comprising 6 decks (52 cards each). The shoe itself is reshuffled at the end of each round. Now that this is out of the way, let's elucidate the winning conditions. Simply put, at the end of each round, whoever between the dealer and player is closer to 21 (without going over) wins.
In the unfortunate event of all seats being taken, depending on the casino you're playing at, the 'Bet Behind' option might be available to you. It basically allows spectators to place wagers on an equal footing with the seated players. Immediately after the first two cards of your hand are dealt, you'll get the chance to double your bet – the so-called 'double down'. Splitting a hand into two separate hands is also a valid option in the game.
Inarguably, the number one reason to play Lucky Blackjack at the best real money blackjack casino sites is the side bets Lucky Lucky and Lucky ladies since they influence a great deal the scope of winning a hand. Lucky Ladies pays out when the player's first two cards equal 20. Lucky Lucky is another side bet that rewards harder to get combinations like suited sevens or three to a straight. In that case, both player's cards and dealer's UP card are taken into consideration.
The high RTP means that the odds to win here are quite good, though you have to get your basics right and stick to basic strategy. Of course, as with most modern blackjack games, card counting is not really an option here due to the automatic shuffling – still, if you play your cards right, you have a chance to walk away with a hefty payout!
The Best Way to Approach Blackjack for Beginners
The theoretical 'return to player' rate for the main game is 99.54%, leaving almost no 'juice' for the house. As for the side bets, the RTP of Lucky Ladies and Lucky Lucky is 93.78%, 92.93% respectively. Although there's no option to surrender a bet in Lucky Blackjack, we'll give you an idea when, in general, is advisable to give up your bet. That will be the case of you having a hard 14,15, or 16 and the dealer showing 9 or higher. Other than this, as per the strategy card, you should definitely hit hands in the range between 5 and 12, keeping in mind that most of the time you'd want to double down on 10 and 11.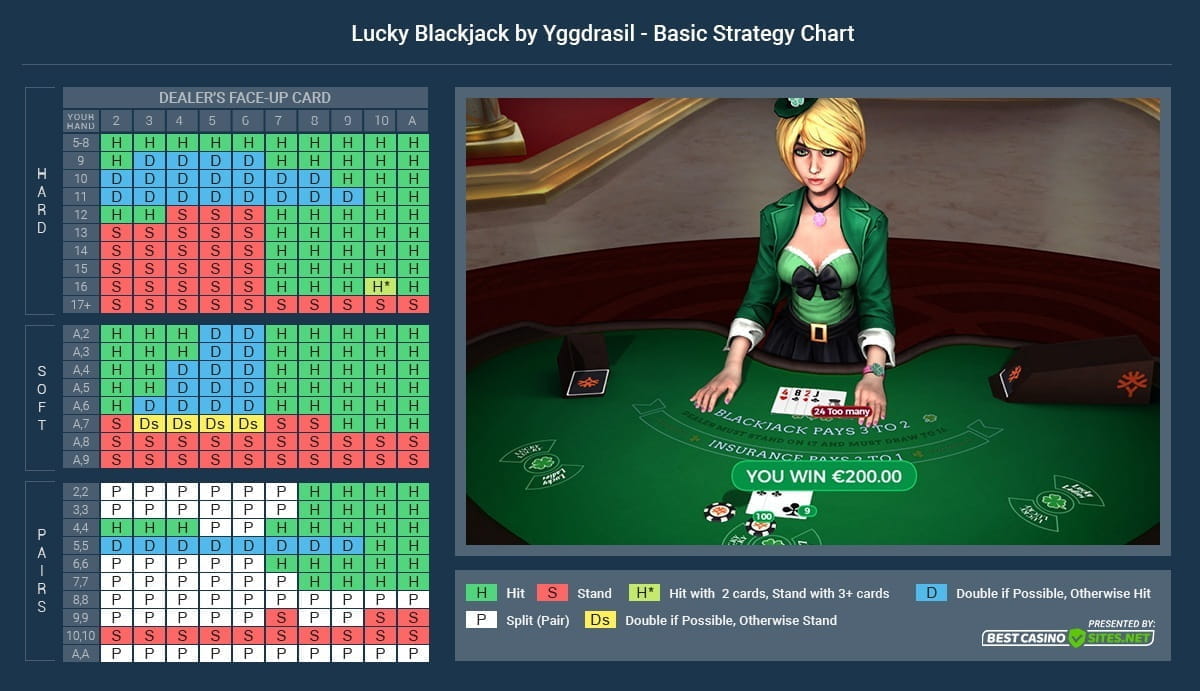 Bear in mind that even using a choice strategy like this one can't negate the house edge effect completely. The best it will do for you is keeping the casino advantage to a minimum. That's already something, but if you want to significantly increase your chances of building a healthy bankroll, there's nothing better than starting with a good casino welcome bonus. Casino Cruise rewards new players with a generous sign-up bonus that comes with a good deal of free spins. Yet the best part is that specific casino features other famous Yggdrasil gaming titles that might be of interest to you. Refer to our Casino Cruise review for more information.
Lucky Blackjack Demo Mode – Try It for Free
If we were you, we'd be brimming with enthusiasm to give this proof-of-concept strategy a shot. After all, this is the natural course of events for an aspiring blackjack player, and believe us, you will like this next step. It involves loading the free Lucky Blackjack demo down below and playing for some time until you get the hang of it. That's right, you don't have to go to a brick-and-mortar casino, nor do you have to spend your own money only to find out whether a strategy works or not. Down below is a fully functional free version of Yggdrasil's blackjack variant for you to explore all ends up.
Do you hear Lucky urging you to take your seat at the table? It's about time. But before you put your Irish luck to the test, we'll help you appreciate the benefits of the play money version. We attach huge importance to the dry-run phase of any blackjack strategy for a good reason. Namely, because the process puts things into a more realistic perspective, whereby you'll be able to draw conclusions as to what's factual and what's fiction. Now is your chance to play in demo mode – it won't even cost you a quid to do that. In return, you'll develop a clearer understanding of Yggdrasil's gaming's Lucky Blackjack.
Playing for Real Money – Why and Where?
Lucky Blackjack is, among many things, an entertaining and fun to play table game that takes place in a state-of-the-art 3D virtual environment. The unique side bets are also a nice touch bringing in diversification into the gameplay. On the other hand, the lack of a surrender button is an omission on behalf of Yggdrasil gaming that some players might find hard to swallow. If you're looking for a more beginner-friendly variant you should try Big Five Gold Blackjack as it gives you a bit more breathing room when it comes to surrendering a bet. For more details on the game, read our full Big Five Gold Blackjack review.
Rating:

4.88/5

Powered by:

Playtech

Play at:

Ladbrokes Casino
Rating:

4.9/5

Powered by:

NetEnt

Play at:

LeoVegas Casino
Rating:

4.9/5

Powered by:

NetEnt

Play at:

LeoVegas Casino
By the looks of things, Lucky Blackjack is shaping up to be yet another successful Yggdrasil casino game that lives up to the hype. We take kindly to the visual appearance, side bets and overall gameplay – there's just no major flaw to stop you from playing at an online casino. As we mentioned earlier, the right casino for playing Lucky Blackjack according to our research is Casino Cruise. Their welcome bonus of £200 complements the games of this type perfectly, and the whole platform is suited for playing on the go. The only thing you can do wrong is missing on the Casino Cruise's fine offer.