Exchange Blackjack Review – An Innovative Way to Play Blackjack
This Exchange Blackjack review will help you understand the way the game works. You may think that this is a typical blackjack, but the moment you see the screen, you realise that it`s nothing alike. Yes, classical blackjack lies in the game's foundation, but the betting itself is organised in an entirely different way. You observe a classical blackjack game with four players where they can pull up to 5 cards max. During the whole game, you see the cards of all players, and you can bet on the outcome of each following hand.
From this article, you will learn everything about blackjack exchange and how to play it. The truth is that this is a revolutionary game released almost two decades ago and available only at Betfair. The complete selection of exchange games presents a new type of gambling opportunities to all casino players. It attracted many punters worldwide to try it simply because of its huge variety of bets and ways to accumulate good winnings with seasonable risk. We intend to explain how Betfair Exchange Blackjack works and then tell you more about the best strategies.
How to Play Exchange Blackjack – Rules & Gameplay
Exchange Blackjack Rules
| | |
| --- | --- |
| RTP: | 96.10% |
| Blackjack Pays: | 3:2 |
| Number of Decks: | Infinite |
| Dealer Rule: | Stands on soft 17 |
| Dealer Peek: | No |
| Insurance: | No |
| Surrender: | No |
| Split: | No |
| Re-split: | No |
| Double: | No |
| Double After Split: | No |
| Hit Split Aces: | No |
| Side Bets: | Yes |
| Multihand: | Yes |
Well, when it comes to Exchange Blackjack, it is nothing similar to any other type of blackjack that comes to your mind right now. Shortly explained, you are an observer of a classical blackjack game without any spits, surrenders, insurances, doubles or any other feature.
But what you do since you don't play? You actually bet on each hand or the last one. Pretty much, you have plenty of options to bet on, including Exotic Wagers on the game's final. First, you need to understand what strategy the four simulation players use. Indeed, it is a standard one – hit on everything below 16 and stand on soft 17 and everything above. Players can pull up to 5 cards, but the strongest combination is not a standard blackjack.
The most powerful hand is any combination of 5 cards equal to 21. Then, in second place, you have the classic blackjack followed by all other varieties of 2,3,4 cards equal to 21. The five-card blackjack is called Charlie. You can bet on all six rounds of the game, including the Exotic Wagers that present odds such as 30:1, or otherwise said – longshots with an excellent return.
You can bet on the dealer to win or tie all four players or, on the possibility, only one player to hit 21. You can also bet on the chance all combinations on the table to be unique. Another Exotic Wager is to bet the game to be won with a Charlie. When you see the wide variety of bets, you will understand why many punters were attracted to Exchange Blackjack. With a steady and stable strategy, you can achieve good results, but don't forget that it`s also a game of chance.
Exchange Blackjack Strategy & Tips
When it comes to Betfair Exchange Blackjack, you already learned the "perfect strategy" that the computer simulation uses. It is essential to know it and understand it completely so you can make better predictions of the actual game. The second important factor that you should take into consideration is the blackjack exchange house edge – 3.9%. This is double compared with all other variations of the game. Just have in mind that Exchange Blackjack could empty your casino account very quickly. This is a game preferred by many sports punters and casino high-rollers because of its high volatility.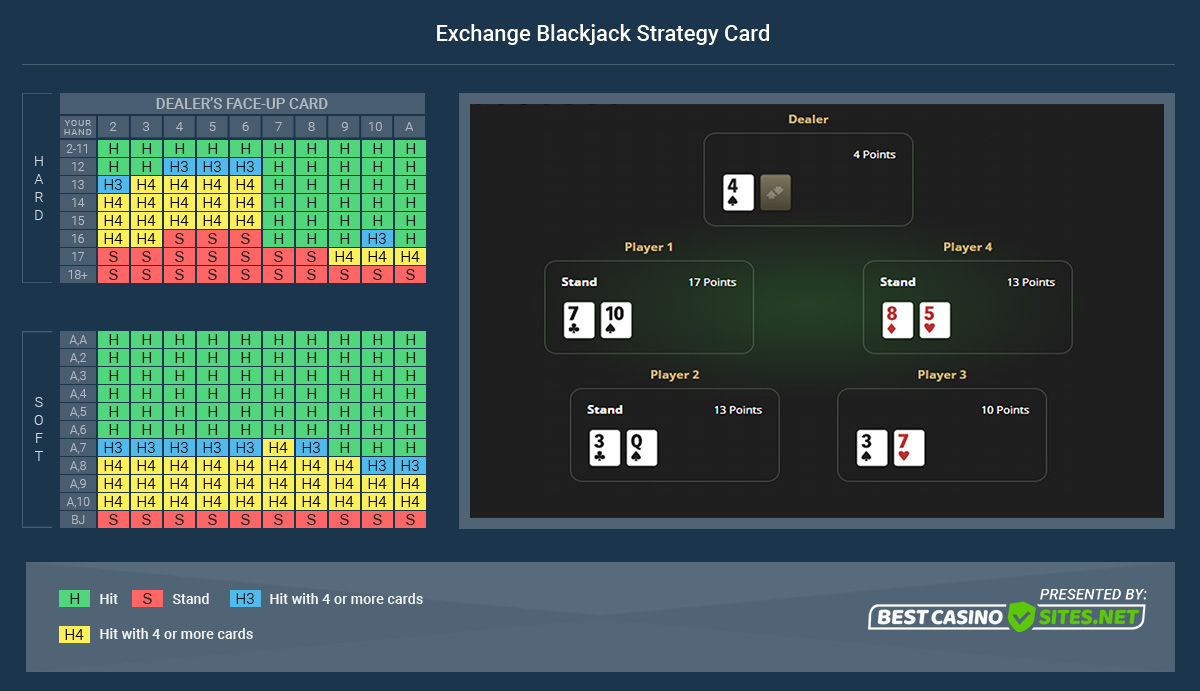 The best Exchange Blackjack strategy is to ensure the lowest possible house edge, but of course, you cannot eliminate it completely. Something that could guarantee you better chances in the larger amount of money you possess to play. If you take advantage of the welcome bonus of Betfair or any other follow-up bonus, you can double up your playing credits. After all, the big difference between land-based casinos and online ones is precisely the excellent bonuses and other online promotions.
Exchange Blackjack Demo Gameplay
Unfortunately, there is no demo version of the game online. The game is available only at Betfair, and when you enter it, you will see another useful demo guide. It is not exactly a demo play, but it will do the job. Playing Betfair Exchange Blackjack looks more like filling a betting card than playing blackjack. All you do is choose sectors and possibilities while you are watching a simulated blackjack game.
Usually, it is a huge benefit to have a demo version, but not in this particular case. To play this game, you just need to understand its rules and then look at the screen's betting options. It will immediately come clear what you must do and how exactly the game works. The rest is just experiencing the probability games. Exchange Blackjack gives you the opportunity to make high risk and low-risk bets, which could help you minimise your losses and maximise your winnings. The end of our Exchange Blackjack review is close. See what we think of the game in the following section.
Final Thoughts – Why Exchange Blackjack?
Well, nothing in this world is perfect, and the same applies to Exchange Blackjack. The game has its strong and weak sides. From an overall perspective, it provides an excellent opportunity to accumulate good winnings if you understand it completely. And of course, that is if you have the money and the experience to play it. It is not the typical blackjack game, and we can even say that it has nothing in common with it as a gameplay. If you are a fan of card games and you want to play standard blackjack, we suggest you check the titles below, then move to the best blackjack casino sites.
Rating:

4.85 /5

Powered by:

NetEnt

Play at:

Casumo
Rating:

4.8/5

Powered by:

Yggdrasil

Play at:

Casino Cruise
Rating:

4.8 /5

Powered by:

Felt Gaming

Play at:

LeoVegas Casino
However, if you like the idea of playing Exchange Blackjack, you already know that it is available only at Betfair Casino. There is a whole section of Exchange Games that are working in a very similar to Exchange Blackjack ways. This is a great, reputable and safe to use online platform offering all types of gambling. Everything from sports betting through casino games, and as you can see, they even develop their own games to be more attractive to all players. If you like it, do not miss checking the extensive casino review we just mentioned.