European Blackjack Turbo Review – SkillOnNet Version of a Classic!
Hey! You there! Yes, you! Welcome to our review! We hope you find it useful and fun to read. As you already know, playing at an online casino can be really fun. You have all kinds of slots to spin, there are so many Live Dealer games to try and there are also a lot of interesting table games. This review is about Blackjack, but not just the classic game. Here, we'll share all the details around SkillOnNet's creation – European Blackjack Turbo! So, grab your tea and biscuits, sit back and keep on reading!
Even if you are familiar with all Blackjack variants or you're a newbie in the field and you want to play something more interesting as a game, European Blackjack Turbo is for you! In the rest of this article, we'll cover a few main points, starting with detailed information about the game – how it looks, rules, special features. Next, we'll show you how to win by having a strategy and we'll let you practice on a demo version of the game. Lastly, we'll share our final thoughts with you. Better prepare some paper and a pen to write down – trust us, it's worth it! And since we love helping you get a flying start, why don't you take a look at our recommendations for the best sites for blackjack in the United Kingdom.
About European Blackjack Turbo Details and Specifics
European Blackjack Turbo Rules
RTP:
99.57%
Blackjack Pays:
3:2
Number of Decks:
8
Dealer Rule:
Stands on soft 17
Dealer Peek:

no

Insurance:

yes

Surrender:

no

Split:

yes

Re-split:

yes

Double:

yes

Double After Split:

yes

Hit Split Aces:

no

Side Bets:

no

Multihand:

yes
At first, when you open European Blackjack Turbo, there is nothing so drastically different from other variants – a green table, great graphics and the 'Dealer's voice' that welcomes you to place your bets. There is another version of the game, known as American Blackjack Turbo, but you'll quickly see the difference. For example, in the European version, there is no hole card for the dealer – something that a pro would notice at first glance. European Blackjack Turbo is played with 8 decks of cards and bets vary depending on the level you choose – for Standard bets go from £1 to £100, for High Rollers – from £50 to £500 and for VIP – from £300 to £1500.
The game follows the classic rule – as a player, to outdo the Dealer, you must have 21 or the closest to 21. The cards' value is the following: Ace – 1 or 11; Face Cards (Kings, Queens and Jacks) – 10; from 2 to 10 – the value of the 'face' of the card. If there is a chance for the Dealer to have Blackjack (his first card is an Ace), you'll be offered insurance, so think wisely and take your decision. When you are drawing cards, there is no limit, of course, the total number shouldn't exceed 21. You can split Aces only once and if you have a 10-valued card after splitting, keep in mind that this is not considered Blackjack! The maximum number of hands to play with is 5 (3 on mobile version) and a card will be dealt with the spot where there is a bet. Also, you can Double Down if your hand score is 9, 10 or 11 and you must make a second bet, equal to the initial wager. Of course, you can Double Down in other cases mentioned in our basic strategy chart down. In case you choose to Double Down, you will receive one more card after which you must stand! All this is explained in details in the menu of the game.
Ideal Strategy for a Big Win
Now that you're familiar with the rules, there are still some steps to becoming a pro at European Blackjack Turbo. To win, you must have a good strategy to follow. Therefore, we have something for you. We've created a winning strategy chart for you! From this table, you can learn and apply all the strategic moves to win more and lower the House Edge (0.54%). With this strategy, you will be able to 'predict' the dealer's hand and to make the most accurate move to win! The game has an RTP of 99.57%, which we think is legit and trustworthy.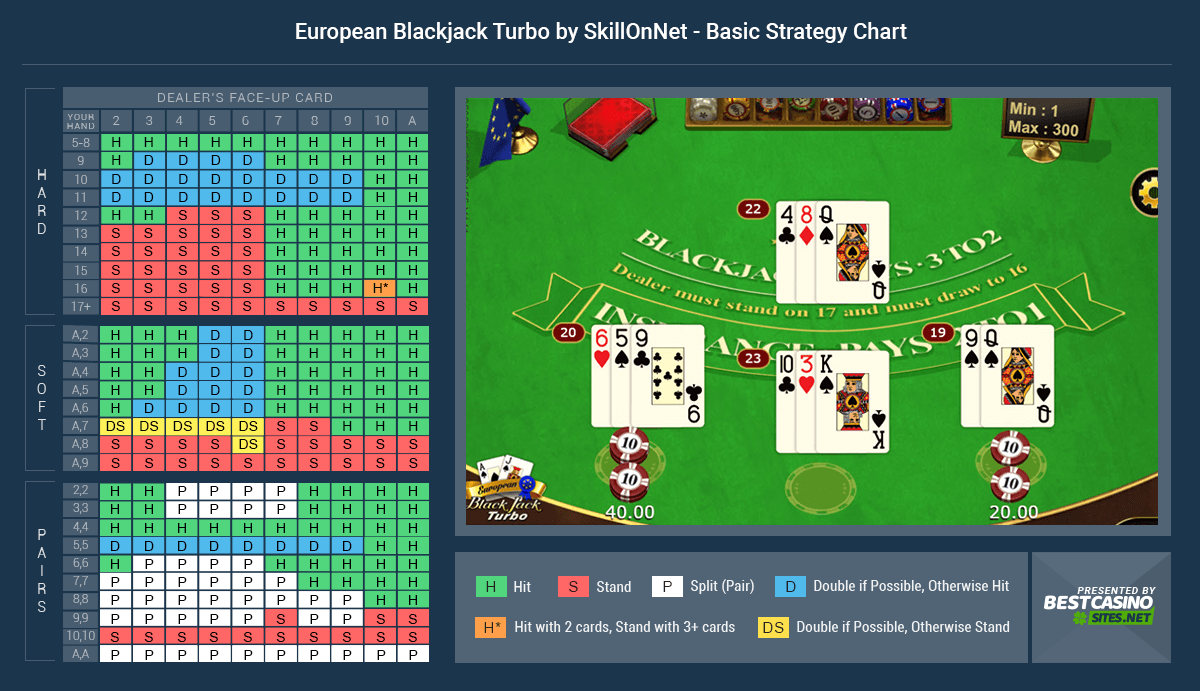 Did you take a minute to have a look at the strategy? Great! Now, something really important. This strategy ensures the lowest possible House Edge but keep in mind that it still doesn't eliminate it. That's why it's always good to have an alternative. To guarantee yourself even better chances, we highly recommend you claim a bonus. PlayOJO Casino is the place to go! The operator offers a lot of interesting games and other features, plus 50 Spins – 1 spin for every £1 deposited. Sounds pretty good, don't you think? Find out more about the casino in our review here!
First Demo, Then Real Play!
Okay, almost done! You have the strategy, you've gone through all the rules – now all that's left to do is…practice. Yes, practice! Before you dive into the real game and start putting real bets, we think it's a good idea if you try the game for free first. In this review below, we've prepared a demo version of the game just for you! You know the drill – scroll down, click play and, well, play! It may sound too easy, even a little silly to do, but this will help you out once you start playing for real money!
As mentioned above, the demo version of the game is super helpful in our honest opinion and here are our reasons why. First, you're most probably opening the game for the first time – if you open the demo first, you'll get to explore the game and its features before emptying your wallet. Second, you can't just start playing with real money without knowing how the strategy works – practice a little bit! It won't do any harm. Finally, this is the way to see if you're going to enjoy the game without the commitment. And if this is your forte, you know where to go!
The End! Where Can We Play, Now?
And that is the end of our review. What do you think about European Blackjack Turbo? Mind if we share our opinion? We actually really like it! It is definitely not your standard Blackjack game – it does have a few different rules, but it's overall a game that you'll most probably enjoy. Sadly, there aren't many casinos that offer the game in this version, but you can check out the best UK Bitcoin casinos. Also, have a look at our suggestions down below if you're looking for more popular Blackjack variants. We also recommend you give the American Blackjack Turbo version a go!
Rating:

4.8/5

Powered by:

Felt Gaming

Play at:

LeoVegas
Rating:

4.85/5

Powered by:

NetEnt

Play at:

Royal Panda Casino
Rating:

4.8/5

Powered by:

Felt Gaming

Play at:

LeoVegas Casino
If you think this game is the one for you – go ahead! We hope you enjoy it! Just remember – play responsibly! We say this in every review because, as much as we love playing ourselves, gambling may not always be good, and we try our best to bring awareness amongst you, fellow gamblers, for your safety. We guarantee that PlayOJO Casino is really a trustworthy operator that offers European Blackjack Turbo and many more interesting games, so have fun and go win some extra cash!