European Blackjack Redeal Gold Review – More Chances to Win
Have you ever wanted to get rid of a bad hand during a blackjack game? If so, we have got news for you. With Quickfire's European Blackjack Redeal Gold you have got the option to redeal yours and the dealer's hand and cards. But this is not the game's only advantage. Its easy navigation and pleasant atmosphere make it easy for the player to concentrate. Furthermore, the game's mobile compatibility makes it easy to play whenever you are. Eager to learn more? Keep reading our review and we will explain everything you need to know about the game.
Ready to learn everything about European Blackjack Redeal Gold? We will first start discussing the game's rules and features. We will then talk about the strategy you can apply to increase your chances to win and will provide you with a specific strategy chart. You will then have the option to play a demo version of the game and see how it functions. Finally, we will share our final judgement, suggest alternative blackjack games and recommend you where to play. You can also check our page about online blackjack in the UK.
Rules and Features of European Blackjack Redeal Gold
European Blackjack Redeal Gold Rules
RTP:
99.60%
Blackjack Pays:
3:2
Number of Decks:
2
Dealer Rule:
Dealer Must Stand on All 17
Dealer Peek:

no

Insurance:

no

Surrender:

no

Split:

yes

Re-split:

no

Double:

yes

Double After Split:

no

Hit Split Aces:

yes

Side Bets:

no

Multihand:

no
Quickfire's European Blackjack Redeal Gold follows the classic blackjack version only with a few exceptions. But let's start from the beginning. In this game, the player competes against the dealer only. Thus, your aim would be to reach a higher sum of cards than the dealer but without going over 21. In fact, 21 is considered Blackjack and is paid 3:2. During the game, the dealer will hand you two cards and then one for himself. You will be given the typical options to either Hit, Stand, Double or Split. The unique detail about this game is, however, that it will also give you the option to redeal. You will be able to decide whether or not to redeal the dealer's hand, your own hand or swap one card for another, usually for a certain price. On certain occasions, though, players will be given the option to redeal for free. Bear in mind, however, that according to our experience, this is usually the case when your possibilities to win are already high enough. The redealing price is usually defined under the same circumstances and generally, the better your hand, the lower the price to swap it will be.
It is also important to clarify that you can only play one hand during the game. This version of blackjack also uses 2 decks only, which is an interesting detail, compared to other blackjack games. Players will only be able to make main bets as side bets are not part of the game. Regardless of the features and details, however, you are guaranteed to enjoy a high-quality game, which loads fast, runs smoothly and performs flawlessly on mobile devices.
Do Better with a Strategy
As you are probably aware, Blackjack is not particularly a game, which requires specific skills or logical thinking. It rather depends on your luck and ability to make decisions. A good way to lower the house edge, however, is to not play impulsively and to follow a certain strategy. Apart from card counting, which is rather difficult for beginners, however, we can also offer a much more effective way to follow a strategy. All you have to do is consult the strategy chart below before making any moves in the game. Do that and we assure that your chances to win will grow significantly.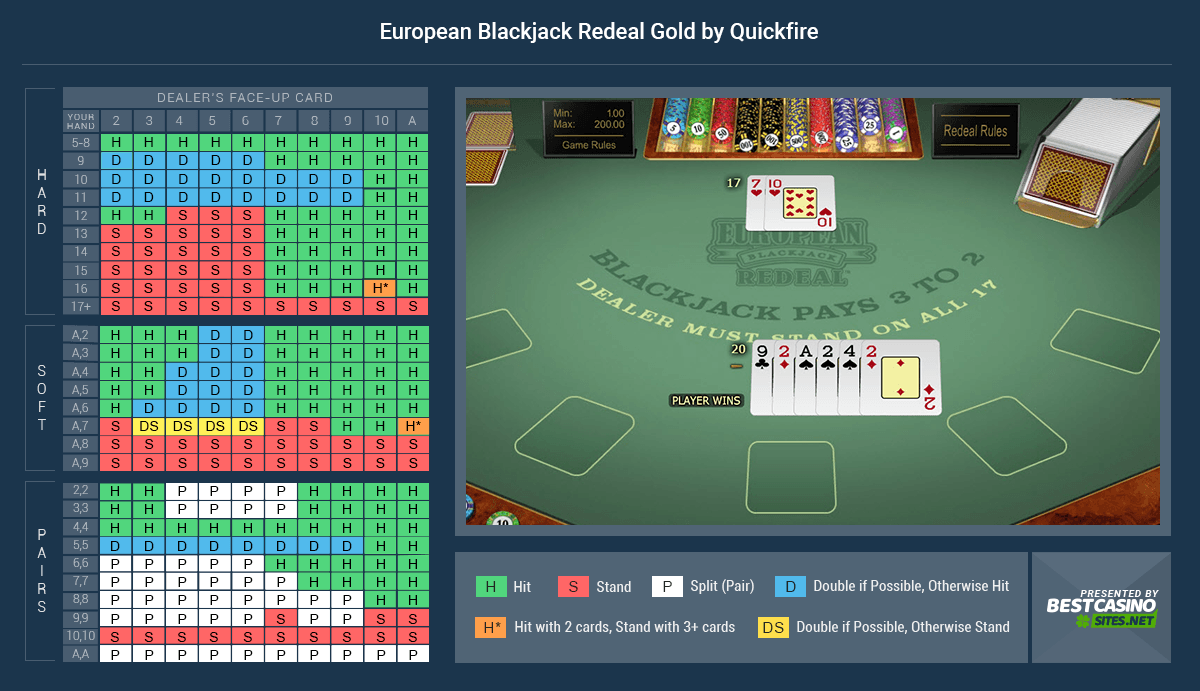 It is important to note, however, that while the chart does indeed lower the house edge, it cannot prevent you from losing. After all, even in this version of Blackjack, the luck is a major factor, which cannot always be on your side. Nevertheless, you can protect your finances by playing with bonus money. Just head to our favourite Hippodrome, register and claim your bonus.
Try the Game for Free
Have you heard the saying 'Practice makes perfect'? We believe that it is especially relevant to table card games. Thus, now that you are familiar with the game's rules and have a strategy to follow, you are just ready to try your luck. Of course, you do not have to risk your own money to do so. You can practice the game in its free demo mode just below.
Whether you are new to blackjack or you have played the game for years, you will find its free demo version very useful. As we have mentioned above, European Blackjack Redeal Gold has slightly different rules and options, and thus practising before playing real money blackjack is always a wise decision. When you feel confident enough, however, you can head to your favourite casino and play with real money.
Play For Real Money and Other Recommended Games
After we have considered all of the game's rules and features, we have concluded that all players would definitely enjoy the opportunity to play their favourite blackjack with the option to swap their cards if they do not like them. Furthermore, the game loads fast run smoothly and is mobile friendly. Its only flaw is probably its free adaptation of the classic rules. If you would rather try a more traditional version, however, you can also try playing some of the three alternative games that we have listed below.
Blackjack Professional Series
Rating:

4.88/5

Powered by:

NetEnt

Play at:

LeoVegas Casino
Rating:

4.85/5

Powered by:

Playtech

Play at:

Ladbrokes Casino
Rating:

4.85/5

Powered by:

NetEnt

Play at:

Royal Panda Casino
Nevertheless, we strongly advise you to give European Blackjack Redeal Gold a chance. The game will indubitably captivate you with its graphics and innovated rules. Wondering where to play? While the game is available in various UK online casinos, our top recommended venture is Hippodrome. The operator does not only offer the game in its best quality, but it also has a great bonus scheme that would benefit just about everyone. Furthermore, there are also periodic prize draws, which can even send you to a European cruise if you are lucky enough. Ready to play? Just head to Hippodrome and enjoy European Blackjack Redeal Gold.