Dr Fortuno Blackjack Game Review – Enjoy This Marvelously Designed Game
Even though Yggdrasil Gaming is a relatively new game developer, it is already known for the quality of its' games. Superb graphics and innovative features are just the tip of the iceberg. The recently launched Dr Fortuno game series features a slot game and a blackjack table which share a chance to win a daily jackpot. The blackjack game is truly a work of art, as it takes you to a 3D carnival environment with plenty of fascinating features. If you like playing blackjack and appreciate fresh and creative layouts, then you should definitely try Dr Fortuno Blackjack.
With this thorough Dr Fortuno Blackjack review, we intend to give you all the information about the new table game by Yggdrasil. We will have a look at the blackjack table and discuss the layout, the software and all possible customisation settings. We will tell you how this gaming developer has created the 3D animated devilish dealer, who is standing in front of you on the blackjack table. Familiarising yourself with the possible bonus features and the terms that go with them can positively influence your game session later on. Furthermore, we have gathered a number of impeccable sites for blackjack that you might enjoy!
Rules, Limits and Details in Dr Fortuno Blackjack
Dr Fortuno Blackjack Rules
RTP:
99.54%
Blackjack Pays:
3:2
Number of Decks:
6
Dealer Rule:
Stands on soft 17
Dealer Peek:

Yes

Insurance:

Yes

Surrender:

no

Split:

yes

Re-split:

no

Double:

yes

Double After Split:

yes

Hit Split Aces:

no

Side Bets:

yes

Multihand:

no
The minute you enter the carnival ringmaster's tent in the game Dr Fortuno Blackjack, the unique atmosphere and the sharp, detailed graphics take you over and fill you with curiosity, anxiety and wonder. The main attraction is Dr Fortuno himself, taking the role of a blackjack dealer who's trying to entice you to play at his table. The music is very cheery and playful, and maybe a bit mysterious. It is the typical circus or carnival music and it brings memories of cartoon shows and ballroom dances. However, who is this Dr Fortuno? A fortune teller, a devilish dealer or a ringmaster of a travelling freak show? We can't really tell. Dr Fortuno is a 3D animated character, whose only purpose is to entertain you and make your game session pleasurable and rewarding. Created to be realistic as possible by adopting humanistic gestures and interactions, this so-called 'King in Yellow' is truly a breath of fresh air when we speak about game innovation and 'out of the box' thinking. While you play, you will be able to witness all the specially designed movements of Dr Fortuno, his mimics and gestures, the way he draws cards and the way he tries to attract you to play.
This 3d blackjack variation is a standard blackjack game, following all the basic rules of the game, known to be the one with the smallest house advantage. The minimum allowed bet in Dr Fortuno Blackjack is just £1 and the maximum is £500. This makes the game more appropriate for low stakes gamblers, even though the players who prefer bigger stakes can also give it a go at £1000 per hand (main bet + side bet). Options for the sound and video allow you to personalise your game session – control the dealer's voice and the sound effects or zoom in on the table. The table has 5 seats, each one with a different view of the blackjack table and the surrounding environment. It is an RNG game, but you can play with other real people, unlike most of the other games from this type. An interesting addon from the developers is the in-game warnings. Every time you make a decision, which has a bigger risk of busting your hand, a pop-up message appears, asking you to confirm your choice. This can be both helpful and irritating, that's why it can be turned off.
Regardless of how many people are seating on the table, you are allowed to play just on one box. Like every standard blackjack game, the only point is to beat the dealers' hand, irrespective of the hand strength of the other players. The standard options like split, double or insurance are all available, but there is no surrender option. When you want to split, you are allowed to do it only once, even if the second card for the separated hands is the same as the first. When splitting aces you get only one card and there are no blackjacks. The normal blackjack hand pays 3 to 2 and the insurance bet pays 2 to 1.
Bonus Features and Jackpots
The only available side bet is the Dr Fortuno bonus bet. As long as you've put your main bet, you can have a go on the side bet (minimum £1, maximum £500). You gamble either or not the dealer will get a flush. It doesn't matter if you have busted or have a blackjack. If all of Dr Fortuno's cards are the same suit the bonus game is triggered and multiple bubbles appear on the screen. They are filled with Xs, multipliers (x5, x10, x25, x50, x100 and x500) or the Jackpot. One by one the bubbles burst, until only five remain. They are then shuffled and placed in front of each seat. If you get an X, the bonus ends and the new round begins. If you get a multiplier then the value of your side bet is multiplied by the number in the bubble and the winnings are added to your balance. If you are lucky and favoured by the blackjack gods, the jackpot bubble will align in front of your seat, winning you the amount of the daily jackpot. You can see the value of the jackpot at all times, in the top right corner of your screen. Of course, the probability of winning the jackpot in each bonus game is proportional to the player's bonus bet size. The larger the side bet, the greater the chance to win.
RTP of Dr Fortuno Blackjack Game and Playing Strategies
Even if you haven't played a lot of blackjack hands, or even none at all, you have probably heard about counting cards or basic strategies for playing blackjack. There are many tactics for playing, each one focusing on either the value of bets, number of seats, limit of playing hands, style of play, timing and more. In Dr Fortuno Blackjack, trying to count is impossible. The number of the cards is 312, which is the most popular and common way for playing blackjack around the world – 6 standard decks with 52 cards each. Not because of the big sum of the cards counting is not possible, but because after every hand, all the cards are returned to the shoe and re-shuffled. For your convenience, we have inserted a picture of the most popular strategy table, based on yours and the dealers' hands value so you can have a look and learn the basic rules for play, in order to minimise the house edge as much as possible. The game delivers an RTP of 99.54% in the main game, 92.6% with insurance and 96.5% with the Jackpot bonus bet.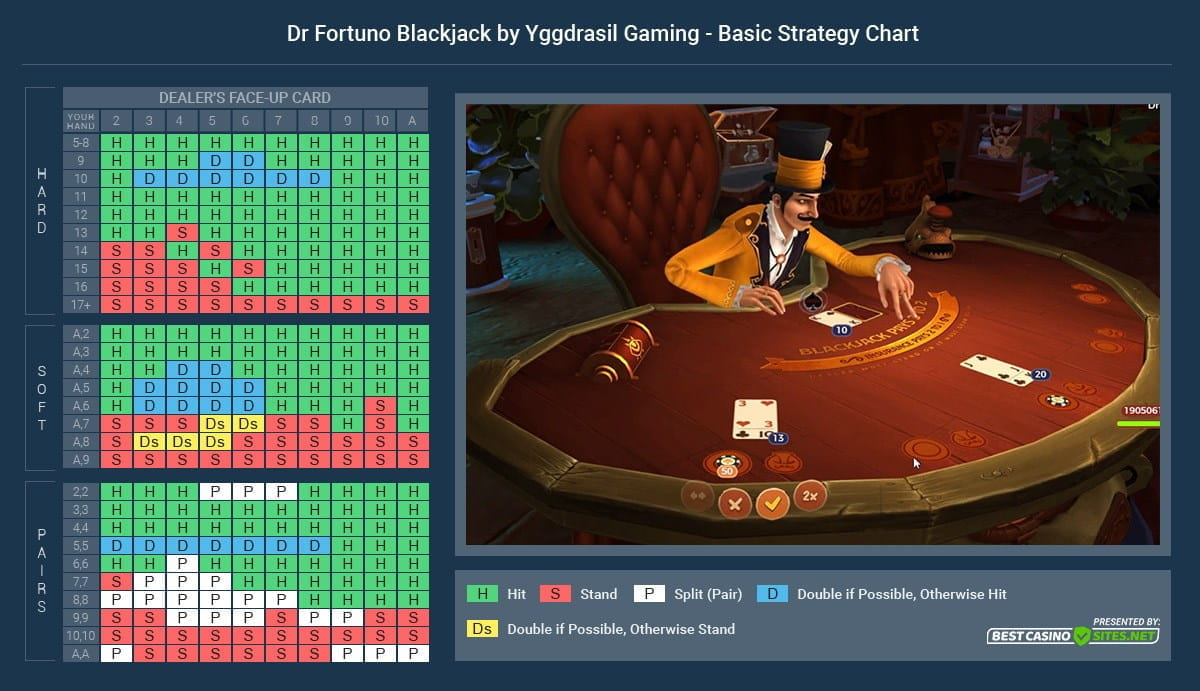 Keep in mind, that following this strategy table strictly, reduces the house edge, but still doesn't eliminate it completely. Furthermore, Dr Fortuno Blackjack is an RNG game, so you can't really predict, or at least try to predict what the next card will be. The table is based on the value of your first two cards and either or not the next one in case of a hit will strengthen your combination. We recommend you start playing this game in a licensed online gambling website, which has a nice bonus, that you can take advantage of and increase your bankroll. A good choice is LeoVegas Casino where the welcome offer provides up to £100 cash. You will be rewarded up to 20 wager-free free spins on Book of Dead as well.
The Dr Fortuno Blackjack Demo Version
Even though we have provided detailed information about all specifics of the table game Dr Fortuno Blackjack and you might feel confident enough to start playing for real money, we have provided a demo version of the game too. This is the best way for you to understand how the game works and to get familiar with the special bonus features and the terms that go with them. You can try the strategy based on the table above, experience a different tactic or play with casual intuition, in order to make your game session profitable. This demo is, however, not available for UK!
We understand that playing blackjack games for real money is a lot more entertaining and rewarding than playing in the so-called practice mode. Anyway, take a few minutes of your time to check out the demo version of the game. It will not only help you get used to the game much faster but will also improve your decision-making skills. Play the demo mode the same way you would play it with real money and try to follow the recommendations in the strategy table, regardless of the bet.
Final Words and More Recommended Games
If you think Dr Fortuno Blackjack fulfils your expectations and preferences for a blackjack table, then there are quite a few online casinos that provide it. For a relatively new game (Dr Fortuno Blackjack was launched on the 25th of April 2019), it has become popular fast and has entered the game lists of many online gambling platforms. We recommend you look for an operator who has a persuasive welcome bonus and good casino promotions. LeoVegas and NetBet are both good choices. You can check out all the details about these gambling providers in our detailed casino reviews. For those of you who don't feel like Dr Fortuno Blackjack is your kind of game, we can recommend a few more blackjack variations, each of which has interesting and unique special features.
Rating:

4.75/5

Powered by:

Playtech

Play at:

Casino.com
Rating:

4.75/5

Powered by:

Yggdrasil

Play at:

Casino Cruise
Rating:

4.8/5

Powered by:

Felt Gaming

Play at:

LeoVegas
In conclusion, we have to give a thumbs up to Dr Fortuno Blackjack. With the use of their in-house motion capture technology, they have created a wonderful 3D environment that really sucks you in. The mysterious dealer keeps you at the edge of your seat and contributes to an experience like no other. The chance for a jackpot just adds tension and excitement to your game session. This game is an innovation in the online gambling world and sets the foundations for the future of gaming.