Double Exposure Blackjack Pro Series Review – No Hidden Cards
Anyone who plays blackjack is familiar with how it feels to not know what second card the dealer will reveal. It can sometimes be nerve-wracking, especially when you bust your hand by hitting against the dealer's ten and it turns out that his second card was a five. With Double Exposure Blackjack Pro Series, there is no such. Everything is dealt face-up, giving you the chance to make the best decision possible at all times. However, this also means that the strategy chart is twice as big, as you have two up cards to worry about.
This page contains our review of Double Exposure Blackjack Pro Series, complete with its pros and cons and our opinion on them. What's more, if you want to try the game for yourself and form your own impressions of it, you can do so with the free demo version embedded further down the page. And to make things easier for you, we have added a basic strategy chart to follow as you play. And no matter if you like the game or not, we have you covered. If you think it's not the game for you, we have suggestions on other titles to try. And if you like it and want to play for real money, we have recommendations on the best online casino bonuses to claim and also on the best blackjack sites in the UK.
Overview of Double Exposure Blackjack Pro Series
Double Exposure Blackjack Pro Series Rules
RTP:
99.33%
Blackjack Pays:
1:1
Number of Decks:
6
Dealer Rule:
Stand on Soft 17s
Dealer Peek:

No

Insurance:

No

Surrender:

No

Split:

Yes

Re-split:

No

Double:

Hard 9-11

Double After Split:

Yes

Hit Split Aces:

No

Side Bets:

No

Multihand:

Yes
This is not your standard blackjack game. In this variation, the dealer's cards are both dealt face-up, so you have a lot more information to play with. However, this also means that there is more data to process, so it isn't the best game for beginners. What's more, in order to retain the house edge, the basic rules have been changed drastically.
The most obvious change is the blackjack payout. Instead of the regular 2 to 1, blackjack pays 1 to 1, the same as the regular win. Furthermore, the dealer wins all tied hands, with the exception of blackjack. So, when the dealer gets a 20 on their initial two cards, you have no other choice but to hit and aim for the perfect hand. Combine this with the high number of decks, and this makes for an almost brutal game of blackjack.
Still, the game provides a nice change from the regular variations of blackjack and can be quite exciting. And while it might be a bit harder to win, at least you know what you have to beat, and you will not wonder what the dealer is hiding there. This lowers the number of nasty surprises you get per game session by quite a lot. And yet, as with any game of blackjack, they still exist. And with the game often forcing you to hit high hard totals, you must be prepared to bust a lot more than with regular blackjack.
Ideal Basic Strategy to Follow
If you have just learned standard basic strategy, forget it. While there are some similarities, due to the nature of the game, you will be forced to make decisions that would otherwise be unwise. Hitting your hard totals above 17 will not be uncommon. You will often be left with no other choice. And since the dealer stands on high soft hands, you cannot hope for them to bust on those either. Combine this with the more information that the player receives and you get a basic strategy chart that easily dwarfs your average one.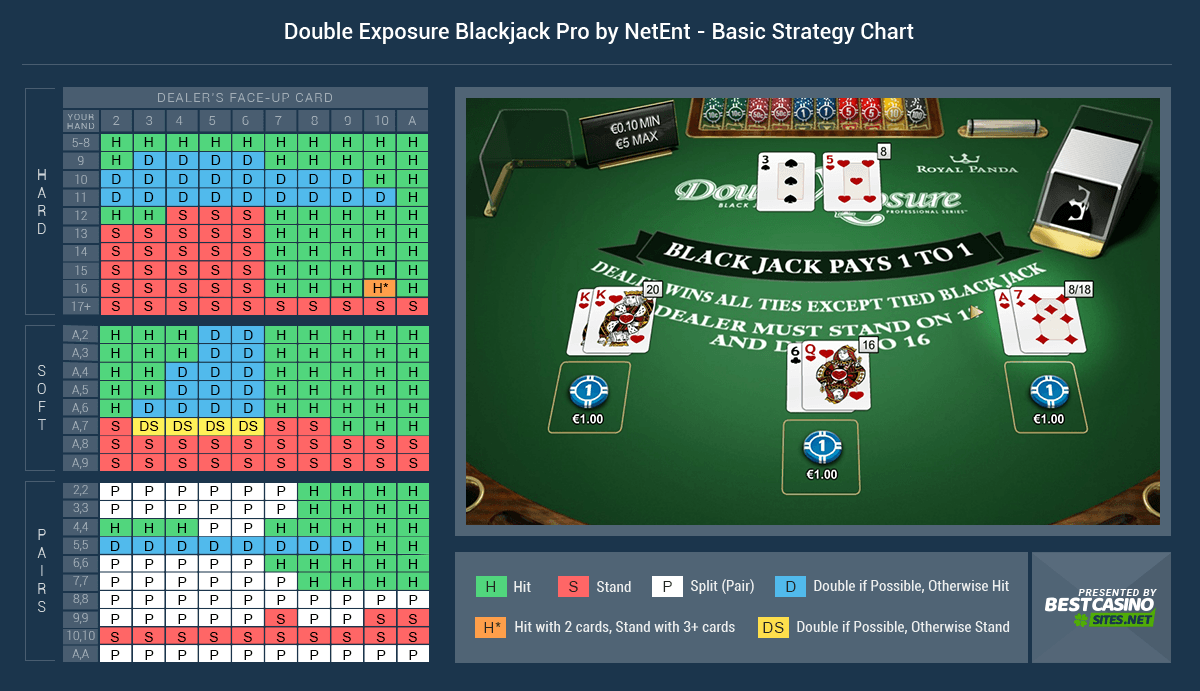 As you can see, the strategy chart above is massive and detailed. However, it still isn't enough to overcome the house edge. Even with it, the house still has an advantage of 0.67%. However, you can try to tip the scales a bit in your favour by playing with a bonus. There are a lot to choose from, but the ones we thought you might like are Mr Green's casino bonus, with its great wagering contribution percentages, as well as the £100 welcome offer you get at Royal Panda Casino, just because it is a great operator that is sure to care for you as a punter.
Free Demo Game
Now that you know the game's basic rules and we've equipped you with that behemoth of a strategy chart, why don't you give the demo version below a go? It will allow you to see what Double Exposure Blackjack Pro Series developed by NetEnt is all about without risking any of your own cash. After all, a game is best experienced when played and no review in the world can capture the great feeling of getting blackjacks on multiple hands at once. So, fire the demo up and play it to your heart's content, completely for free.
As we mentioned, as detailed as our reviews may be, they are no substitute for trying the game for yourself. After all, we are only humans, so our opinion on a game might differ from yours. We may praise a game that may turn out to not be the right one for your preferences. So, it is always a good idea to try the free demos of games. They allow you to decide whether you like the game or not. And if you don't, you wouldn't have risked your real money on a title that doesn't resonate with you.
Conclusion and Final Recommendations
Double Exposure Blackjack Pro Series is not for everyone. The high number of decks, and the vastly different strategy could put a lot of players off. However, it's a nice break from the run-of-the-mill blackjack games that you can find everywhere, be they regular ones or featuring elaborate side bets. However, if you want a more classic blackjack experience, then NetEnt has two more Pro titles for you to choose from – Single Deck Blackjack Professional and Blackjack Professional Series. They feature minor rule differences and are played with one and four decks respectively. Check them both out and decide for yourself. Of course, there is also the Blackjack Classic option, for the vanilla blackjack enthusiasts.
Single Deck Blackjack Professional
Rating:

4.9 /5

Powered by:

NetEnt

Play at:

Mr Green
Blackjack Professional Series
Rating:

4.88/5

Powered by:

NetEnt

Play at:

Mr Green
Rating:

4.85/5

Powered by:

NetEnt

Play at:

Royal Panda
If you decide that the double exposure gameplay is right for you, you would probably want to know which the best casino to play it at. While there are many options for you to choose from, we cannot recommend Mr Green enough. And we say that because of their excellent casino welcome bonus. It grants up to a £100 bonus with 100 free spins and, unlike most welcome offers, it comes with a great wagering contribution percentage from all table games. Most other casinos do not offer any contribution percentage at all and rely on slots instead. So, when it comes to blackjack and other classic table games, Mr Green is the casino to be at.